Heong Tai Bee Hoon ( Fried Vermicelli with Vegetables)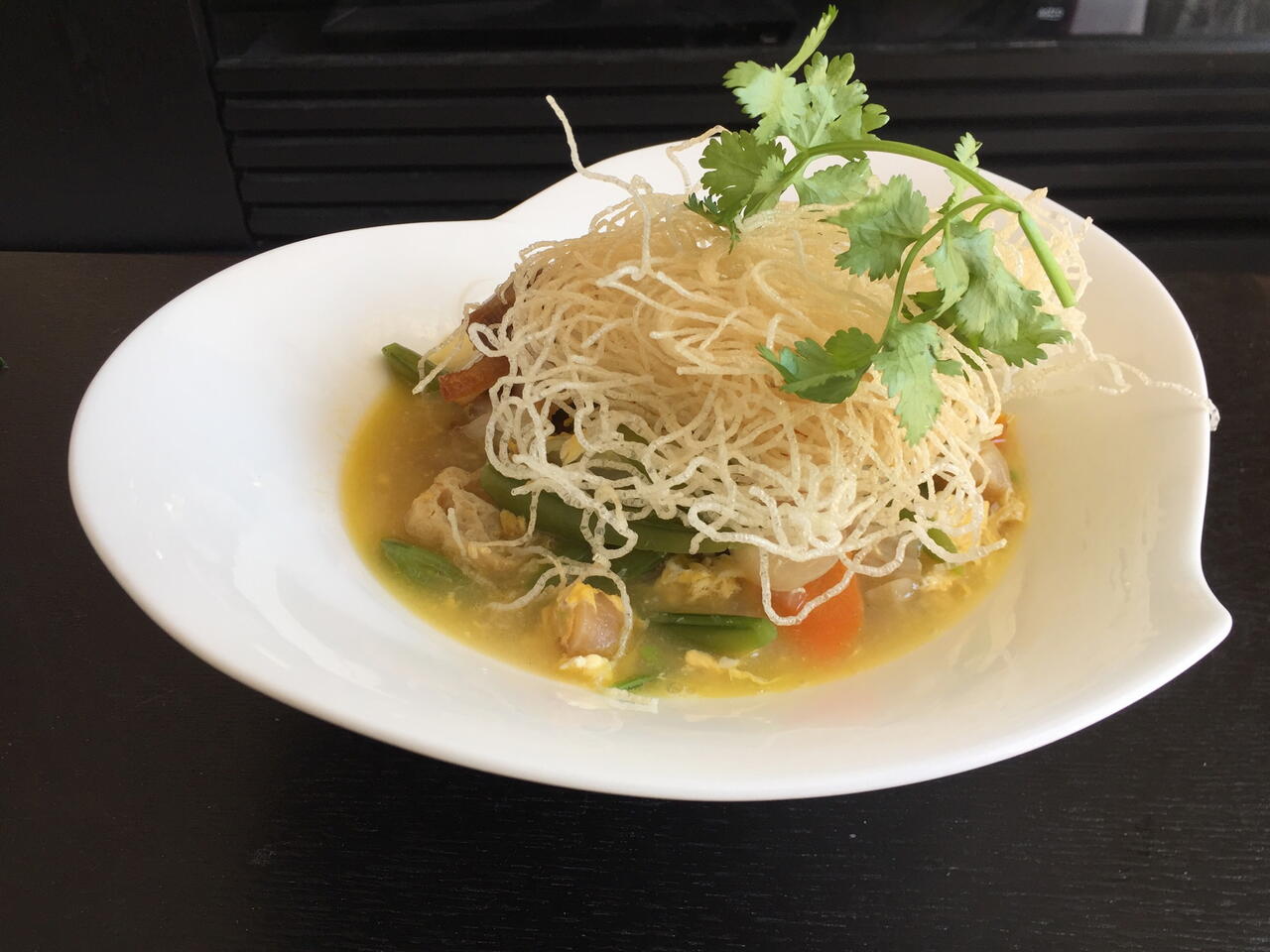 What you will need
1 bowl Napa cabbage
1 carrot
1 bowl snap pea
4 garlic / 4 shallot / 1 small onion
bunch coriander/ spring onion
3 egg lightly beaten
10 baby dried Scallop ( presoak in hot water)
1 bowl leftover fried pork belly or any meat optional
1 litter stock of your choice
1 comb dried bee hoon ( vermicelli)
(Nutritional facts 153 calories, 8.01 g fat, 15.41 g carbohydrates, 5.69 g protein, 302 mg cholesterol, 44 mg sodium)
How to cook
With oil sauté the fine dice garlic and carrot with some leftover deep fried roasted pork, then removed the fried roasted pork and set aside.
Add in the snap pea and cabbage, the fried Taufu puff and the presoak dried Scallop and it's water.
Add in any stock available (I used stock boiled pork belly in Lemongrass ginger slice and in light soy sauce for my deep fried pork belly recipe).
Once it come to a boil add lightly beaten eggs and don't stir, (don't want to have Cloudly soup), ice the egg set then add the cornstarch and water mixture and gently stir once or twice then off heat once its slightly thickened (season with some light soy sauce).
DEEP FRY THE BEE HOON
Heat up the oil, test by dropping 1 Bee hoon once it puff up means it's ready for deep frying, take it out once it puff up or else it will turn brown and burn quickly, drain on paper towel.
Serving as a side vegetable dish , deep fried bee hoon top vegetables or vegetables TOP deep fried bee hoon , remember to garnish with extra fried pork belly and fresh coriander and spring onion and enjoy.