What you will need
hand full spaghetti
1 large leek
5 hot dogs
1 onion
100g cubed tomatoes
pinch of black pepper
pinch of ground rosemary
pinch of salt
chilli oil to taste ( if you want it hot)
How to cook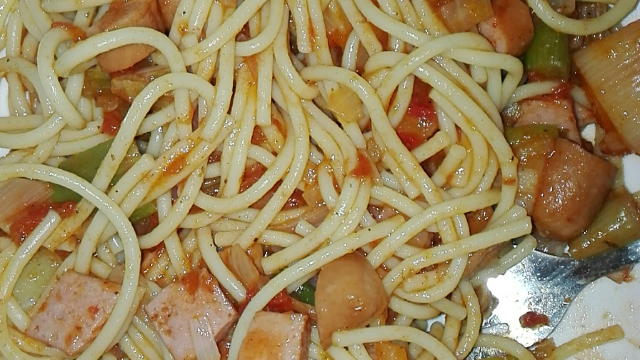 Boil spaghetti 8-15 minutes depending on the pack. Once ready strain under cold running water and set to the side for later. Make sure to set aside some of the spaghetti water for use in the sauce.
Cut up leeks into sizeable chunks and boil for 5 minutes
Dice onions and hotdogs in preparation for the sauce.
Add oil or butter(your preferrance) to a pan, once hot add the diced onions and fry till golden brown.
Add diced hotdogs to the pan when onions start to golden
Add cubed tomatoes and cook till soft, add a little of the water set aside so that the tomatoes don't stick to the pan.
Add salt,black pepper and ground onion to the sauce.
Add cooked leeks to the sauce and bring to a boil.
When sauce starts to thicken, add spaghetti and cook till it's all mixed together.
Let the mix simmer on low heat for 2 minutes, then it's ready to serve
Add shredded cheese or chilli oil to taste.