Latkes
gluten fee latke recipe
What you will need
2 large (about 1 lb) russet potatoes
1/2 cup (50g) finely diced white onion
salt as needed
olive oil as needed
How to cook
Peel potatoes
Remove the skin. You don't have to worry too much about perfect peeling because we're just going to grate these up in the next step.
Grate potatoes
A simple box grater works well.
Submerge potatoes in water
Move grated potato to a bowl, and add enough water to submerge. Soak for several minutes.
Spread potatoes on a kitchen towel
Squeeze out the grated potatoes and spread them out on a clean kitchen towel.
Roll tightly to strain
Roll up the towel and twist it into a spiral. Over a small bowl, squeeze the towel tightly to strain off water.
Transfer to a mixing bowl
Unroll the towel and transfer the grated and strained potatoes to a mixing bowl.
Chop onion very fine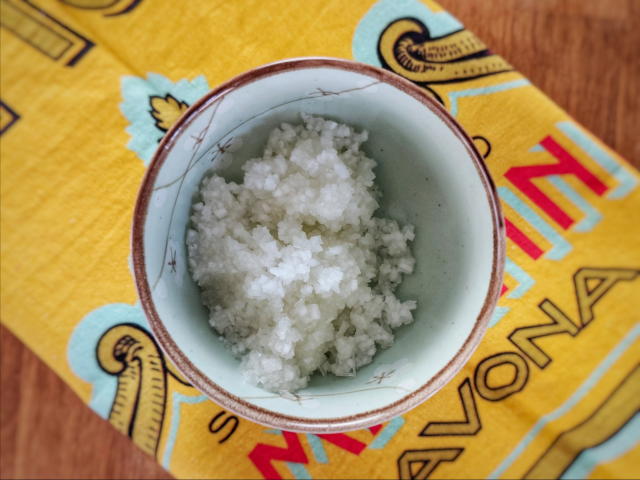 In latkes, I enjoy the flavor of onion, but not the texture, so I try to chop the onion as finely as possible. Check out the recipe link below for some tips on how to do this.
Add egg, onion and a pinch of salt
Mix the potatoes with the egg, chopped onion and a little salt.
Heat oil in a sautée pan
Heat oil in a sautée pan over medium heat. A nonstick pan will work best here.
Fry Latkes
When the oil is shimmering, place small haystacks of your potato mixture in the hot oil. Let them cook until browned (about 5 minutes).
Flip
When the latkes are golden brown on one side, flip them gently with a small spatula.
Cook opposite side
Let them cook on the opposite side until golden brown. Transfer to paper towels to drain. Serve with creme fraiche, applesauce, or both.