State Shaped Coffee Table
NORTH CAROLINA, STATE SHAPED COFFEE TABLE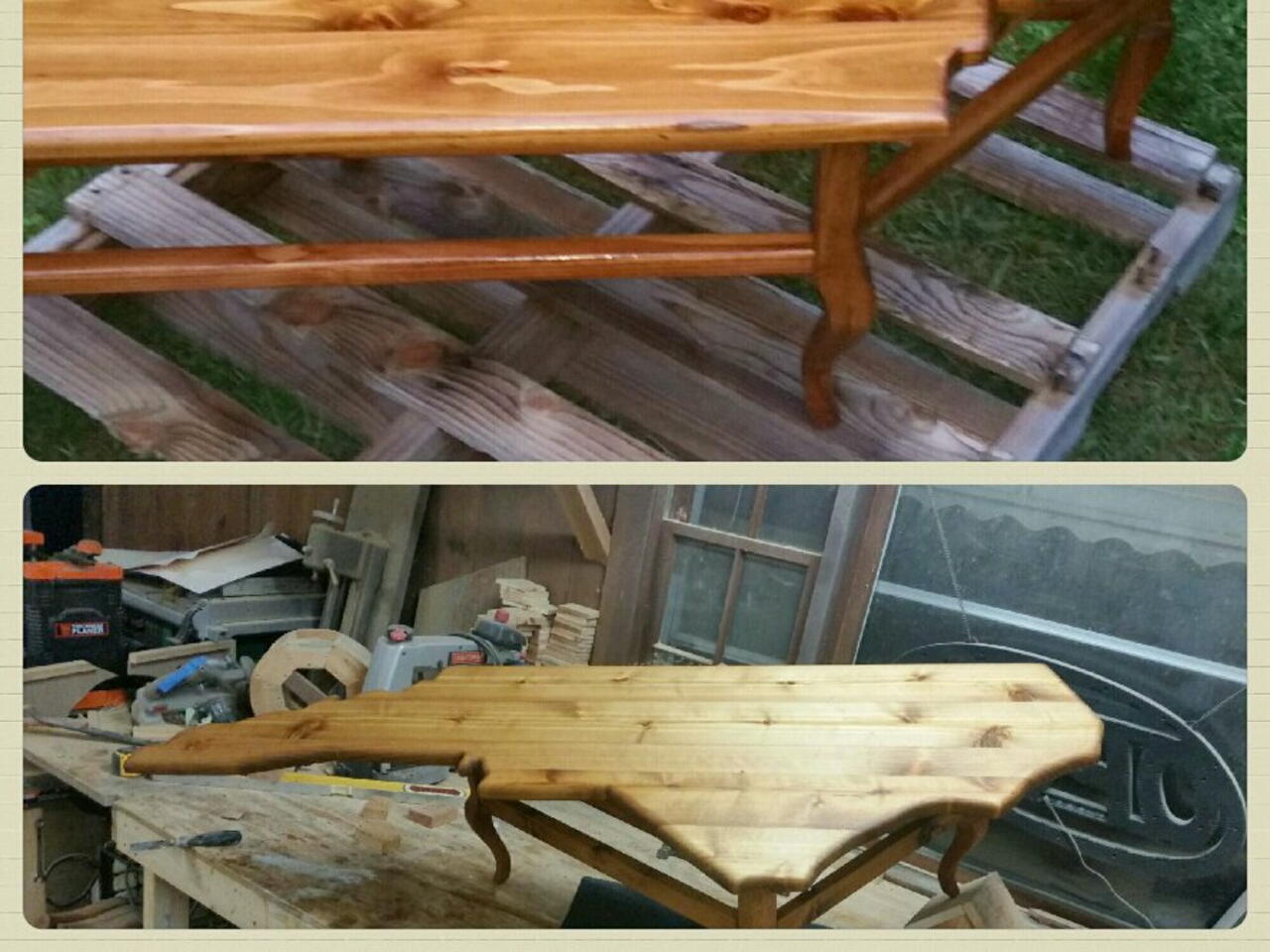 Charles Eric Presnell
Published on 06/26/2017, viewed by 3043 , 2 Comments
I got this idea from some small, Hardwood, state shaped signs I had made in the past. I liked this one piece in particular that i built out of Black Walnut. My Girlfriend had said, that's a nice piece! Couldn't you make your Mom a coffee table for her office? An i said, interesting, hmm... So, I worked off an old pentograph from out of dad's antiques junk and used it to enlarge the Atlas cutouts I had been using for the small signs. I hope you enjoy this project!
What you will need
TOOLS
Chop Saw, Table Saw, Jig Saw, Band Saw. Used to cut stock to length an shape
Dremel and Router, I use a 3/4 " round over bit in the Router an, a 3/8" drum sander in Dremel
Pocket screw jig, used to attach base rails to legs & base to top
Thickness Planer, used so all stock is equal and easy to sand.
Orbital Sander, used to smooth all stock an give a nice shine to my finish.
36" Bar Clamps, you need at least 4 bar clamps
Finish/Brad nailer, it's possible you may need a well placed Brad ocasionally.
LUMBER (STOCK)
3- 2x6x10' Cedar, makes a nice thick table top and, Shaker style legs. ( Legs not pictured)
2- 1x4x10' Red Cedar (5/4 stock) used to make my base and, lower rails.
1 1/2" pocket screws, used to attach all materials and components.
1- 2x4x4' Red Cedar or 4 pcs. of scrap Red Cedar at least a 2x2x16".
How to do this project
I'm going to do my best to walk us through this entire project a step at a time. I will attempt to take each step an slowly break it down till we all know where I'm going with this step an what this step will accomplish. Please, bear w/ me!
CUTTING 2X STOCK TO LENGTH
First, we need to cut our 2x stock to length. That being said take an cut all 2x material roughly in half. We will cut to exact diminsions later.
PREP TO EDGE GLUE TOP
I have only small'ish shop tools at my disposal so, I will be instructing you as if your shop is equal to mine.
You must make sure all your 2x stock is perfect straight in length an has flat sides that are square to the face of your stock. (Make sure the narrow edge is flat an, at a 90 degree to the wide face of your stock)
To insure your sides are flat an square to the face set your Table Saw up to cut a 5 3/8" rip an saw one edge of 5 pcs, of your 2x stock. An, again at 5 1/4" on opposite edge.
If you have a joiner at your disposal nows the time to run both edges of all your stock through the joiner. This doubly ensures a flat square edge for gluing. If you don't have one use a fine tooth blade an pay close attn to how square your saw cuts.
EDGE GLUING YOUR TOP
**I've found that a few pocket screws placed every 12" on the underside of your Top works great as a semi- permanent clamp. After you apply glue, place a couple clamps an apply pressure, install pocket screw(s), move clamps down the Top and repeat!**
Take 2 pcs of stock an turn them narrow edges up. Place them back to back edge up an evenly spread a liberal amount of glue on them. To ensure good coverage use a brush to evenly spread the glue on both pcs. (Fingers are acceptable brushes)
If you are making a NC table make sure you stagger each piece by 3" before you clamp them together. If the Top is face side up and North is proper , stagger the lower piece 3" to the left. Do this with both pieces of each section of edge glued Tops.
Place the glued up edges together with your Tops face side up an clamp with at least 3 bar clamps. (The more the better) make sure the Tops face side is good an flush to each other. And repeat with 2 more pcs of stock.
Make sure you throughly clean all excess glue off both face's, of both piece's of edge glued stock with a wet cloth. Wait at least 4 hours or more before continuing. Overnight is best!
FYI (for use in step 7) *** I try to keep as thick a top as possible. If using rough sawn lumber I set my planer for around 2" and continue down in 1/32" increments to run material through till I have a1 3/4" top! ***
Remove all clamps an set your Thickness Planer to shave both your edge glued pcs. Remember to plane the extra piece of Top that's not been used in the last glue step. You will use this piece when you glue the tops together, giving you a 25" wide Top!
Now, place both of the glued up sections on the table and insert the single piece that was left over from the last step an evenly spread glue on both edges. Clamp and, allow to dry a few hours.
CUT TO ACTUAL SHAPE AN SIZE
Once your Top has dried over nite, you are then able to shape your top to accurately resemble the state of N.C. (or, Tenn.,Georgia, and Rhode Island!) Now, you must enlarge your map to roughly 5' long an 24" wide using the Pentograph.
Place your enlarged pattern on the face side of the Top and trace the pattern. (I include all Barrier Islands and Sounds for more space on your Top.) Use a Jig saw to remove all extra material. This may be difficult in our mountains to the West.
PRELIMINARY SANDING
Take a Dremel with the 3/8" drum sander and sand the edges, pay special attention to the Western border where the mtn. make straight lines impossible. The Dremel will fit in all contours of the border nicely. (You need to persuasive! Use 60grit!)
Starting with 60 grit paper take a Orbital sander an work the top down through all the grits till you have a smooth, unblemished surface. Again you need to be persuasive at first! I normally go w/ 60g then, 80g 100g, 120g last in this step.
ROUTER
Place the Router w/ at least a 1/2" round over bit on the face side of Top. **(W/ 1 1/2 an 2" tops I use a 3/4" bit)** run Router counter clockwise around the top face side edge. Now, w/ a thick Top I'd Route the underside edge also.
With the Top complete to this stage we can now set it aside an move on to the base and Shaker style legs.
BASE/SHAKER LEGS
The Shaker style legs mentioned are not pictured here. Shaker legs are more of a straight up construction , clean cut pieces, nice straight lines, elegant, yet fairly simple. The legs pictured here come from a box of yard sale junk!
We begin by cutting some legs out of some Scrap 2x Red Cedar stock, into 4- 2x2x16" pcs.
Now, Mark a line square around one corner 2" down from top edge. From this 2" mark on the right edge take your straight edge an draw a mark down the length to a mark 3/4" in from right edge. Rotate the leg a 1/4 turn and repeat the process.
Repeat step 3 on all 4 legs. Shaker style legs are cut to look like they are spread out at the bottom from any angle or side your looking at.
Router all 4 edges of the legs from the 2" mark down an around the bottom and back up to the 2" Mark. Repeat on all for sides. Making sure to not rout above you 2" line. This leaves the top of the leg square an ready to except the base frame!
Comments