Balinese Fried Rice with Sesame Fried Eggs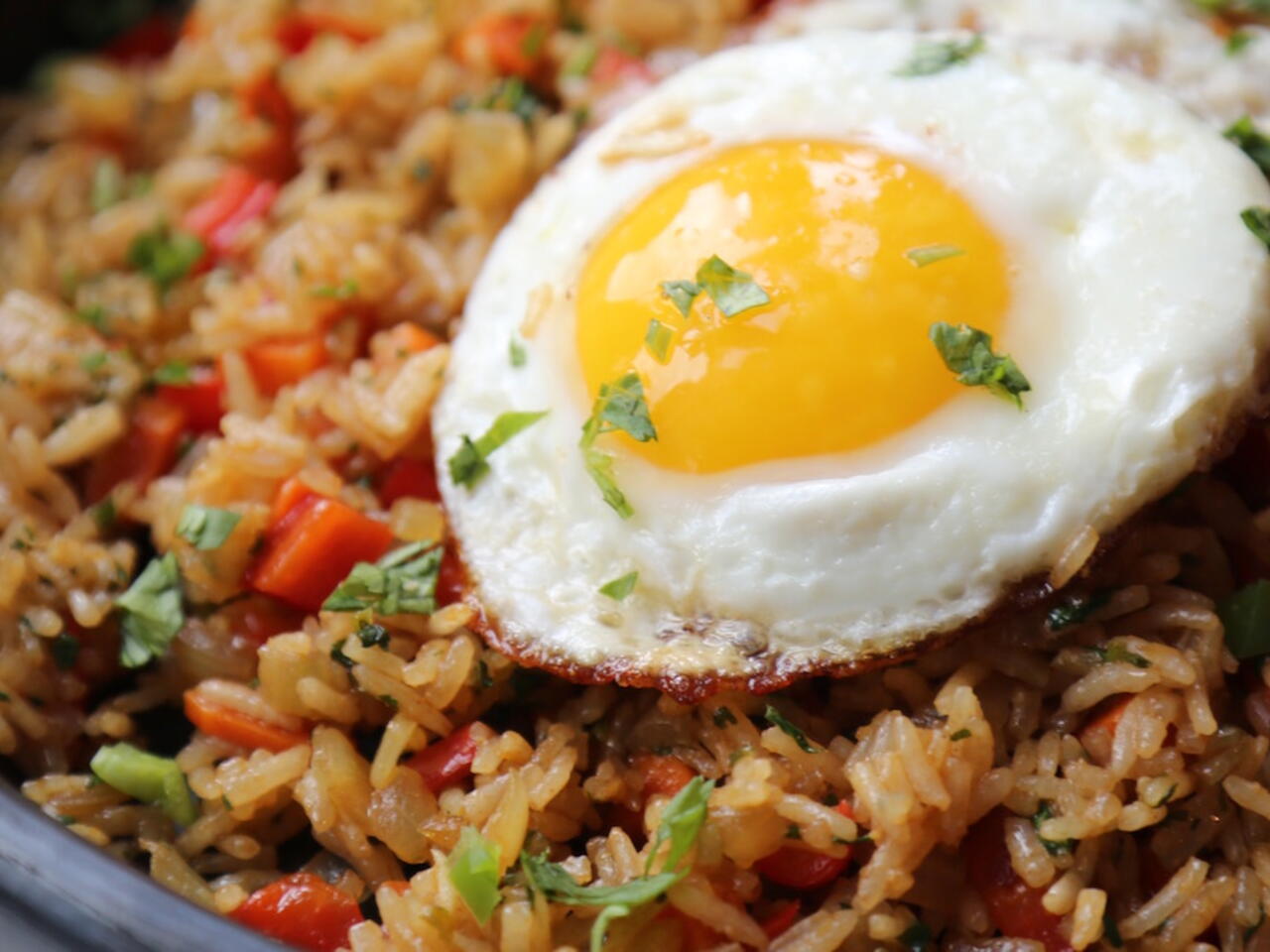 What you will need
2 tablespoons canola oil
½ red, orange, or yellow bell pepper
½ cup diced onions
½ cup diced carrots
1 teaspoon minced fresh green chiles
1 teaspoon chopped garlic
1 teaspoon minced fresh ginger
10 oz Microwavable rice
2 tablespoons Hoisin sauce
1 teaspoon toasted sesame oil
¼ cup chopped fresh cilantro
2 tablespoons fresh lime juice
For the fried eggs:
1 tablespoon butter
1 teaspoon toasted sesame oil
2 large eggs
(Nutritional facts 136 calories, 9.23 g fat, 10.34 g carbohydrates, 3.2 g protein, 153 mg cholesterol, 133 mg sodium)
How to cook
Heat 2 tablespoons canola oil in skillet on medium high and stir fry ½ cup each of diced bell peppers, onions and carrots, along with 1 teaspoon each of minced fresh green chilies, garlic and ginger.
Heat EE Thai Jasmine rice in a microwave for 3 minutes.
Add 2 tablespoons of hoisin sauce and stir to evenly coat veggies, then add 10 ounces of Padma's Easy Exotic Thai Jasmine rice to pan with salt to taste. Stir.
Drizzle 1 teaspoon toasted sesame oil. Garnish with ¼ cup fresh chopped mint or cilantro and 1-2 tablespoons fresh lime juice and stir.
To prepare the fried eggs, heat butter and sesame oil in a small sauté pan over medium heat until butter has melted. Break the eggs directly into the pan, being careful not to puncture the yolk. Cook over medium heat just until whites have set, about 2-3 minutes. Serve eggs over easy on top of rice.