Crispiest Hot Honey "fried" Chicken Sandwiches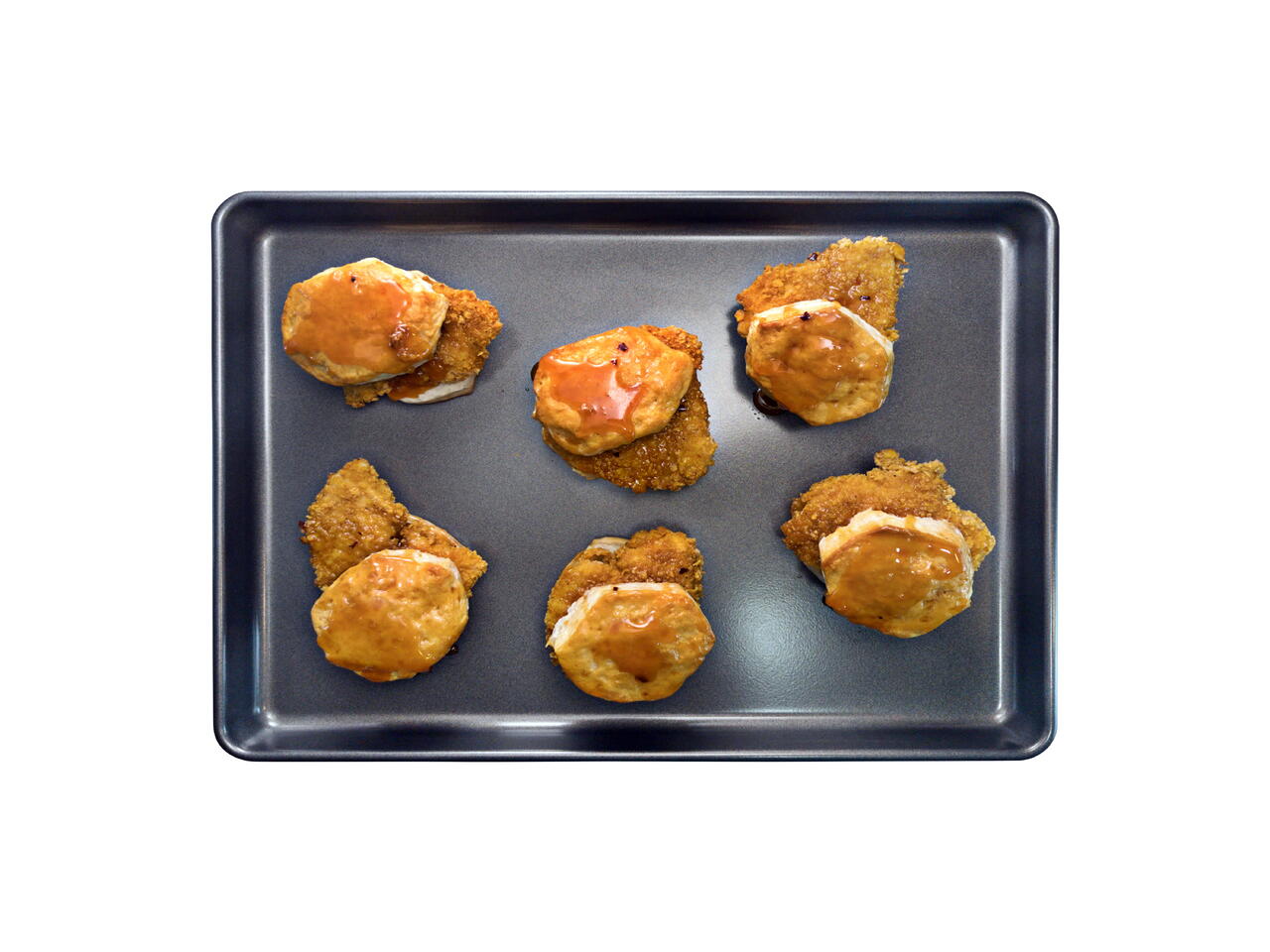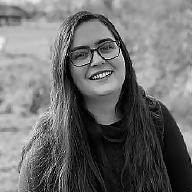 Recipe video made by Michelle
Published on 09/11/2021, viewed by 894 , 0 Comments
6 portions
65m
Slather this crispy oven baked chicken in homemade sweet and spicy hot honey. Soak up that extra sauce with fluffy biscuits for a decadent meal, or layer them together to build crispy chicken sandwiches.
What you will need
Oven Fried Chicken
1.5 lb Chicken Breast
1 cup Buttermilk
2 Tbsp Hot Sauce
1/4 cup AP Flour
2 cups Cornflakes
Salt
Black Pepper
Cooking Spray
Hot Honey
1/3 cup Honey
2 Tbsp Hot Sauce
1 tube Biscuit Dough
(Nutritional facts 224 calories, 1.62 g fat, 41.51 g carbohydrates, 11.78 g protein, 22 mg cholesterol, 1269 mg sodium)
How to cook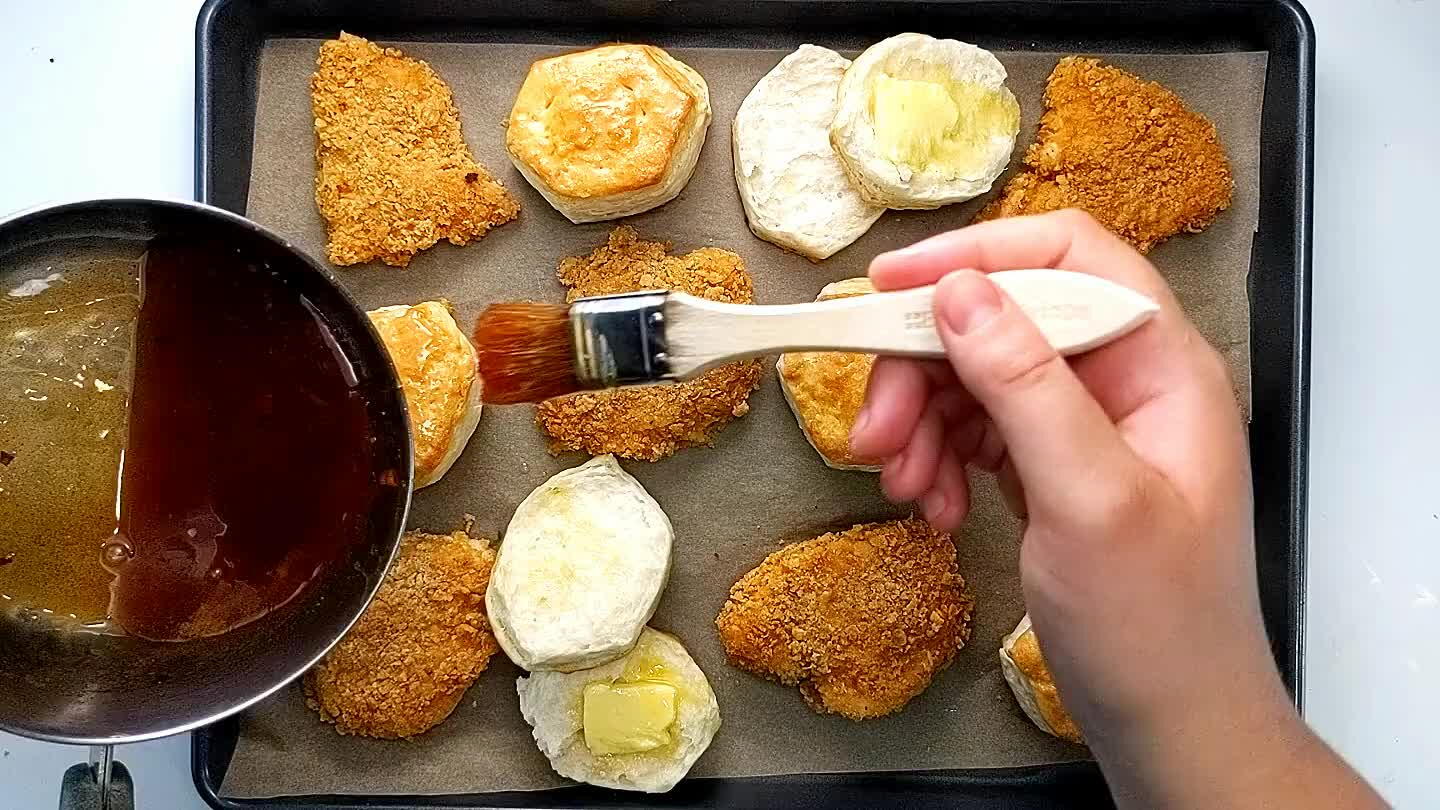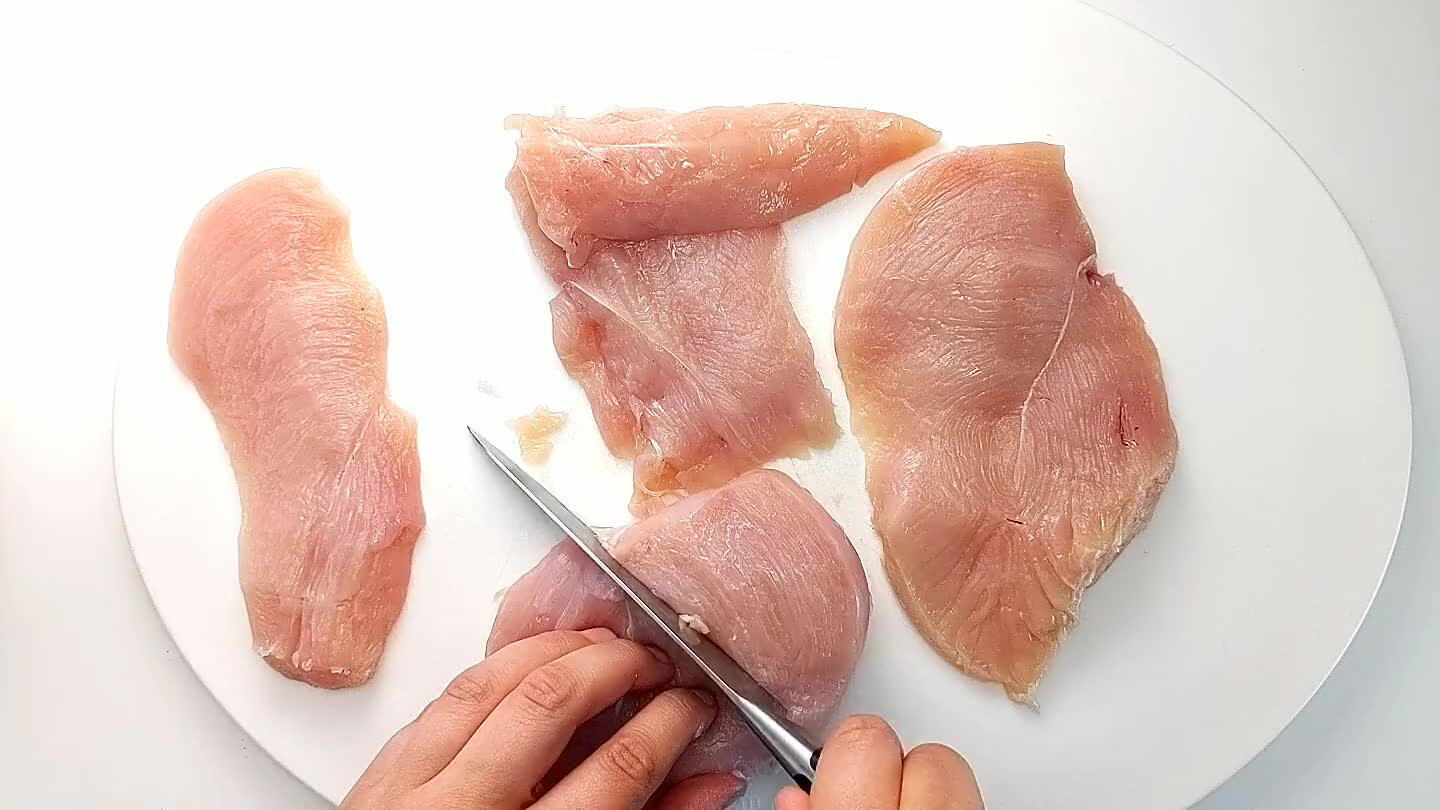 Clean any excess fat from the chicken and cut in half horizontally. Cut in half again vertically to get about 8 evenly size pieces.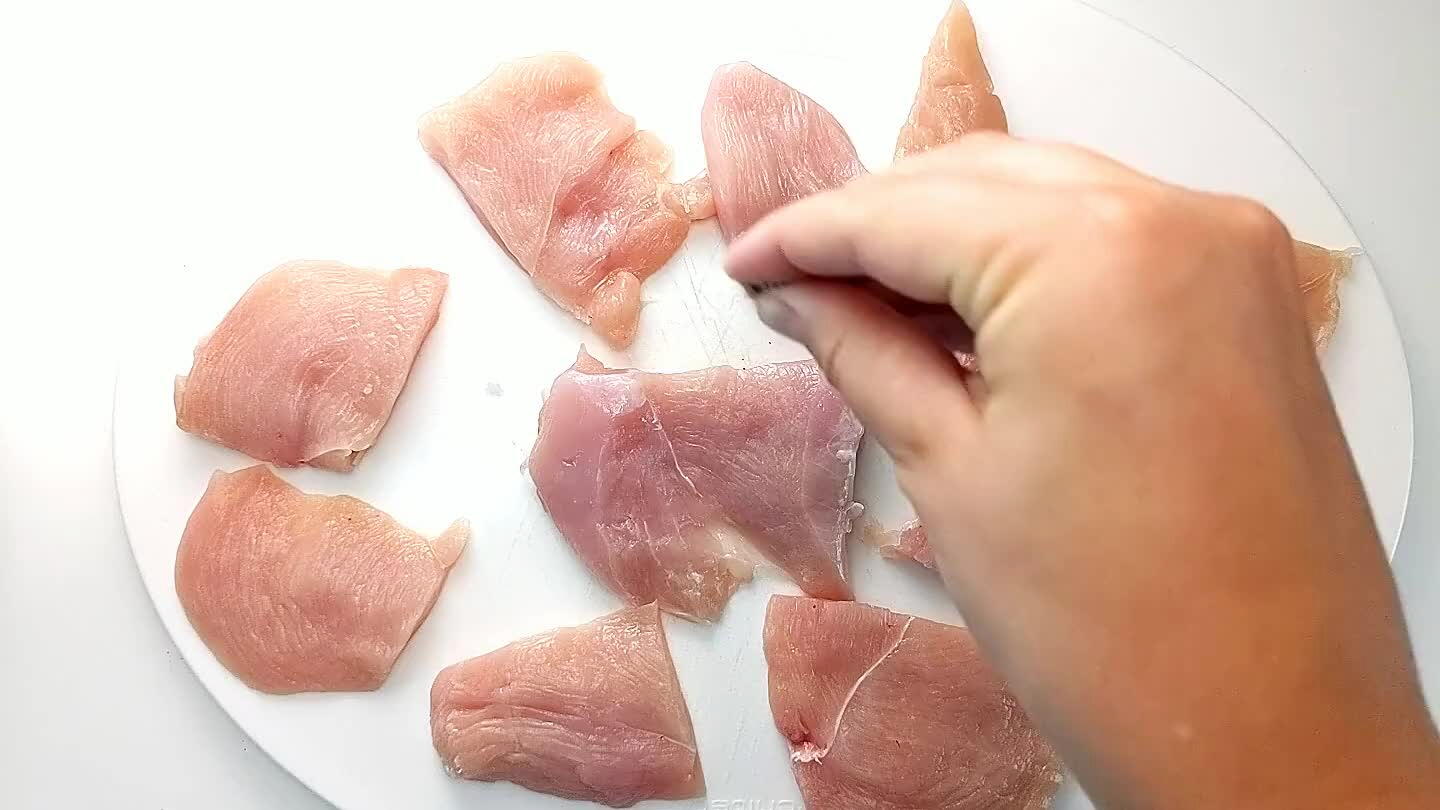 Season the chicken pieces on both sides with a few pinches off salt and pepper.
Add the chicken to a bowl or ziplock bag and cover with the buttermilk and hot sauce. Refrigerate covered for at least 20 minutes or overnight.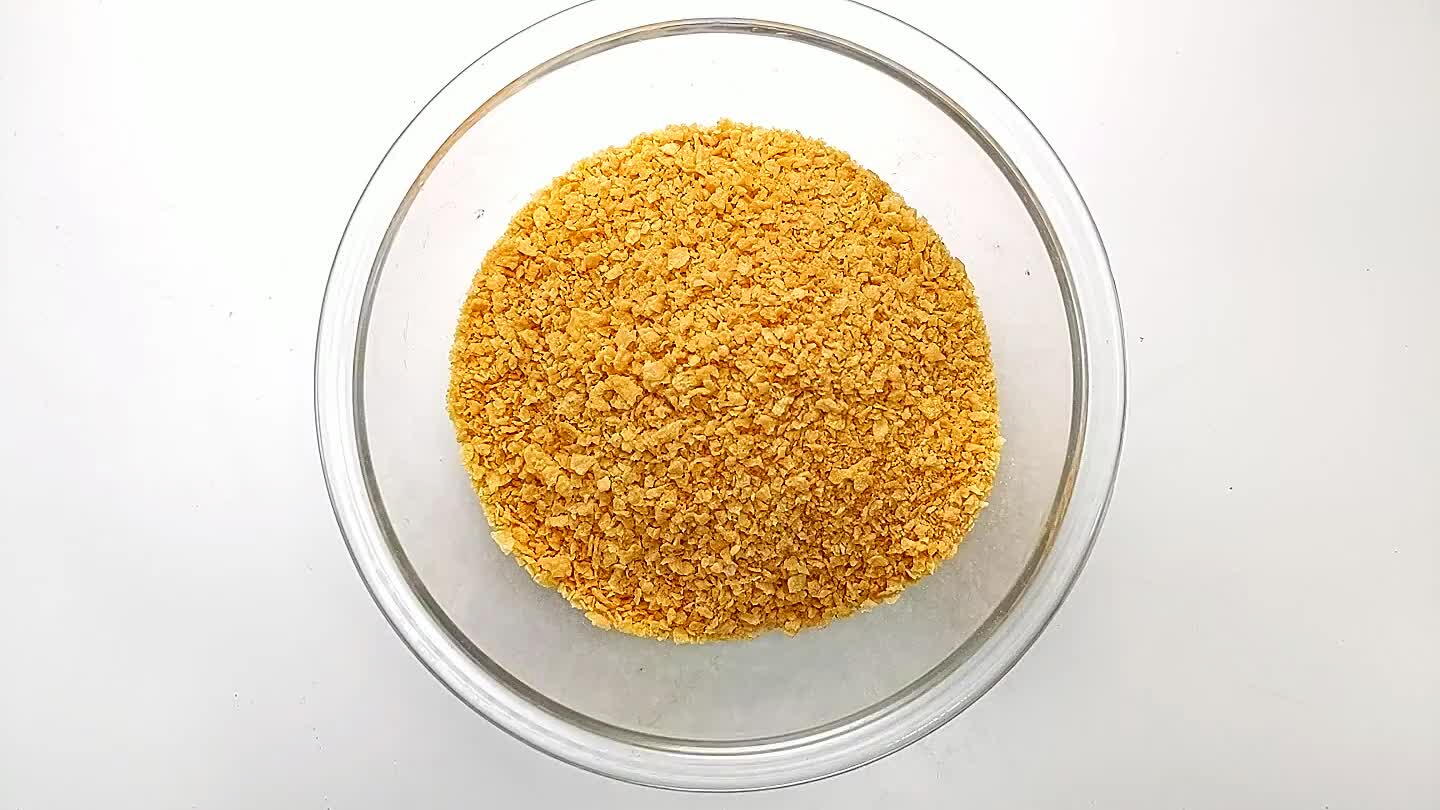 Add the cornflakes, flour and a generous pinch of salt and pepper to a wide bowl and stir to combine.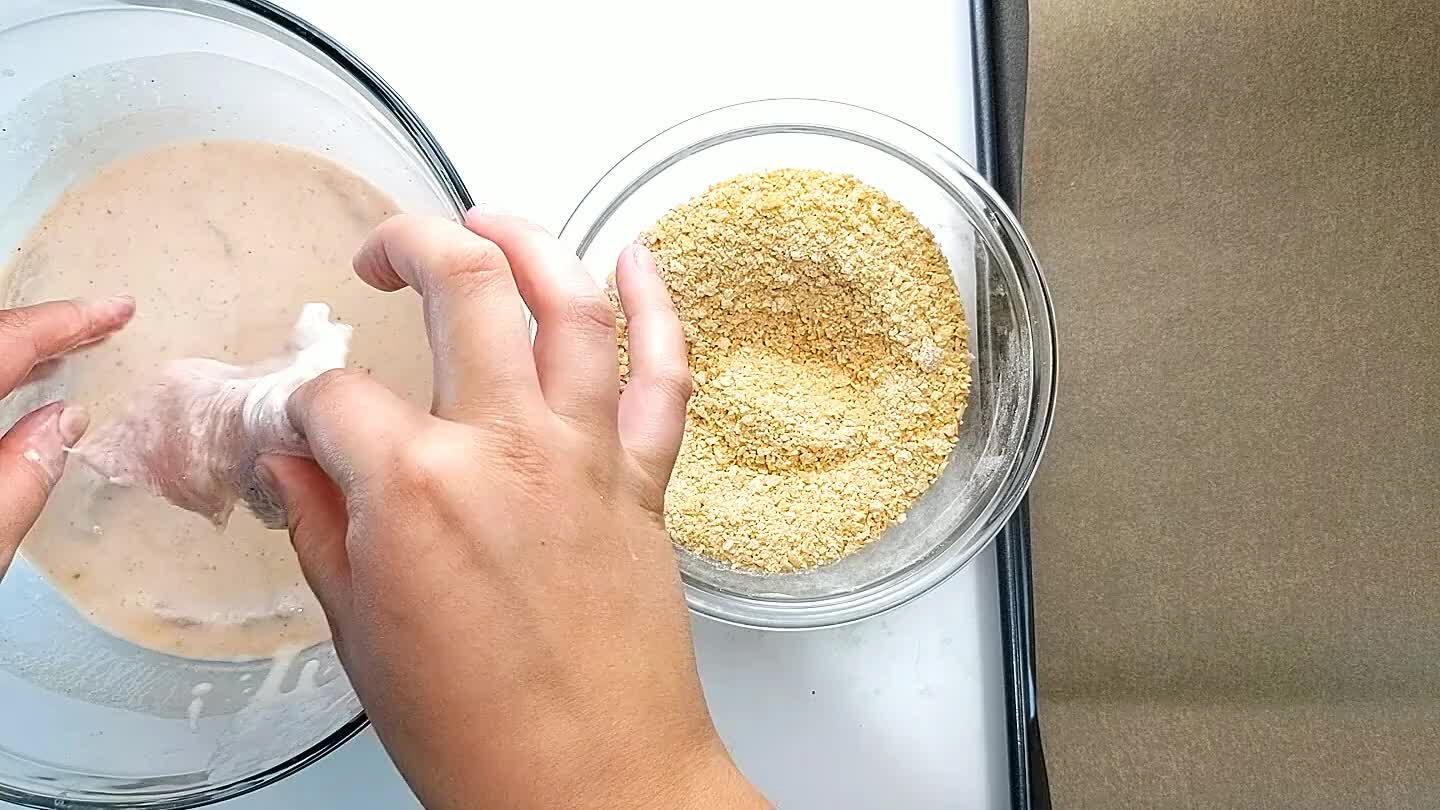 Shake off excess buttermilk from the chicken and place into the cornflake mixture. Press the breading onto every side of the chicken and place on a parchment lined baking sheet.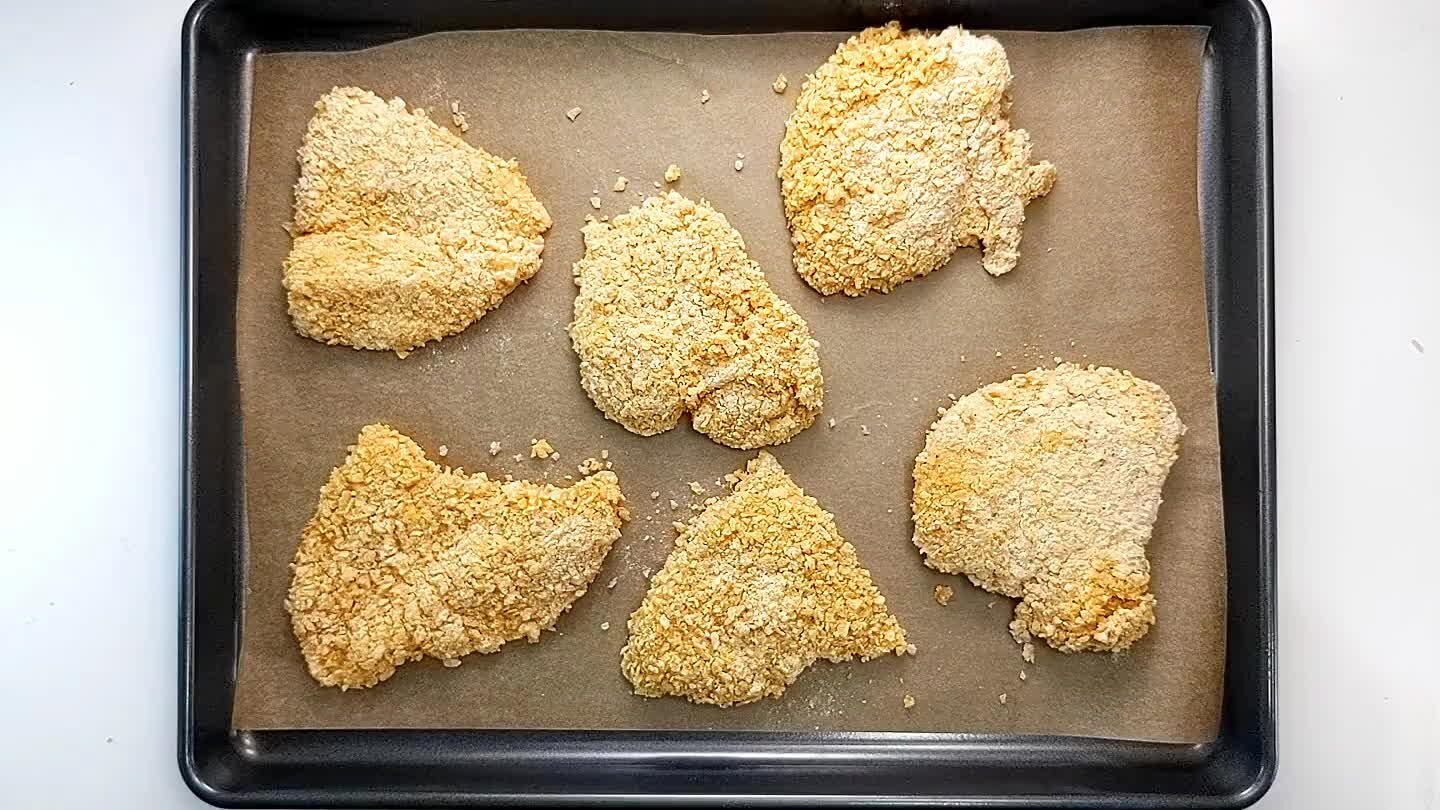 Lightly brush or spray the top of the chicken with cooking oil.
Bake at 425 °F for a chicken lightly browned on top.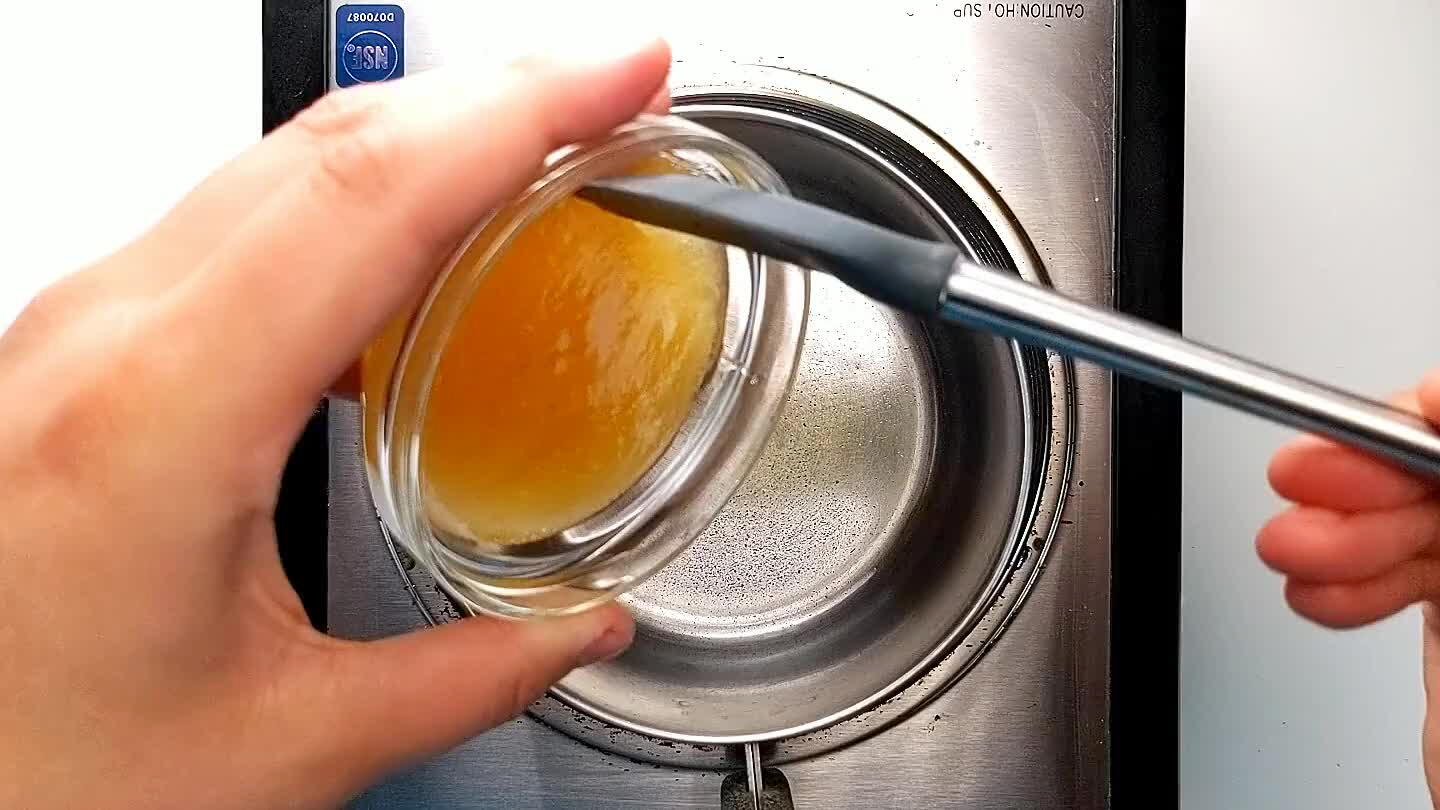 Add the honey and hot sauce to a small saucepan over medium heat.
Infuse the honey and hot sauce by simmering for about 5 minutes. When done, the bubbles will be a little larger and when removed from the heat, the sauce will run together into one stream on a spoon before pouring off rather than dripping off like rain from multiple places on the spoon. After about 12-15 minutes remove the chicken once lightly browned on top. Carefully flip to the other side and lightly spray or brush with oil once again.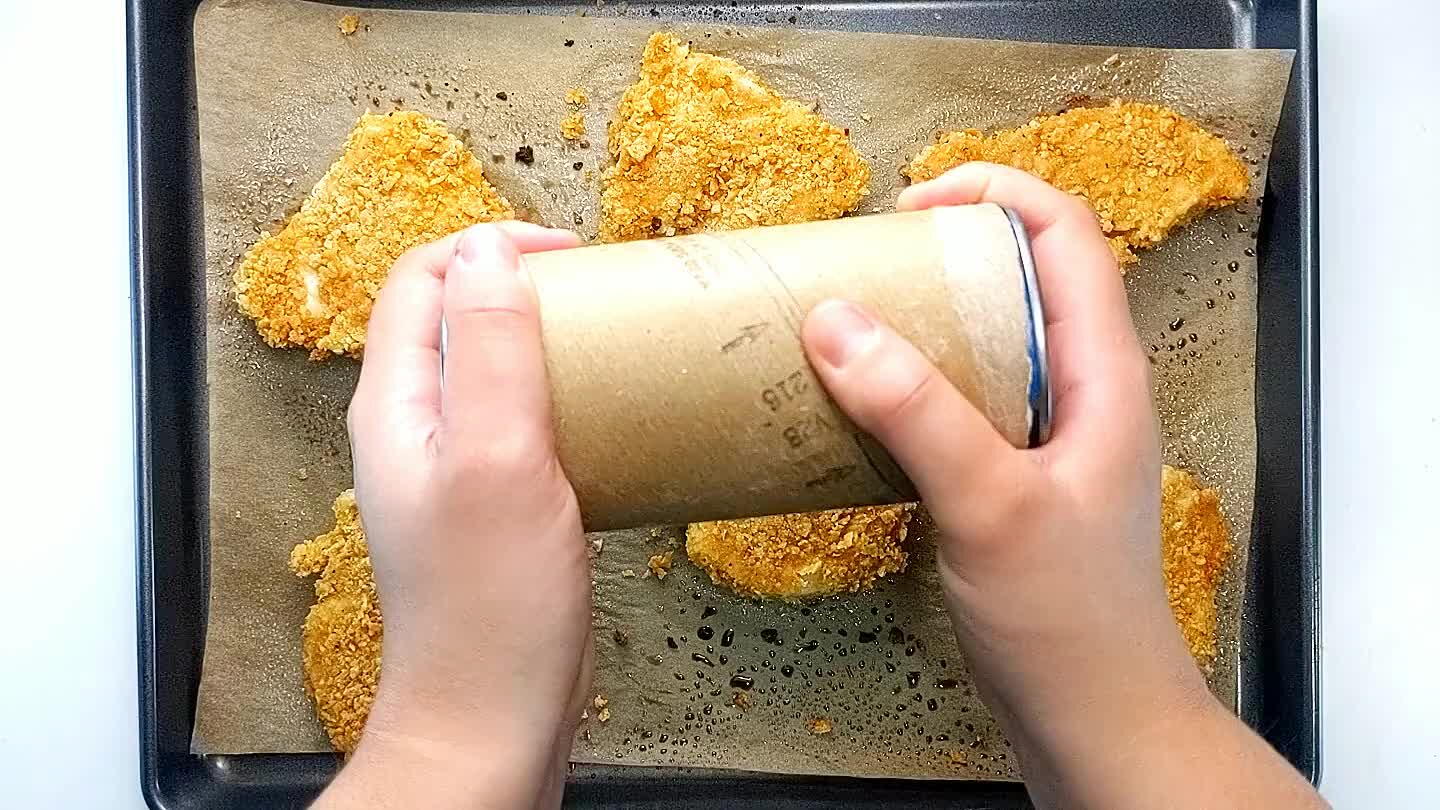 Add about 6 pieces of biscuit dough to the open spaces in the pan.
Lower oven temp to 400 °F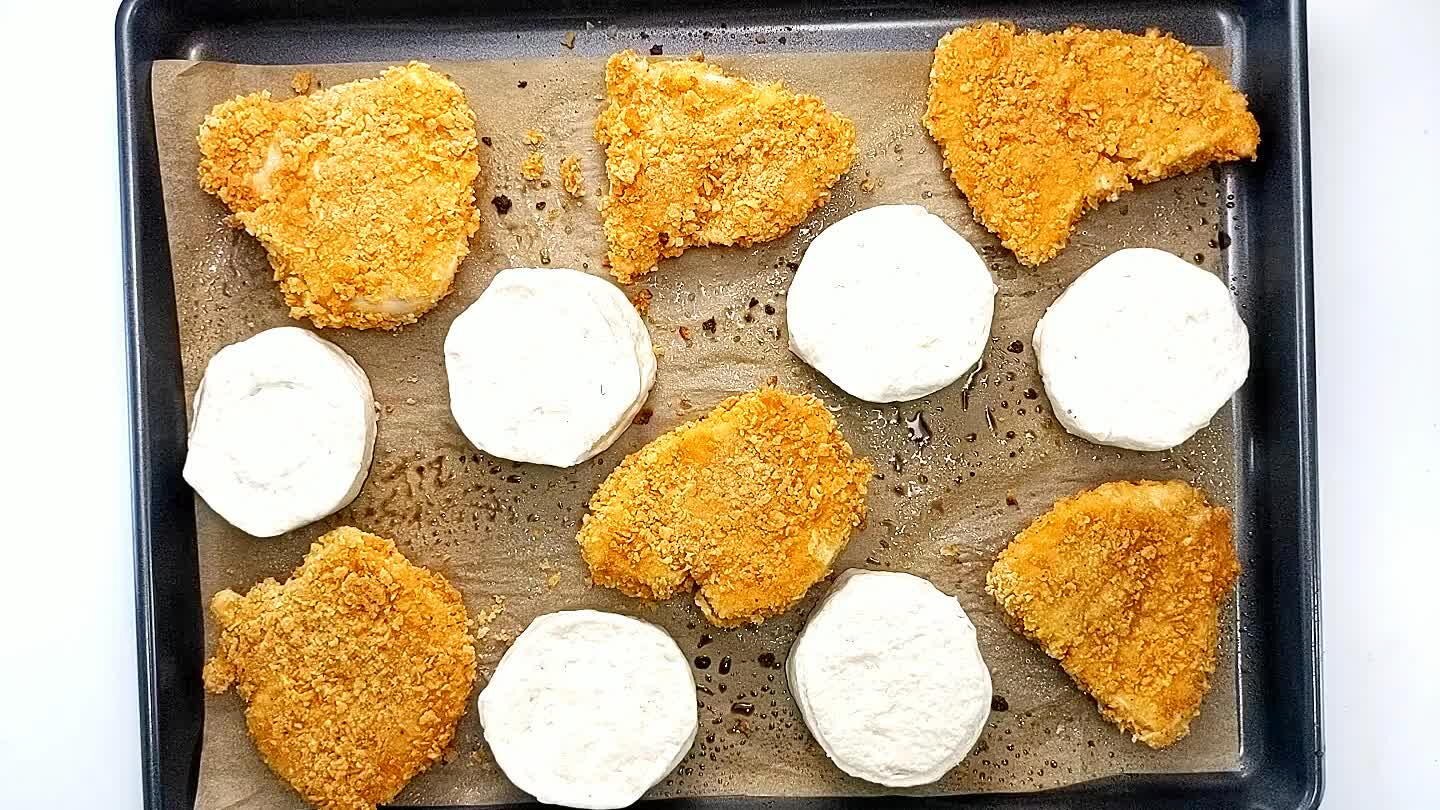 Bake the chicken and biscuits for 10 more minutes or until the biscuits are browned and puffed and the chicken is crisp and it's internal temperature reaches 165 °F.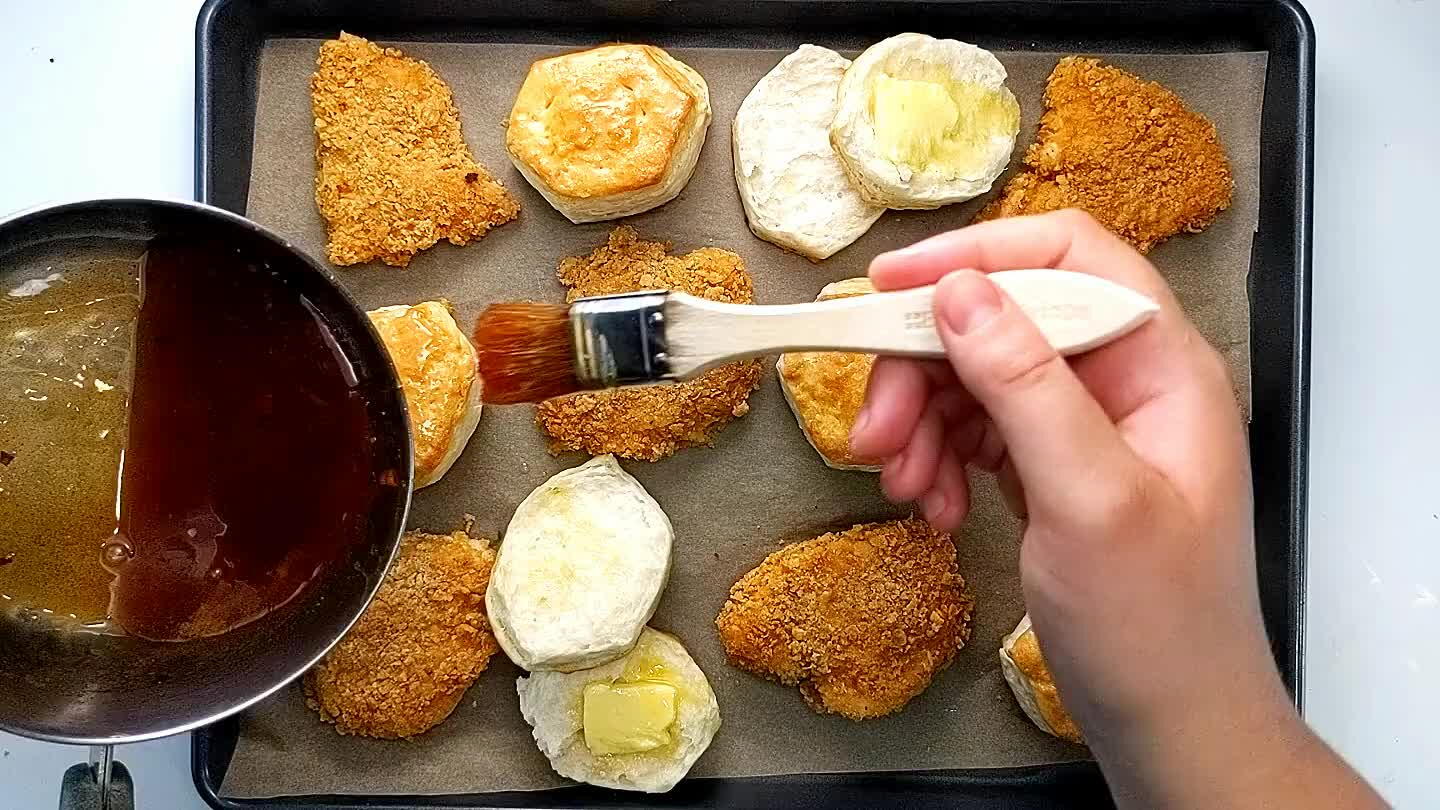 Add some butter to your biscuits if you like, and brush or drizzle the hot honey over the top of the chicken. Enjoy!
Comments