Fudgey Chocolate Cookies
by simply home cooked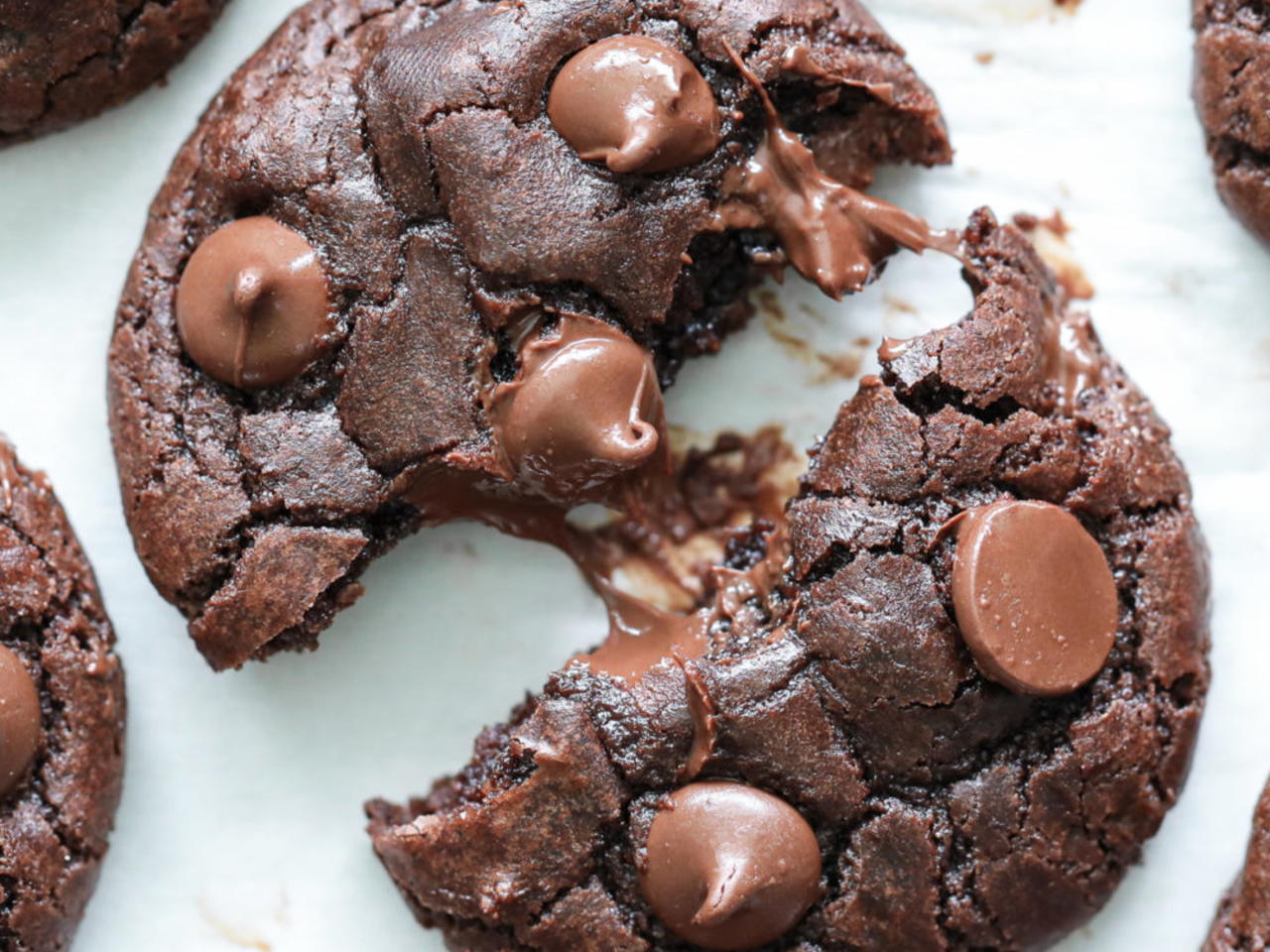 What you will need
Dry Ingredients
1 cup (120 g) all-purpose flour
1/3 cup (32.5 g) dutch cocoa powder
1/4 teaspoon salt (skip if you're using salted butter)
1 teaspoon baking powder
Wet Ingredients
1/3 cup (75.6 g) unsalted butter melted
1/2 cup (100 g) golden brown sugar
1/2 cup (100 g) granulated sugar
1 teaspoon vanilla extract
1 large egg + 1 egg yolk at room temp
Topping
1 cup (175 g) semisweet chocolate chips
(Nutritional facts 429 calories, 17.24 g fat, 69.28 g carbohydrates, 4.27 g protein, 89 mg cholesterol, 273 mg sodium)
How to cook
Sift the dry ingredients
The first thing you want to do is measure out 1 cup of all-purpose flour. And make sure to spoon it in and level it off with a knife. Measuring flour properly is super important in baking.
Now place a mesh sieve on top of your mixing bowl and add the flour in along with 1/3 cup dutch cocoa powder, 1/4 tsp salt, and 1 tsp baking powder.
Now gently sift the dry ingredients into your bowl. If you see any larger clumps, just press them in with the back of a spoon. Now set the dry ingredients aside for later.
Mix sugar and butter
In a separate bowl add 1/3 cup unsalted melted butter along with 1/2 cup granulated sugar and 1/2 cup of golden brown sugar. 
Using a whisk thoroughly mix the sugar in the melted butter together.
Add eggs add vanilla
Now add one large egg plus 1 large egg yolk. Then pour in 1 tsp of vanilla extract.
Now grab your whisk again and mix it very well. You want the consistency to be very smooth so this might require a little bit of elbow grease.
Mix the dry ingredients + choc chip
Now grab your sifted dry ingredients and add them to the butter and sugar mixture. Mix them gently with a spatula.
Now before adding in 1 cup of semisweet chocolate chips, reserve about 1/4 cup. They will be used to top the cookies before baking. 
Now mix in the chocolate chips into the dough and evenly as possible.
Line your baking sheet with parchment paper and grab your cookie scoop. ( I used a medium size)
Scoop, roll, and bake the cookies
Scoop out heaping mounds of the chocolate cookie dough onto your baking sheet. Making sure to space them about at least 2 inches apart. 
Now you can leave them as they are or you can roll each ball into your hand for a prettier looking cookie. But that's optional though.
Now top each cookie with a few of those chocolate chips we reserved earlier and bake the cookies at 350 degrees Fahrenheit for about 9 minutes. Once they're baked, let the cookies slightly cool before enjoying them.