Homemade Pie Crust Without Shortening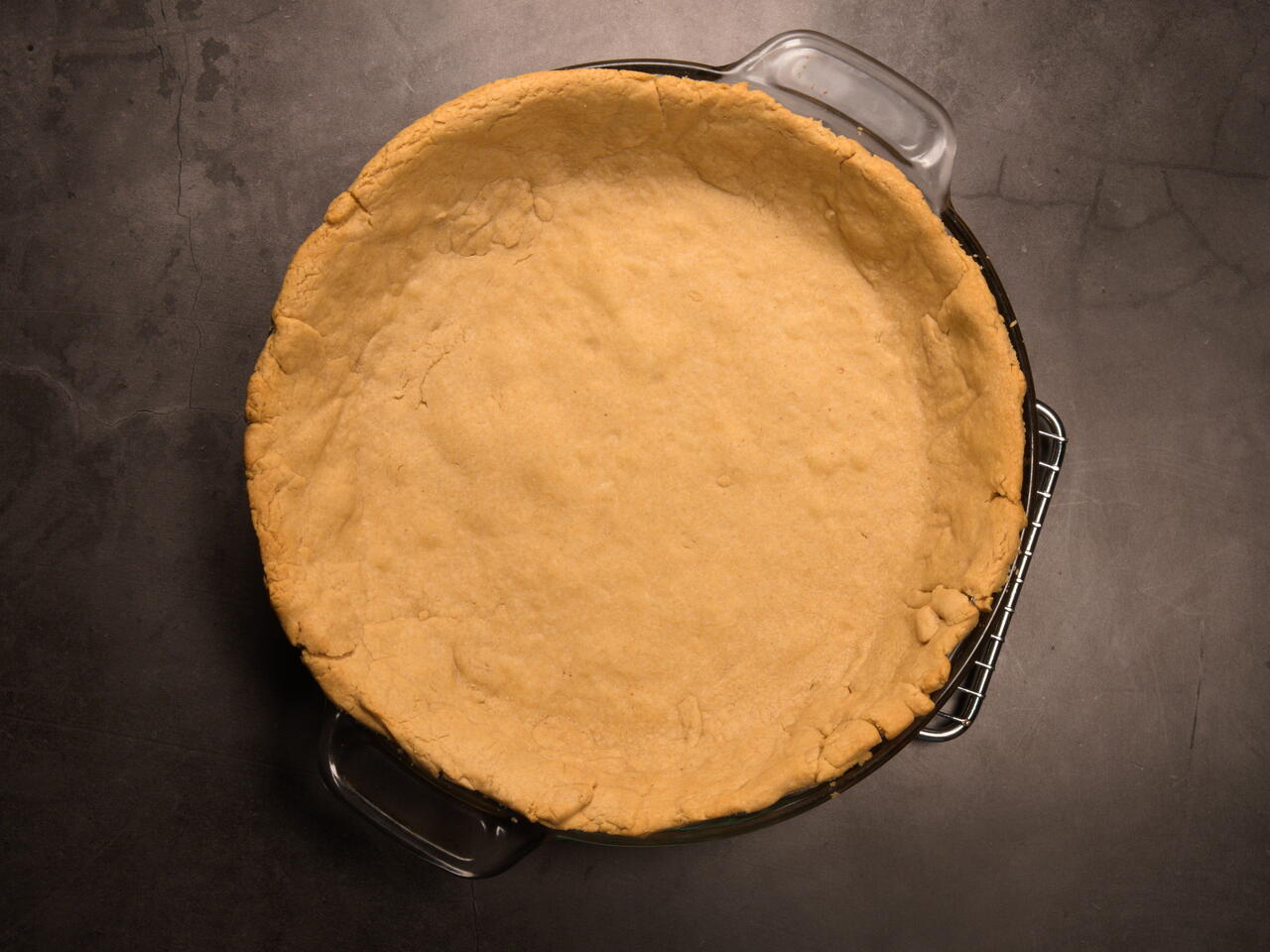 60m
This is the pie dough recipe I use. It's soft and flaky and wonderful, but it does take a little practice to get it right. There's a little restaurant in Pescadero, CA. that's been around for a long time. They make an olallieberry pie that is easily my favorite pie of all time. Olallieberries are relatively uncommon, but you can find them seasonally in Northern California. The berries at Duarte's come right out of their backyard. I did a little research and found this recipe.
What you will need
3/4 cup butter
1 1/2 cups cake or pastry flour
1/8 tsp salt
1/4 cup whole milk
(Nutritional facts 359 calories, 24.2 g fat, 31.72 g carbohydrates, 7.28 g protein, 43 mg cholesterol, 265 mg sodium)
How to cook
The butter should be cold. That's the first detail you need to remember when making a good pie dough. Cold butter (or shortening I guess). Dice it up into 1/2" chunks or smaller.
Using a fork or, ideally, a pastry cutter, cut the butter into the flour. If you've never done this before, it is pretty straightforward. Just keep punching the mix with that blade, cutting the butter into ever smaller flour-coated chunks.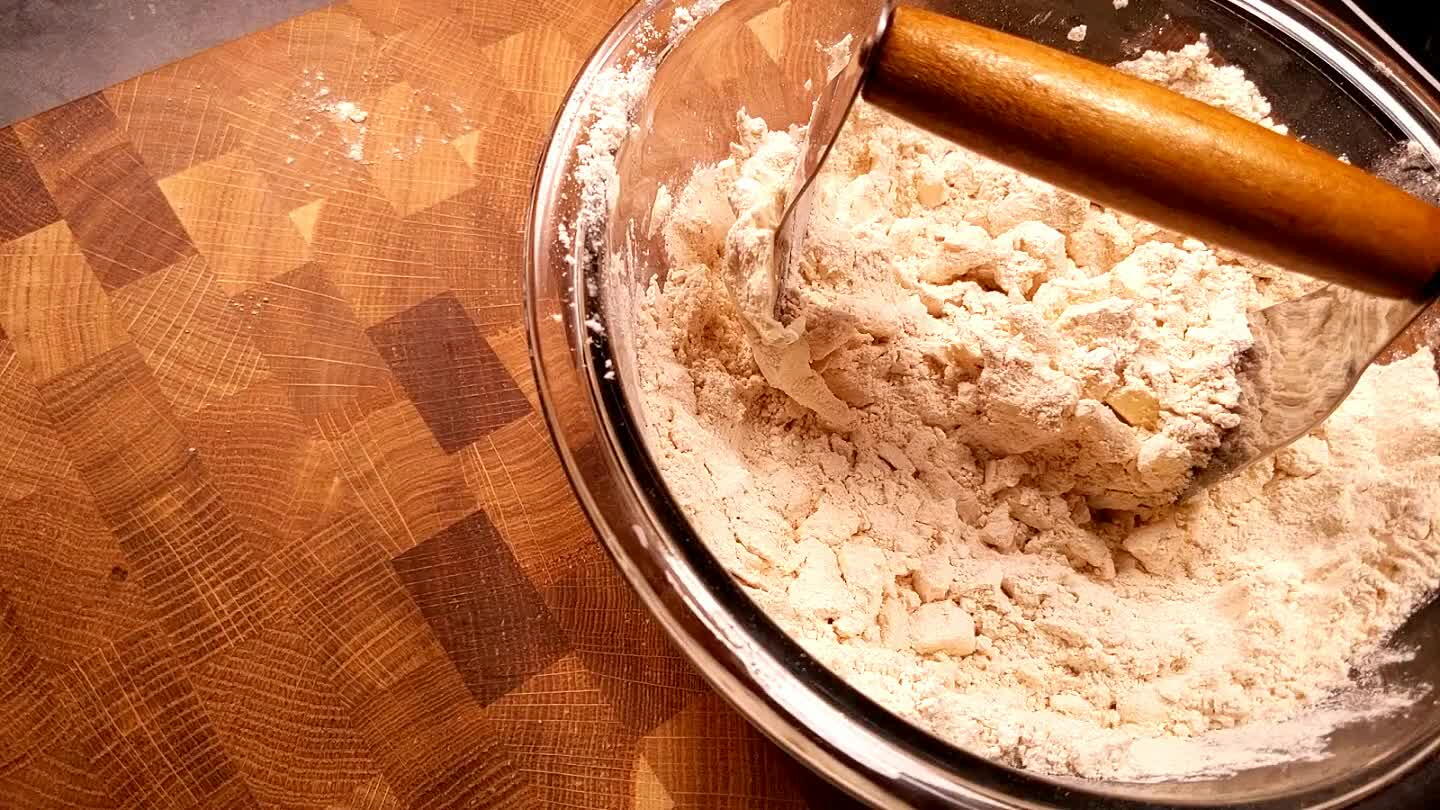 Add a pinch of salt as you mix.
If you're interested, you can also add a pinch of some type of flavoring agent. The flavor you choose should work well with your pie filling though. Cinnamon will probably go with most pie fillings, but you can really try anything that sounds interesting.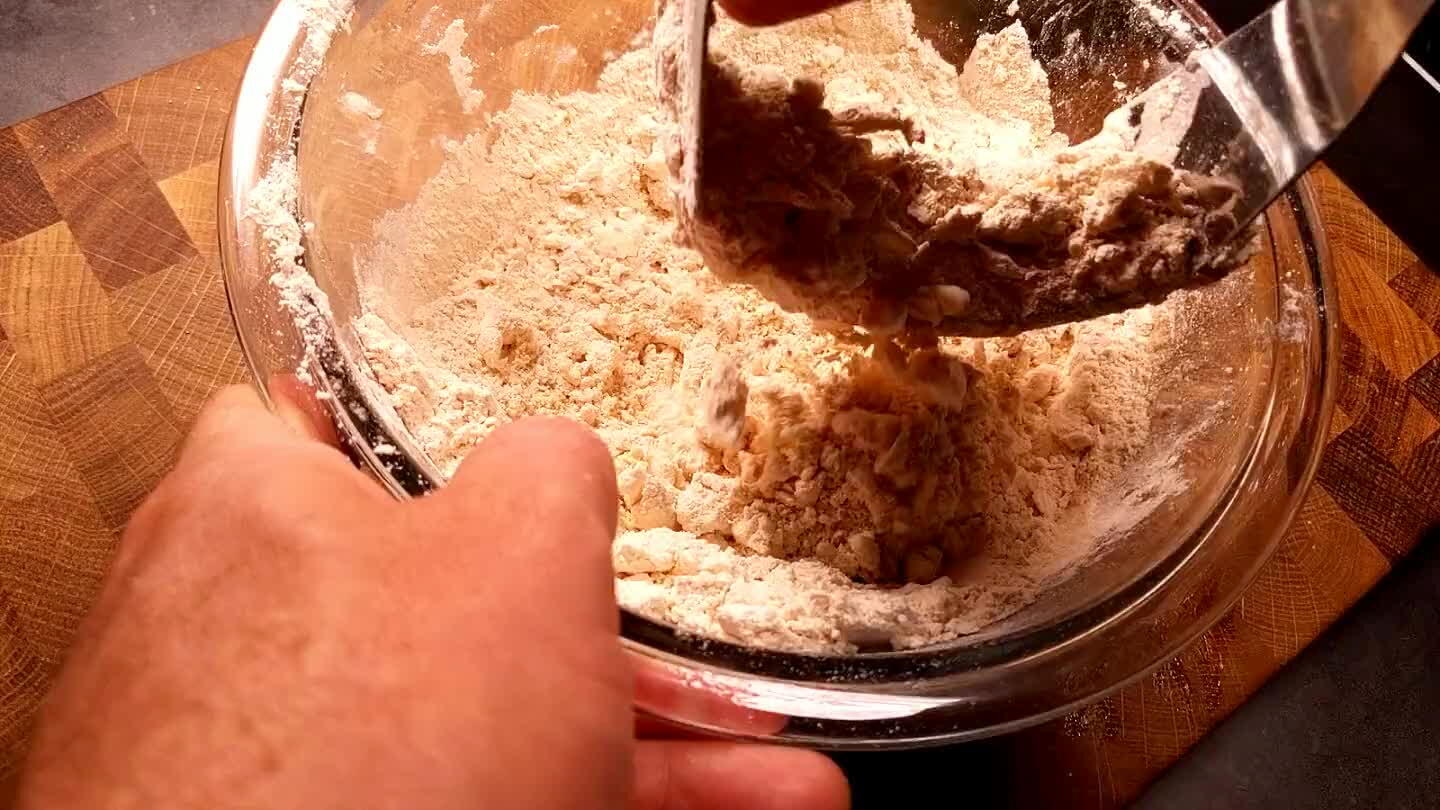 When the butter is thoroughly cut into the flour, you should be able to take a clump out and squish it in your hand to form a fragile but cohesive clump. See in the video how the clump forms but breaks easily?
Add the milk. Begin to mix the milk into the flour and butter.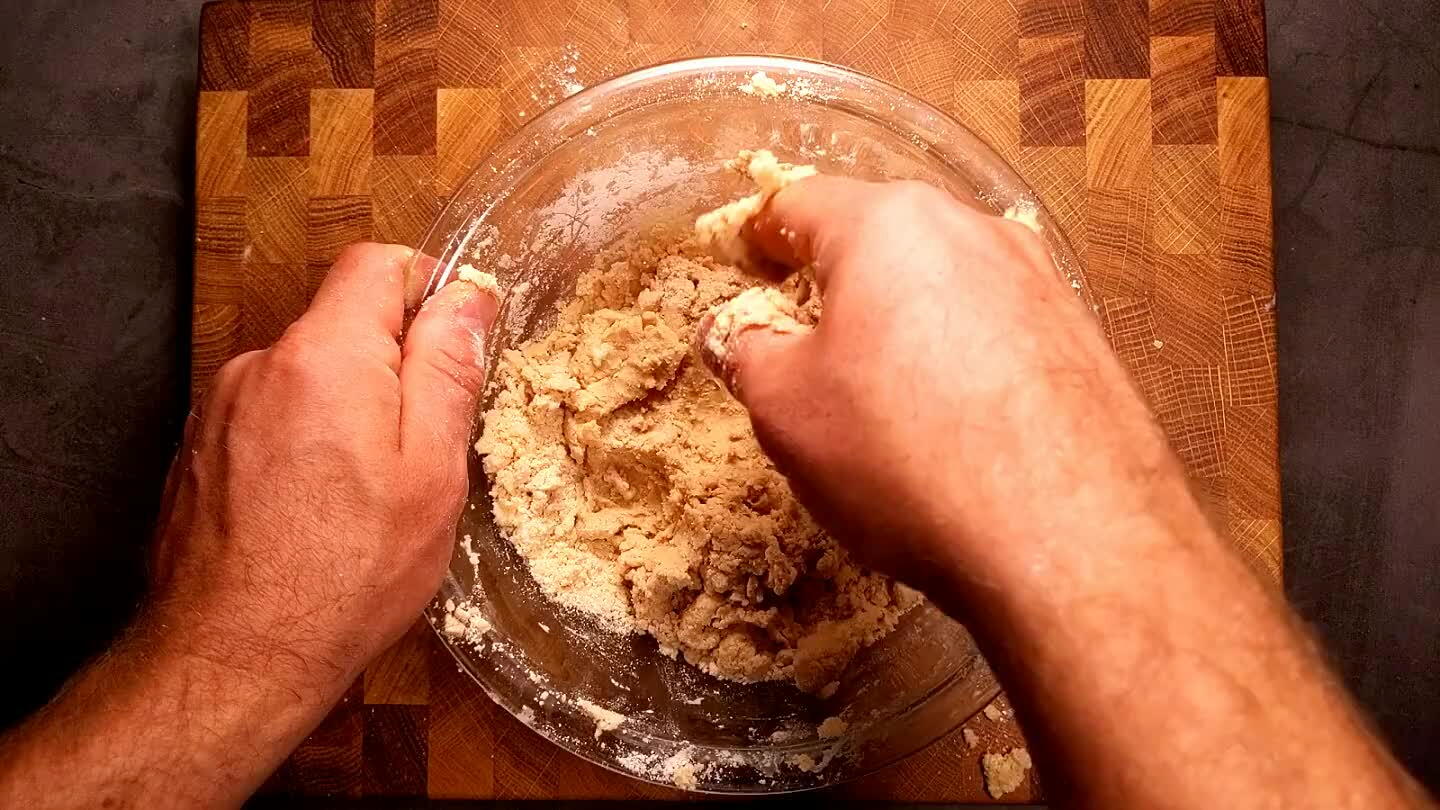 As the milk pulls the dough together, begin to knead it. Knead until mixed thoroughly into a firm and cohesive lump.
Wrap the dough ball in plastic wrap and place it in the refrigerator for at least 45 minutes or so.
Preheat oven to 350°F
Preheat oven to 350°F
With the dough still as cold as possible, roll it out round. It's a little bit of a struggle at first, but that butter will warm up and it gets easy quick. Move fast here so the dough doesn't get too soft on you.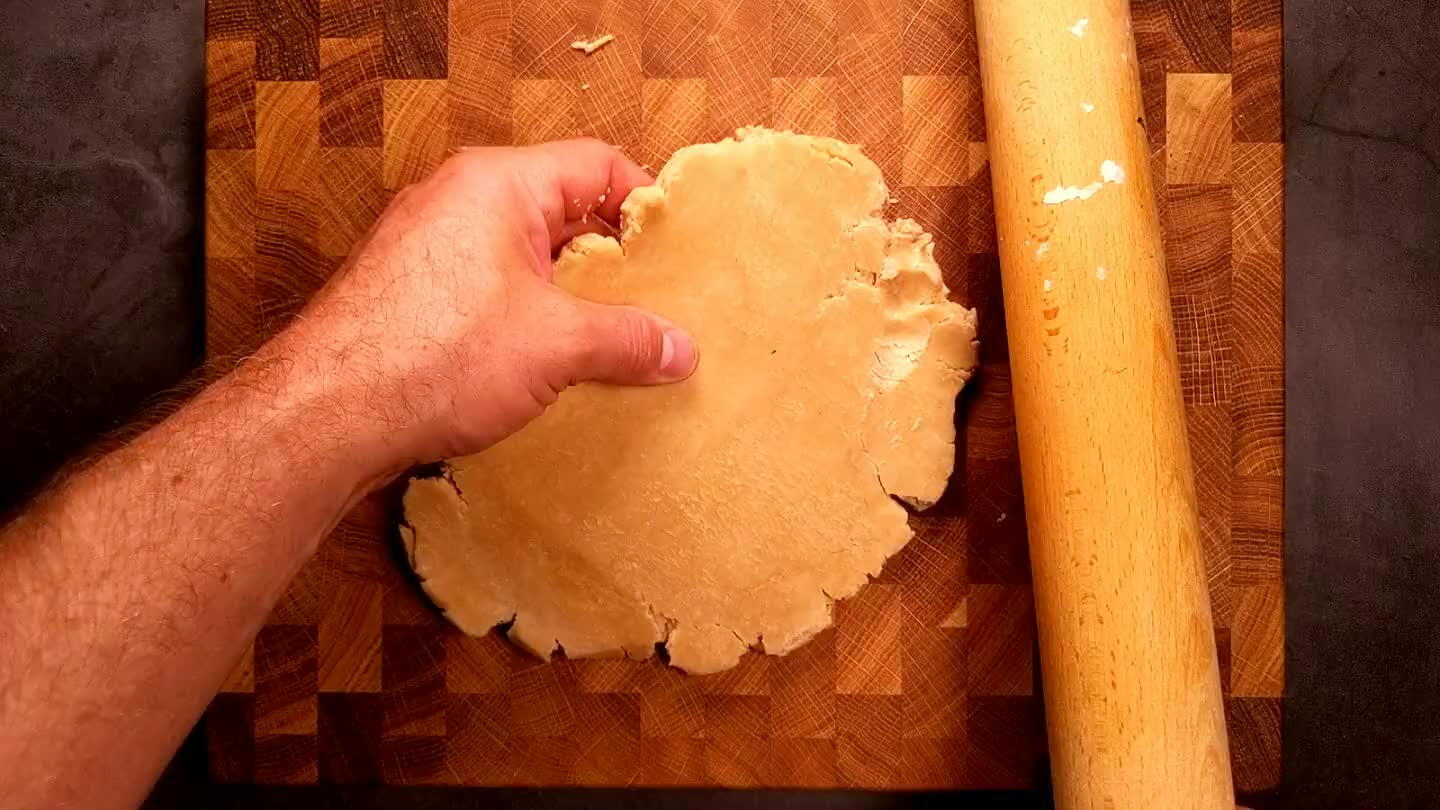 Roll the dough to about 12"-13" in diameter.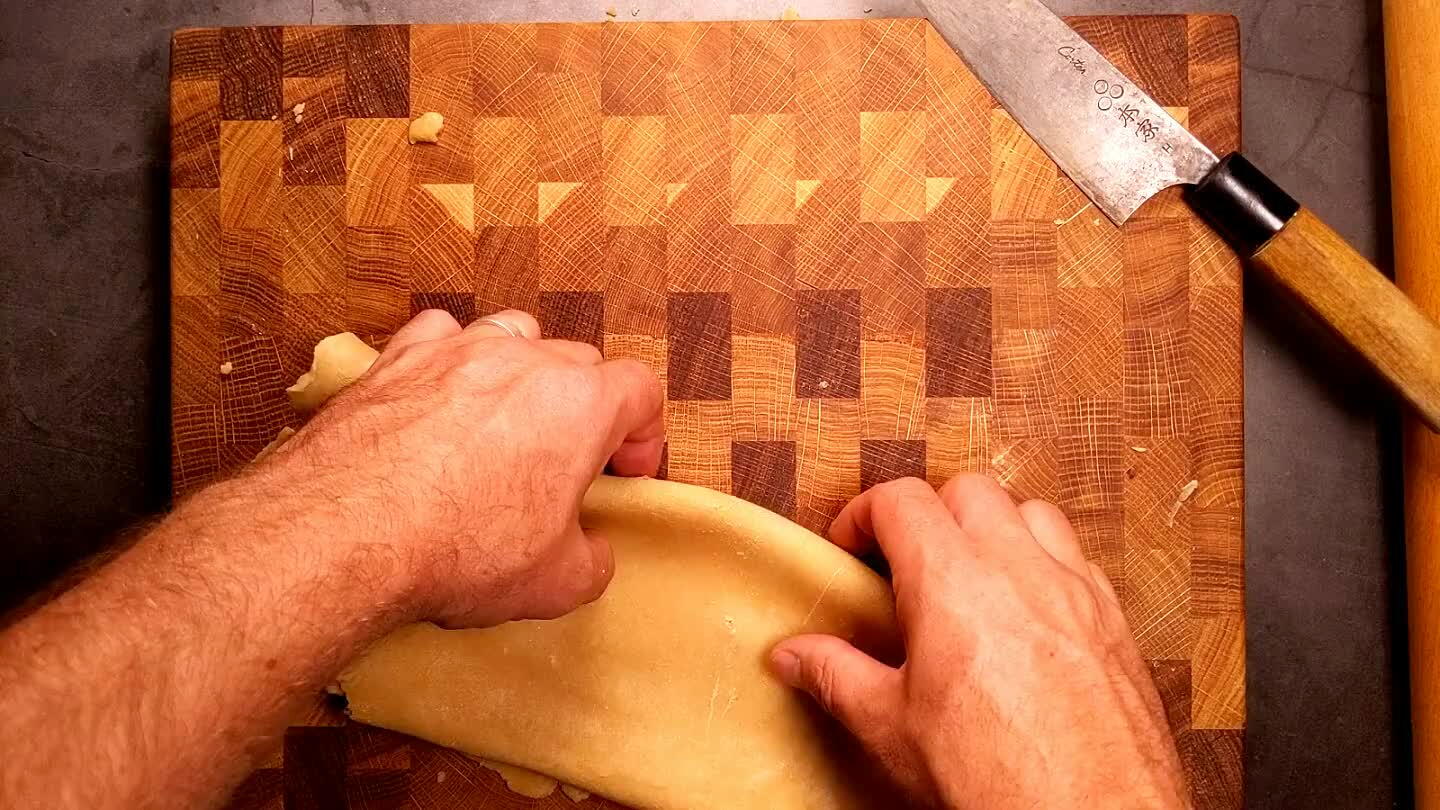 Lay the sheet over your pie dish. Press it down to fit the dish. I recommend using a ceramic or pyrex pie plate. It will retain heat much better than a tin plate and this will help your pie cook more evenly.
Slice around the rim to cut away that ragged crust at the edges. Reserve the excess crust if you want to make a top for your pie.
Now you have a choice: par bake?
My favorite application of this dough is a filled berry pie. If you're feeling adventurous, you can roll out your excess dough and slice it in strips for a latticed pie. But if you're planning an open-faced pie: pecan pie, pumpkin pie, quiche etc. you should par bake the crust.
If you chose to par-bake the crust, line it with parchment and fill it with rice, beans, or pie weights.
First, bake the weighted crust for about 20 minutes. Then, remove the dough from the oven, carefully remove the parchment and pie weights, then bake for an additional 15-25 minutes until light golden brown.