Impossible Chorizo and Clams Recipe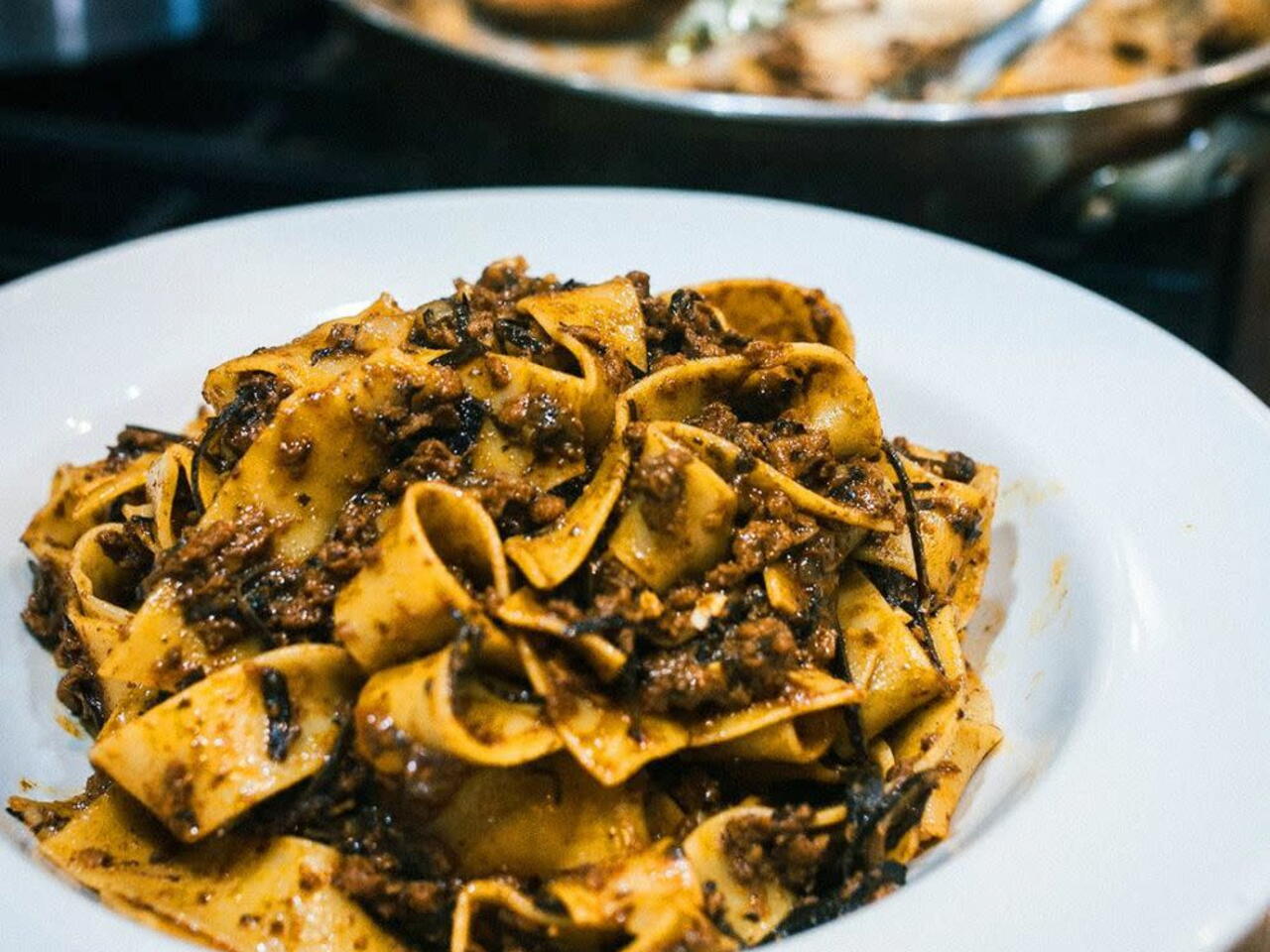 4 portions
90m
Fresh pasta topped with spicy, seasoned Impossible Chorizo, salty arame seaweed (for that subtle clam flavor), onions, garlic, and butter. Tastes like a seaside vacation, with a kick.
What you will need
1 Package Impossible Burger
2 Tablespoons Paprika
1 Teaspoon Crushed Red Pepper
1/2 Teaspoon Cumin
1/2 Teaspoon Clove
2 Tablespoons White Wine
1/2 Ounce Arame Seaweed
0.25 White Onion
Salt To Taste
10 Cloves Garlic
1 Tablespoon Smoked Paprika
1/2 Teaspoon Coriander
1/2 Teaspoon Black Pepper
1/4 Teaspoon Ginger Powder
1 Tablespoon Oregano
6 Tablespoons Butter
Fresh Pasta
(Nutritional facts 232 calories, 14.97 g fat, 20.85 g carbohydrates, 4.51 g protein, 36 mg cholesterol, 1403 mg sodium)
How to cook
MIX THE IMPOSSIBLE CHORIZO
Toast all spices in a dry pan over medium heat until fragrant. Let cool. Mix Impossible™ Burger, toasted spices, oregano, 8 garlic cloves, and white wine in a large bowl with your hands until completely mixed. Cover and refrigerate (overnight if possible).
PREP INGREDIENTS
Boil a large pot of salted water for your pasta. At the same time, soak arame seaweed in cold water for 10 mins to rehydrate, remove and reserve soaking liquid. Dice the white onion and mince remaining 2 cloves garlic.
COOK THE IMPOSSIBLE™
Remove Impossible chorizo from the fridge and cook through. Remove from the pan and set aside. In the same pan sauté chopped onions and garlic in 3 tablespoons of the butter until translucent. Cook the pasta according to instructions. Add chorizo and arame to garlic/onion mix. *Want to make it plant-based? Use plant-based butter!
ASSEMBLE
Add remaining 3 tbsp of butter and a splash of Arame soaking liquid to the chorizo. Serve over fresh pasta.