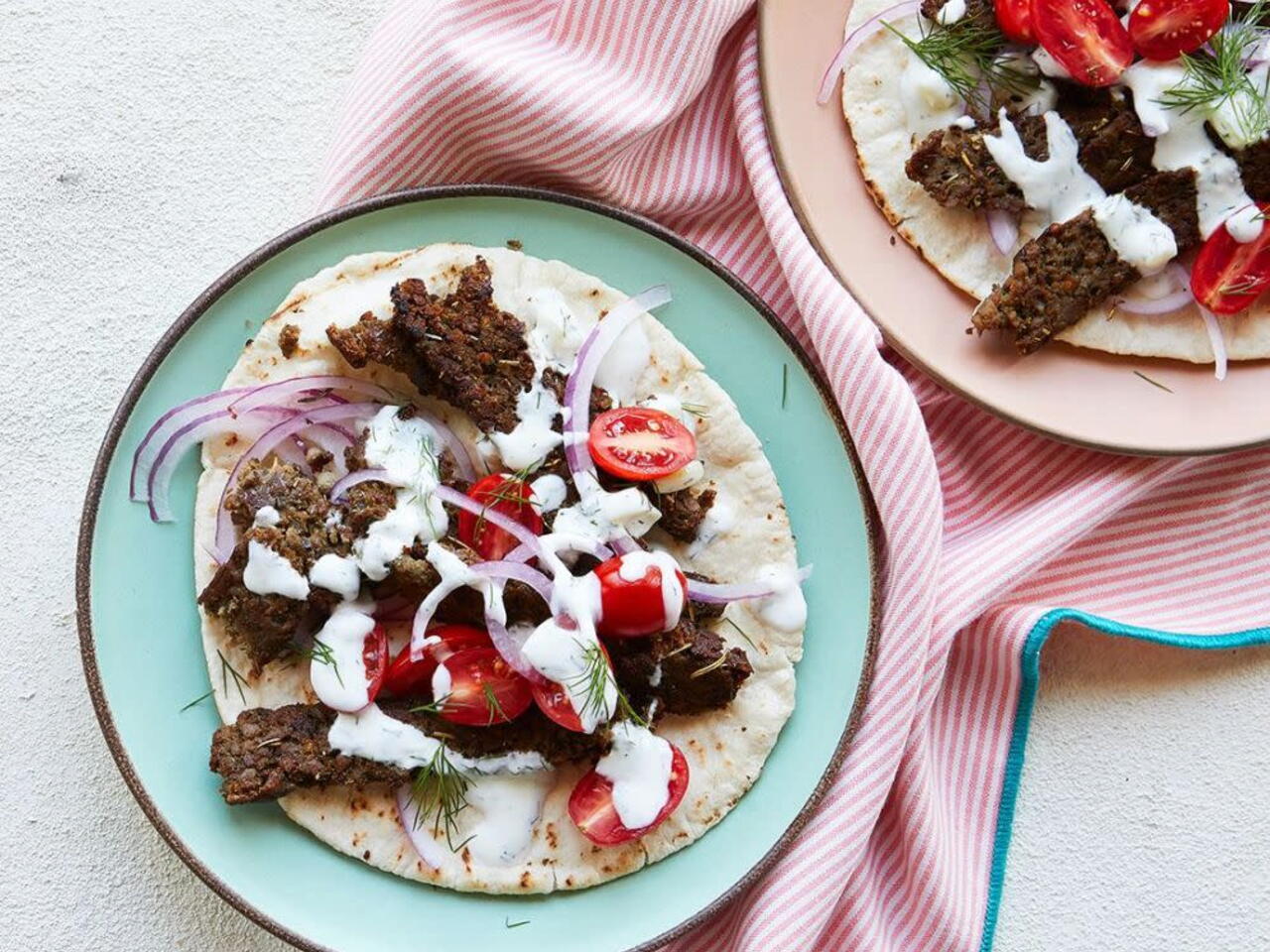 Recipe video made by impossible_foods
Published on 10/27/2020, viewed by 173
3 portions
30m
"Gyro" is a Greek word that means "round." That's going to come in handy the next time you're trying to impress your friends. They'll probably say, "I didn't know you knew Greek!" And you can respond "Yeah, well, maybe there's a lot you don't know about me." And leave it at that. This Impossible Gyro recipe is one of our favorites. The ingredient list might look a bit daunting because it's so long. But relax. It's mostly spices. You're making a richly-flavored Impossible dish here.
What you will need
1 Package Impossible Burger
1 Tablespoon Garlic Powder
1 Tablespoon Onion Powder
1 Teaspoon Oregano
2 Teaspoons Dried Thyme
2 Teaspoons Rosemary
2 Teaspoons Dried Parsley
1/4 Cucumber
2 Teaspoons Dill
1/2 Cup Plain Yogurt
1 Teaspoon Lemon Juice
1 Teaspoon Olive Oil
1/4 Cup Cherry Tomatoes
1/4 Red Onion
Salt To Taste
(Nutritional facts 108 calories, 3.77 g fat, 16.75 g carbohydrates, 4.86 g protein, 3 mg cholesterol, 1731 mg sodium)
How to cook
COOK THE IMPOSSIBLE™
Mince the red onion and 3 cloves of garlic. Combine with the Impossible™ Burger and spices and mix until well combined in a bowl. Place the mixture in a pan on medium heat and stir until meat is seared brown and cooked through. Add salt and pepper to taste. Remove pan from heat and set aside.
MAKE TZATZIKI SAUCE
Peel and finely dice the cucumber and mince garlic and dill. Combine with yogurt and lemon juice -- whisk until well incorporated. Add the oil slowly until fully incorporated and emulsified. *Make it 100% plant-based with plant-based yogurt.
ASSEMBLE THE GYROS
Slice the cherry tomatoes and ¼ of a red onion. Top each pita with Impossible Gyro Meat, cherry tomatoes, red onion, and tzatziki sauce.
Comments