Impossible Italian Meatballs Recipe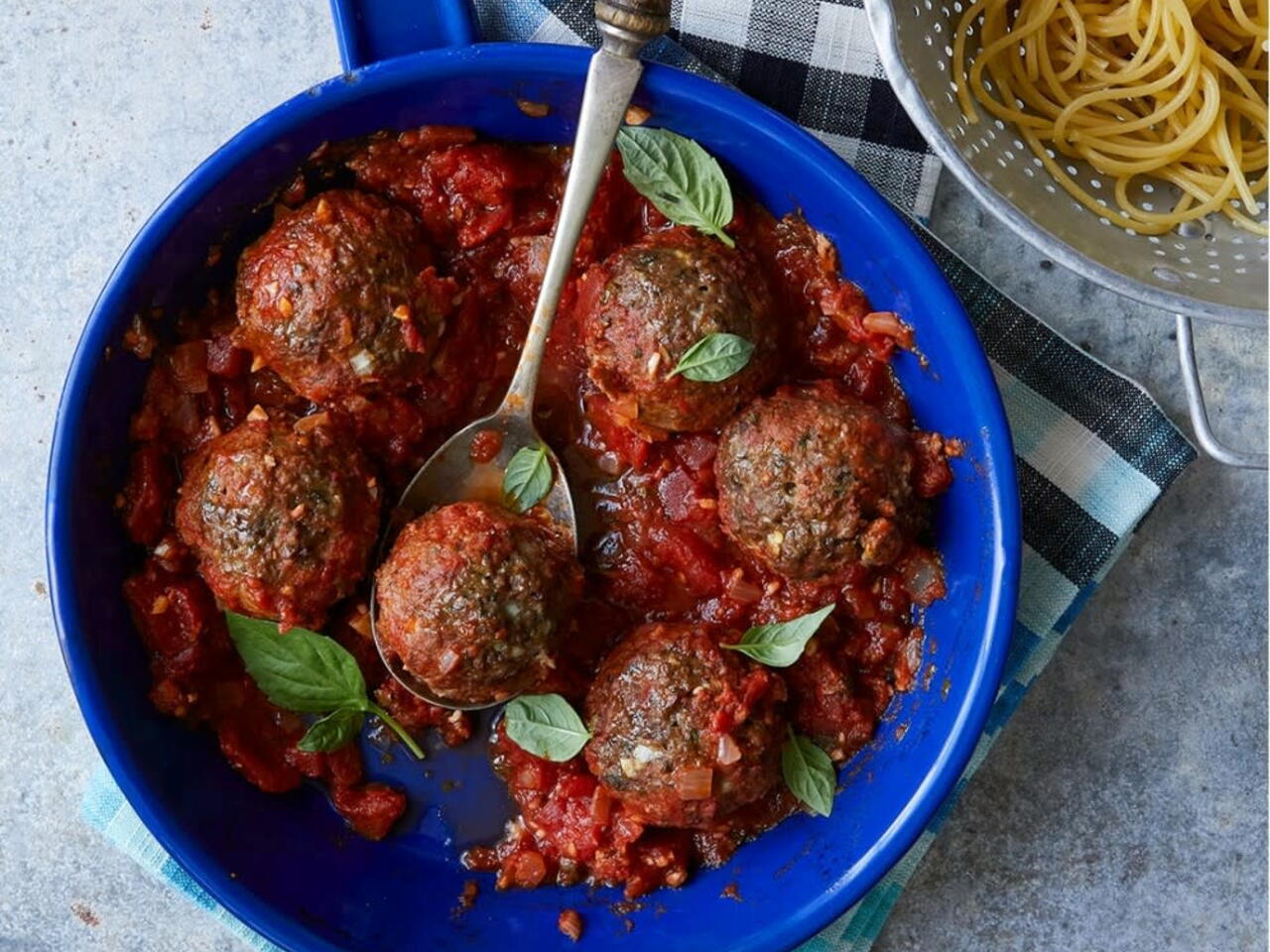 4 portions
75m
Next time you visit your Italian grandmother, bring this dish. Tell her she can make the pasta, but you'll bring the Italian meatballs and sauce. Then, watch her smile when she digs in. And be sure to say: "See, I learned from the best cook in the world." (Note: you don't need an Italian grandmother to make this dish.) This Impossible Meatball recipe is perfect for making spaghetti and Italian meatballs for the house.
What you will need
1 Package Impossible™ Burger
1 Pound Spaghetti
Egg (Optional)
1 Teaspoon Crushed Red Pepper
28 Ounces Can Of San Marzano Tomatoes
Yellow Onion
2 Tablespoons Thyme
2 Tablespoons Oregano
2 Tablespoons Fresh Basil
2 Tablespoons Breadcrumbs
2 Cloves Garlic
2 Tablespoons Olive Oil
1/2 Cup Grated Parmesan Cheese
Salt
Black Pepper
(Nutritional facts 337 calories, 6.15 g fat, 64.16 g carbohydrates, 13.13 g protein, 78 mg cholesterol, 448 mg sodium)
How to cook
PREP YOUR INGREDIENTS
Preheat the oven to 425° F. Dice one yellow onion. Remove the stems from the fresh herbs and finely chop (thyme, oregano, basil).
MAKE THE MEATBALLS
In a bowl, combine the Impossible™ Burger, ¼ cup of diced yellow onion, 2 cloves of minced garlic, breadcrumbs, egg, 2 tablespoons of grated cheese, red pepper, and 1 tablespoon each of thyme, oregano, and basil. Mix until incorporated. Form 2 oz meatballs and pack tightly. Place the meatballs on a baking sheet lined with parchment paper, bake in the oven for 8 to 12 minutes, or until golden brown. *Make it 100% plant-based with plant-based cheese.
MAKE THE SAUCE
Sweat the remaining onions and minced garlic with olive oil until they are soft. Add the tomatoes and simmer for 30-40 minutes. Once the sauce has finished cooking, add the remaining fresh herbs and cook for 1 more minute, then season to taste.
BOIL PASTA AND ASSEMBLE
Bring a large pot of water to a boil. Add a generous pinch of salt and cook the spaghetti according to the package's instructions. Add the meatballs to the finished sauce and serve over spaghetti. Top with your choice of cheese.