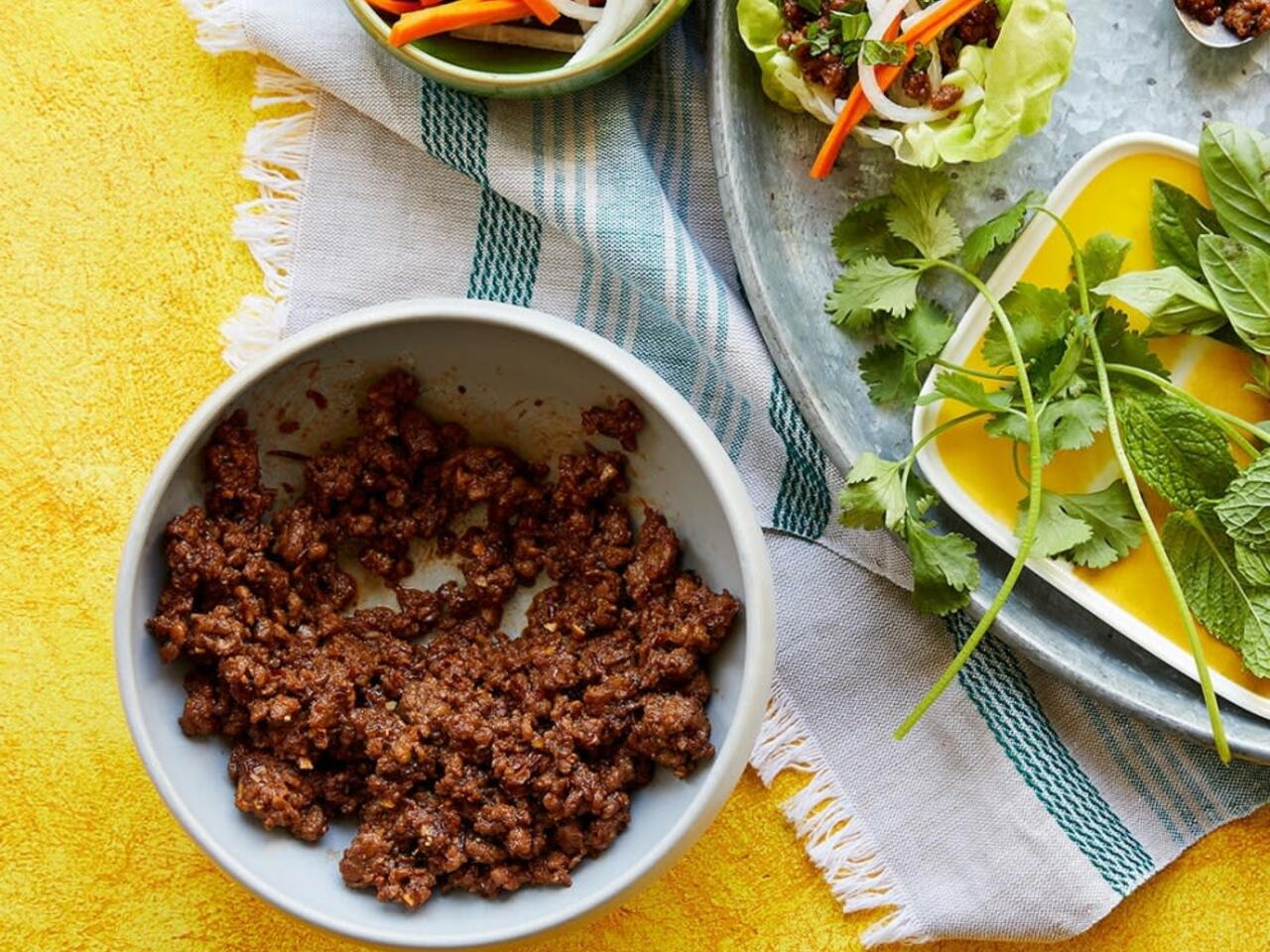 Recipe video made by impossible_foods
Published on 10/28/2020, viewed by 187 , 0 Comments
6 portions
25m
Impossible paired with toasted rice, chili, cilantro, and mint, and wrapped in a crunchy lettuce cup. Refreshing and full of flavor -- this is the perfect take on a Thai classic.
What you will need
1 Package Impossible™ Burger
1/4 Cup Uncooked Sticky Rice
5/2 Tablespoons Coconut Oil
1/4 Teaspoon Chili Powder
2 Green Onions
1/4 Red Onion
2 Tablespoons Fish Sauce
3/2 Tablespoons Lime Juice
3 Tablespoons Cilantro
3 Tablespoons Mint
Salt To Taste
Lettuce Cups (Optional)
(Nutritional facts 153 calories, 9.6 g fat, 14.57 g carbohydrates, 2.46 g protein, 0 mg cholesterol, 1842 mg sodium)
How to cook
MAKE ROASTED RICE POWDER
Place uncooked sticky rice in a dry skillet over medium heat. Cook, stirring frequently, until grains are toasted and deep golden brown, about 10 to 15 minutes. Remove from heat and let cool to room temperature. Transfer cooled, toasted rice to a spice grinder and grind to a coarse powder. If necessary, work in batches. The powder should resemble fine coffee grinds.
COOK THE IMPOSSIBLE
In a large skillet, heat coconut oil over medium high heat. Using your hands, break up the Impossible Burger into small crumbles. When the oil begins to shimmer, add the Impossible crumbles and season lightly with salt. Cook over medium high heat for 10 minutes or until the Impossible crumbles are browned and cooked through.
ADD SEASONING
When the crumbles have browned, add chili powder and 1½ tablespoons of roasted rice powder. Thinly slice green onions and red onion and add to the crumbles. Mix in the lime juice, and fish sauce. Cook for 2 minutes, stirring frequently, and remove from heat. *Make it plant-based with plant-based fish sauce!
ASSEMBLE LARB
Once the mixture has cooled slightly, stir in cilantro and mint leaves. Eat as is or fill lettuce cups and garnish with mint and cilantro.
Comments