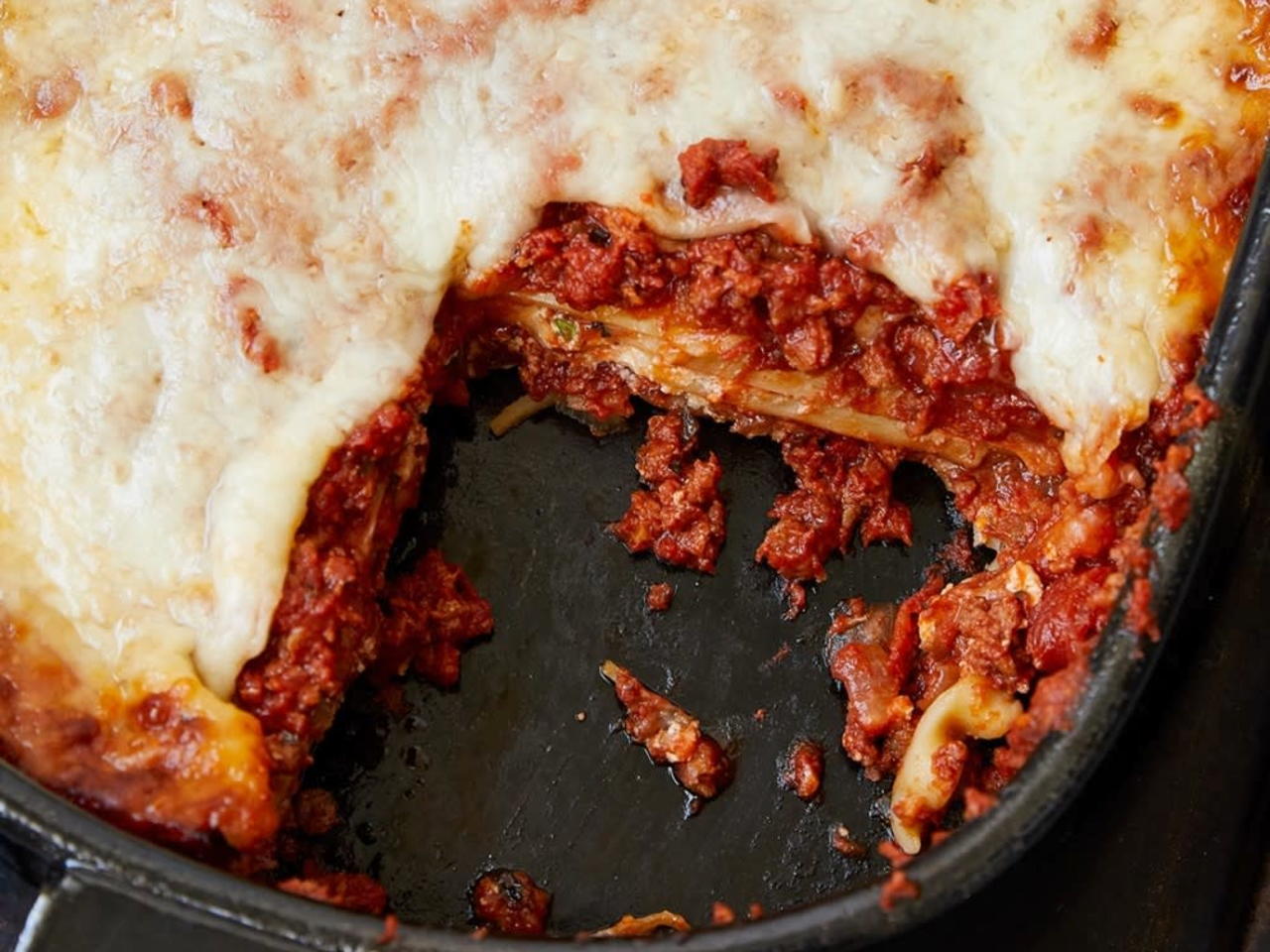 8 portions
90m
Al dente lasagna noodles, three kinds of cheese, crushed tomatoes and Italian spices make this the perfect Impossible™ take on a family favorite.
What you will need
2 Packages Impossible™ Burger
1 Pound Lasagna Noodles
1 Yellow Onion
1 Carrot
1 Rib Celery
3 Cloves Garlic
1/2 Cup Of Red Wine
28 Ounces Canned Tomatoes
1/2 Cup Vegetable Stock
2 Tablespoons Parsley
1 Tablespoon dried Thyme
1 Tablespoon dried Oregano
1 Tablespoon Basil
8 Tablespoons Tomato Paste
1 Pound Shredded Mozzarella
1 Cup Ricotta
1/2 Cup Grated Parmesan Cheese
Salt
Pepper
(Nutritional facts 175 calories, 5.76 g fat, 21.55 g carbohydrates, 8.94 g protein, 18 mg cholesterol, 805 mg sodium)
How to cook
COOK IMPOSSIBLE™
Dice the onions, carrots, and celery. Mince the garlic. Place prepped vegetables in a stock pot over medium heat and sweat until soft, about 5 minutes. Add Impossible™ Burger and brown until fully cooked.
BOIL THE NOODLES
Deglaze with red wine and cook for 3 minutes. Add the tomato paste and stir it into the mixture. Cook for about 3 minutes. Add the vegetable stock and canned tomatoes. Bring to boil for 5 minutes. Mince the parsley, thyme, oregano, and basil. Add the fresh herbs and simmer for about 10-12 minutes, or until you reach desired consistency. Season to taste.
MAKE THE BOLOGNESE
Bring a large pot of water to a boil. Add a generous pinch of salt and cook the lasagna noodles for 3 minutes until extremely al dente. Remove from water and stack noodles flat between layers of parchment paper.
ASSEMBLE THE LASAGNA
To assemble the lasagna, build layers in a 9 x 13 baking dish by adding sauce, then pasta, then evenly spread dollops of ricotta throughout each layer. Repeat for 3 layers. On the top layer, add all the mozzarella and parmesan or pecorino cheese. *Want to make it plant-based? Use plant-based cheese!
BAKE THE LASAGNA
Bake at 400F until the Lasagna is cooked through and the cheese is browned on top, about 15-20 minutes. Wait 8-10 minutes before cutting into squares and serving.