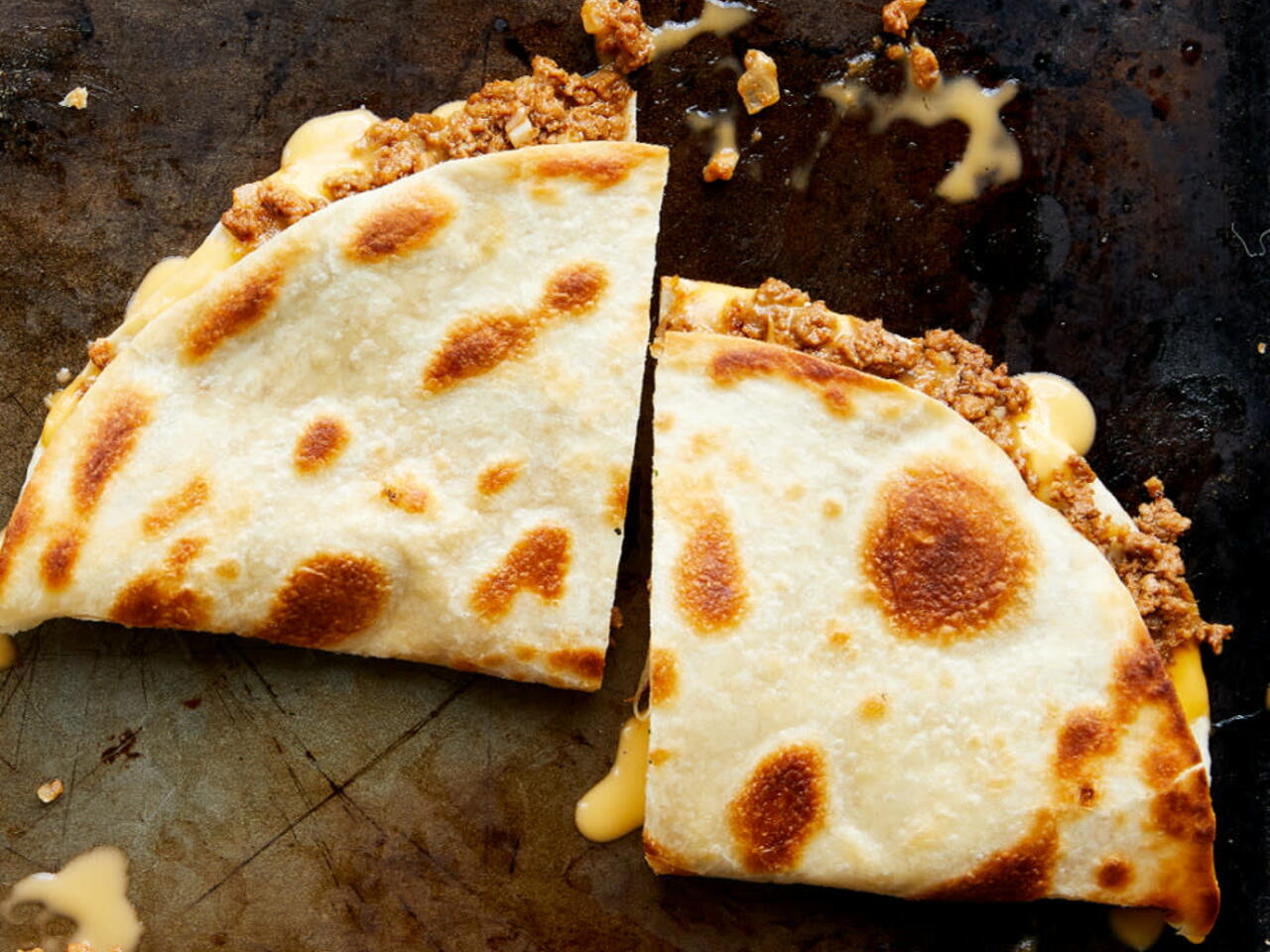 4 portions
50m
Onions, garlic, deliciously spiced Impossible™, and Mexican cheese, melted between two buttery, crispy flour tortillas? Yes, please. Feeling fancy? Top it off with fresh and tangy roasted corn salsa.
What you will need
1 Package Impossible™ Burger
3 Cloves Garlic
1 Teaspoon Sweet Paprika
1/2 Teaspoon Cumin
1/2 Teaspoon Oregano
1/4 Teaspoon Coriander
1/4 Teaspoon Ancho Chile Powder
1 Bunch Cilantro
3 Ears Of Corn
1 Yellow Onion
1 Cup Cherry Tomatoes
1 Jalapeno
1 Avocado
1 Lime
4 10-Inch Tortillas
1 Pound Shredded Mexican Cheese Blend
2 Tablespoons Olive Oil
Salt To Taste
(Nutritional facts 211 calories, 13.22 g fat, 10.72 g carbohydrates, 13.11 g protein, 21 mg cholesterol, 866 mg sodium)
How to cook
COOK THE IMPOSSIBLE™
Mince the yellow onion and garlic and finely chop the cilantro. Set aside half the onion and half the cilantro and combine the remainder with the Impossible™ Burger, and spices in a large bowl. Place the mixture in a pan on medium heat and stir until meat is seared brown and cooked through. Remove from heat and set aside.
PREPARE THE CORN
Shucking the ears of fresh corn. Heat a skillet over medium heat. Add the oil and corn to the skillet. Let the corn develop a char, turning occasionally until all sides are charred and cooked through. Pull from the pan and allow to cool.
MAKE THE ROASTED CORN SALSA
Once cooled, slice the kernels off the cob and place in a bowl. Using a spoon, hold the cob over the bowl and scrape the sides of the cob to get the remaining kernels. Dice the avocado and quarter the cherry tomatoes. Combine with remaining onion and cilantro, and jalapeno pepper (seeded and diced). Stir while adding the lime juice.
ASSEMBLE THE QUESADILLA
Remove the quesadilla from the pan and allow it to cool before slicing. Top with roasted corn salsa.