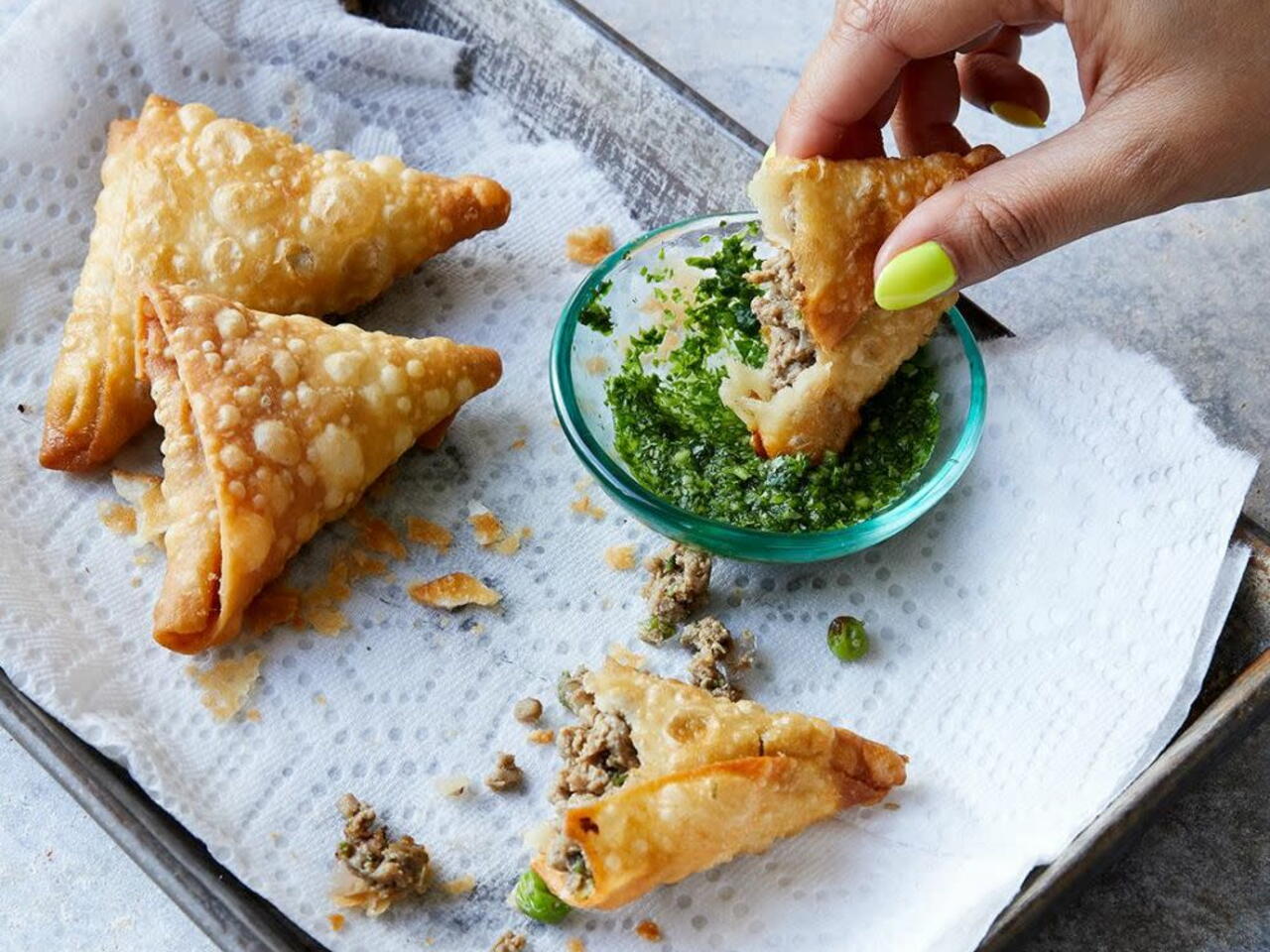 16 portions
105m
These crunchy little delights spiced with curry, ginger, scallions, and lime are an absolute showstopper. Take them to a cocktail party, make them for your mom, eat them for breakfast -- and don't forget to dunk them in some spicy mint cilantro sauce.
What you will need
1 Package Impossible Burger
2 1/4 Cups Flour
1/2 Tablespoon Sugar
1/2 Teaspoon Baking Powder
1/4 Cup Oil
3/4 Cup Water
1 Teaspoon Ginger
6 Cloves Garlic
2 Scallions
1 Tablespoon Curry Powder
1 Cup Frozen Peas
1 Bunch Cilantro
3 Limes
1/2 Cup Fresh Mint
1 Tablespoon Agave
1 Teaspoon Sambal Chili Paste
5 Cups Oil (For Frying)
Salt As Needed
(Nutritional facts 483 calories, 46.96 g fat, 13.53 g carbohydrates, 2.08 g protein, 0 mg cholesterol, 235 mg sodium)
How to cook
MAKE THE SAMOSA DOUGH
Combine the flour, 1 teaspoon salt, sugar, and baking powder and whisk together in a large bowl. Add the oil, then gradually add the water with one hand while mixing ingredients with the other hand. The dough should be smooth and not very sticky. If needed, use more water or flour for desired dough consistency. Place a towel over the dough and allow it to set at room temperature for 30 minutes.
COOK THE IMPOSSIBLE™
Mince ginger, 2 cloves garlic, and scallions. Cook in a large saucepan over low heat until soft. Increase temperature to medium-high and add crumbled Impossible™ Burger. Brown until cooked through.
MAKE THE FILLING
Add curry powder and frozen peas. Cook for an additional 3 minutes, stirring frequently. Remove pan from heat and season with lime juice and salt. Place mixture in the fridge to cool. Remove from fridge and add 3 tablespoons of cilantro (finely chopped). Mix until well combined.
MAKE THE SPICY MINT CILANTRO SAUCE
Place remaining cilantro, mint leaves, 4 cloves garlic, agave, sambal paste, and the juice of two limes in a food processor. Pulse until smooth. This sauce is best used fresh!
CUT SAMOSA WRAPPERS
Divide the dough into eight equal portions. Roll each portion into a circle, about 1/16th of an inch thick. The more perfect the circle is, the easier it will be to fill. In a skillet over medium heat, toast one side of each dough circle. Once cooled, cut the circles in half to achieve 16 semicircles.
FILL SAMOSA
With each semicircle, fold the cut, flat edge together and seal with the additional water to make a conical shape with the dough. Fill each cone with approximately 1 Tbsp of filling. Seal the open edge with water and fold up like an envelope.
FRY SAMOSA
Fry each samosa in oil at 350F, turning occasionally, until the samosa is golden brown. Remove from the oil and place on a towel-lined platter. Allow to cool for 3-5 minutes and serve with Spicy Mint Cilantro Sauce.