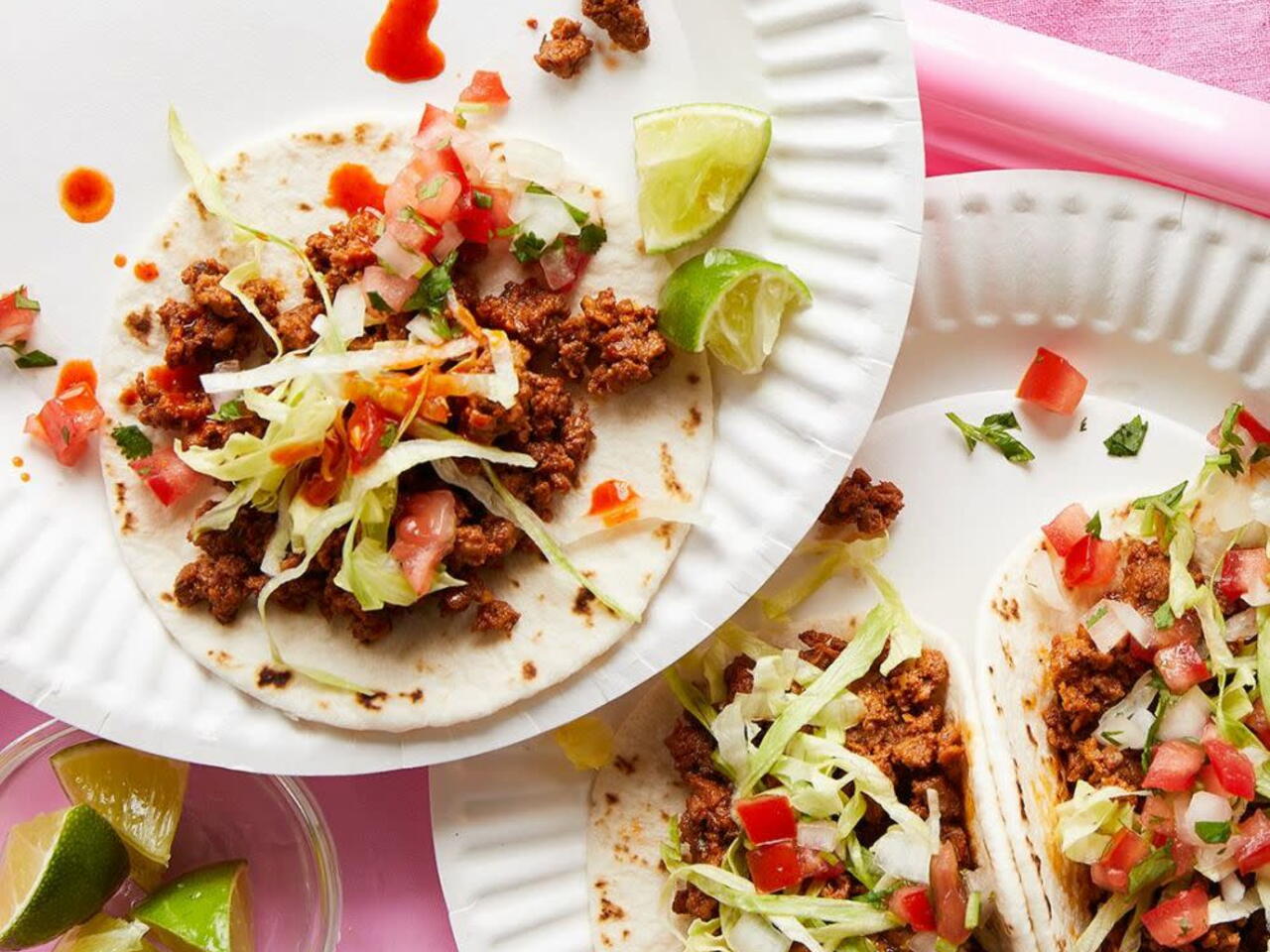 6 portions
40m
Street tacos, Impossible™ style, with soft tortillas and Salsa Verde. Is it Tuesday? Because we want to celebrate with these beauties tonight.
What you will need
1 Package Impossible Burger
1/2 Red Onion
4 Cloves Garlic
1 Teaspoon Sweet Paprika
1/2 Teaspoon Cumin
1/2 Teaspoon Oregano
1/4 Teaspoon Coriander
1/4 Teaspoon Ancho Chile Powder
3/4 Pound Tomatillos
1 Yellow Onion
1 Jalapeno
2 Tablespoons Olive Oil
1 Bunch Cilantro
1/4 Cup Rice Vinegar
2 Limes
1/4 Cup Water
6 Small Tortillas
Salt To Taste
(Nutritional facts 102 calories, 7.36 g fat, 7.59 g carbohydrates, 2.8 g protein, 4 mg cholesterol, 451 mg sodium)
How to cook
COOK THE IMPOSSIBLE™
Mince the red onion and 3 cloves of garlic. Combine with the Impossible™ Burger and spices and mix until well combined in a bowl. Place the mixture in a pan on medium heat and stir until meat is seared brown and cooked through. Add salt and pepper to taste. Remove pan from heat and set aside.
ROAST THE VEGETABLES
Cut the yellow onion in two. Set aside one half and slice the other. Toss the tomatillos, sliced onion, jalapeno, and remaining clove of garlic in a bowl with olive oil and salt. Place an empty sheet tray into a 450F oven until hot. Pull the hot sheet tray out of the oven and quickly spread out the oiled & salted vegetables. Place back in the oven and roast for approximately 15 minutes, or until all the vegetables are charred. Remove and let cool.
MAKE THE SALSA VERDE
Add cooled, roasted vegetables to a blender. Add rice vinegar, lime juice, and water and blend until well combined. Add ½ the bunch of cilantro and blend for an additional 15 seconds. Add salt to taste.
ASSEMBLE THE TACOS
Dice the remaining half of the yellow onion and finely chop the remaining cilantro. Slice the remaining lime into wedges and warm the tortillas (flour or corn). Assemble each taco by topping a tortilla with Impossible™ Taco Meat and garnishing with onion, cilantro, and Salsa Verde. Squeeze a lime wedge over the top for an added tang.