Korean Impossible Tacos Recipe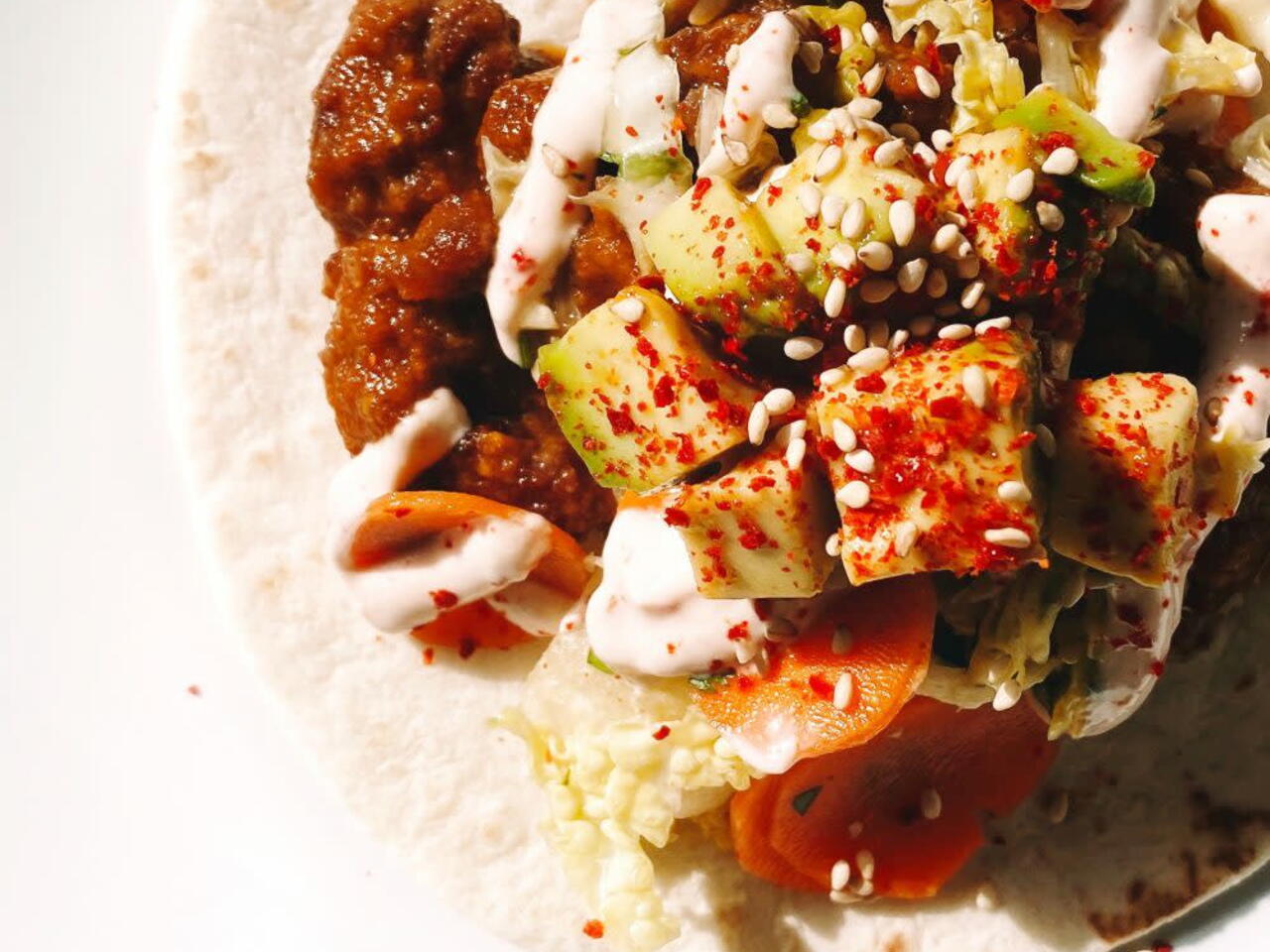 4 portions
60m
Tacos aren't just for Tuesdays. These Korean inspired tacos come packed with flavor – so you can satisfy your cravings any day of the week.
What you will need
12 Ounces Impossible Burger
2 Cloves Cloves Garlic
1 Pear
1 Tablespoon Shallot
1 Tablespoon Sesame Oil
2 Cups Savoy Cabbage
1/2 Cup Carrot
2 Green Onions
3 Tablespoons Tamari Soy Sauce
1/2 Tablespoon Sesame Seeds
1 Tablespoon Sriracha
1 Lime
0.5 Avocado
2 1/2 Teaspoons Korean Chili Powder
5 Tablespoons Mirin
1 Tablespoon Ginger
1 1/2 Tablespoons Gochujang
2 Tablespoons Dark Brown Sugar
8 Tortillas
1/2 Cup Daikon
1/4 Bunch Cilantro
1 Tablespoon Rice Vinegar
1 Teaspoon Dark Sesame Oil
1 1/2 Cups Plain Yogurt
2 Tablespoons Agave
1 Teaspoon Salt
1 Tablespoon Lime Juice
(Nutritional facts 113 calories, 3.75 g fat, 15.32 g carbohydrates, 5.6 g protein, 0 mg cholesterol, 388 mg sodium)
How to cook
MAKE THE BULGOGI SAUCE
Combine Mirin, Garlic, Ginger, Pear, Gochujang Sauce, Shallot, Dark Brown Sugar, 1 Chopped Green Onion, and 3 TBSP of Tamari Soy Sauce in a blender. Blend until smooth, and reserve.
COOK THE IMPOSSIBLE™ BURGER
In a pan on high heat, add 1 TBSP oil to the pan. Scatter Impossible within the pan to sear, being careful not to overcrowd. Cook in batches if necessary - forming the crust is the most important part! After the Impossible Burger is seared and cooked through, add the Bulgogi sauce and bring to a boil. Reduce to a simmer for serving.
MAKE THE ASIAN SLAW
Combine all produce in a bowl - savoy cabbage, daikon, carrot, cilantro and 1 green onion.
MAKE THE SLAW VINAIGRETTE
Combine all vinaigrette ingredients -- Rice Vinegar, Dark Sesame Oil, Sesame Seeds, 1 tsp Tamari Soy Sauce, 1 TBSP Agave, juice of 1/2 a lime, 1/2 tsp Salt in a bowl. Mix until well incorporated and set aside. Mix the vinaigrette into the slaw. Allow to sit for 30 minutes to develop flavors.
MAKE THE SPICY AVOCADO GARNISH
Combine diced avocado with juice of 1/2 a lime and a pinch of salt. Carefully stir to keep a nice dice on the avocado. Add 1/2 tsp Korean Chili Powder and incorporate. Set aside for serving.
MAKE THE GOCHUJANG CREMA
Combine the Plain Yogurt, Sriracha, 2 tsp Korean Chili Powder, 1 TBSP Agave, 1/2 tsp salt, and the juice of 1/2 a lime in a bowl. Mix until well incorporated, and pour into squeeze bottle for serving.
BUILD THE TACOS!
Warm the tortillas in a 200 degree oven for approximately 3 minutes. Remove and store in a clean linen towel if you are not building the tacos right away. Add Impossible Bulgogi to the tortilla. Top with the Asian Slaw. Drizzle with the Gochujang Crema. Top with the Spicy Avocado Garnish. Enjoy!