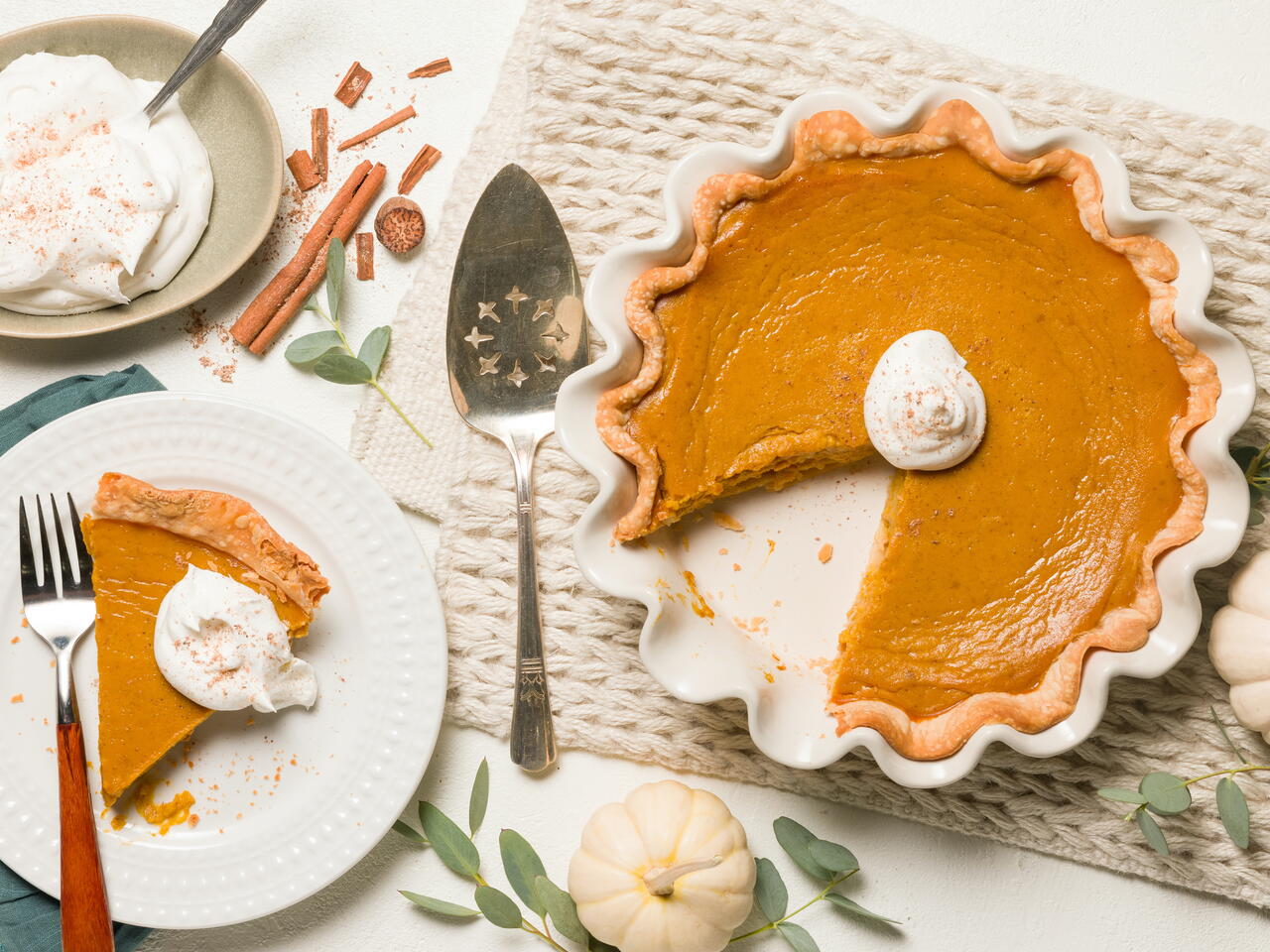 8 portions
130m
Celebrate the season with this organic take on classic pumpkin pie! Made with our exclusive line of O Organics® products, this traditional dessert is an autumn favorite. Plus, with just 15 minutes of prep, this simple recipe is easy to prep during the busy holiday season!
What you will need
Crust
1 1/2 cups AP Flour
8 Tbsp Unsalted Butter
1 tsp Natural Sea Salt
1 Tbsp Sugar
Water (4 to 6 Tbs)
Filling
15-oz can Pumpkin Puree
1/2 cup Whole Milk
1/2 cup Pure Maple Syrup
2 Large Eggs
1 tsp Ground Cinnamon
1/4 tsp Ground Nutmeg
1/2 tsp Ground Ginger
(Nutritional facts 214 calories, 11.38 g fat, 24.64 g carbohydrates, 4.14 g protein, 132 mg cholesterol, 108 mg sodium)
How to cook
Place crust ingredients in a large bowl. Using your fingers, mix ingredients together until a dough ball forms. Flatten into a 1-inch thick disk and wrap in parchment paper. Let rest 1 hour in refrigerator before rolling out.
Preheat oven to 375º. Roll out dough and press into pie plate. Whisk to mix filling ingredients in a medium bowl. Pour into pie plate.
Bake for 40-55 minutes until filling is slightly jiggly but set. Let cool for 4 hours. Serve.
Helpful Hints
When you use the measuring cup as a scoop for the flour, you're actually overfilling it. Instead, fill the cup lightly with a spoon and level off the top with a butter knife.
Helpful Hints
Do not roll dough all the way to the edge to keep the dough from sticking to the surface. Keep the surface and rolling pin floured and continue turning the dough as you work.
Helpful Hints
Pie dough can be made and frozen ahead of time for easy use— just be sure to thaw in the refrigerator before using. It will keep up to six months in the freezer.