Panko and Coconut Crusted Halibut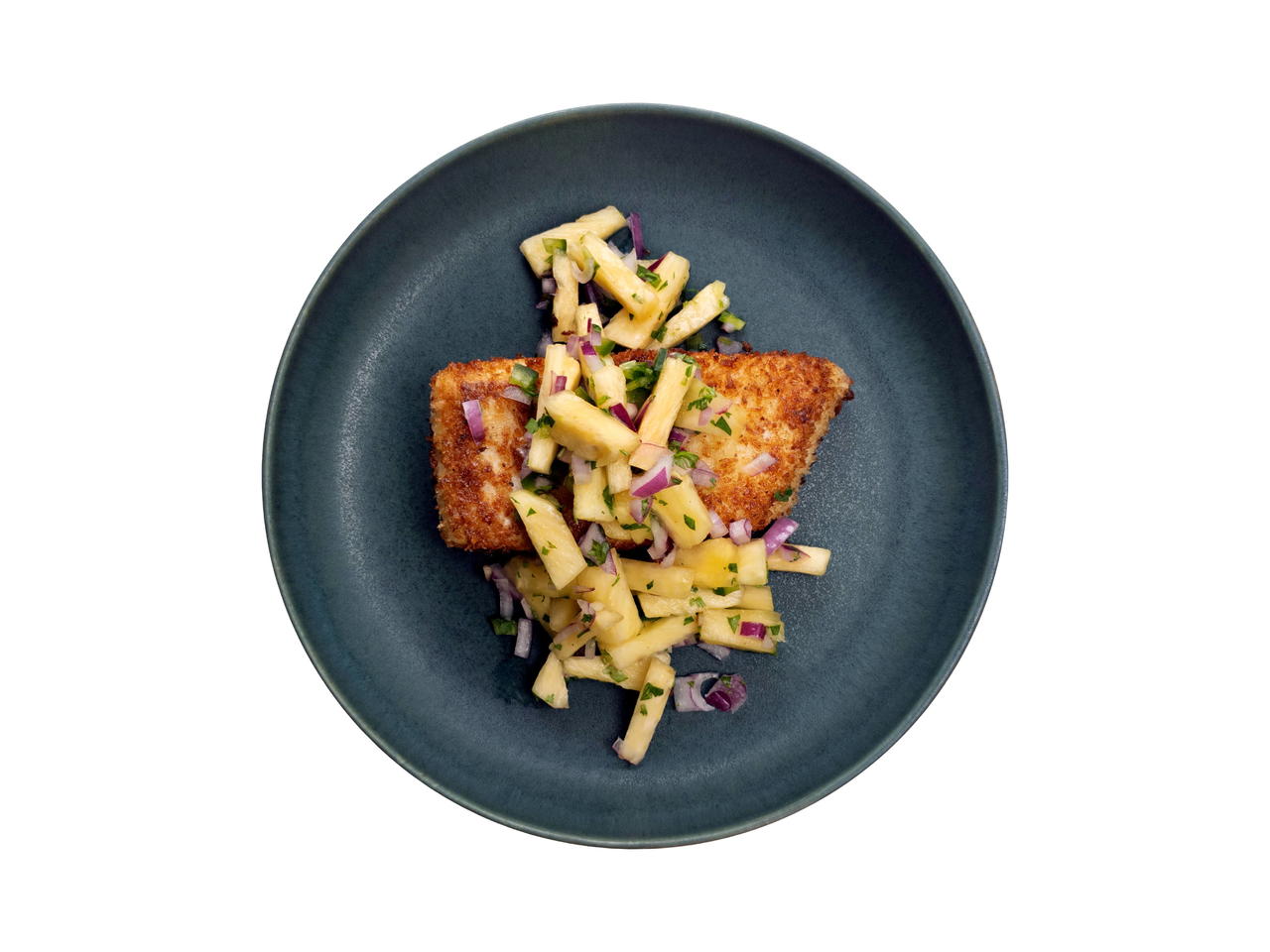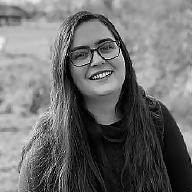 Recipe video made by Michelle
Published on 06/22/2020, viewed by 3109 , 0 Comments
4 portions
45m
A simple coating of breadcrumbs and coconut bring this delicious flaky fish to a new level!
What you will need
2 lb Halibut Fillets
1 Egg
3/4 cups Panko Bread Crumbs
1/2 cup Unsweetened Coconut Flakes
Pinch Salt
Pinch Black Pepper
2 Tbsp Olive Oil
FOR THE SALSA:
1/4 Fresh Pineapple
1 Jalapeno
1/4 Red Onion
1/4 bunch Fresh Cilantro
(Nutritional facts 161 calories, 6.4 g fat, 9.89 g carbohydrates, 15.68 g protein, 111 mg cholesterol, 243 mg sodium)
How to cook
season flour. Whisk egg and coconut milk. Mix panko and coconut season with s and p. DIp in flour, egg, panko, place in refrigerator for 15 mins. Heat olive oil, cook for 5 mins on each side.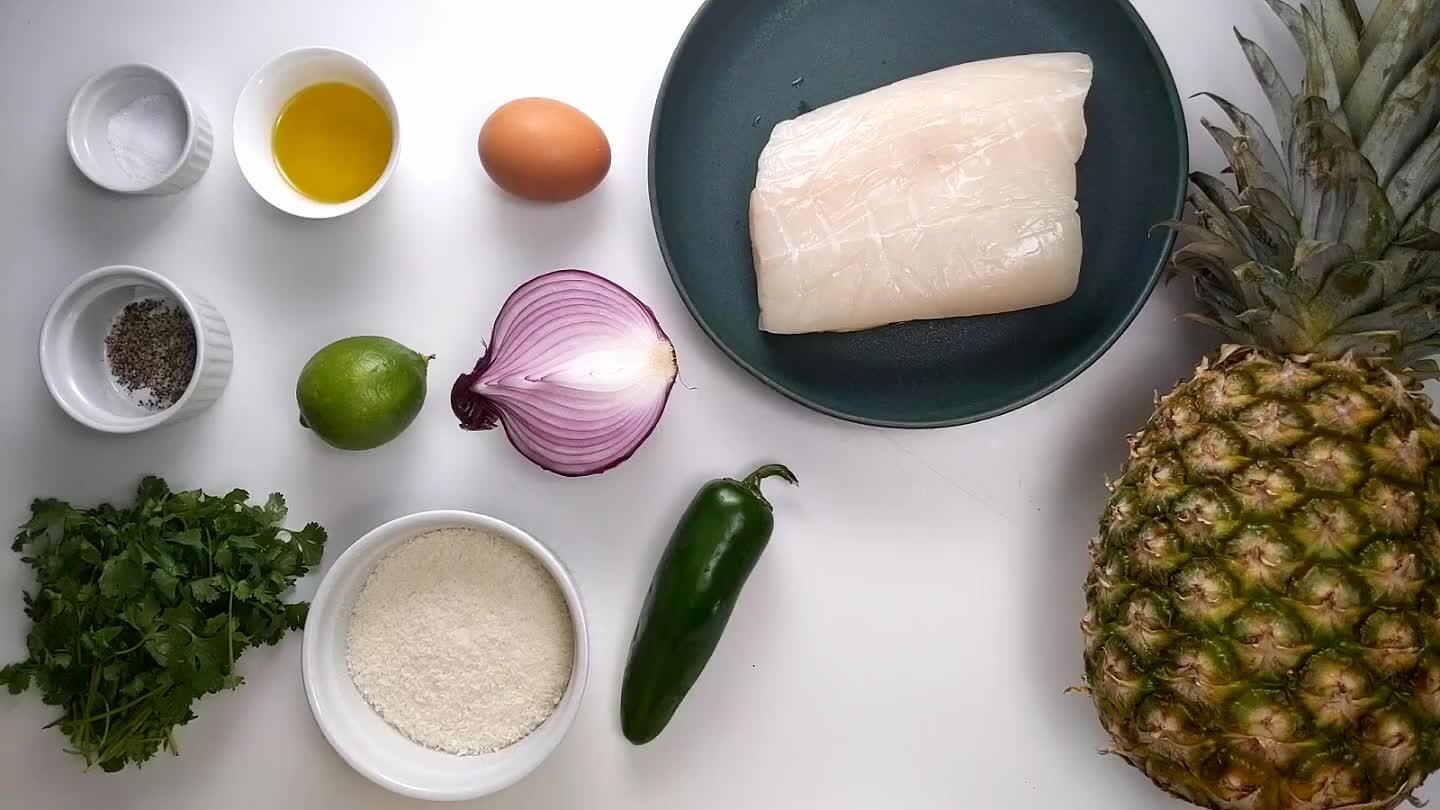 Gather and portion all ingredients
Cut the top and bottom off of the pineapple, and cut around the pineapple to remove strips of the skin. Once the skin is removed, cut the pineapple in quarters.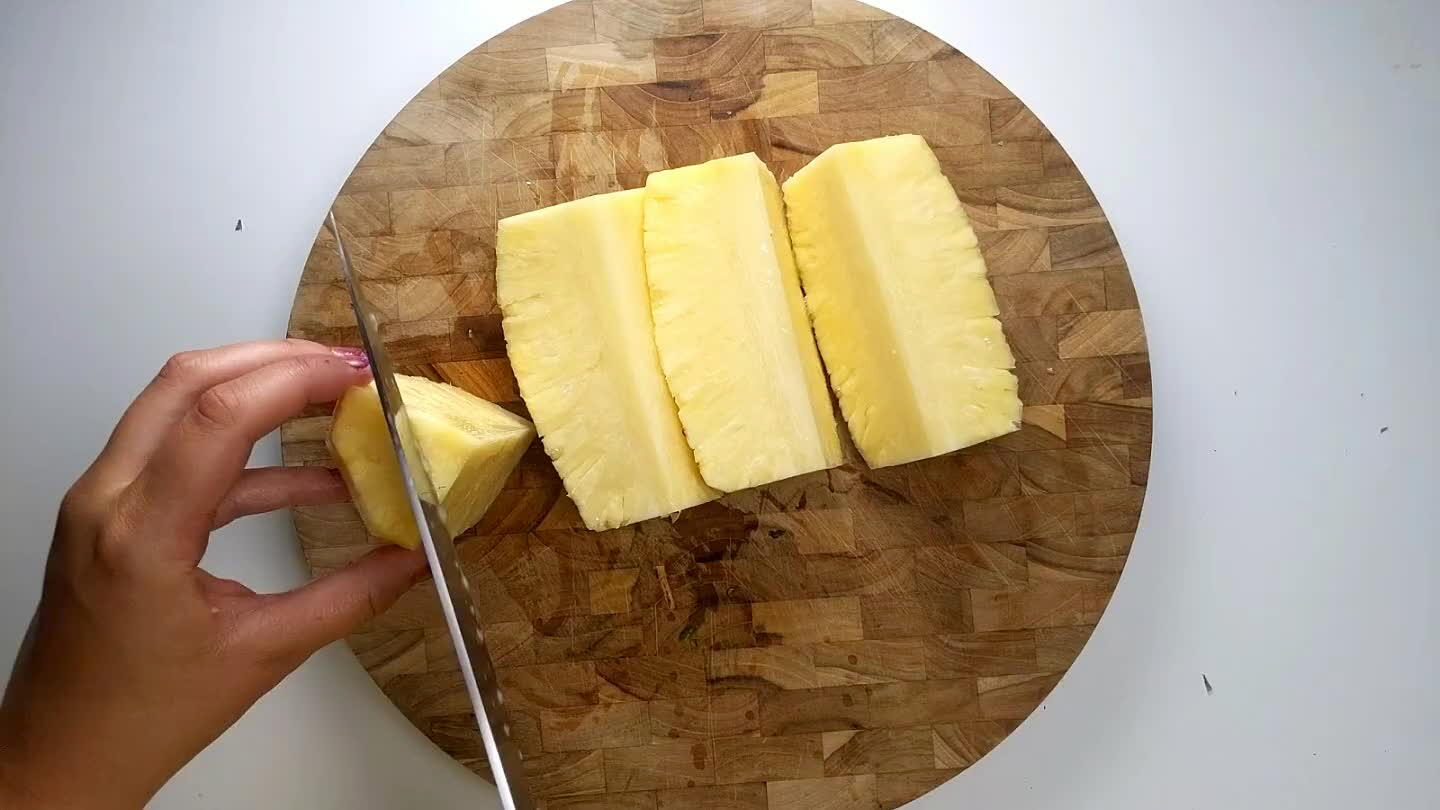 Slice out the harder middle piece of the pineapple.
Cut the pieces of pineapple into strips and then turn to chop into small pieces.
Use a zester and remove the zest from the lime.
Juice the whole lime.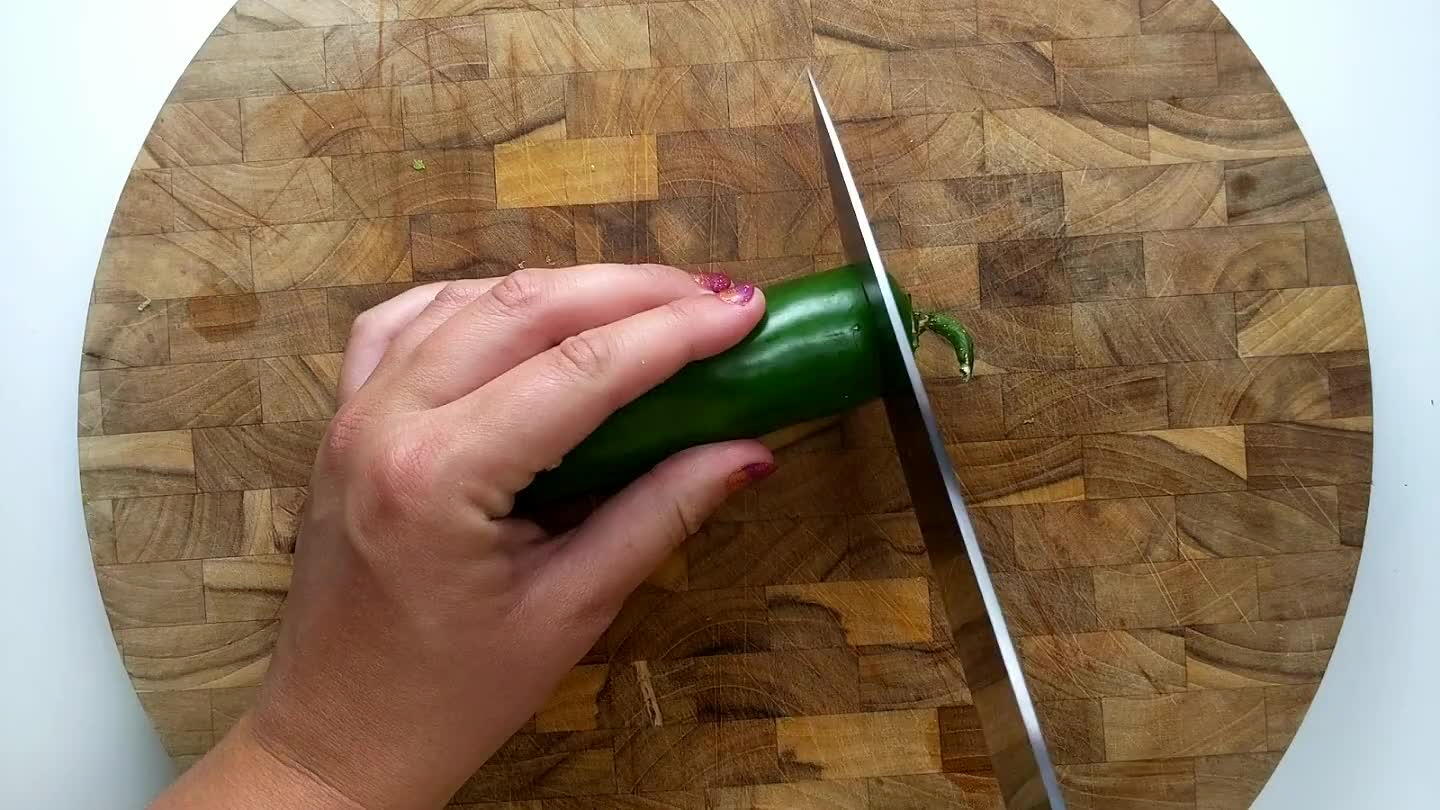 Cut the stem off and then cut the jalapeno in half lengthwise. Carefully cut out the seeds and discard.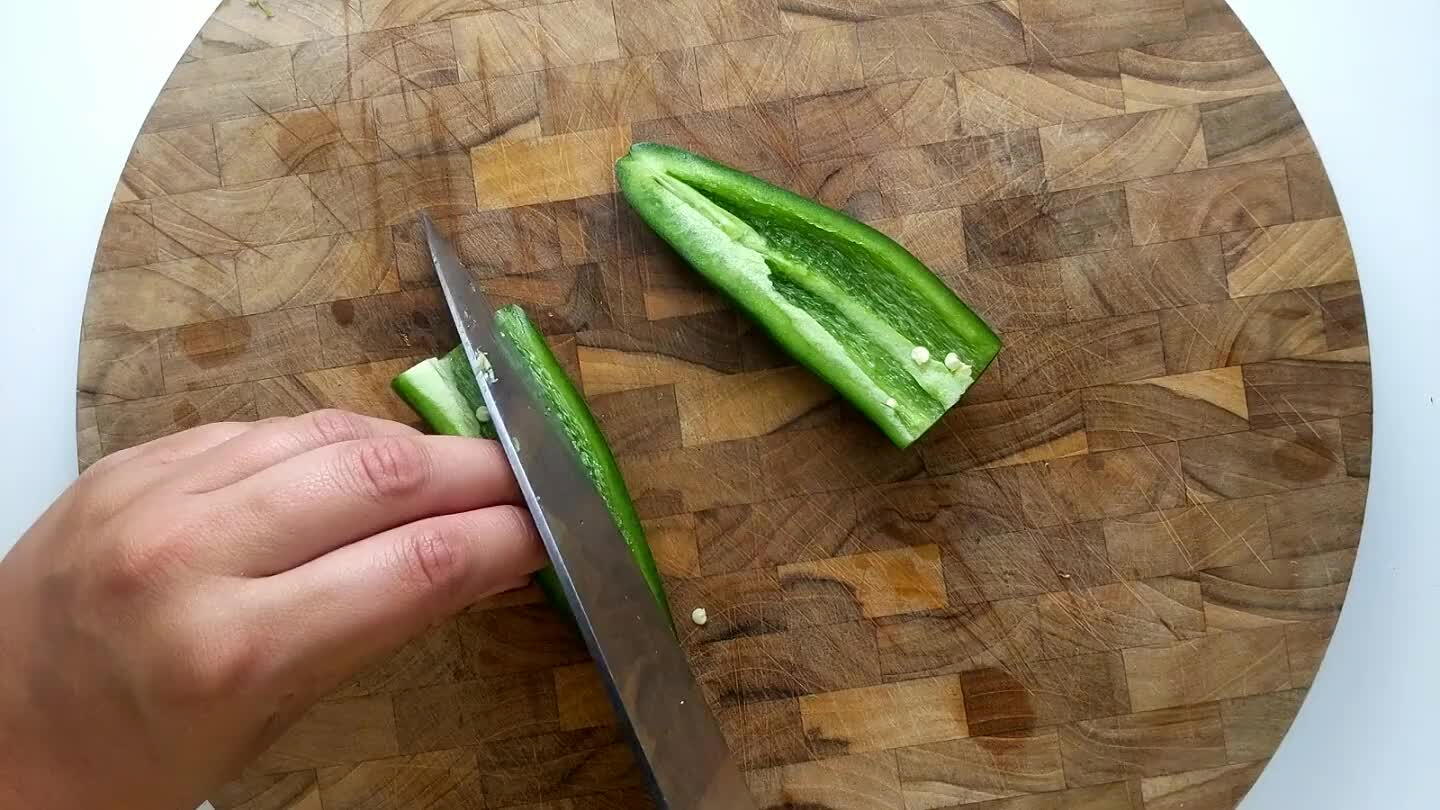 Slice the jalapeno into thin strips and then finely dice into small pieces.
Cut off the stem side of the onion and remove the skin. Cut into the open side of the onion two times with the knife parallel to the cutting board leaving the root end in-tact.
Slice the onion into strips and then turn and chop.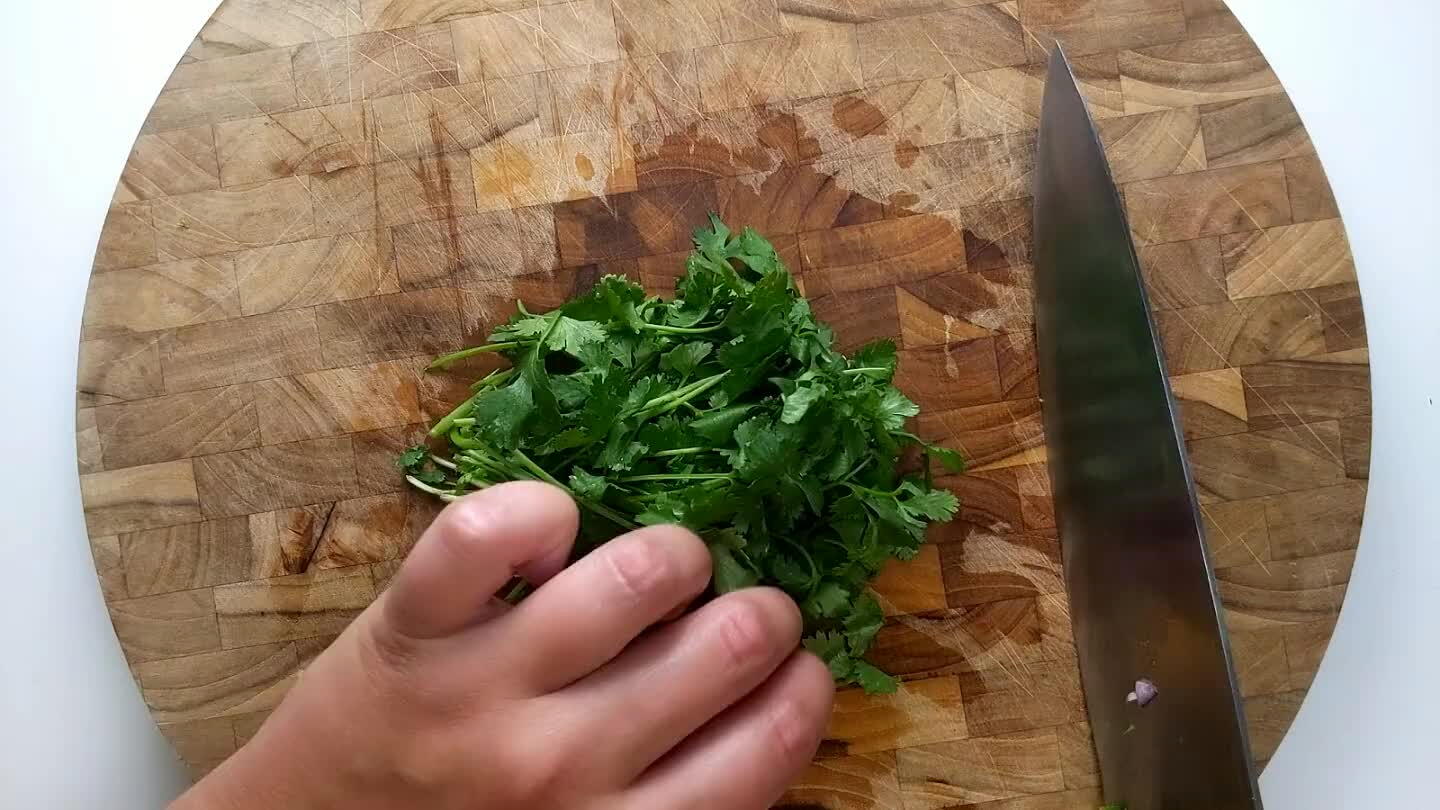 Finely chop the cilantro.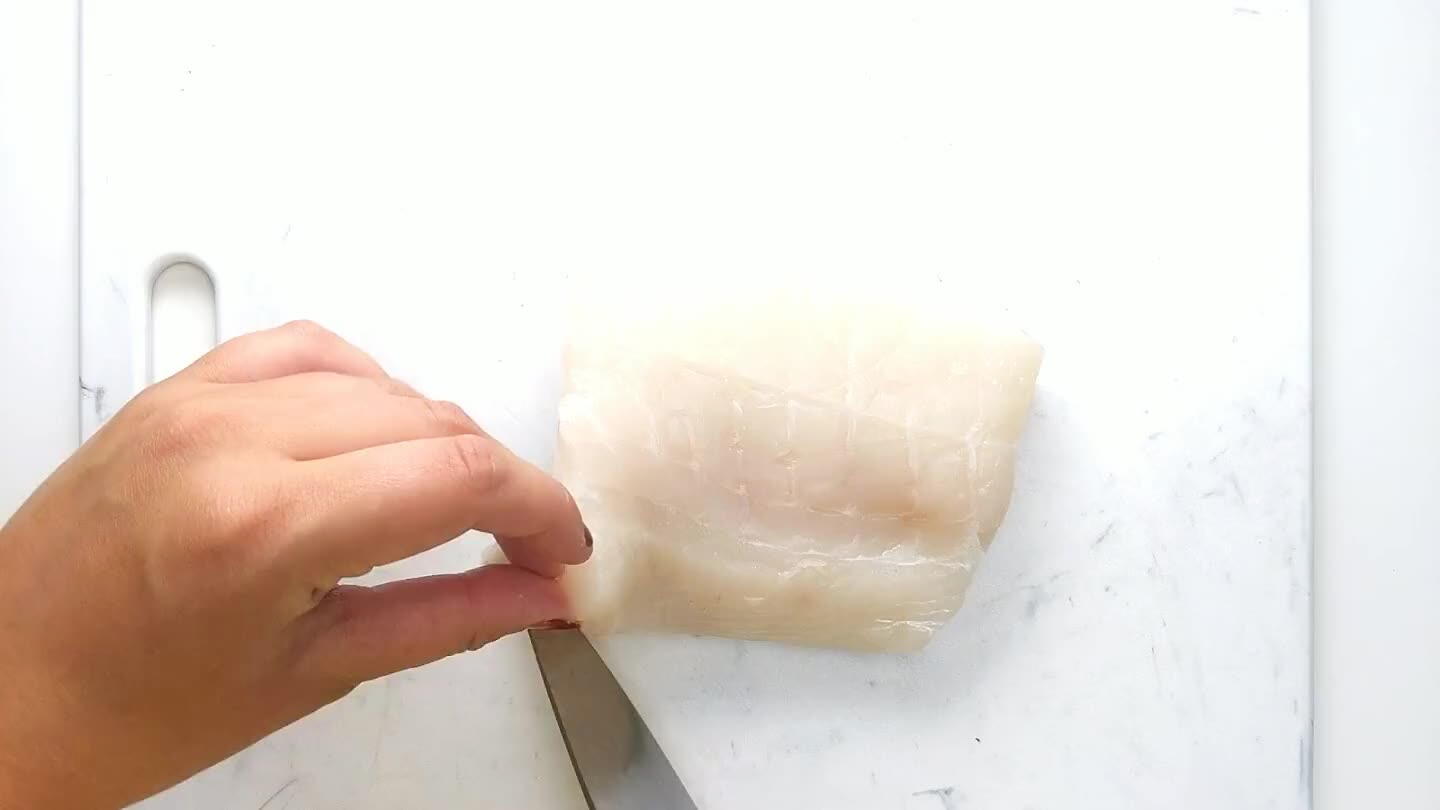 Remove the skin from the halibut by running the knife between the flesh and the skin with the blade pointing down and away from you. Gently move the knife in a sawing motion while you hold tightly and pull the skin in the opposite direction. Cut the fish into 1/4 lb portions.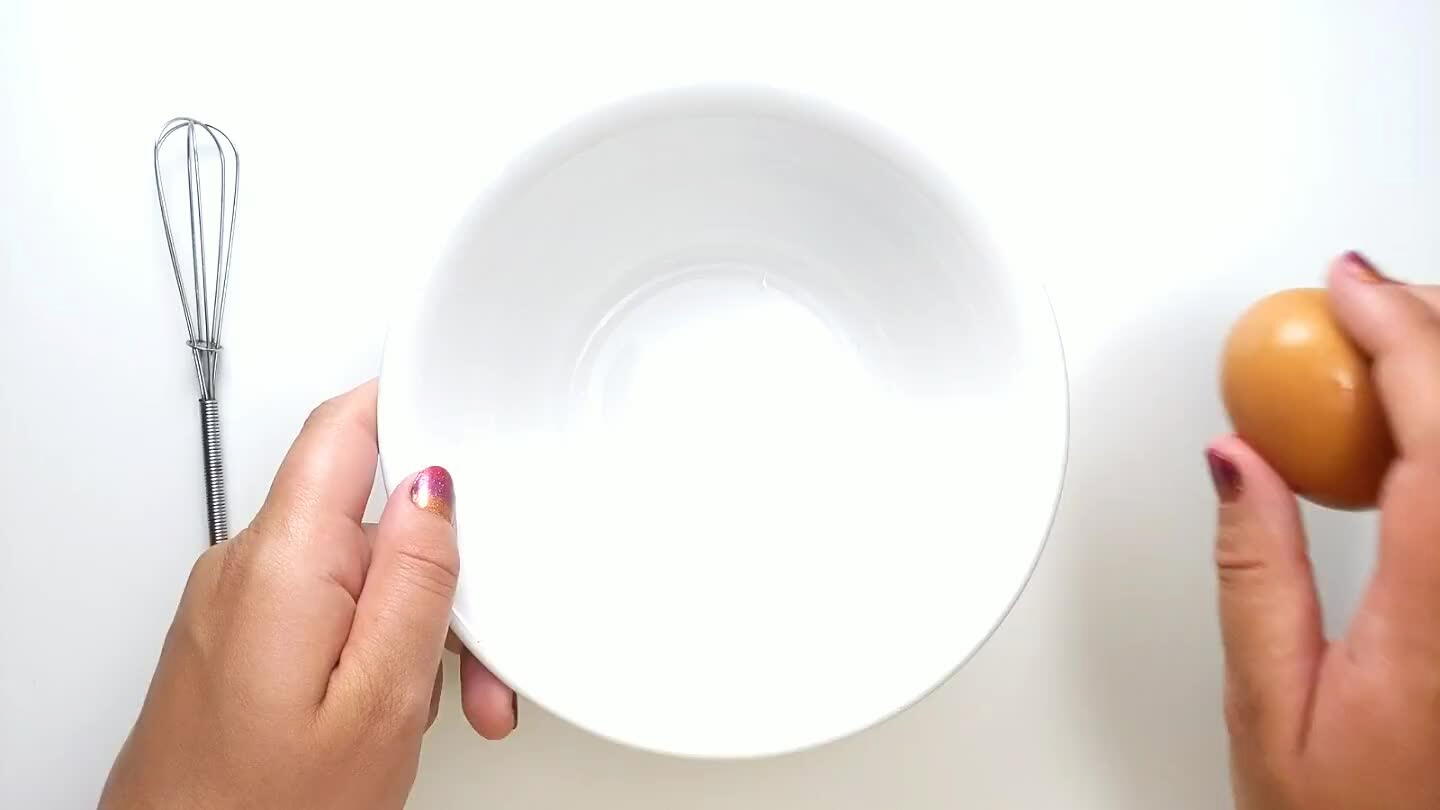 Crack the egg into a flat bottomed bowl and whisk.
Coat each piece of fish in the egg and then dip into the panko and coconut. Evenly coat all sides.
Repeat with other pieces of fish.
To make the pineapple salsa, add the chopped pineapple to a bowl, and pour the lime juice over the top.
Add the chopped jalapeno to the bowl.
Add the chopped cilantro to the bowl.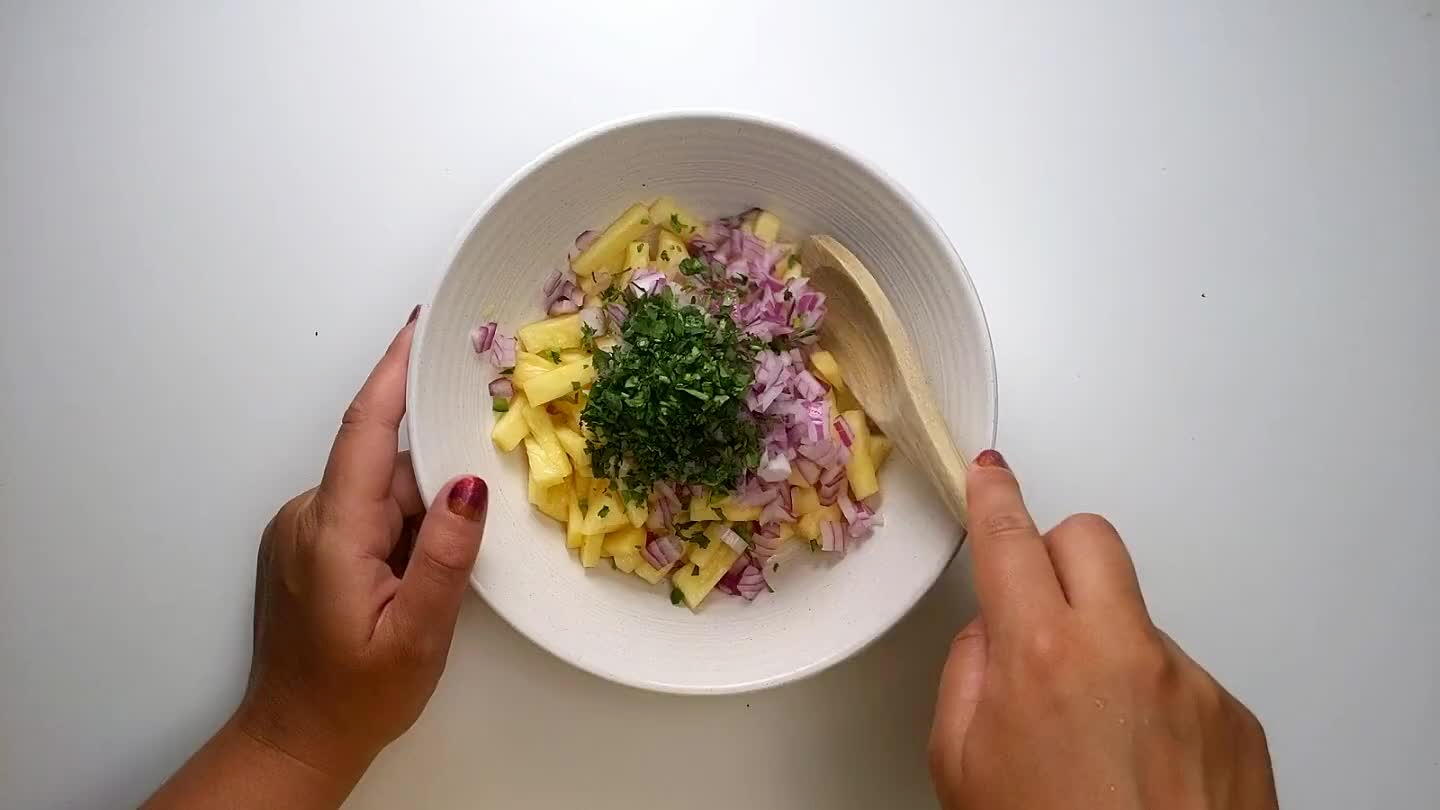 Stir to combine all the ingredients. Let sit in the fridge while the fish cooks.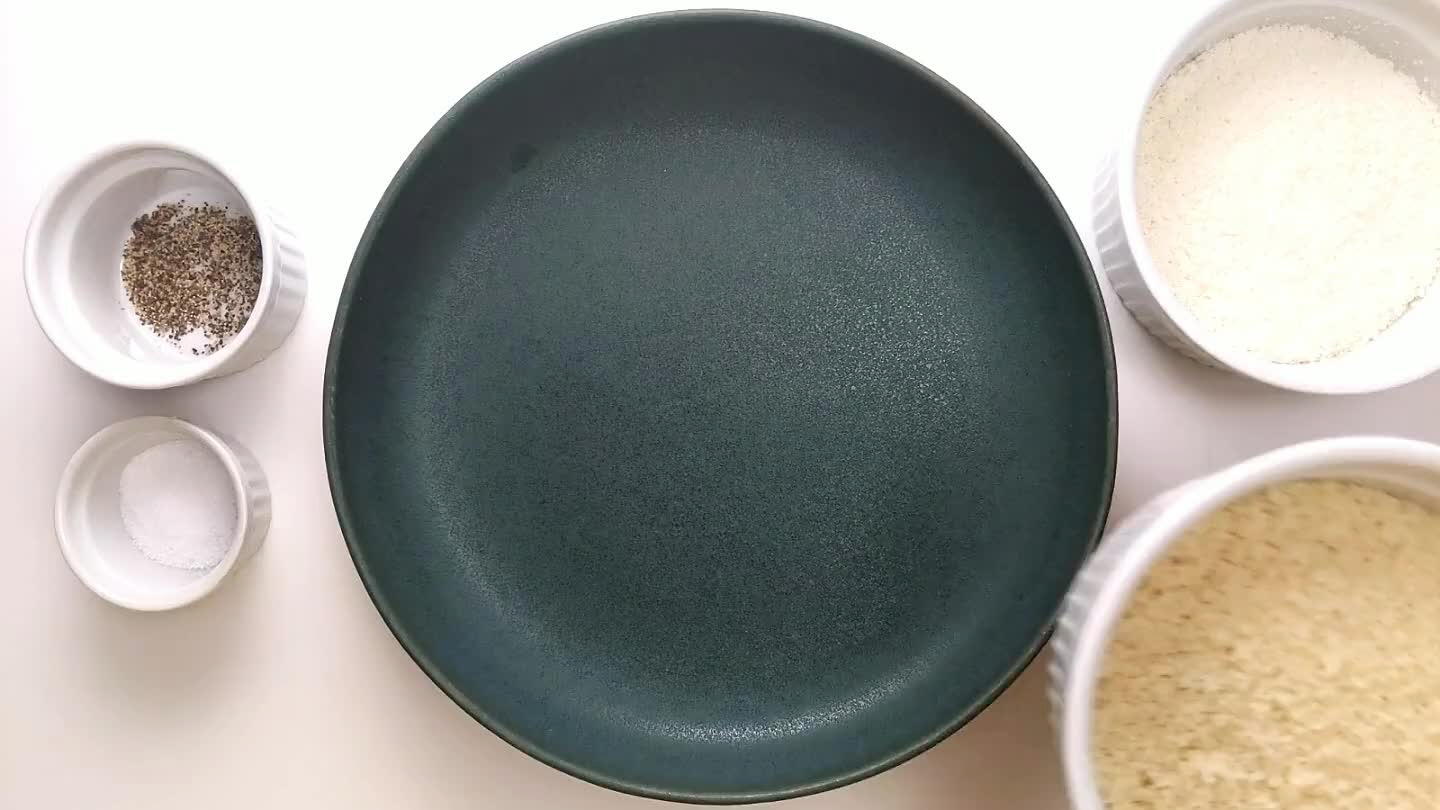 Add panko and shredded coconut to a flat bottomed bowl and season with salt and pepper. Mix to combine.
Add the olive oil to a non-stick pan heat to medium high.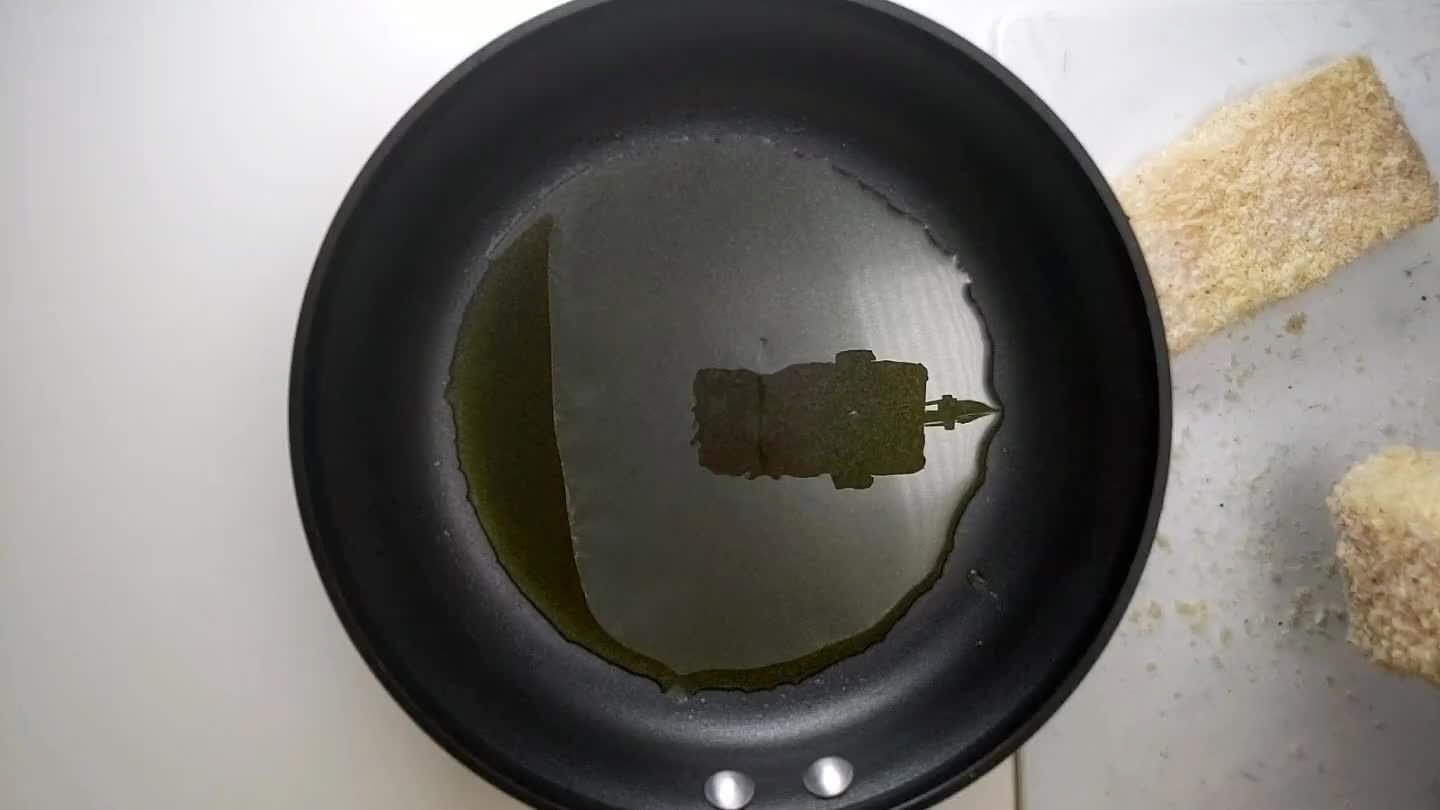 Add the crusted fish to the pan and brown for about 4-5 minutes.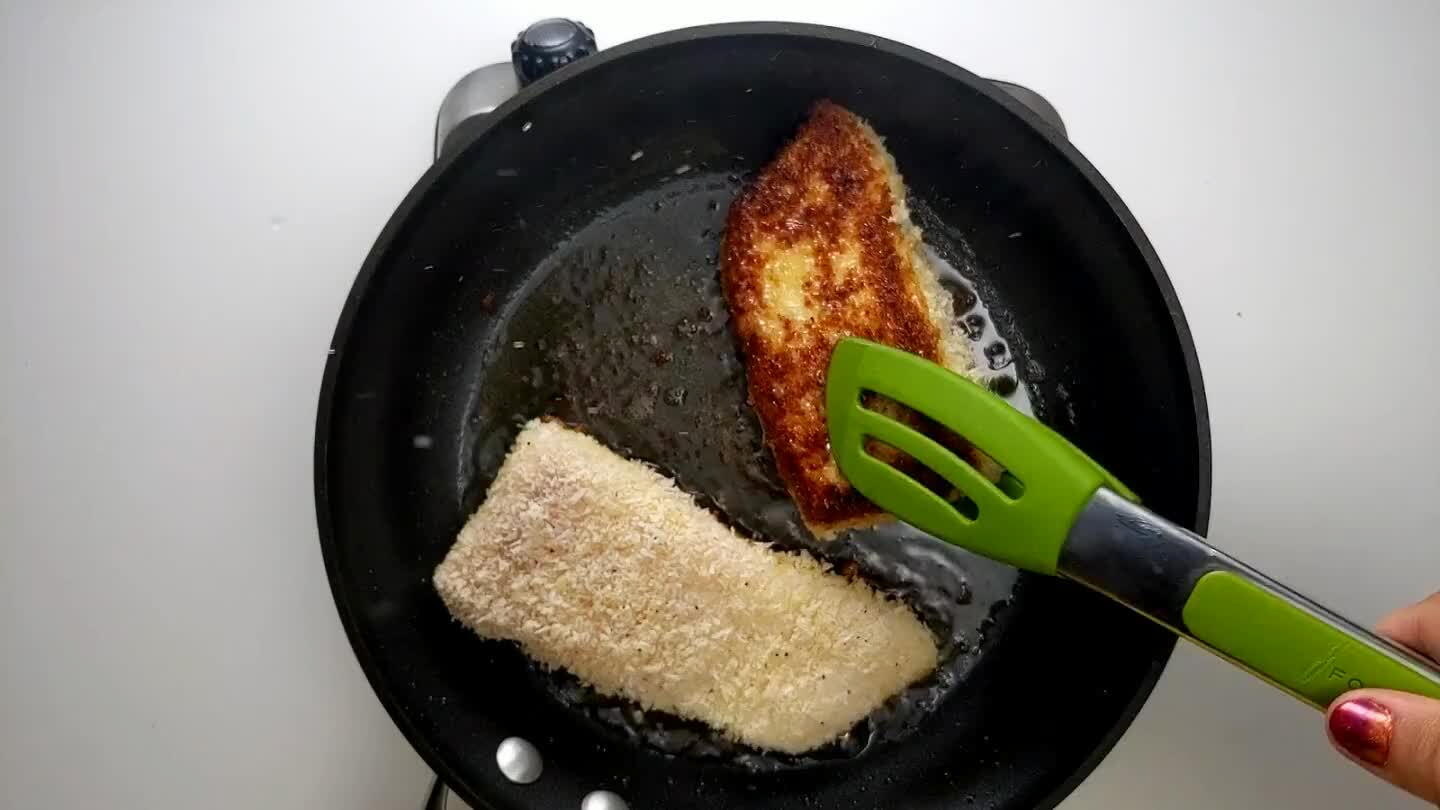 Flip the fish to the other side, and brown on the other side for about 3-4 more minutes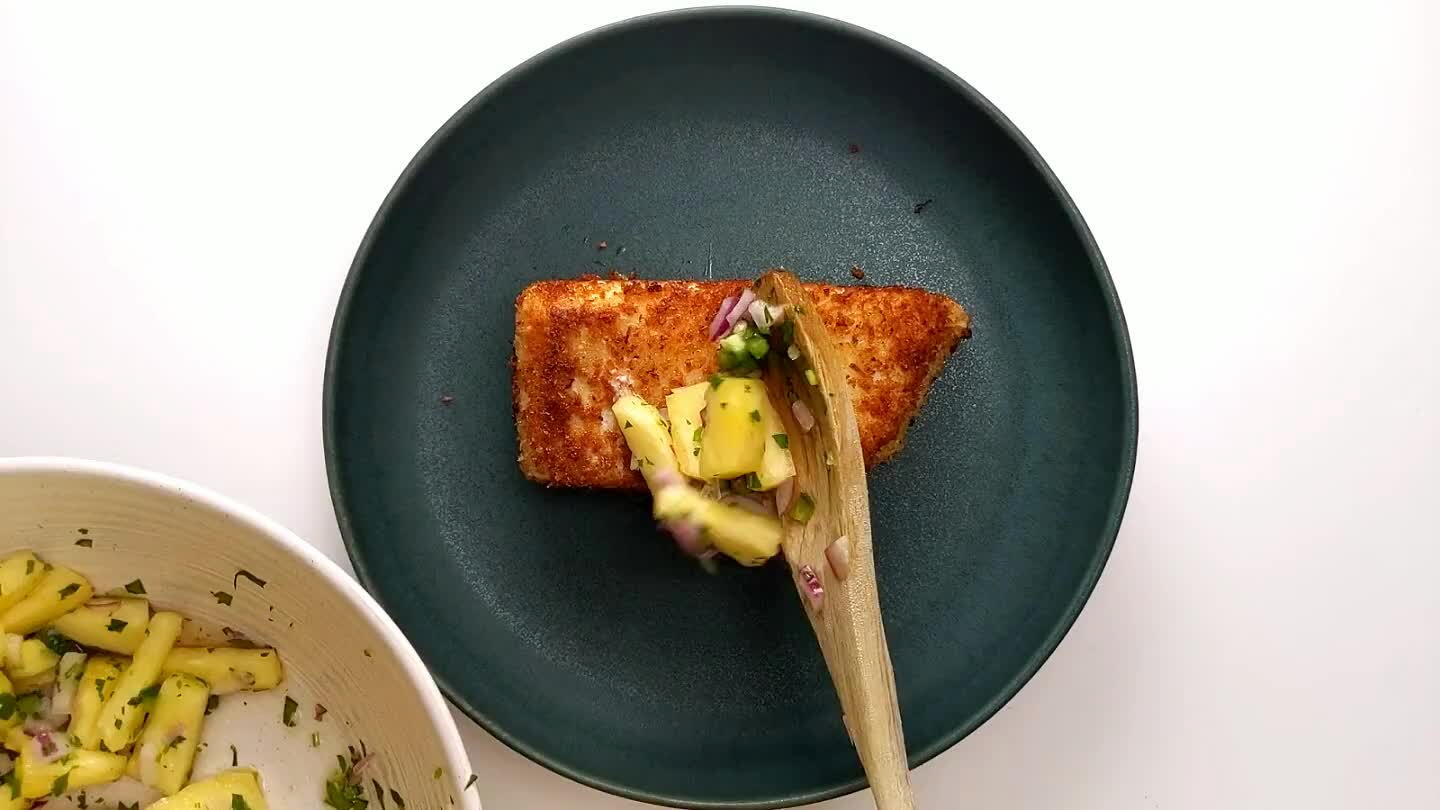 Top the crispy fish with the pineapple salsa and serve!
Comments