Pasta or Rice Sausage Sauce
Sausage tomato sauce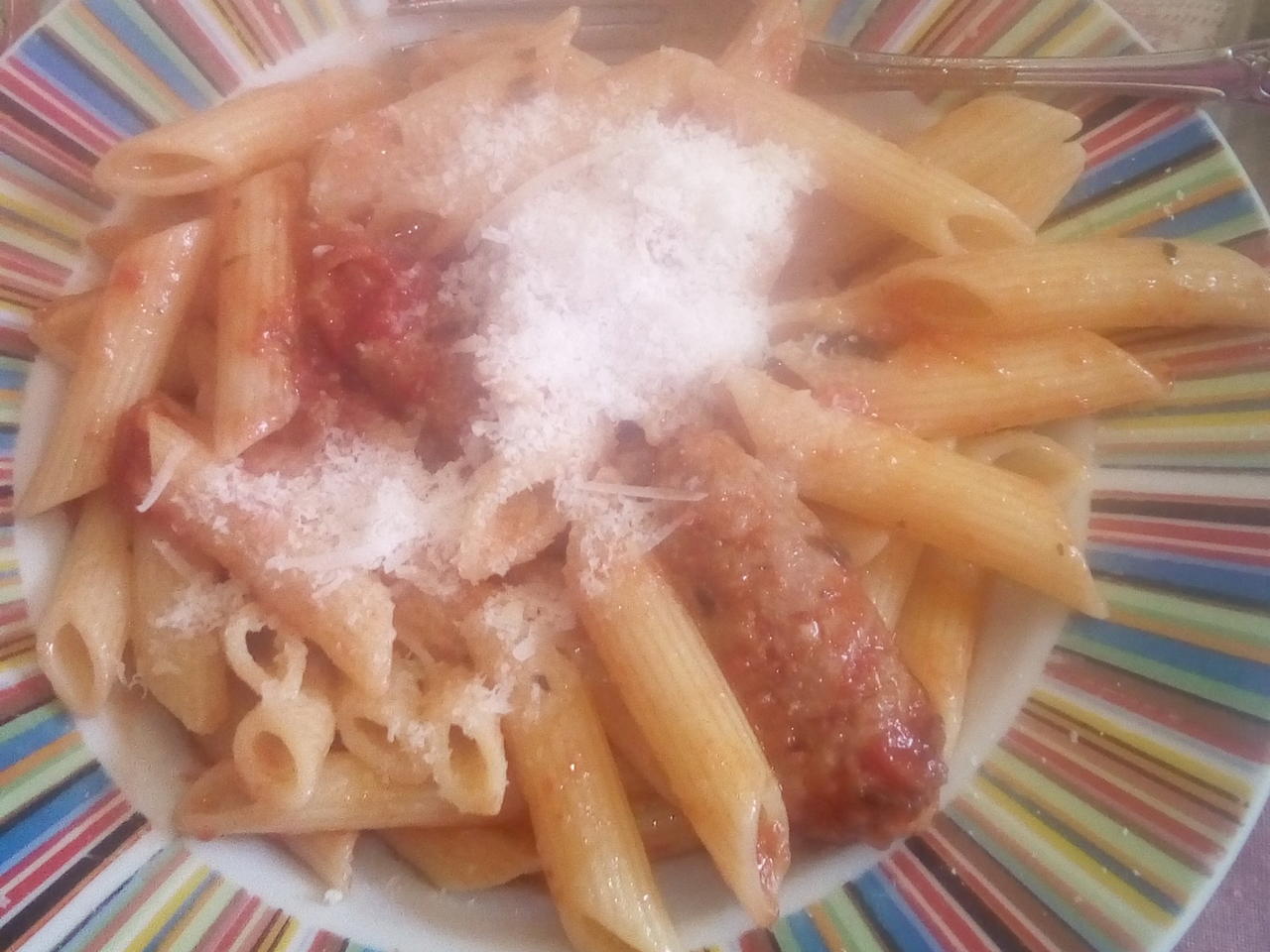 Easy, no fuss, takes about the same amount of time to prepare as it takes to bring water to boil and cook pasta, or pilaf and cook rice, over which it can be spooned out.
What you will need
sausage(s), 1 per person
onion, finely sliced, about 1/4 onion per person
tomato sauce (or fresh tomatoes, peeled) about 1cup per sausage
dried herbs - various, to personal taste
extra vergin olive oil, or other vegetable oil, qb
only if necessary, white wine or lemon water, qb (see instructions)
any salt comes from the sausage, but vegetable buillion can be added according to taste
(Nutritional facts 138 calories, 0.99 g fat, 19.38 g carbohydrates, 3.07 g protein, undefined mg cholesterol, 35 mg sodium)
How to cook
Put onion slices in a saucepan. Add ev olive oil. Heat over low heat, stirring until almost transparent and they've softened. Turn off heat.
Prepare sausage(s) by peeling, cutting, and forming them by hand. For mini-sausages, cut lengthwise, then crosswise. For meatball shapes, cut crosswise into 4-5 pieces.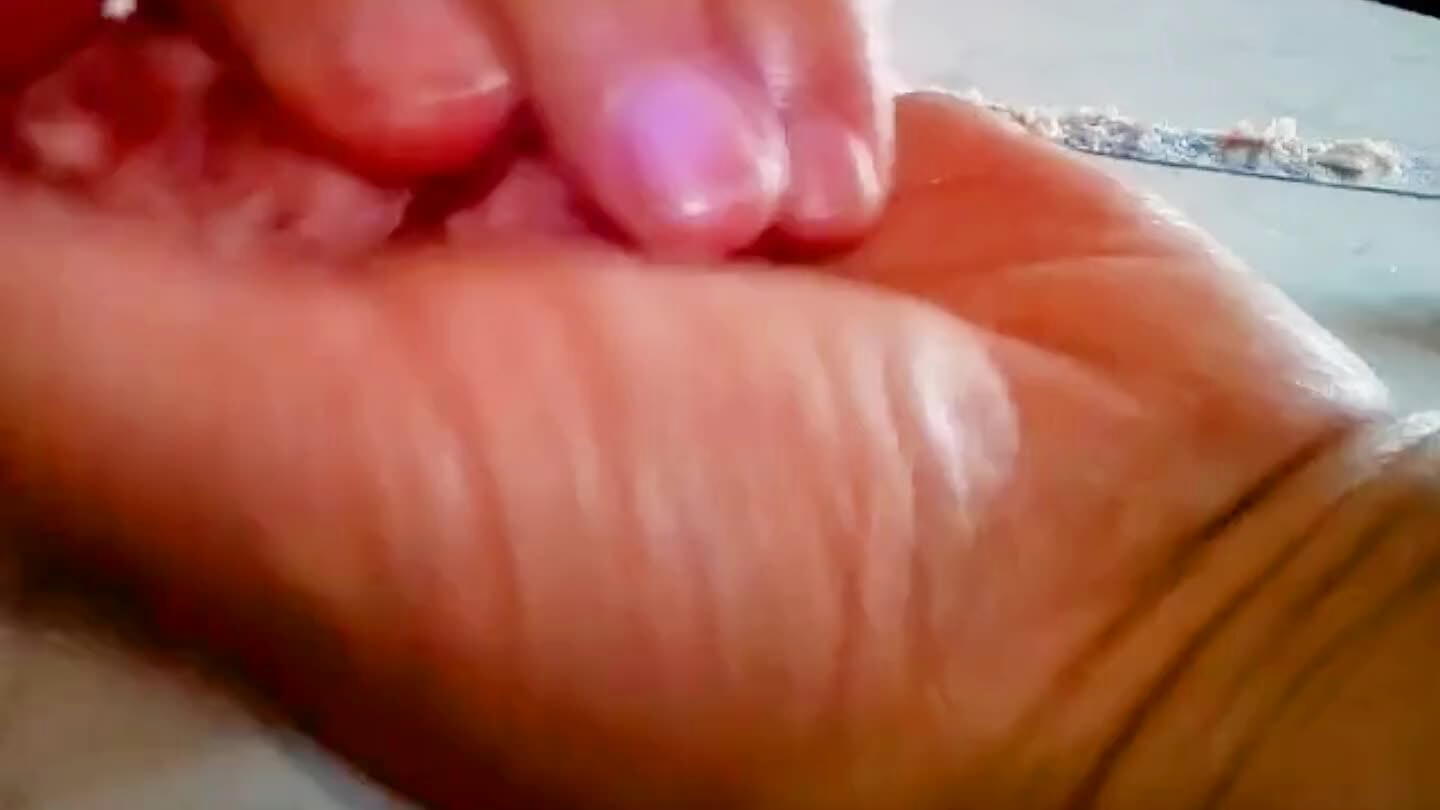 Whether you prefer sausage shapes or meatball shapes, roll accordingly in hand, pressing to form the shape required. If you prefer slices, don't cut the sausage, but press it well before placing on the onion base; then after it's cooked, extract and slice, preferably after some cooling.
Place the sausage over the slightly sautéed onions.
Add tomato sauce to cover the sausage(s). If using peeled fresh tomatoes, slice and arrange in a couple of layers over sausages, pressing slightly, but not too much, in order to not ruin the shape of the sausage(s).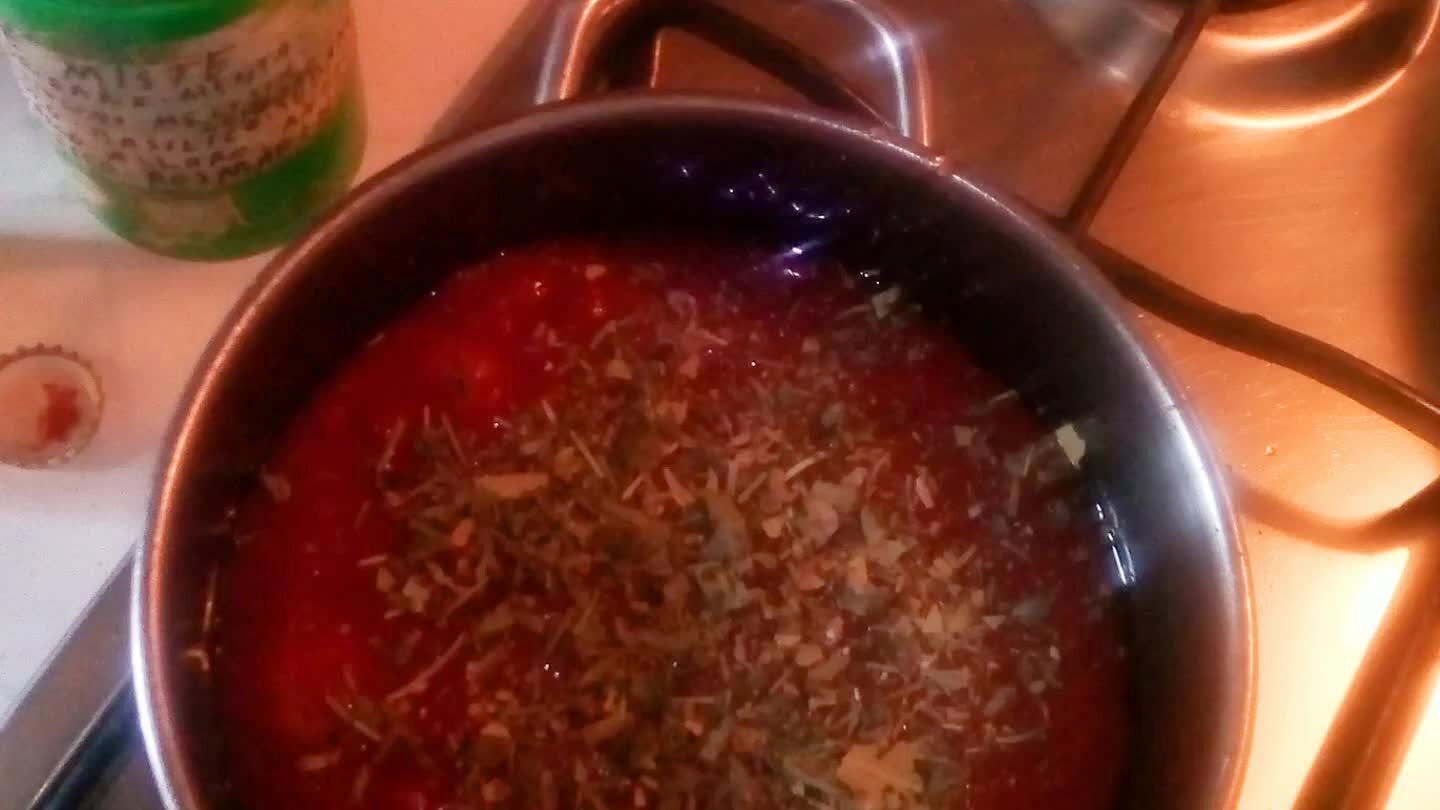 Add a mix of dried herbs, like rosemary, thyme, crumbled bay leaf, English mint, basil, oregano, sage, dill, crumbled celery leaves, parsley... Any or all, or more, to taste. Sprinkle more or less abundantly over the surface, but do not mix.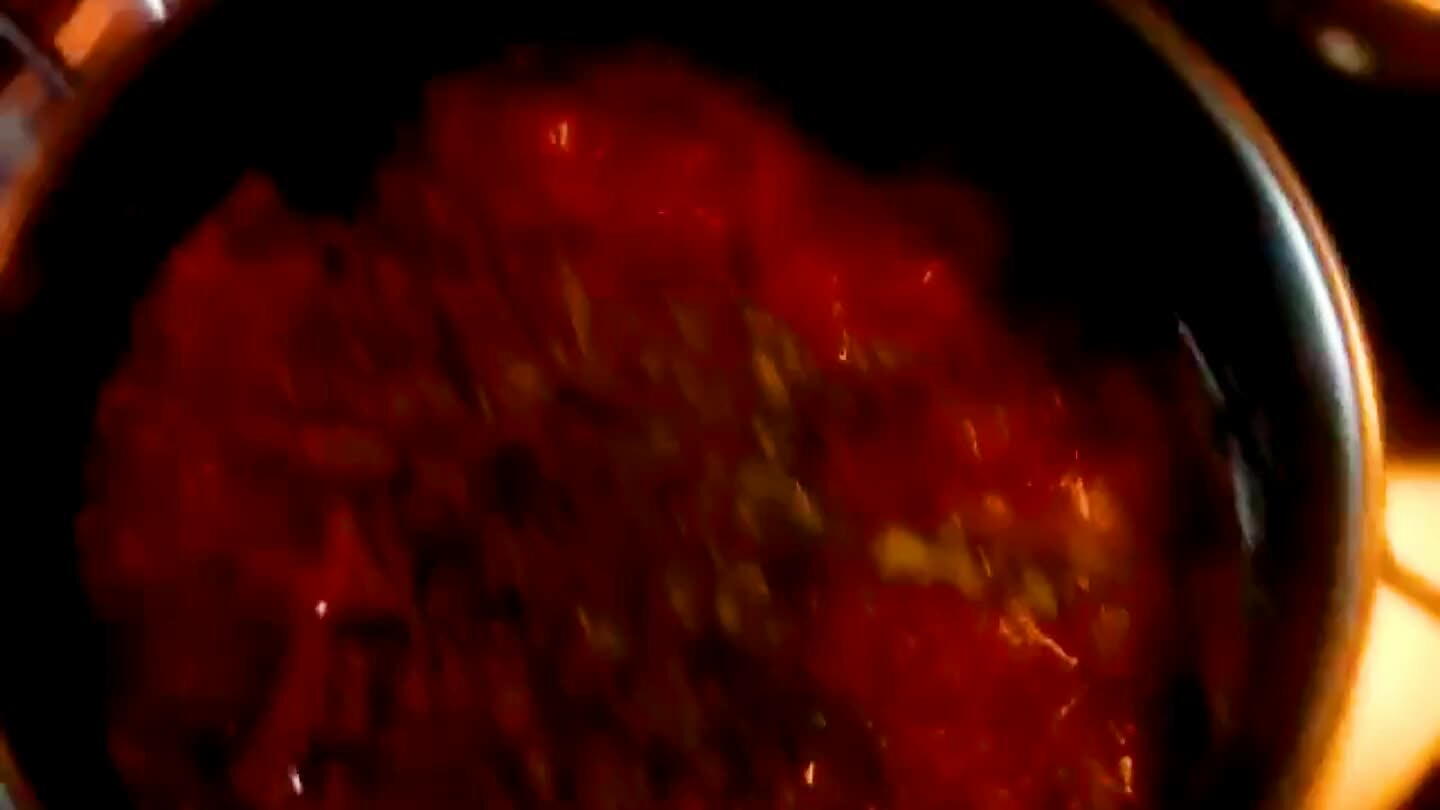 Bring to a simmer without stirring. Cover and let simmer on slow heat for 20 minutes minimum. The more sauce made, the more time required. Check to see if the sauce is drying after about 10 minutes, then check occasionally. If it dries too quickly (is very dense to start with), add a bit of wine (or lemon water) to loosen it, according to preference and necessity. Stir only after the first ten minutes, if it's getting too dense.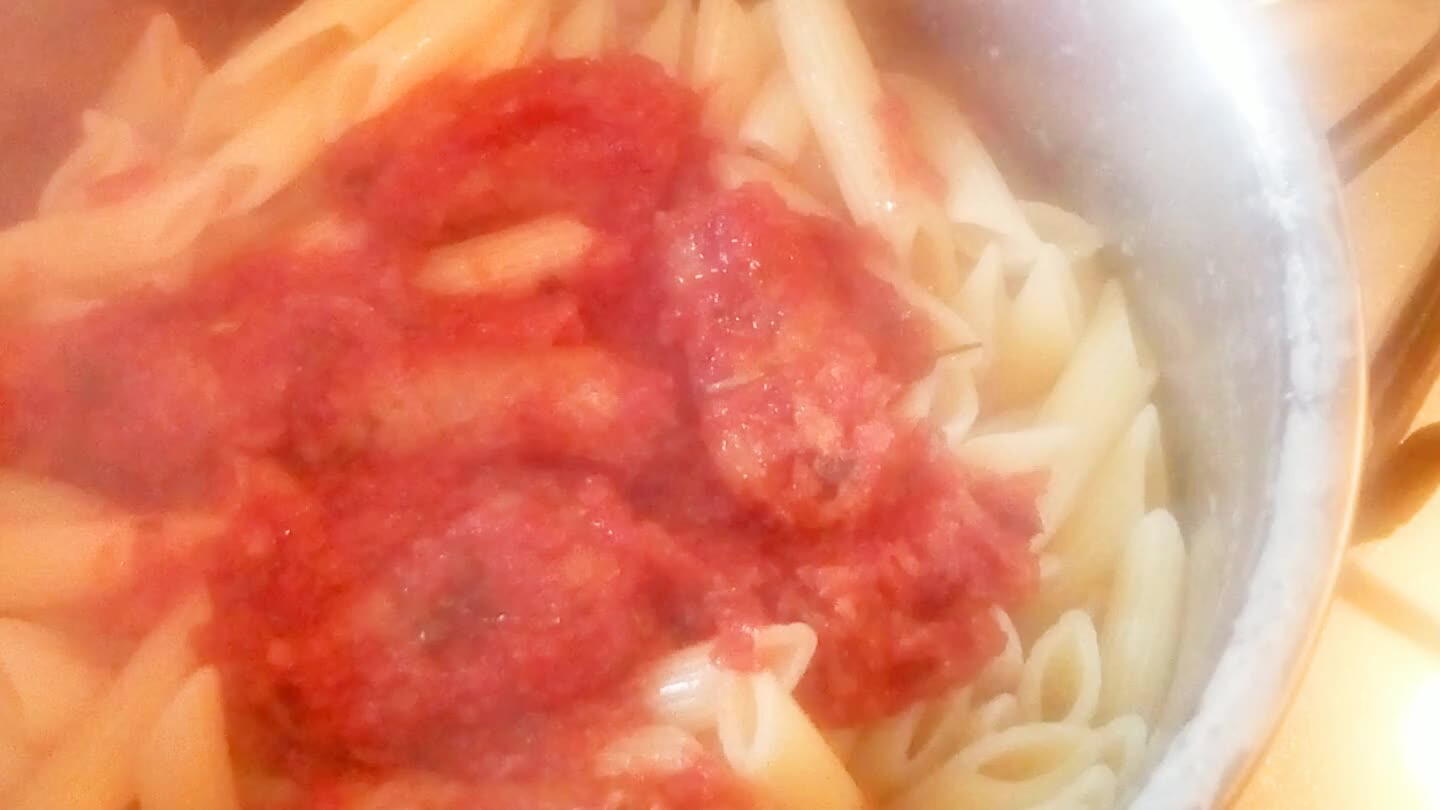 Serve over pasta or rice or spelt. Sprinkle with cheese if preferred before serving.