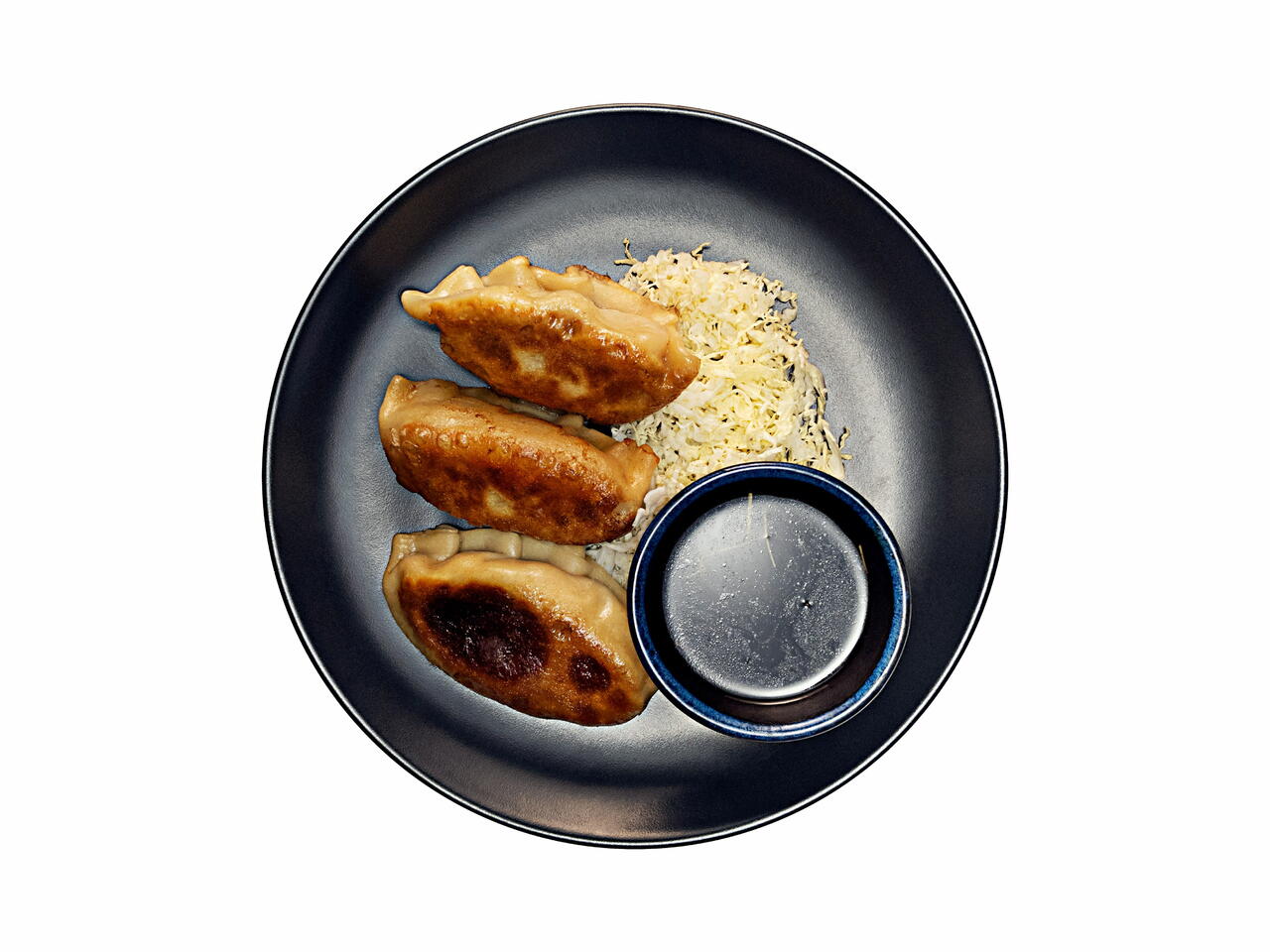 Recipe video made by Ryan
Published on 12/10/2020, viewed by 499 , 0 Comments
18 portions
45m
Dumplings are kinda like sandwiches in that they're very easy to make, but very difficult to make well. This is a rough outline to get you started, but it will take some practice to really nail it.
What you will need
DUMPLING DOUGH
1/2 cup Hot Water
1 tsp Salt
1 1/2 cups AP Flour
FILLING
1 cup Cabbage
1 bunch Chives
1" Fresh Ginger
2 Tbsp Soy Sauce
1 Tbsp Sesame Oil
1 lb Ground Pork
1 lb Ground Chicken
Salt
Black Pepper
(Nutritional facts 146 calories, 5.15 g fat, 10.69 g carbohydrates, 14.29 g protein, 47 mg cholesterol, 665 mg sodium)
How to cook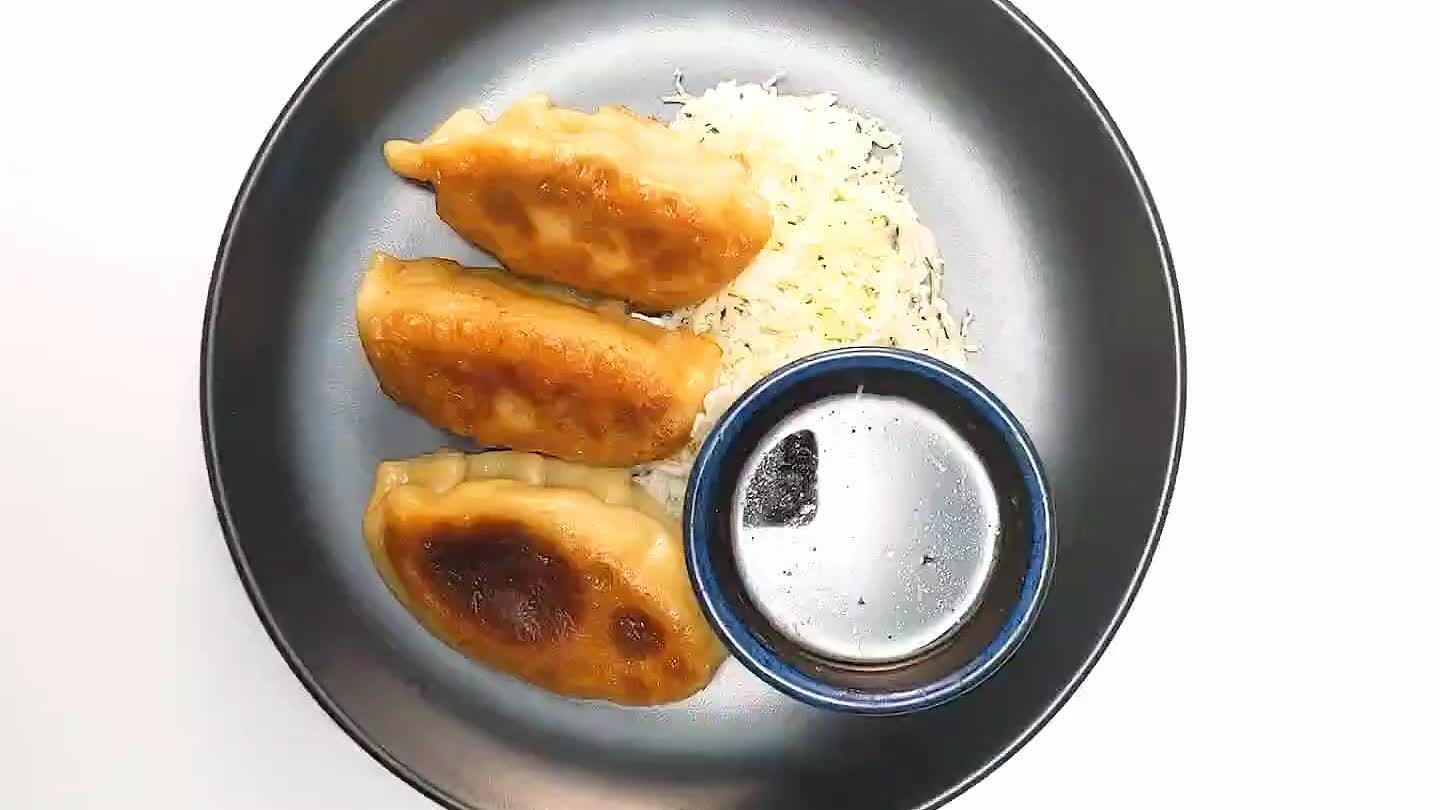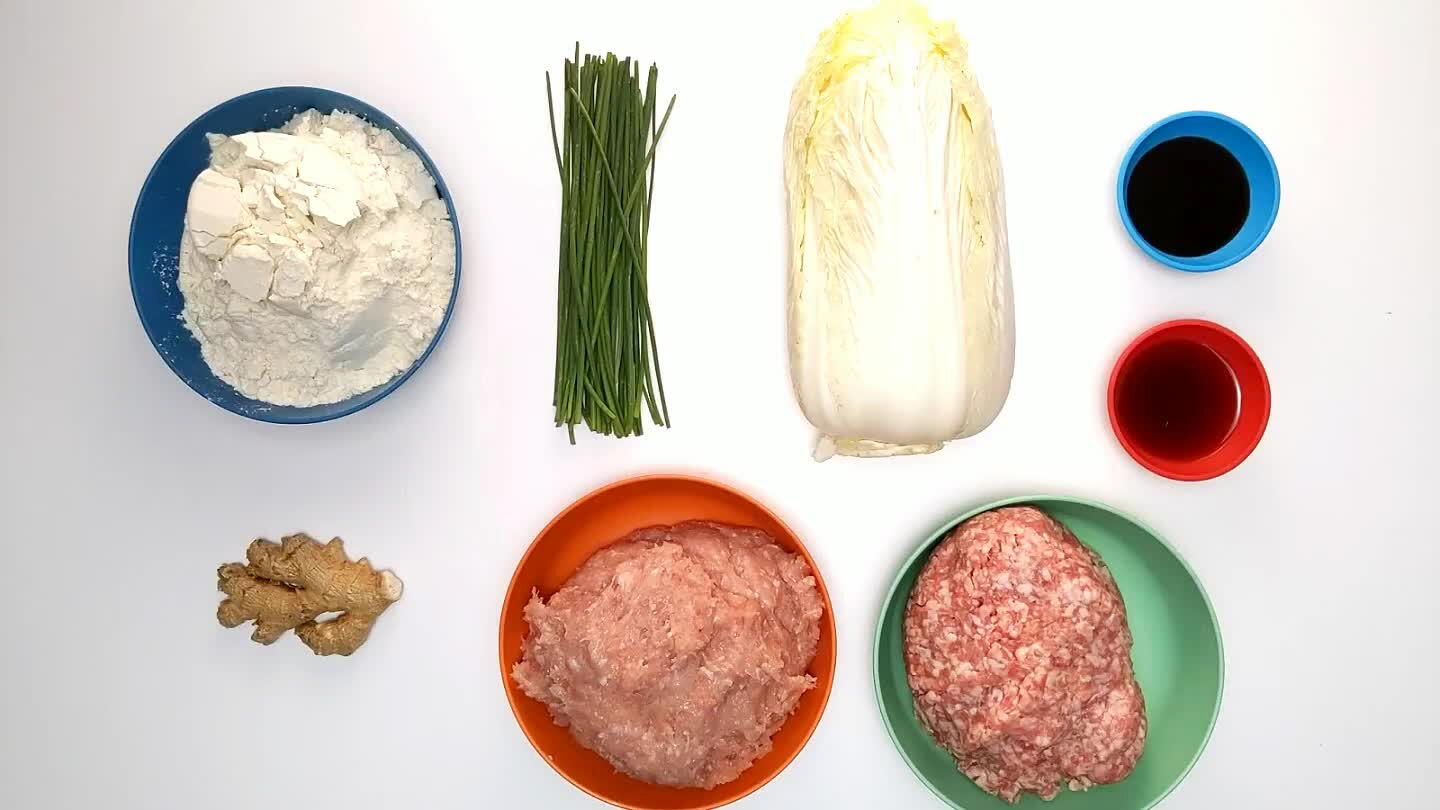 Bring a pot of water to a boil. Meaure it out and pour it into a medium-sized mixing bowl.
Add the salt and stir to dissolve.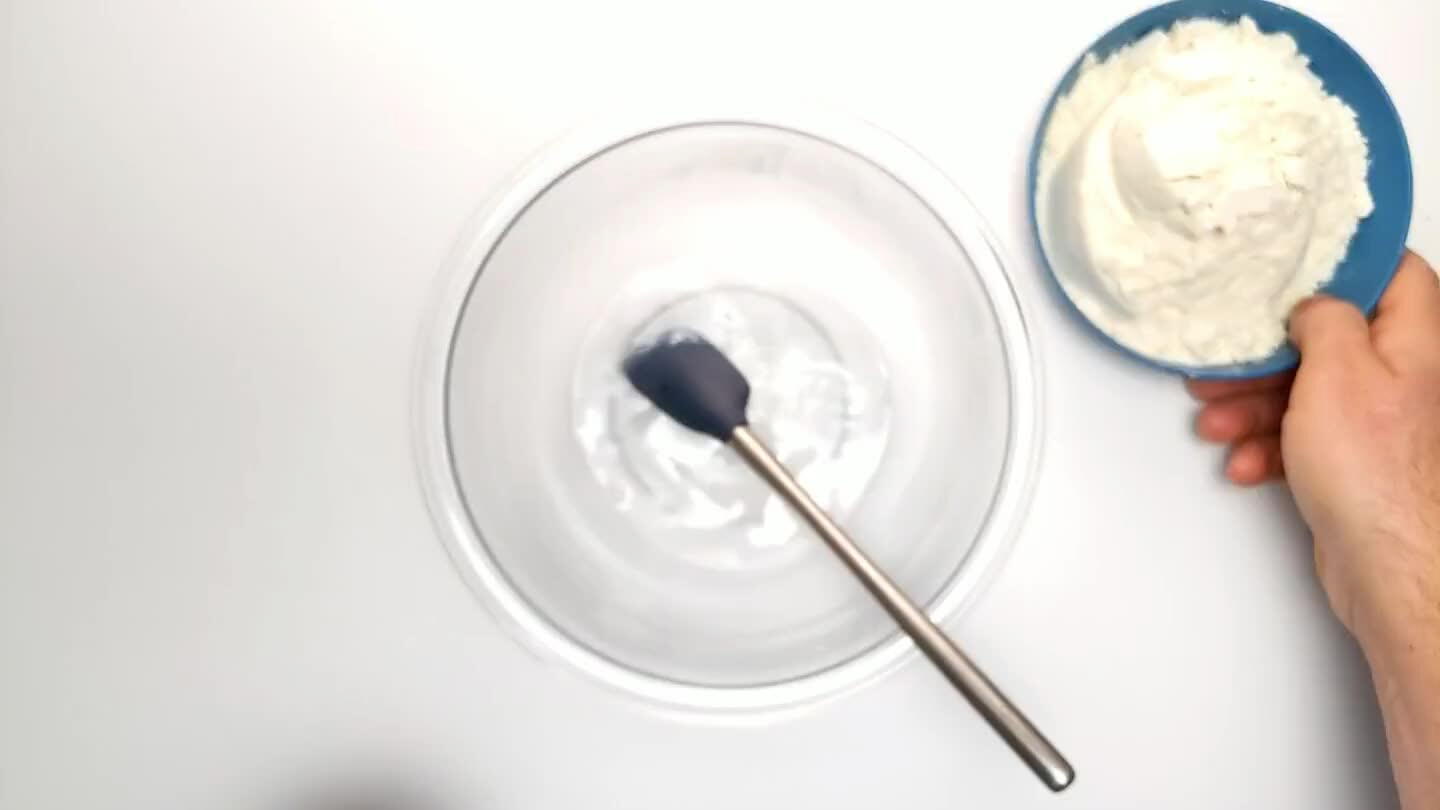 Add the flour and stir to mix.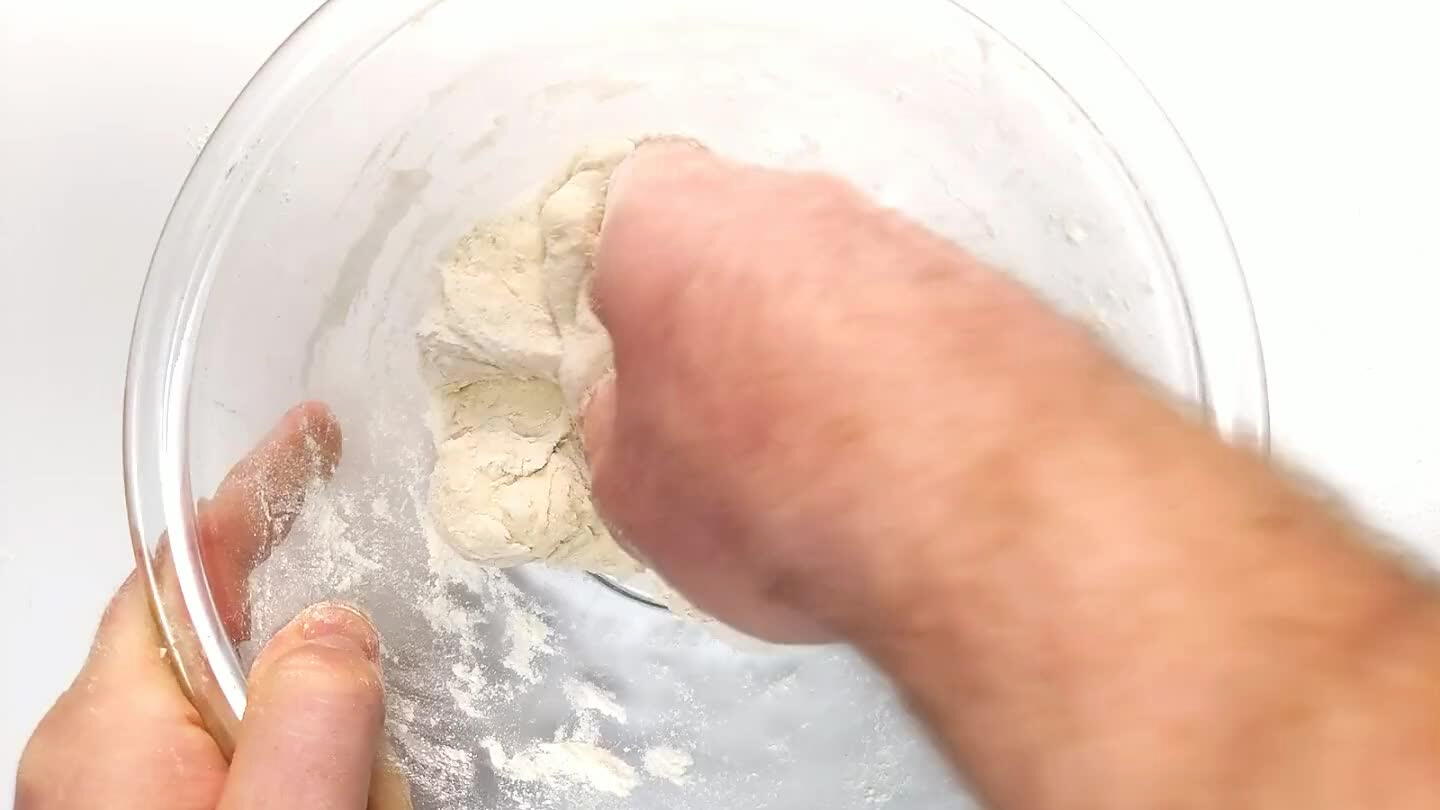 As the dough begins to come together, take a moment to assess the situation. If you're having trouble mixing the flour in, you may need to add a splash of water. Keep at it, folding the dough over itself and adding small amounts of water as needed, until you get a nice, stretchy dough. Press a thumb into the dough and remove it. If you see the dimple slowly disappear as in the video, your water content is good and you're done kneading.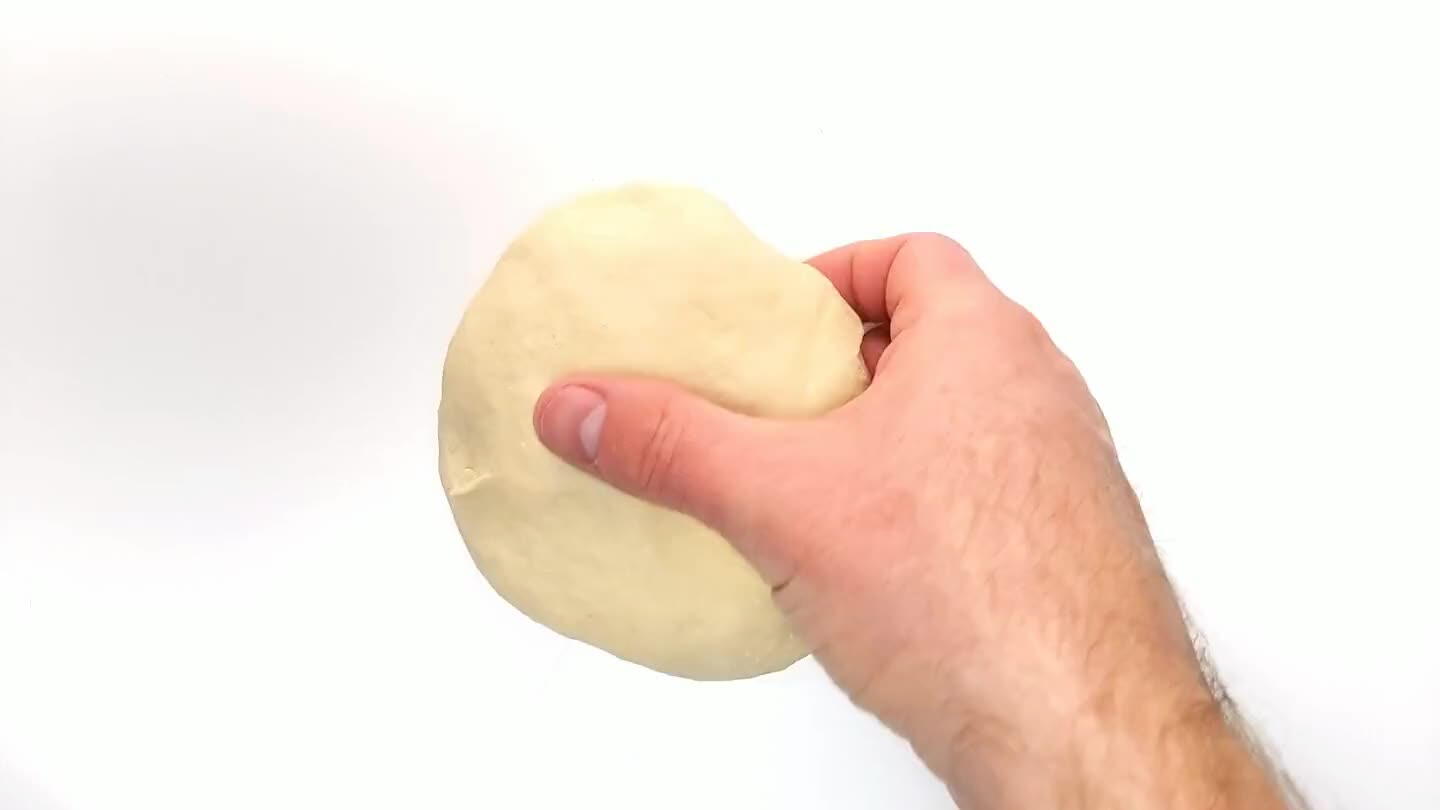 Wrap the dough in plastic and set it aside to rest while you finish preparing the filling.
Slice off the base of the cabbage. Clean the leaves, then bundle them up and slice as thin as possible.
Rock a knife through the sliced cabbage to chop it more finely, like confetti.
Toss the cabbage with a healthy pinch of salt and set aside. This will help draw out excess moisture.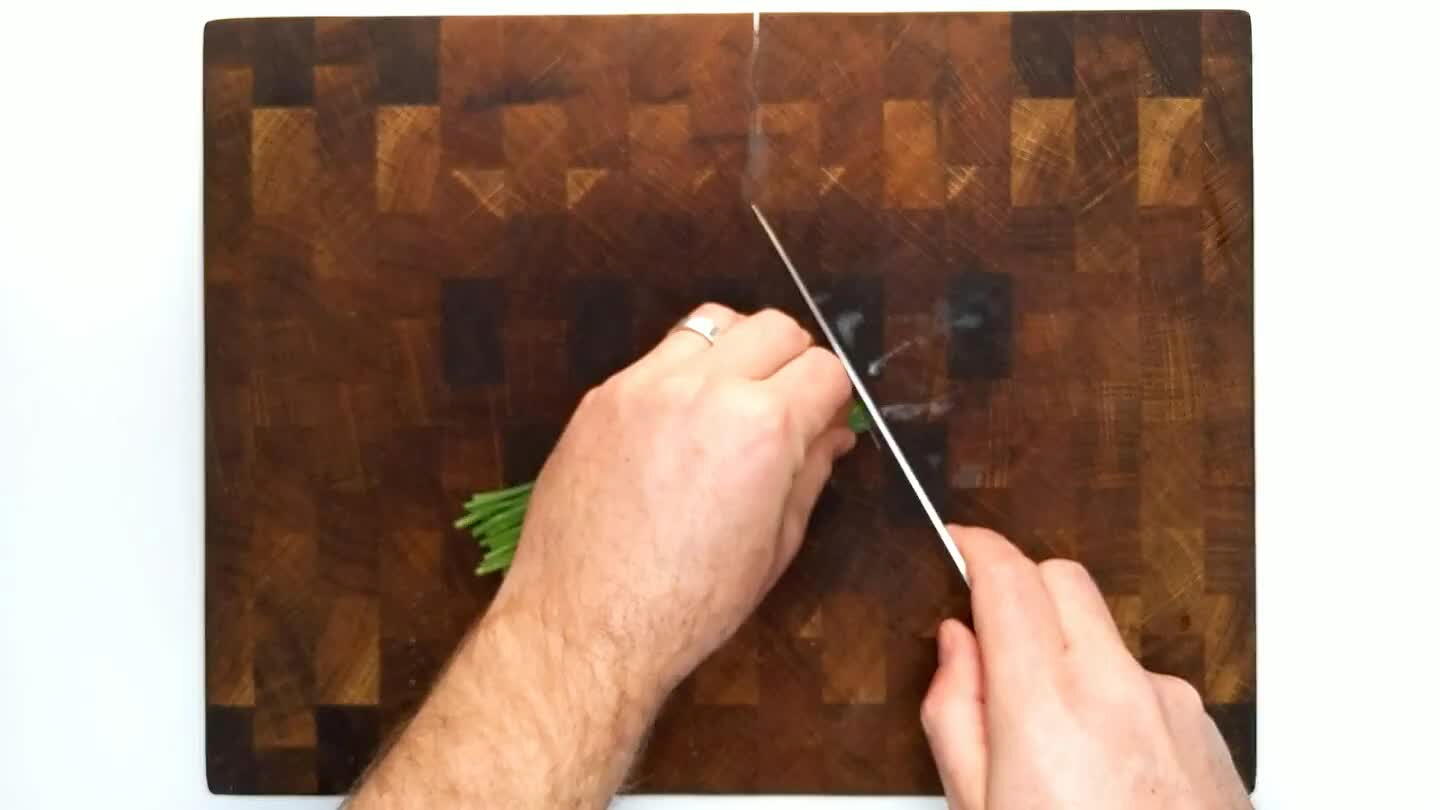 Group the chives, then slice off the tips to even them out and slice finely.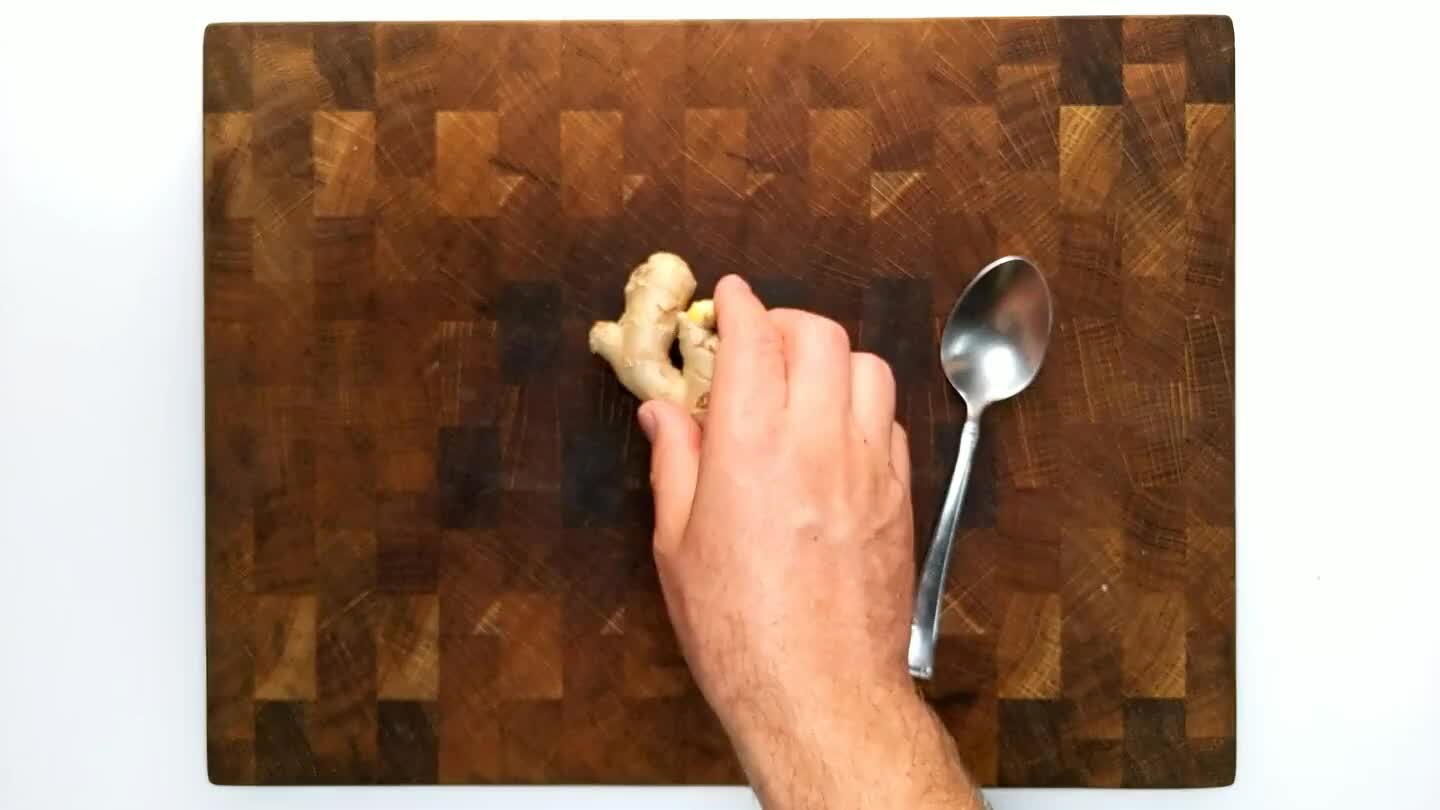 Peel ginger with a spoon and grate or chop to a fine paste.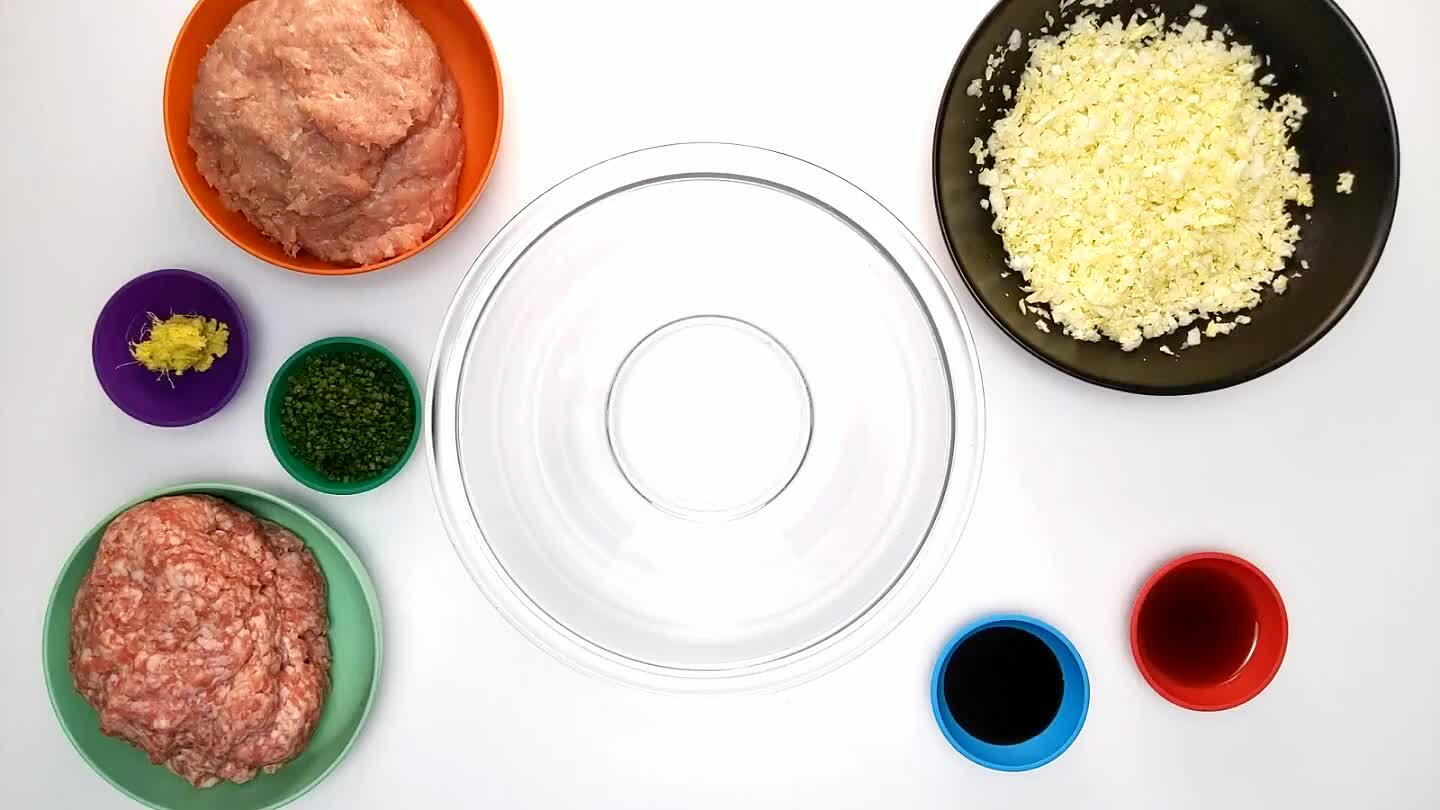 Place the grated ginger in a large mixing bowl.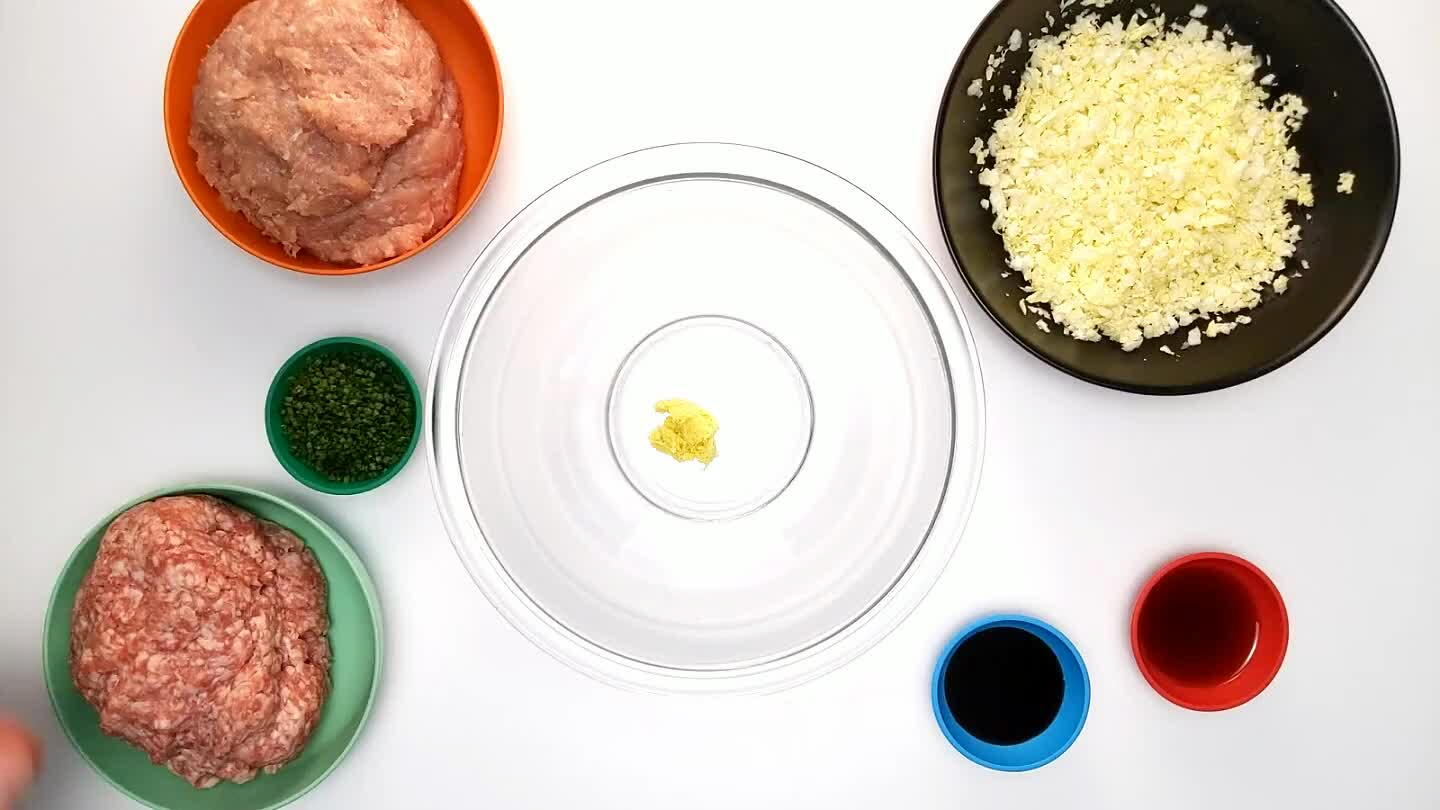 Add the sliced chives.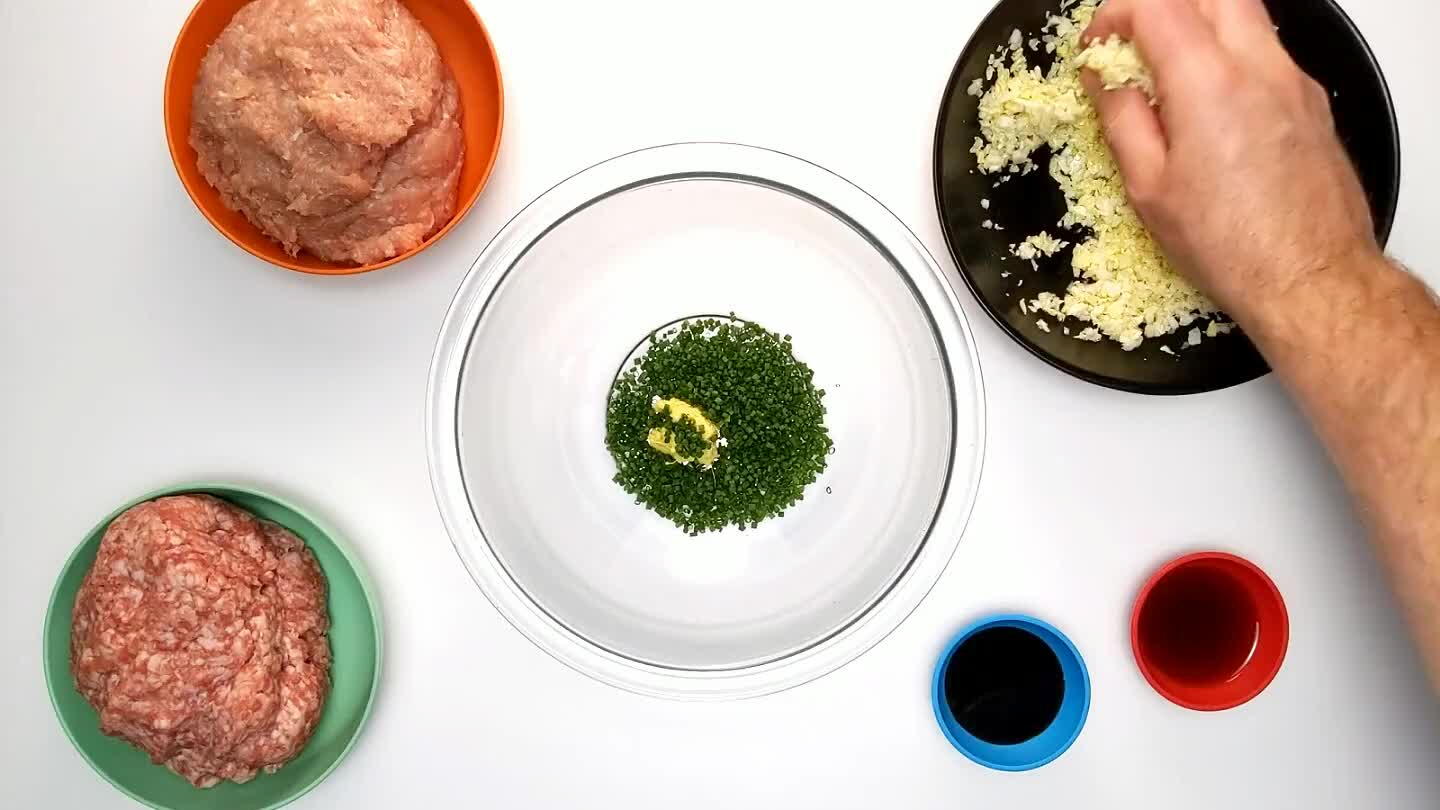 Add the chopped cabbage, squeezing firmly to strain off as much excess moisture as possible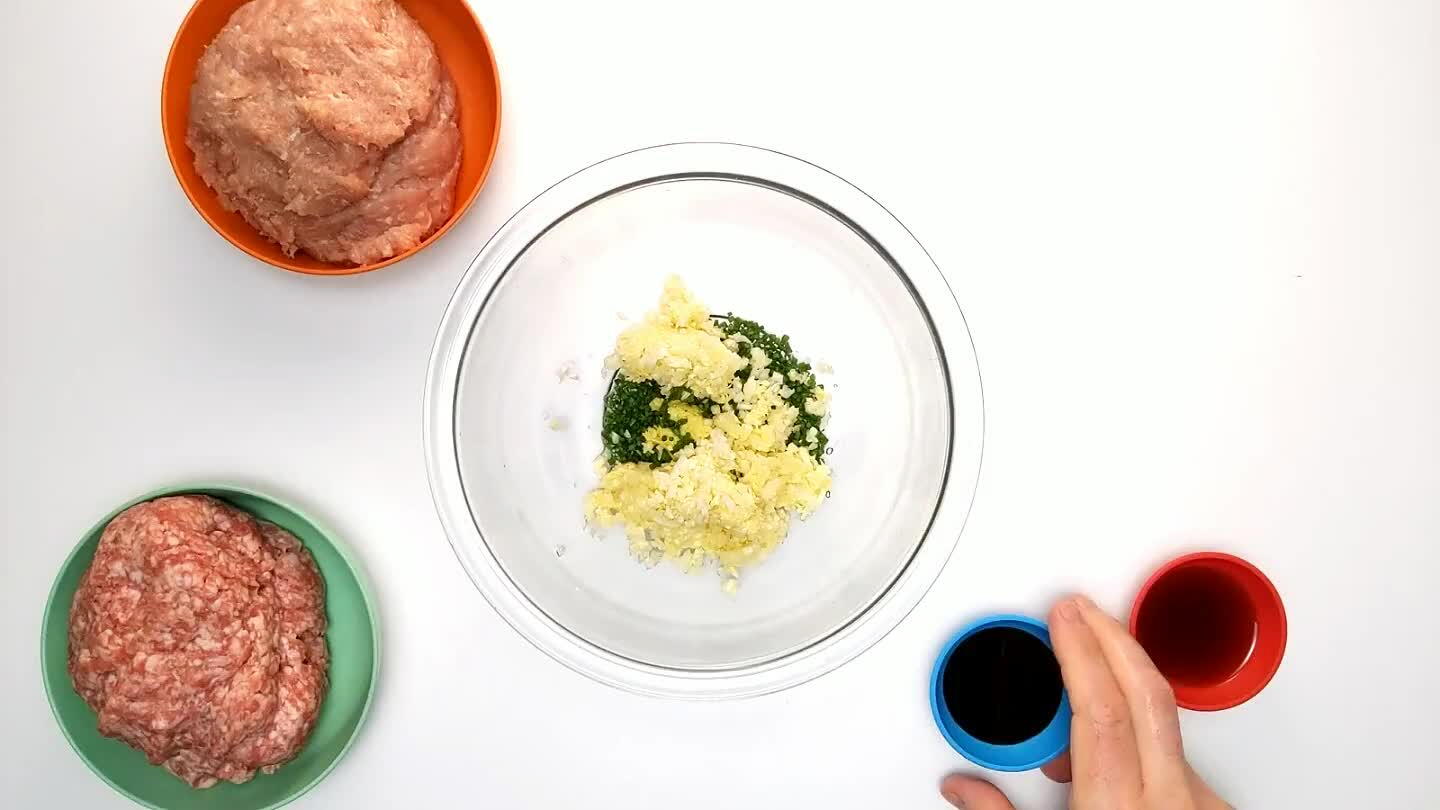 Add the soy sauce.
Add the toasted sesame oil.
Add the ground pork.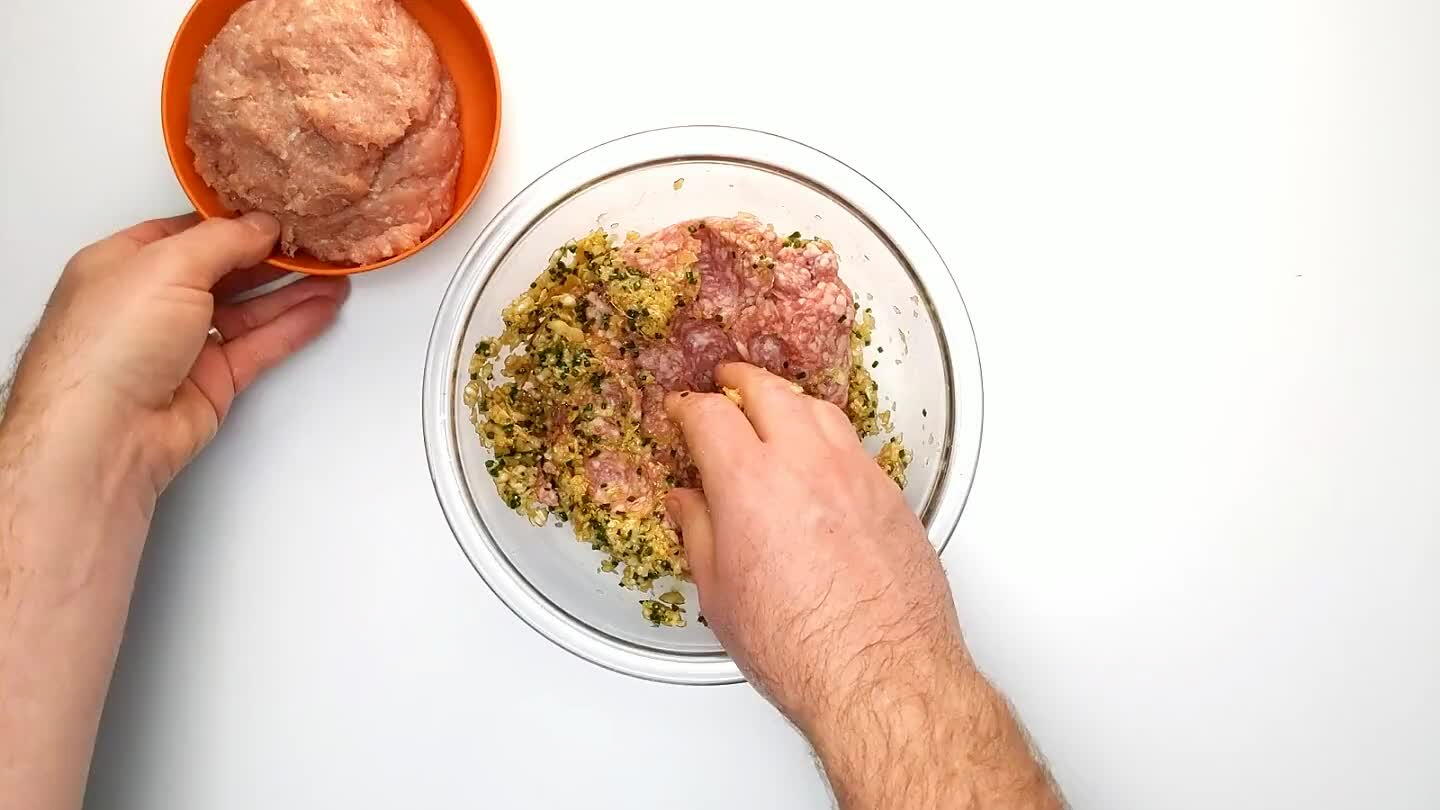 Add the ground chicken.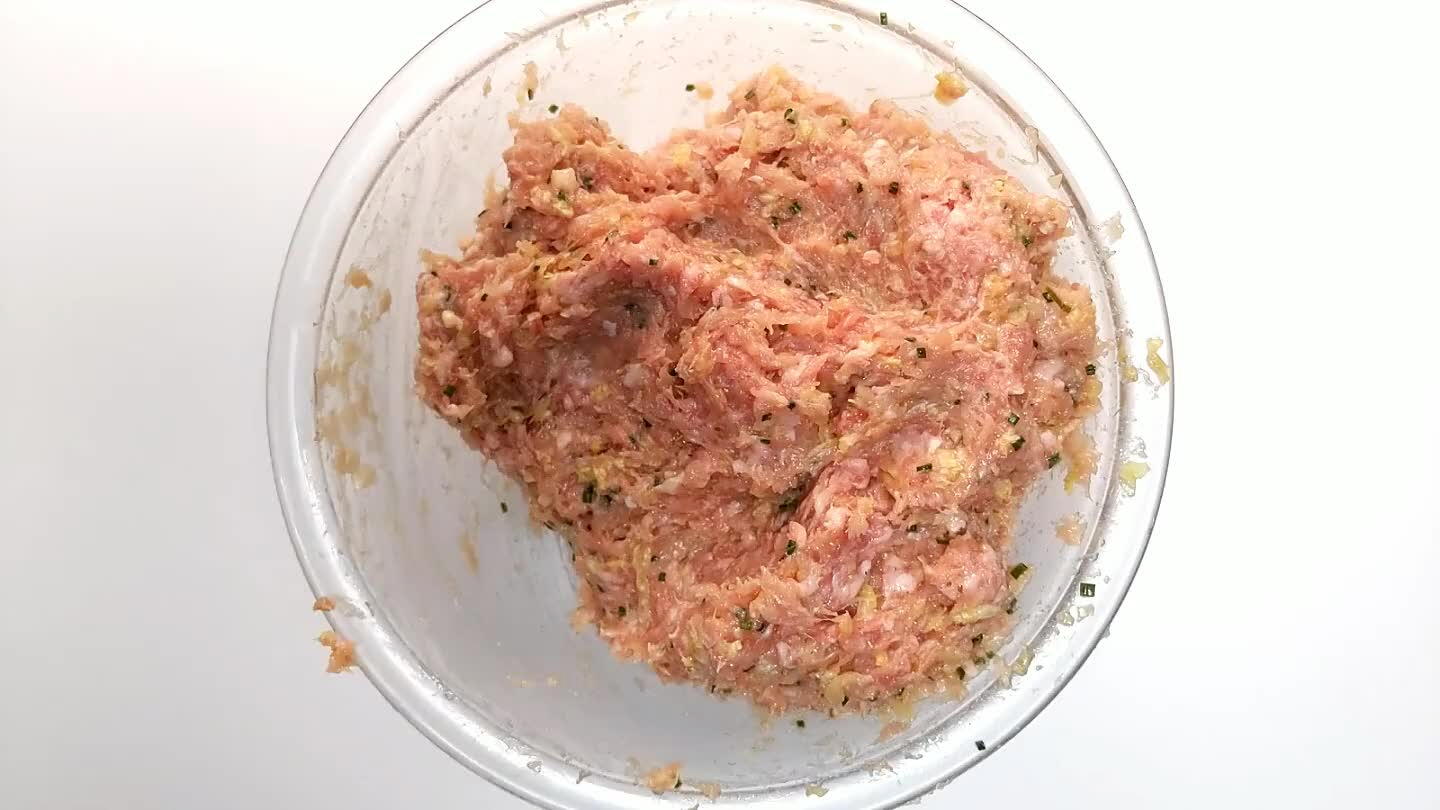 Add a healthy pinch of salt and a few turns of fresh black pepper. Now we run into another challenge. How do you get the seasoning right without tasting raw meat? I find the easiest way is to scoop off a couple of small chunks of filling from different regions of the mix (to make sure you've mixed thoroughly) Place them in a microwave-safe dish and microwave for about a minute. Add a little salt as needed and repeat until you're satisfied. Don't rush the tasting, it's crucial.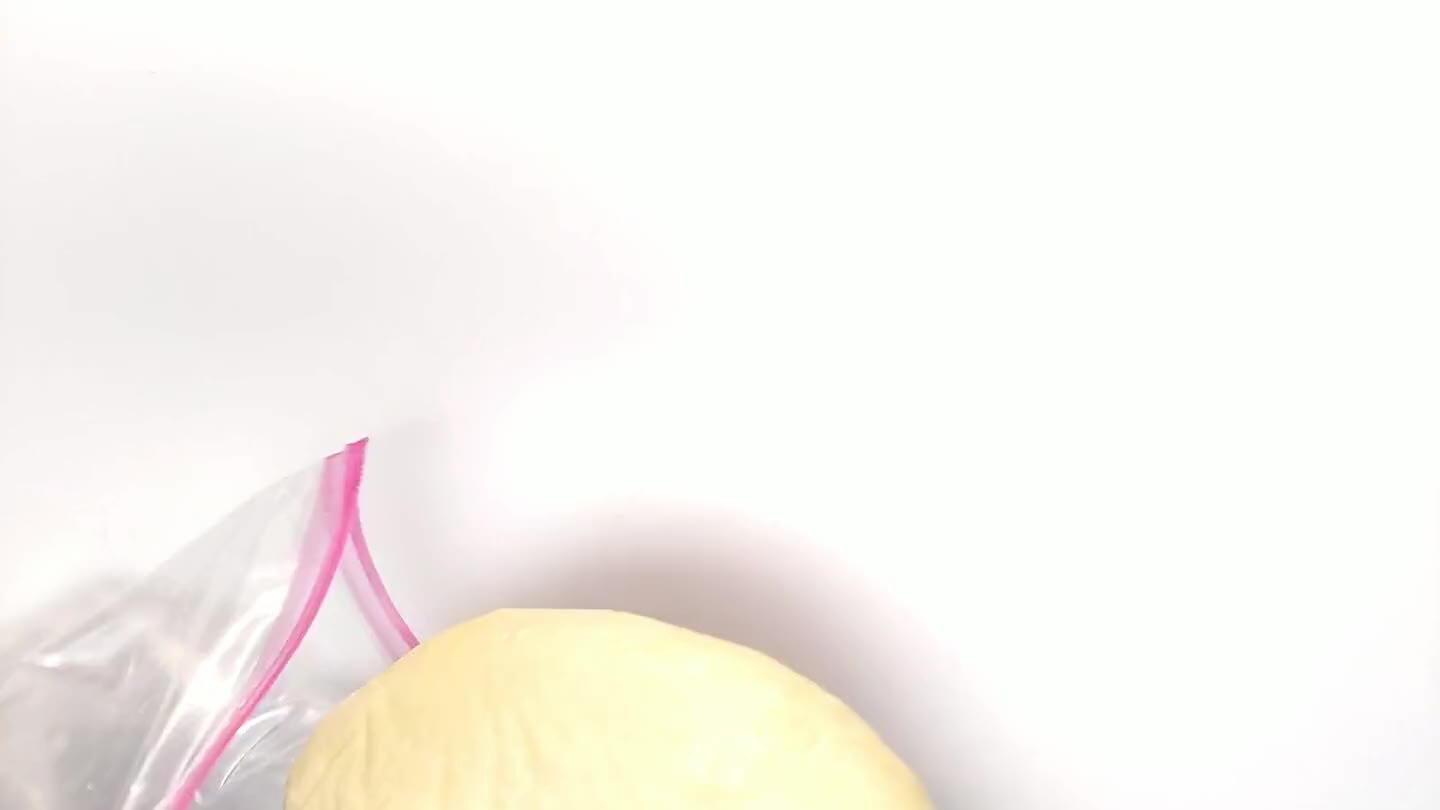 When you're ready to start assembling your dumplings, take out the dough and divide it evenly into 16 pieces. You can actually get away with 32 pieces here, but assembly can be tiresome, especially for a beginner, so I prefer larger dumplings.
Now take a ball of dough and a small rolling pin. Roll the dough out into an oval. Pick the dough up and rotate it 45°. Roll the oval out and you should find that you're now pretty close to a circle. Repeat this process, rotating 45° between each roll, until you've got a thin round.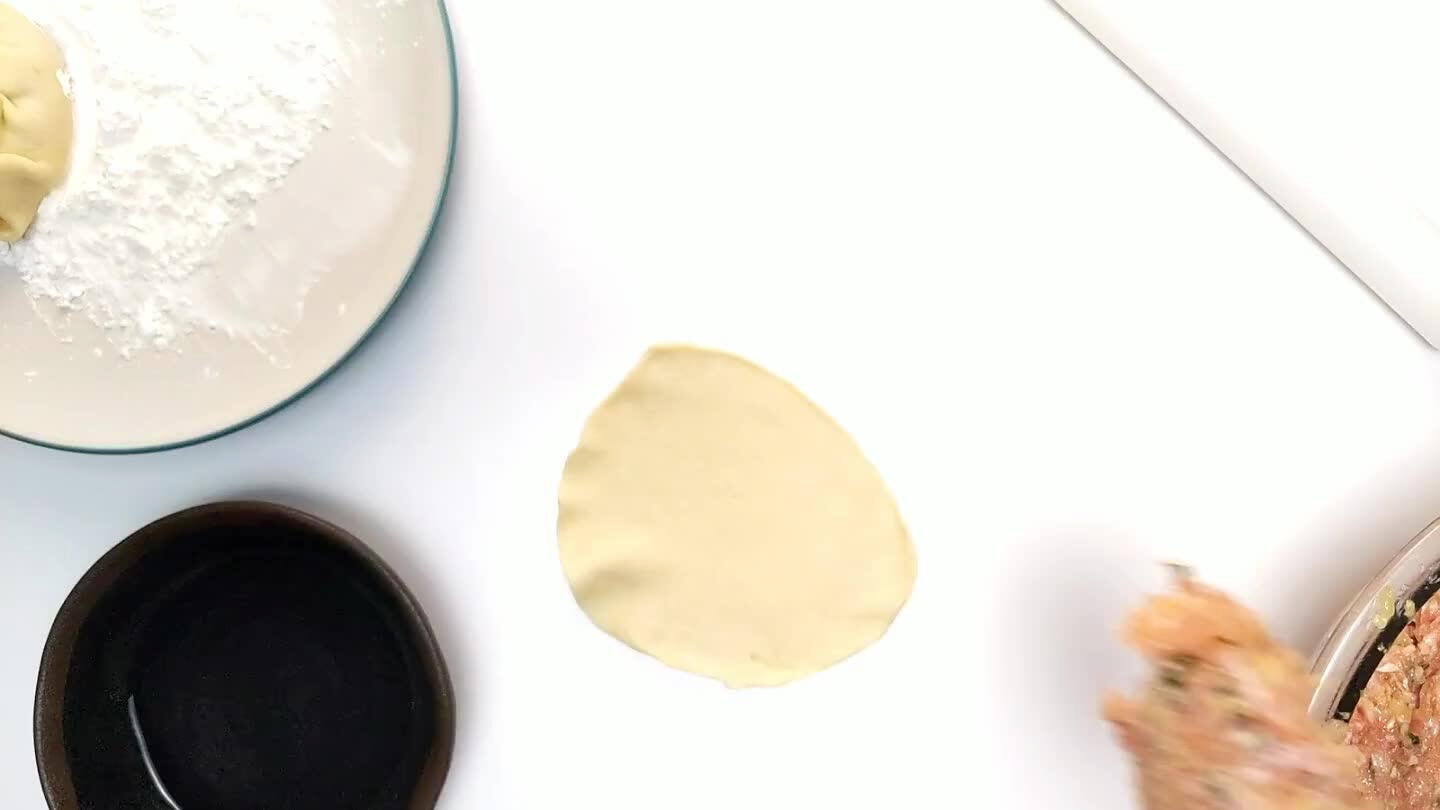 Add a heaping spoonful of filling to the center of the wrapper.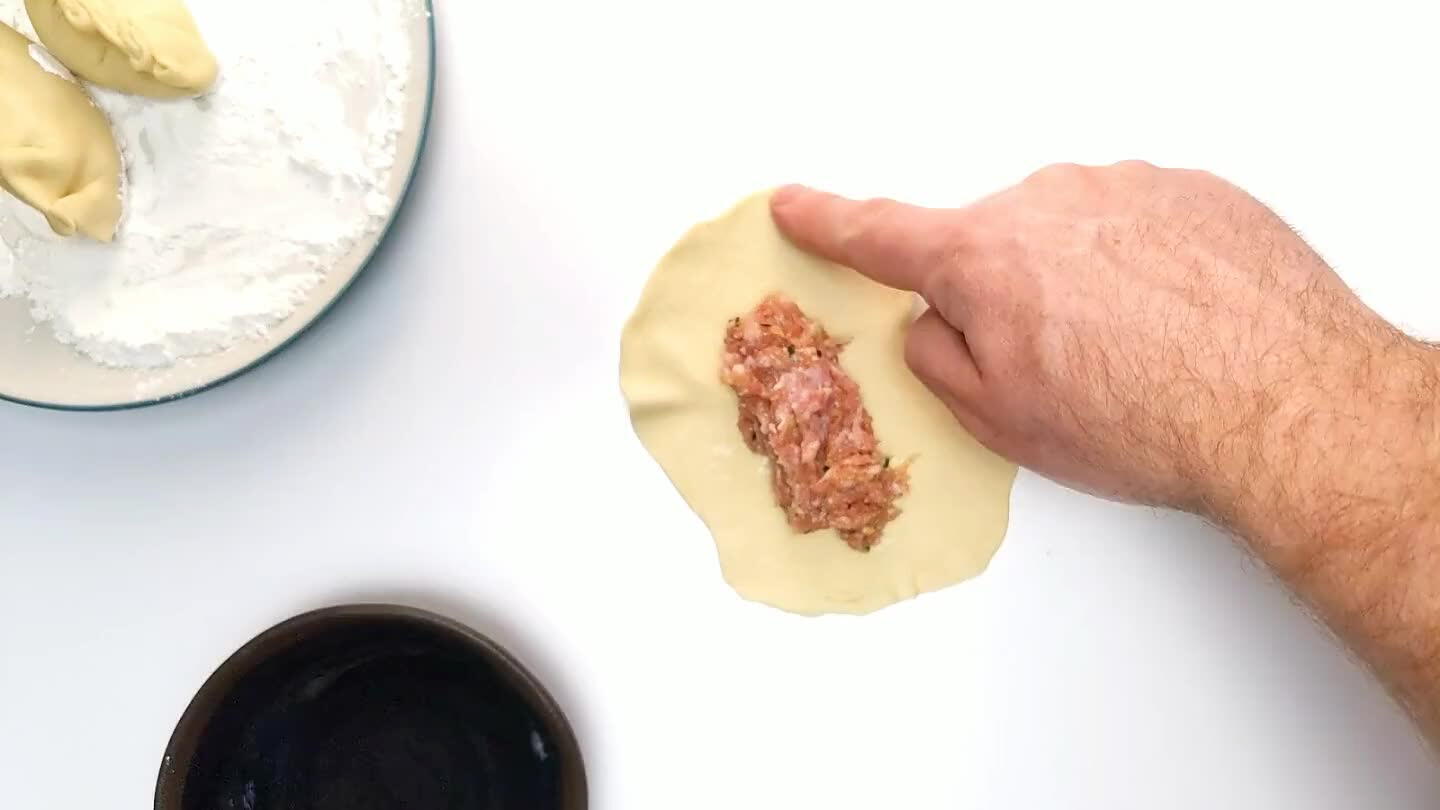 Coat one side of the wrapper with a thin swipe of moisture.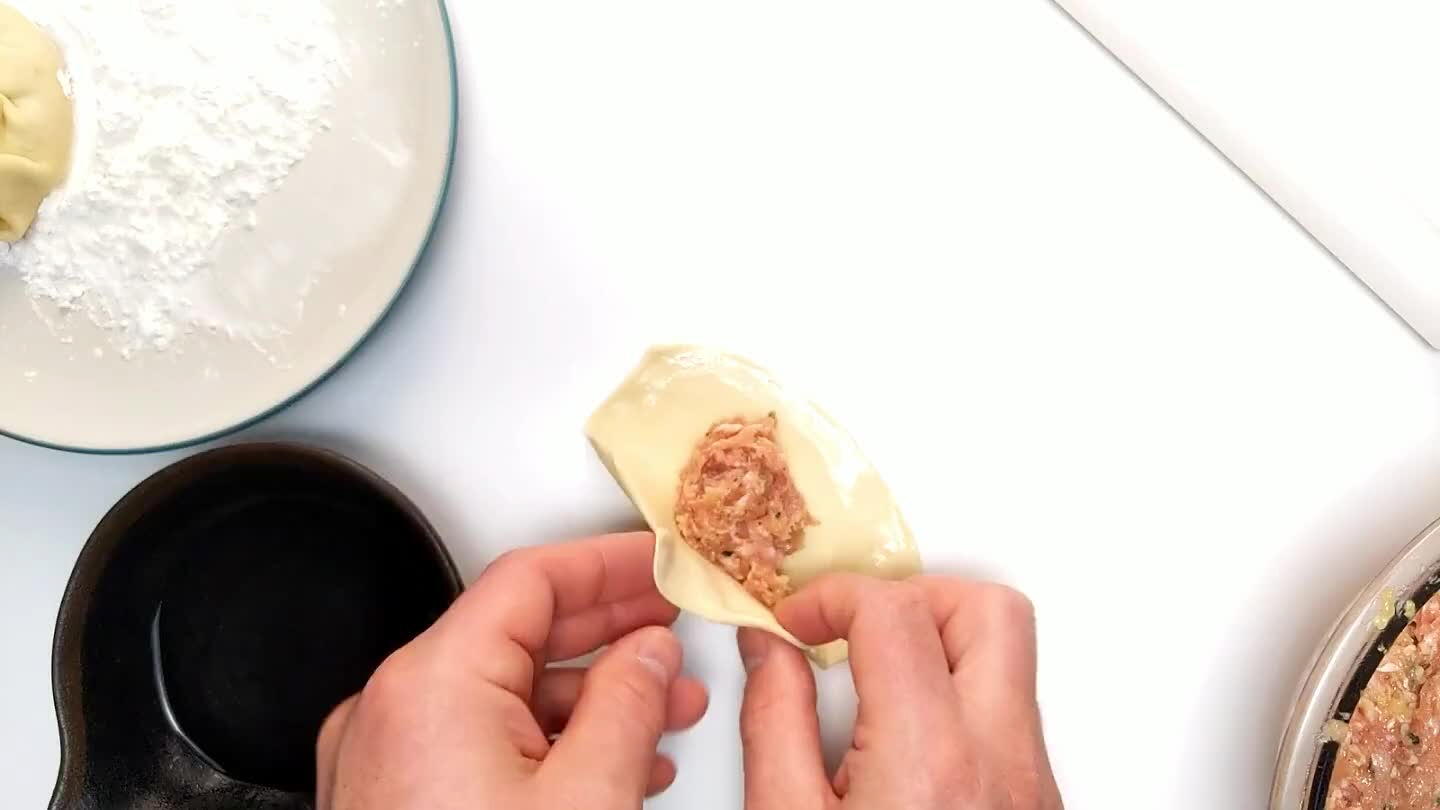 Fold the wrapper together around the filling and pinch it shut at the apex.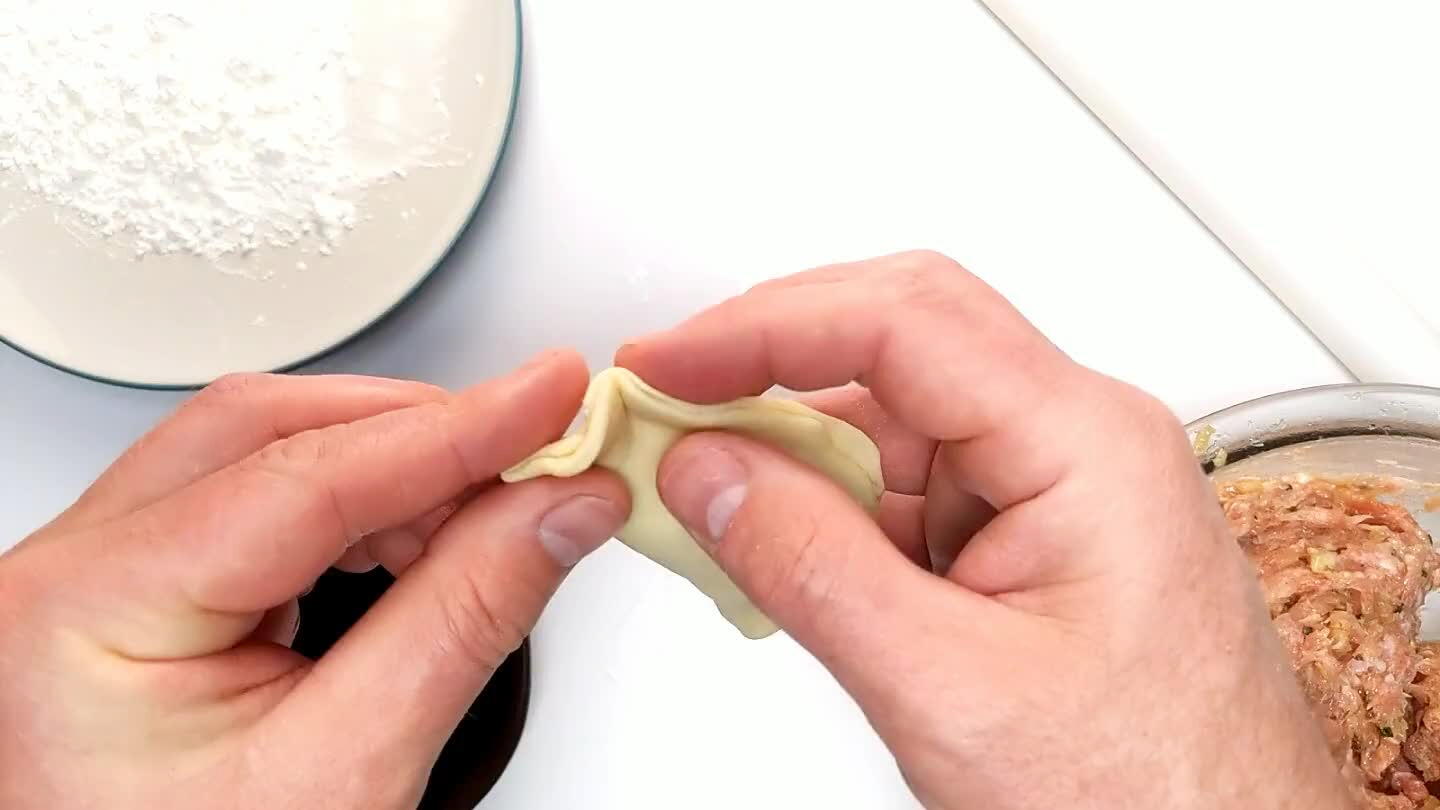 There's more than one way to fold a dumpling. My favorite method is the classic pleated seal. Gently fold the rim like a wave collapsing over itself. Shoot for 4 or 5 pleats per dumpling. You can find a ton of dumpling folding videos on youtube if you want to get creative.
You can also roll them like burritos. Stretch out the wonton wrapper to more of an oval. Shape the filling into a log and place it in the center. Fold in the ends of the dough, then roll tight. This is the easiest rolling technique, it makes for a great ratio of dough to filling, and it makes it very easy to get a nice golden crust on two sides.
Use a pile of corn starch to store your finished dumplings as you work. These guys can get sticky and parking them too close to each other is going to create a mess for you. The corn starch will help keep them separated.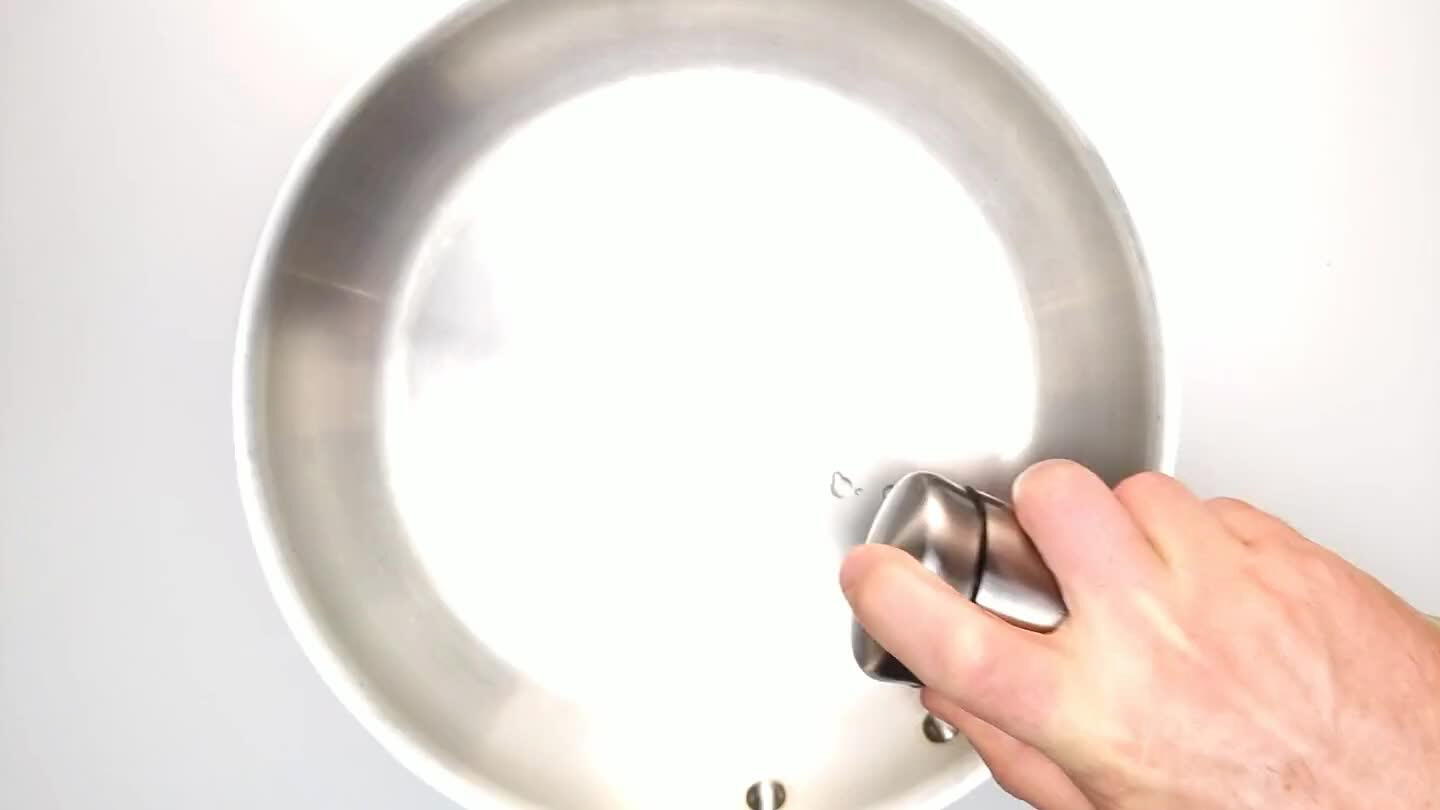 Coat a sauté pan in cooking oil and put it over medium heat.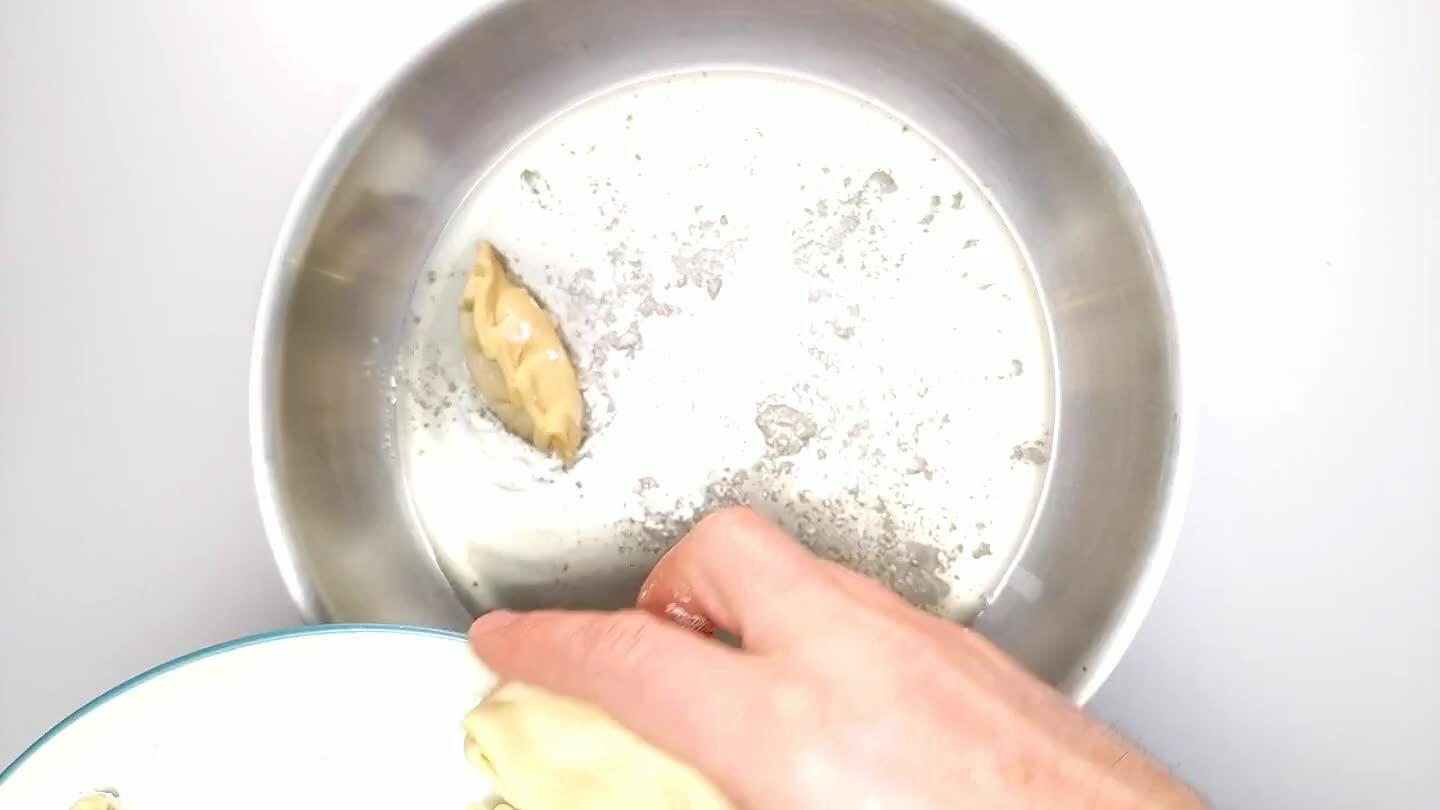 Dust off the dumplings and gently place them in the oil.
Let the dumplings sizzle away in the pan for a few minutes (until crispy and golden brown on the bottom) then gently flip them over.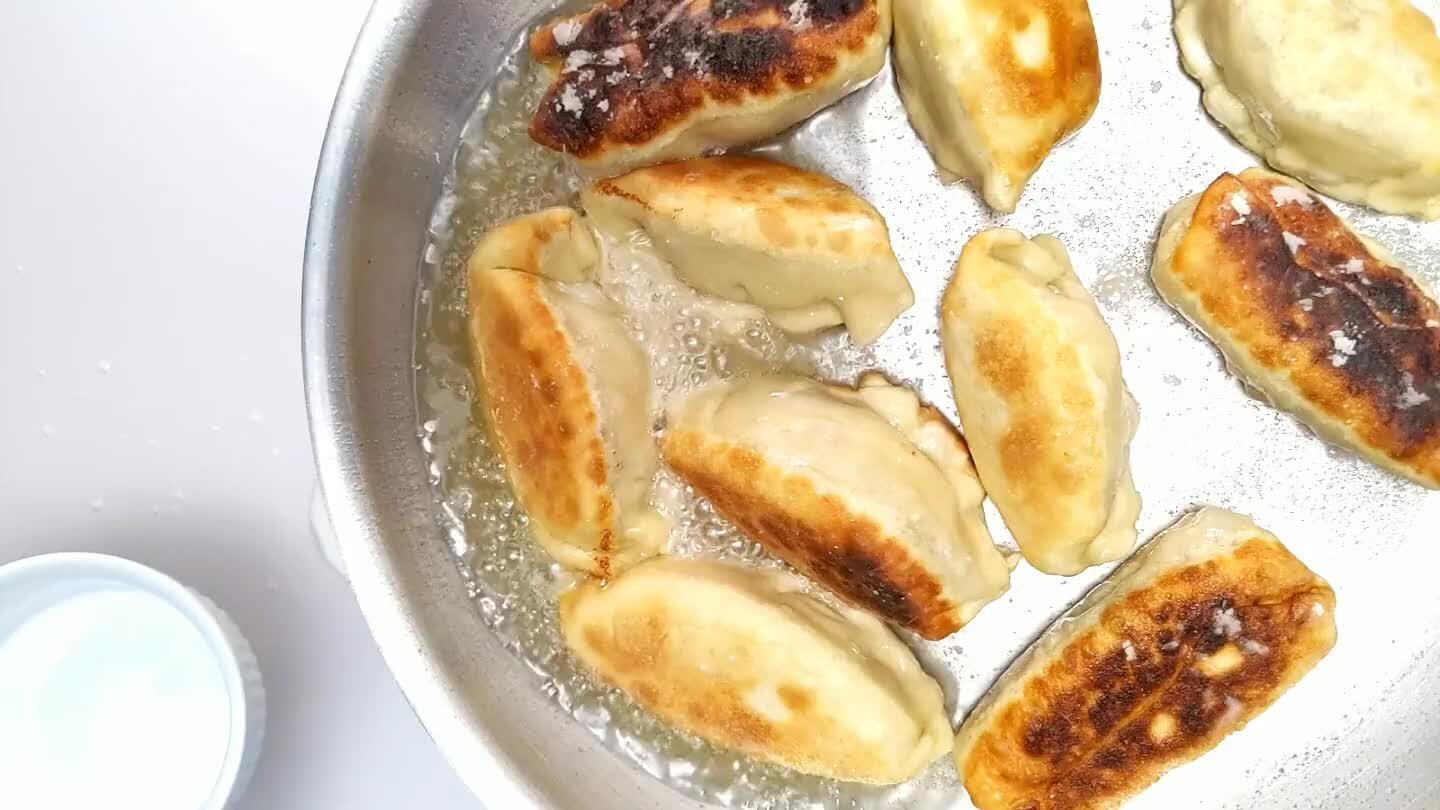 Carefully pour off the hot oil and liquid that's accumulated in the pan.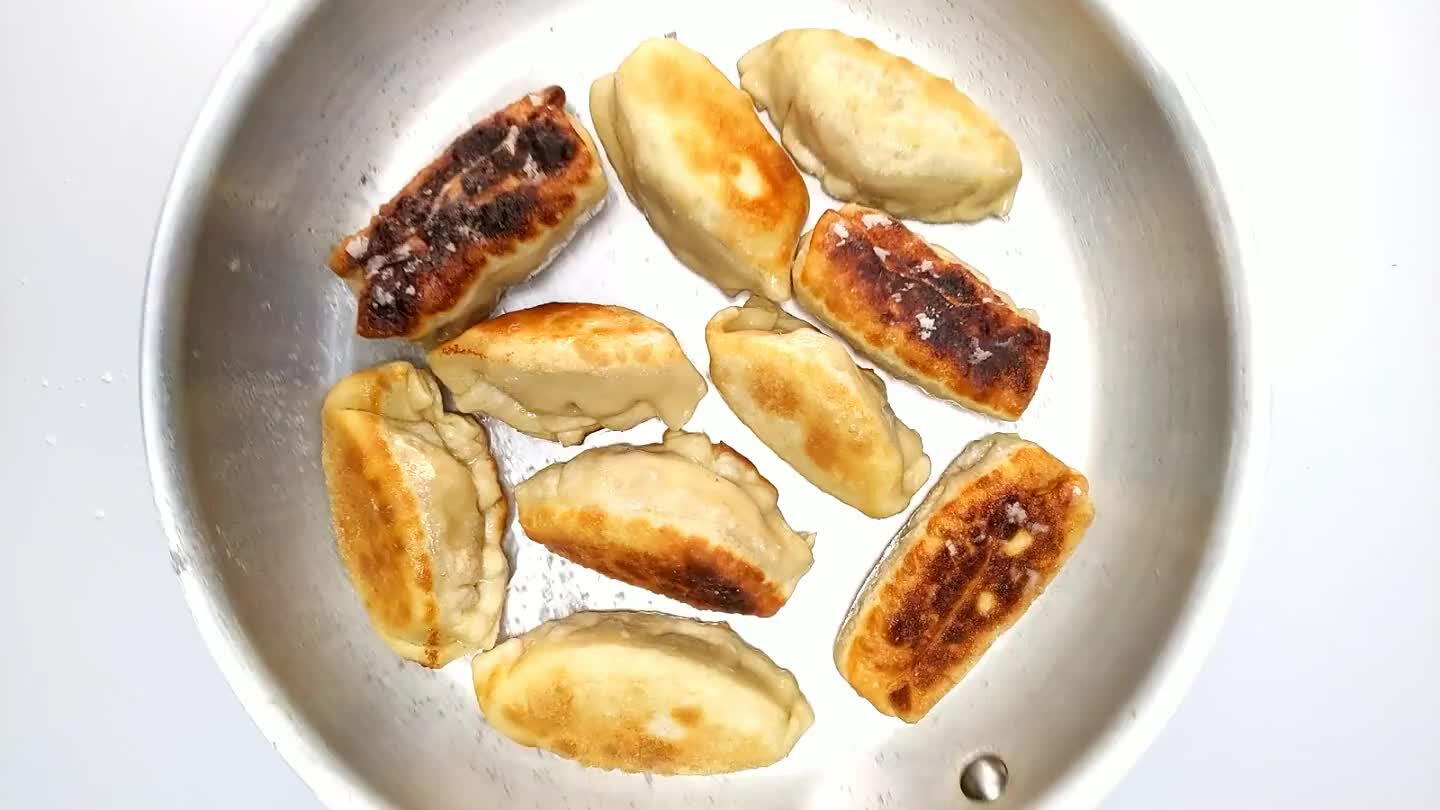 Slowly add about 1/4" worth of water to the pan. We've fried the dumplings but now we need to steam them a little to get the meat fully cooked.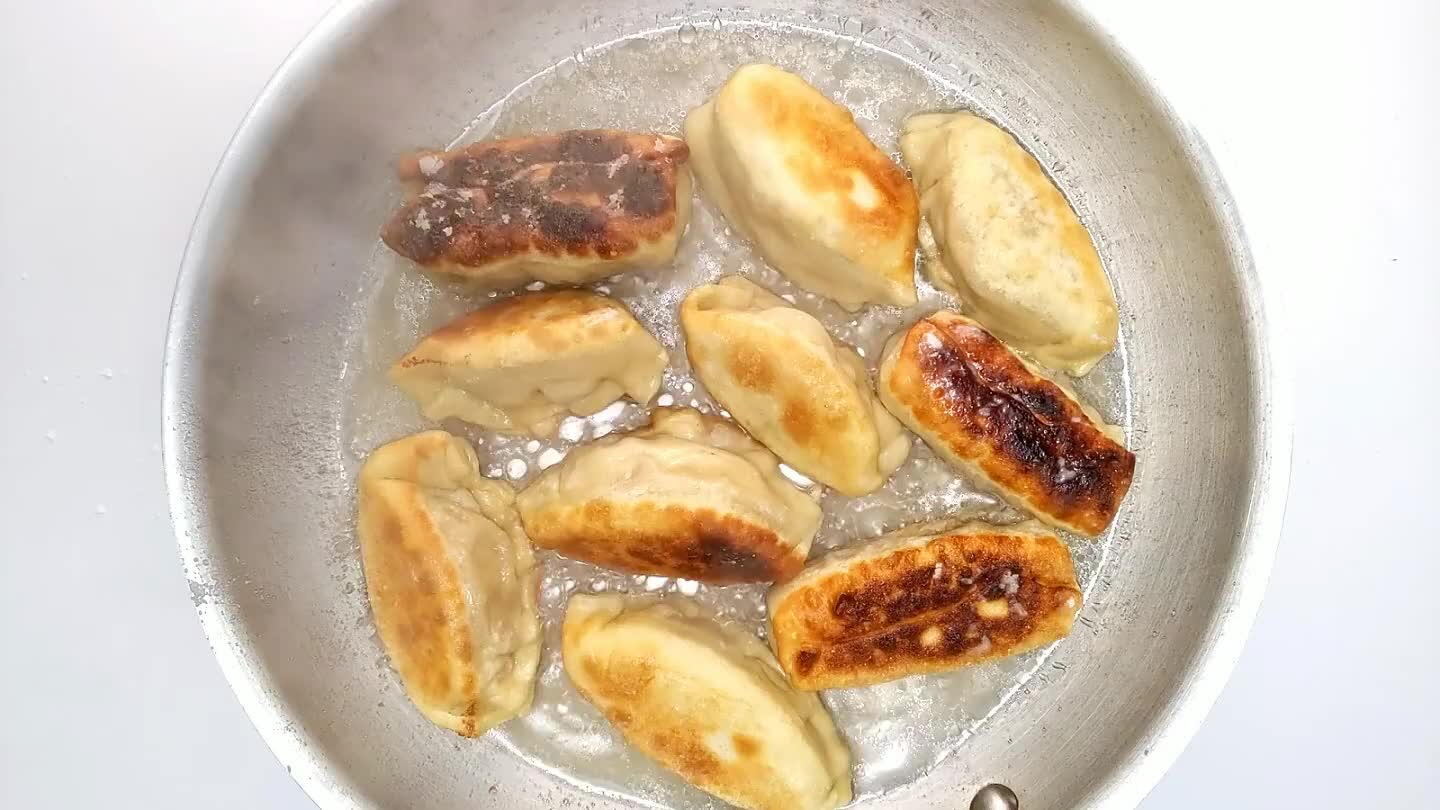 Let the water boil away until the pan is dry. Your dumplings should then begin to stick to the pan. Cook for another few minutes, and they should crisp up enough that they become unstuck with only a gentle coaxing.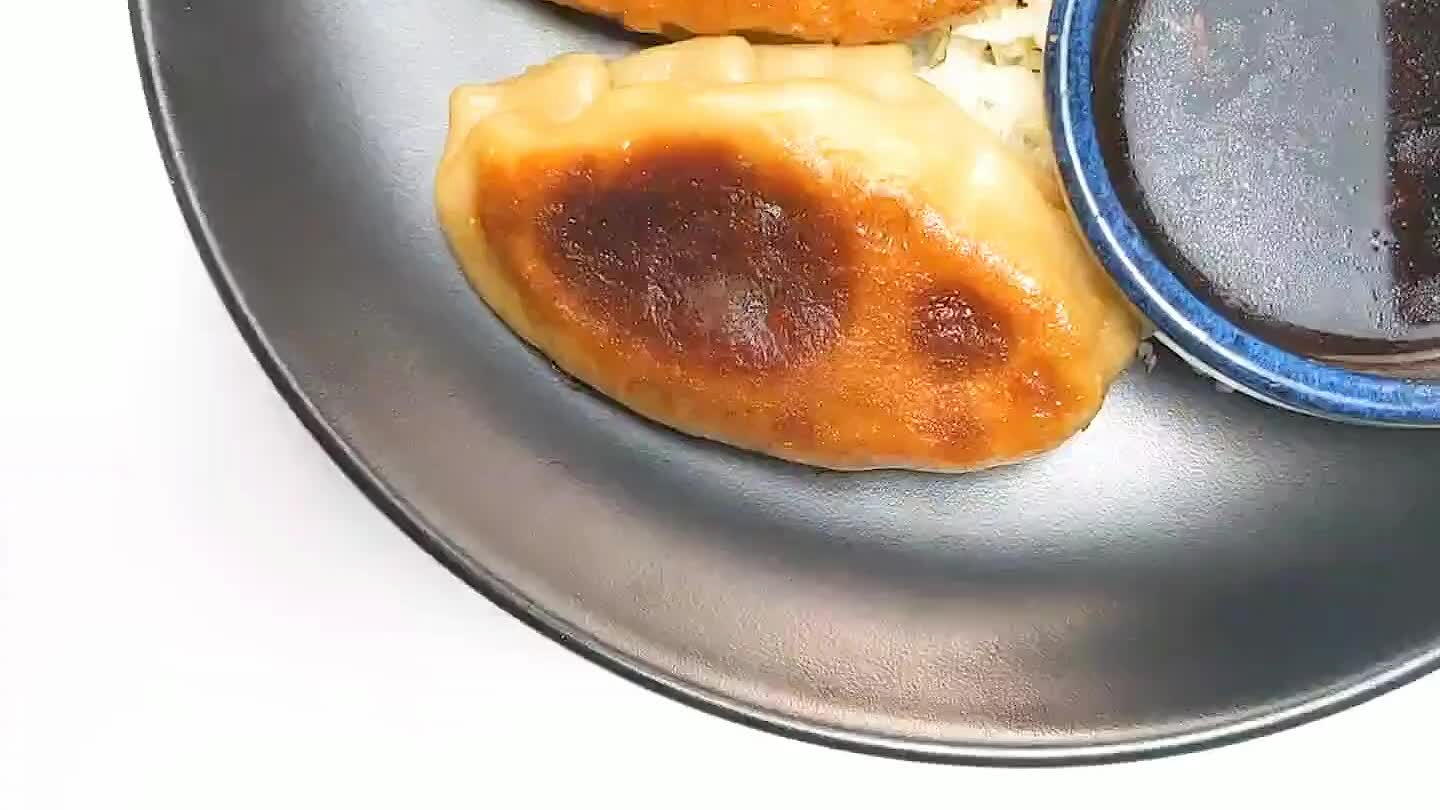 Comments