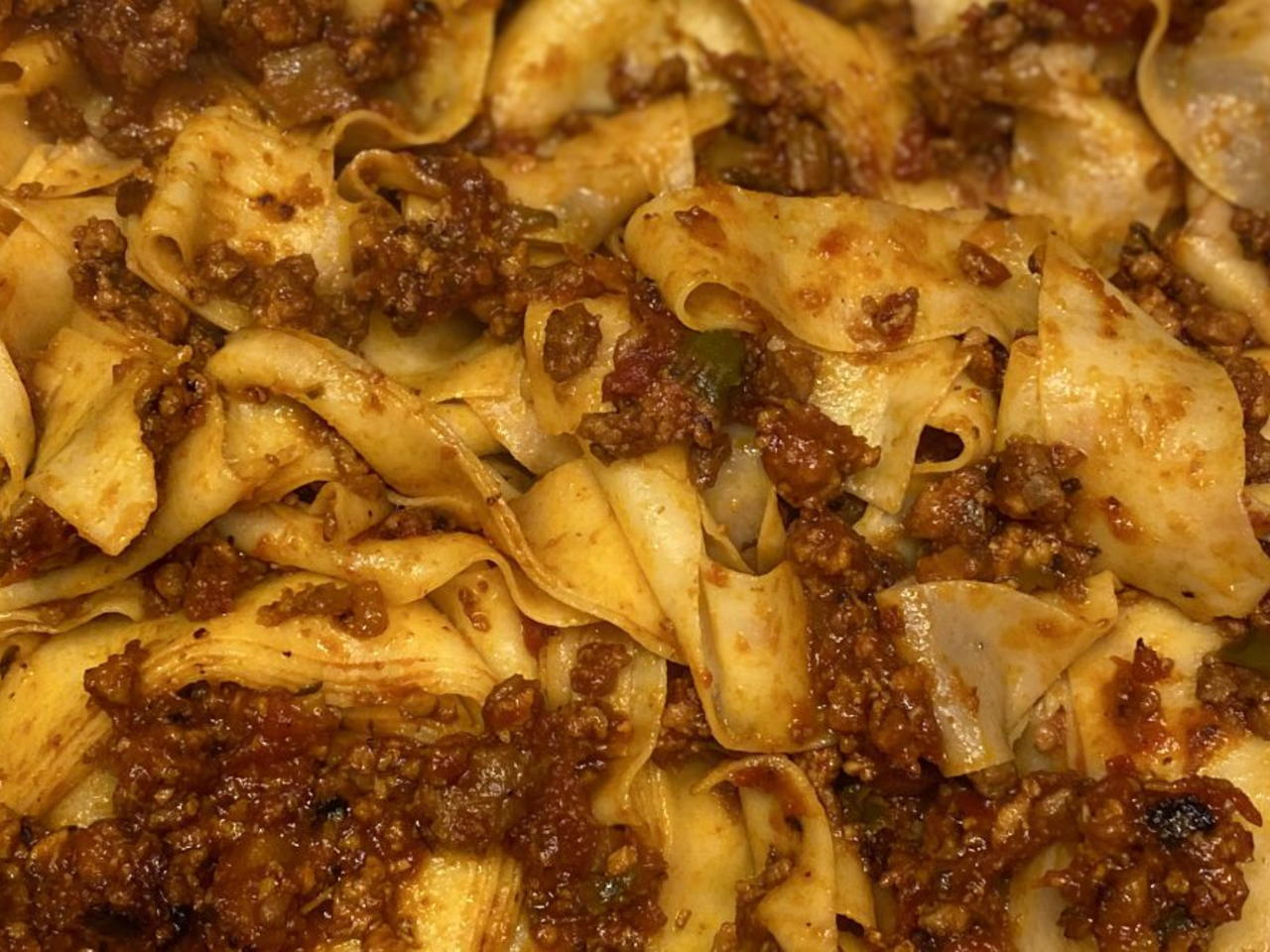 What you will need
3 tbsp olive oil
2 large garlic cloves
1 large onion, diced
3 bay leaves
1 lb ground veal
½ lb Italian sausage
½ pound ground beef
Kosher salt
½ tsp dried oregano
1 tsp dried thyme
1 cup dry red wine
2 oz. pancetta
3 carrots
3 celery stalks
1 bulb fennel
1 green bell pepper
1 tsp red chili flakes
56 oz. cans crushed tomatoes
Ground black pepper
1 lb pappardelle pasta
Grated parmesan cheese (for garnish)
(Nutritional facts 100 calories, 4.41 g fat, 9.69 g carbohydrates, 5.04 g protein, 11 mg cholesterol, 146 mg sodium)
How to cook
Heat oil in a large soup pot over medium low. Add garlic, cook for 2-3 minutes, making sure it does not burn. (Tip: tilt pan to submerge garlic in hot oil on one side to ensure even cooking.)
Add onion and bay leaves, cooking until onions are translucent, about 8 to 10 minutes.
Add the meat, cook until brown, about 8 to 10 minutes. Add 1 tsp kosher salt.
Add dried thyme and oregano, mix to combine. Add wine and cook until most of the liquid has evaporated.
In a separate large skillet, heat pancetta over medium high. Cook until most of the fat has rendered, then add the carrots, celery and fennel, cooking until vegetables have softened, about 5 to 7 minutes.
Add sautéed vegetables to soup pot with browned meat, cooking 1 to 2 minutes more. Add the chili flakes, bell pepper and crushed tomatoes.
Cook tomato sauce covered, about 3 hours, stirring every 15 minutes. Taste for seasoning, adding more salt and freshly ground black pepper as necessary.
During the last 15 minutes or so for the Bolognese, cook pappardelle pasta according to package directions.
Ladle sauce over cooked pasta noodles in a large serving bowl and toss with tongs to cobmine. Garnish with parmesan cheese and serve.