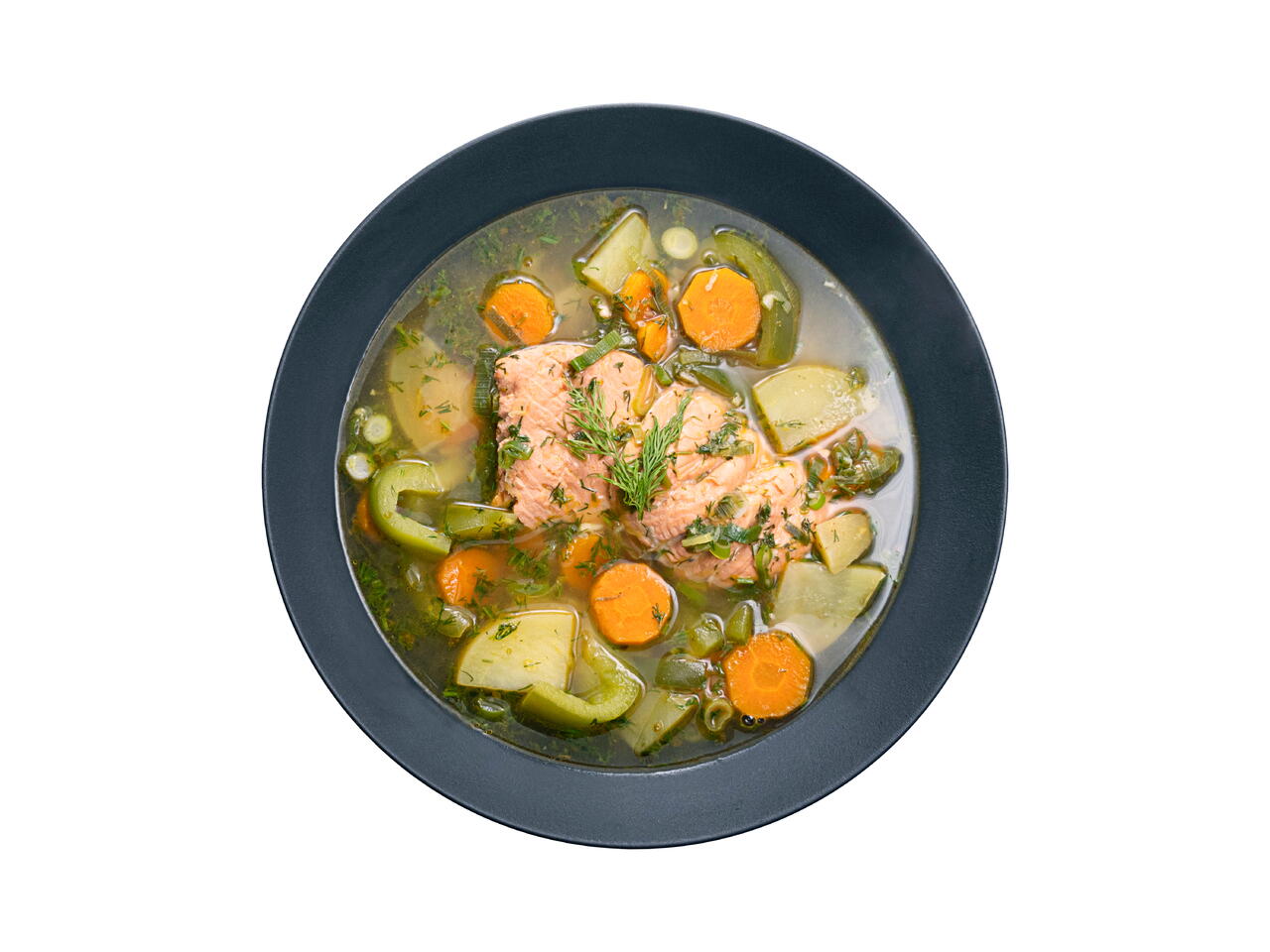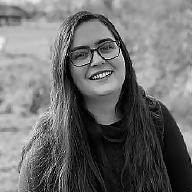 Recipe video made by Michelle
Published on 06/01/2020, viewed by 1174 , 0 Comments
5 portions
35m
If you love salmon, lemon, and fresh herbs, this is the recipe for you! Feel free to add whichever veggies you have on hand, this recipe is versatile and will work with whatever you have.
What you will need
2 Carrots
1 lb Gold Potatoes
1 Green Bell Pepper
4 Green Onions
4 Garlic Cloves
1 Lemon
1 lb Salmon Fillet
1 Tbsp Olive Oil
1 oz Fresh Dill
5 cups Vegetable Broth
1/4 tsp Salt
1/4 tsp Black Pepper
1 tsp Ground Coriander
½ tsp ground Cumin
1 tsp Dry Oregano
(Nutritional facts 114 calories, 4.47 g fat, 10.77 g carbohydrates, 8.17 g protein, 15 mg cholesterol, 177 mg sodium)
How to cook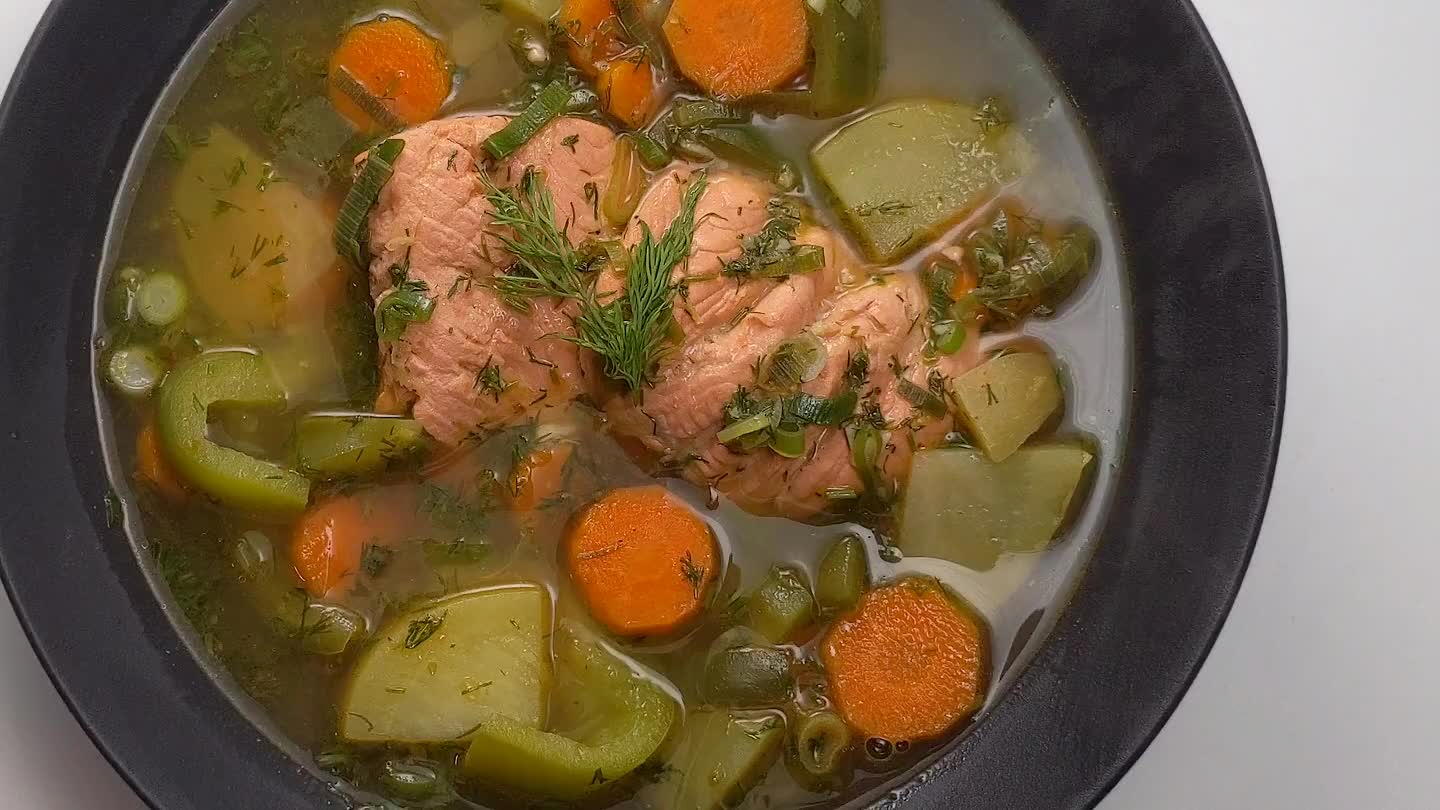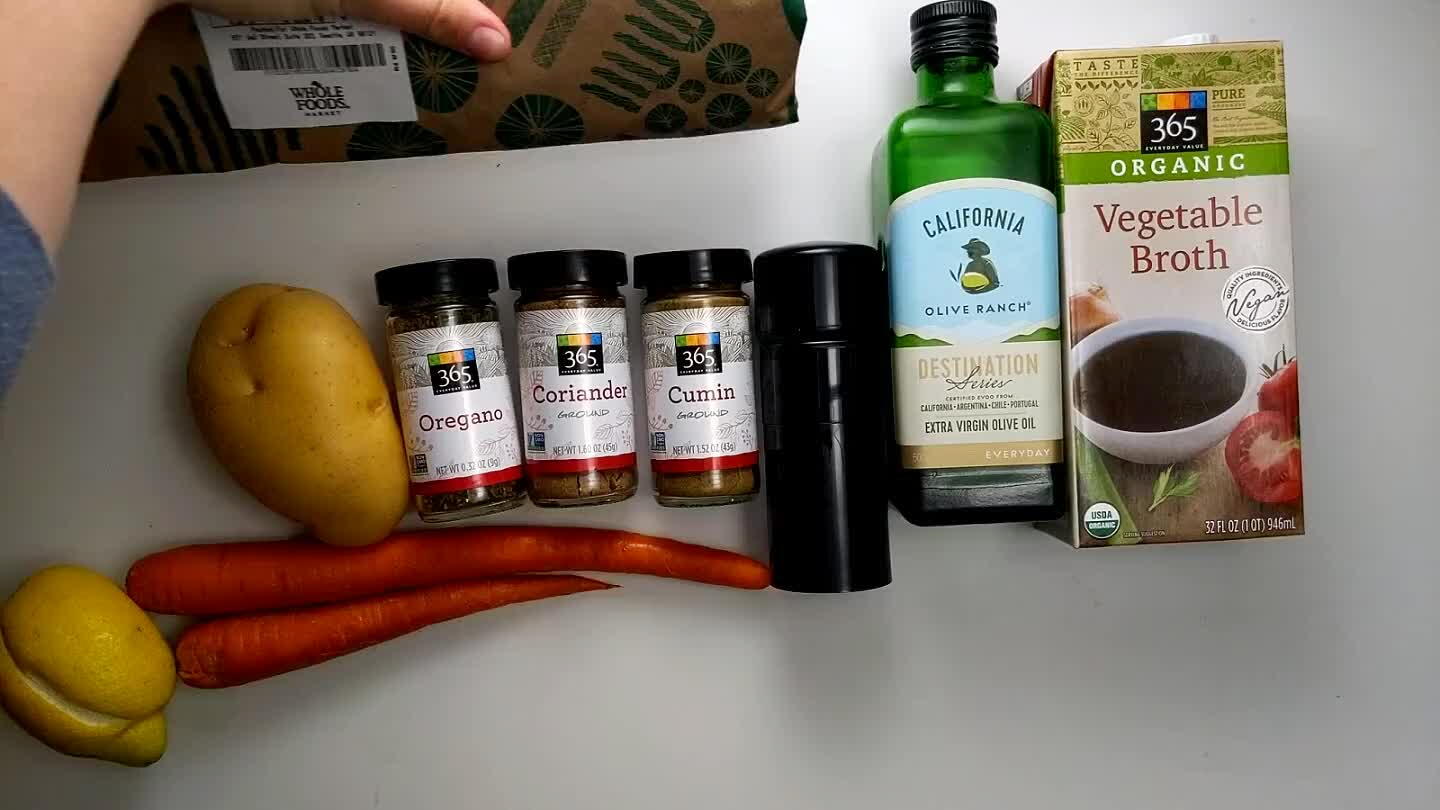 Gather all ingredients.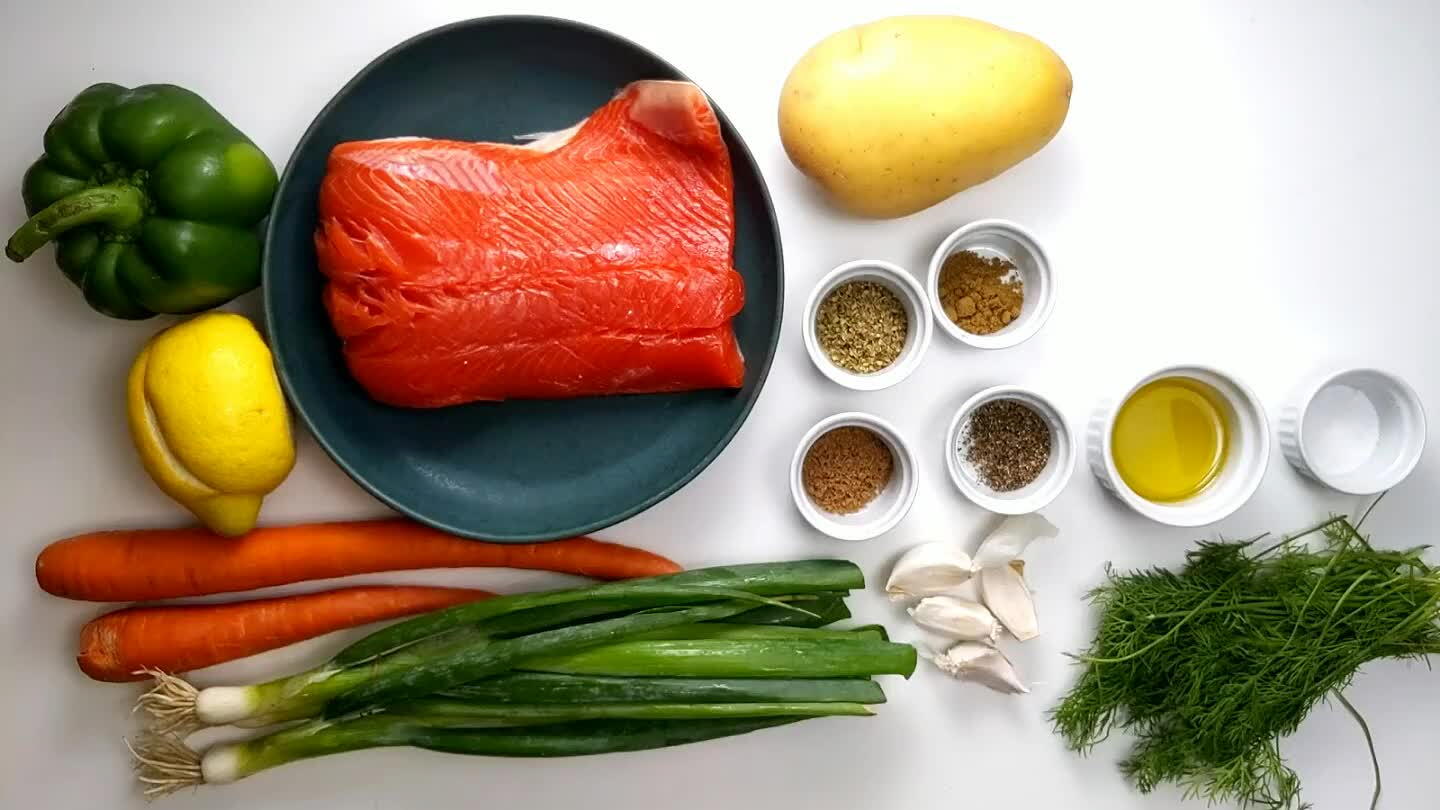 Portion all ingredients.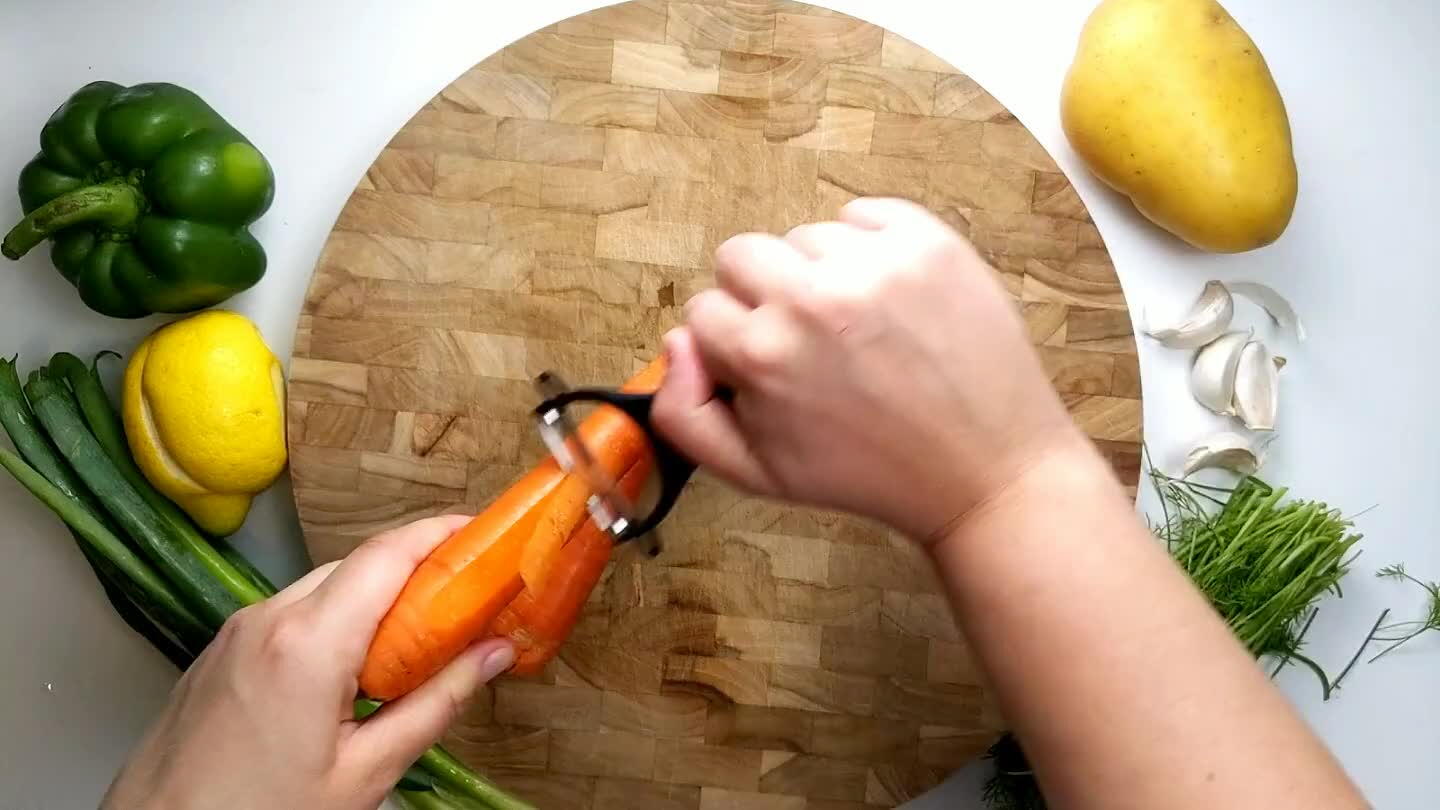 Wash, peel, and slice carrots into rounds.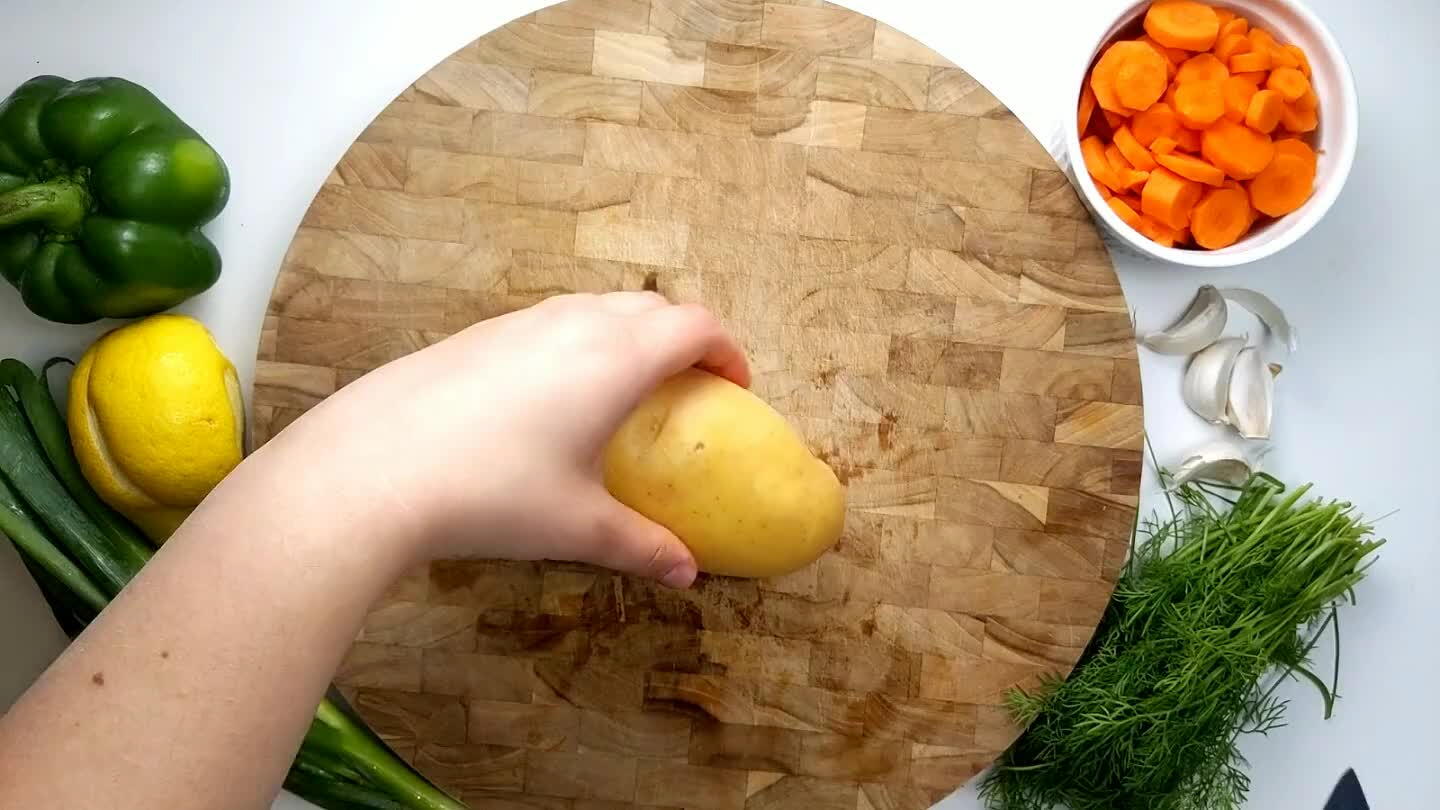 Slice the potato into quarters and cut into thin slices. This shape will help the potatoes cook faster in the broth.
Chop the pepper in half, remove the seeds, and slice into strips. Cut the strips into 1 inch pieces.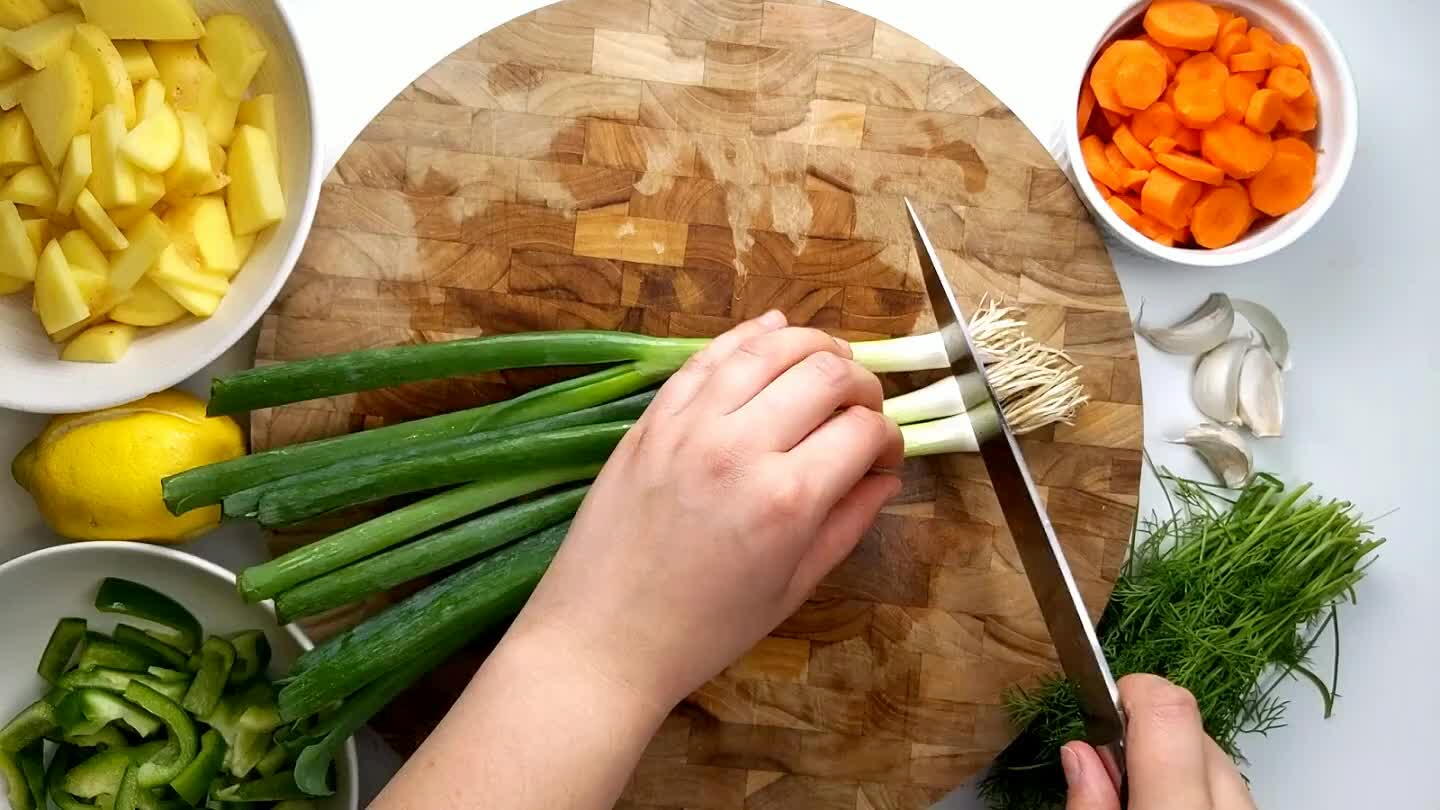 Cut off the roots of the green onions, and then thinly slice into rounds.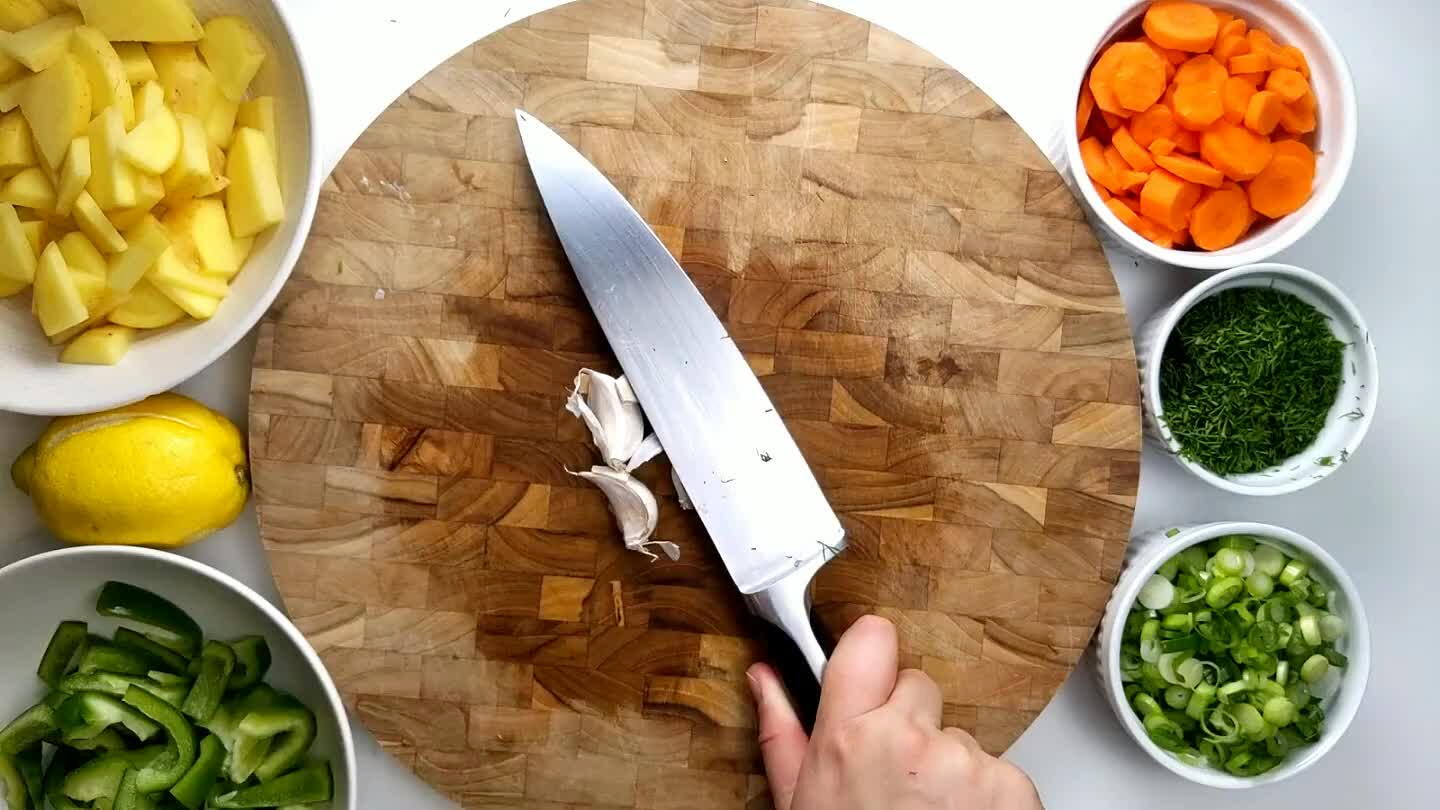 Smash the garlic with the flat side of a knife, peel off the papery skin, then roughly dice.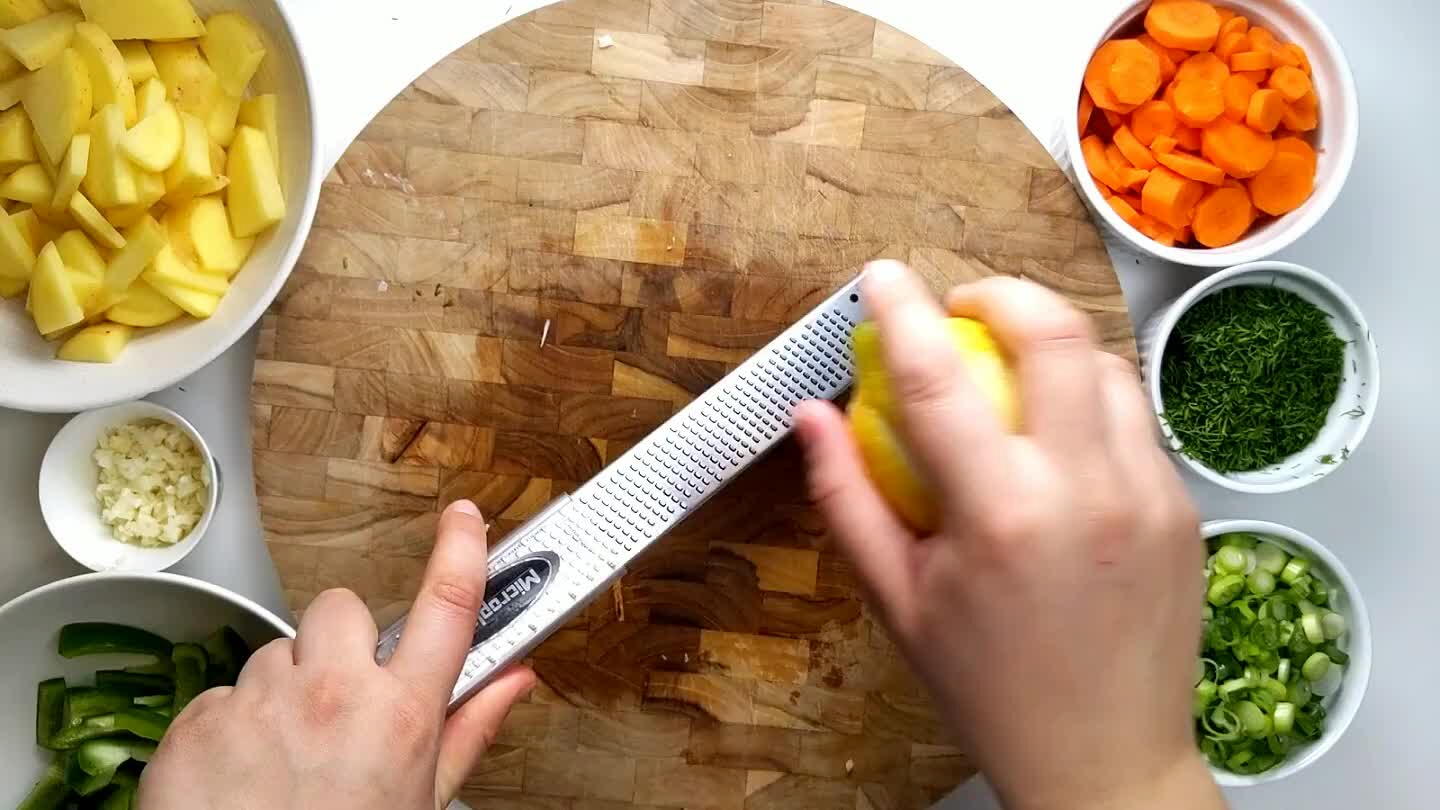 Zest the whole lemon.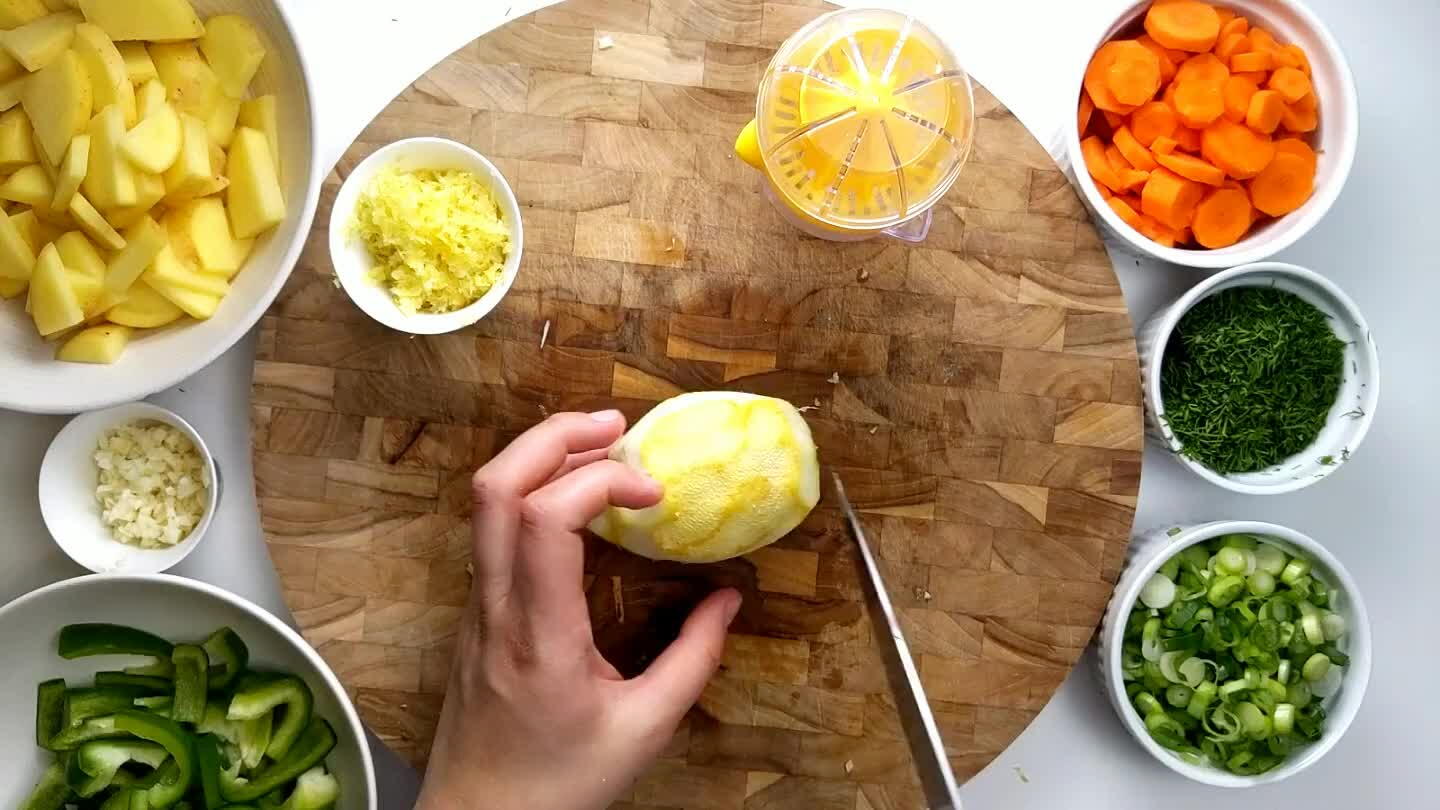 Cut the lemon in half and extract the juice.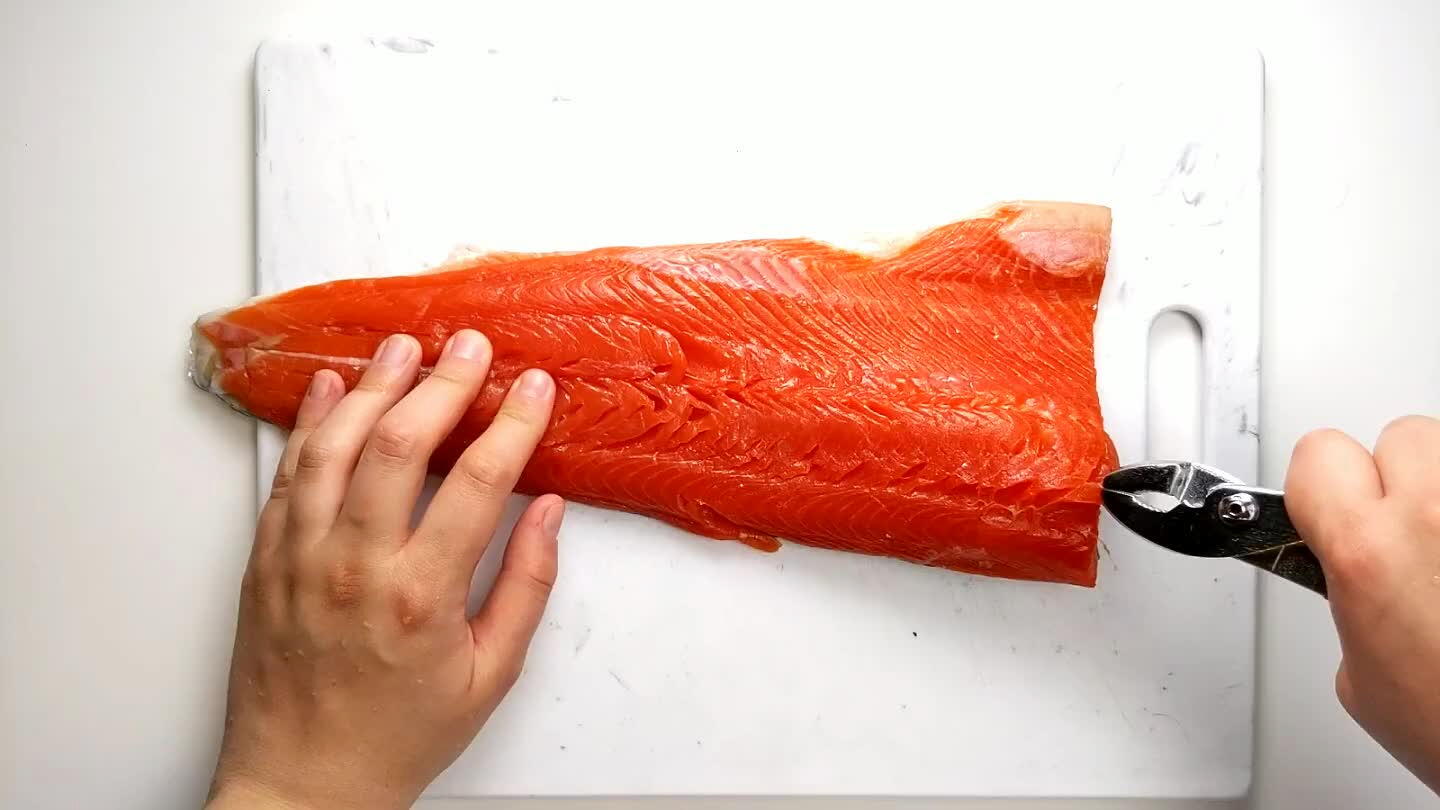 If the fillet you have still has some bones, use some pliers or tweezers to pull the bones out.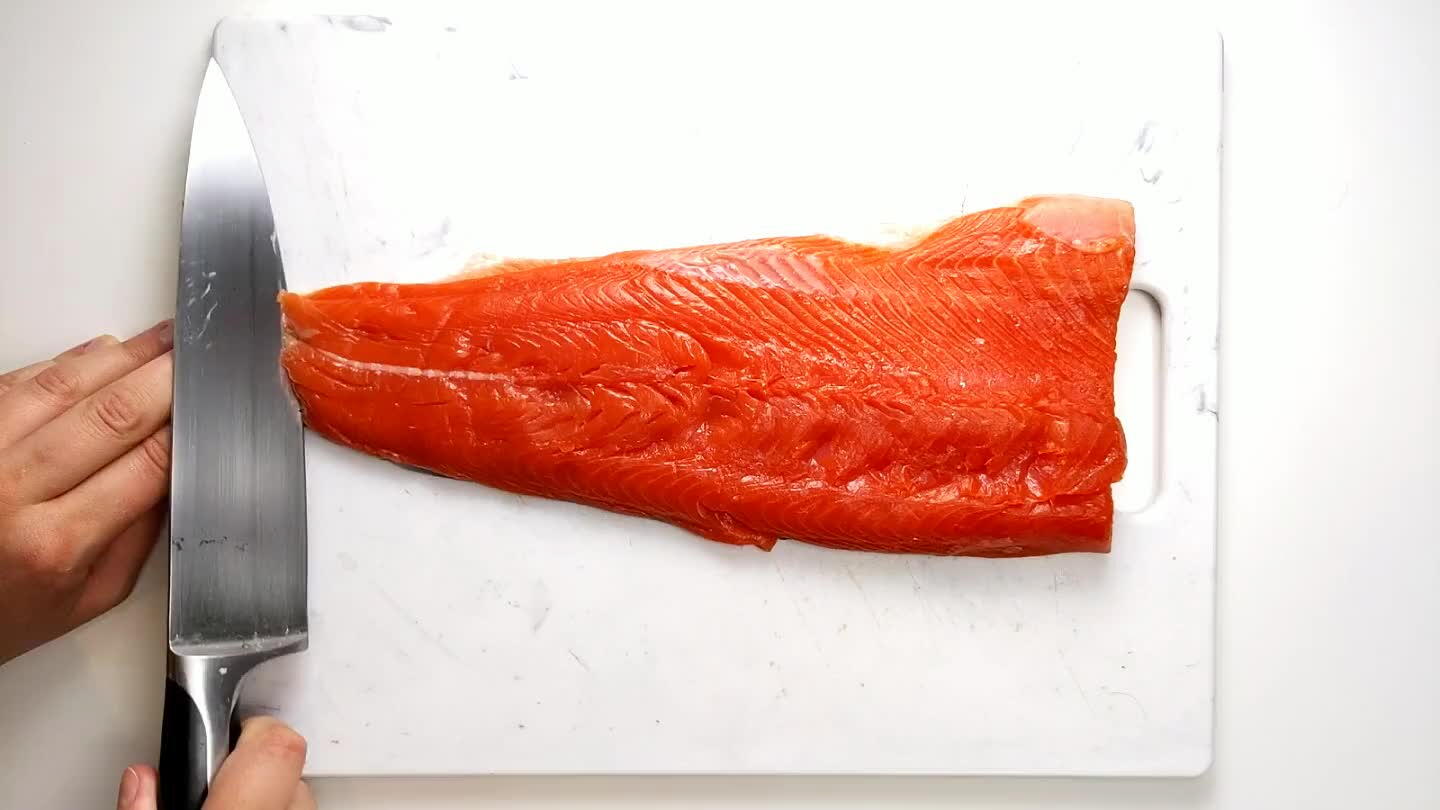 If your fillet still has skin on: Starting at the tail side, run a large chef's knife between the salmon and the skin. Tilt the blade of the knife slightly downward as you move in a slight sawing motion. Firmly hold onto the skin (use a paper towel for more traction if you need) and pull gently in the opposite direction that you are slicing. The skin should come off in one piece, but if not, turn fillet over and remove any leftover skin.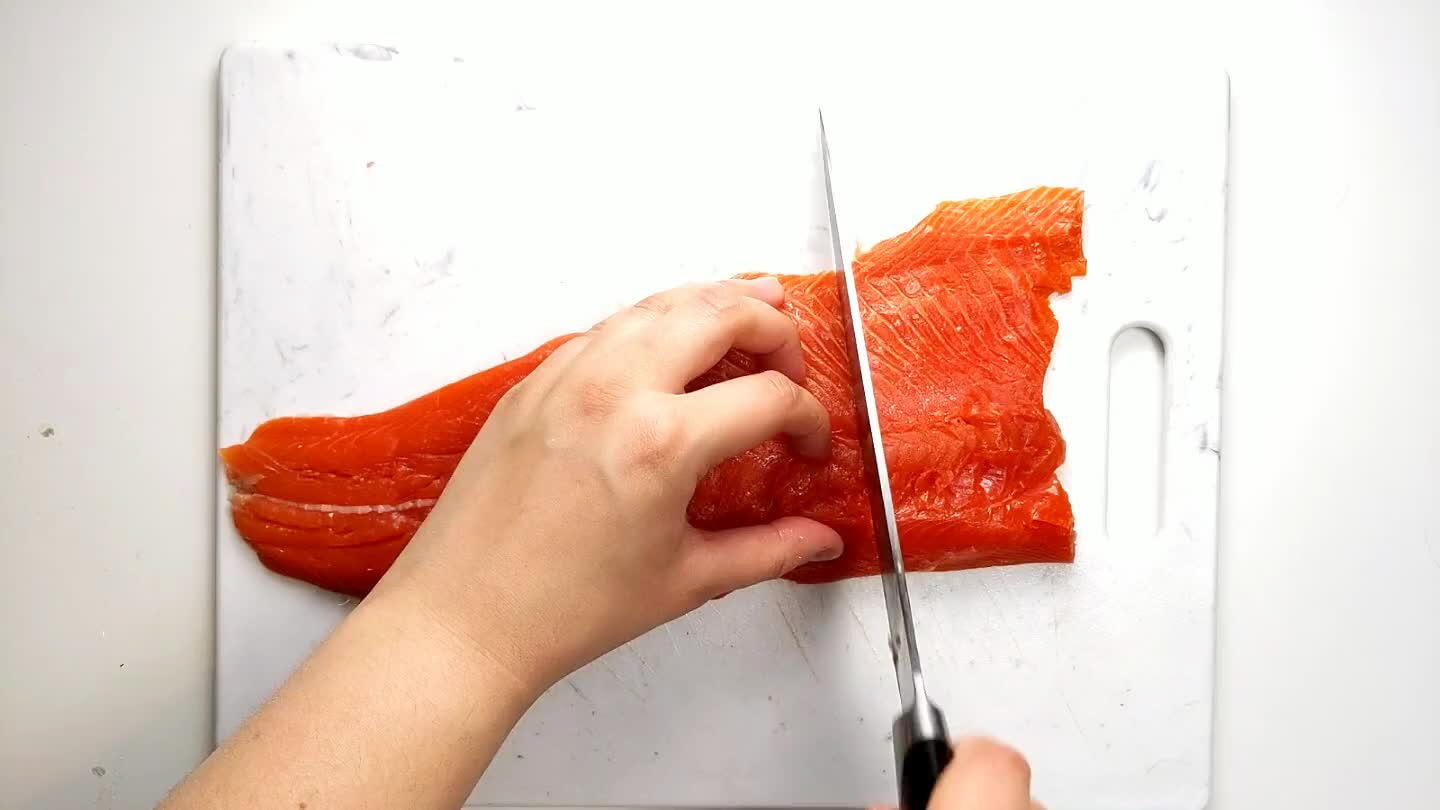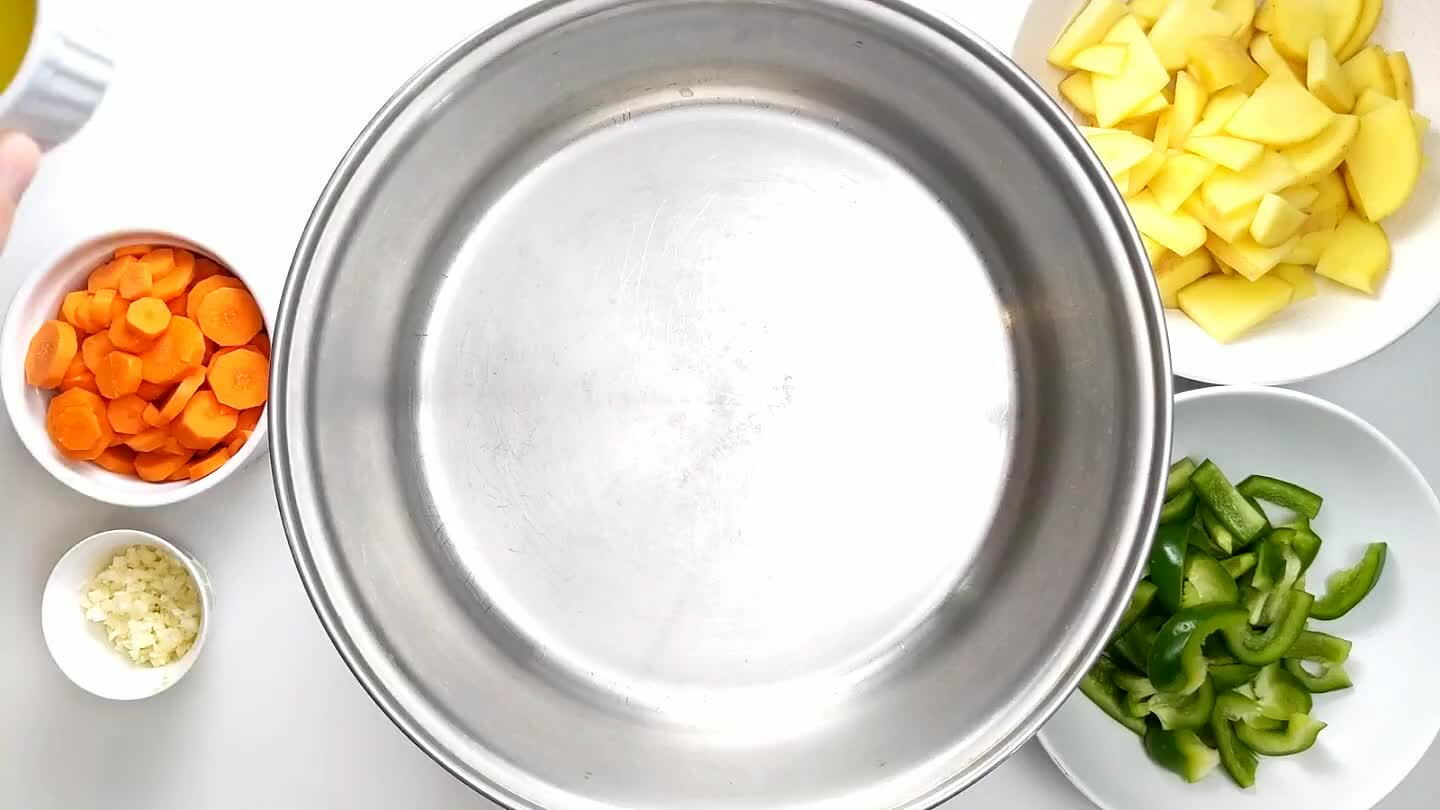 Add the olive oil to a soup pot and heat to medium-high.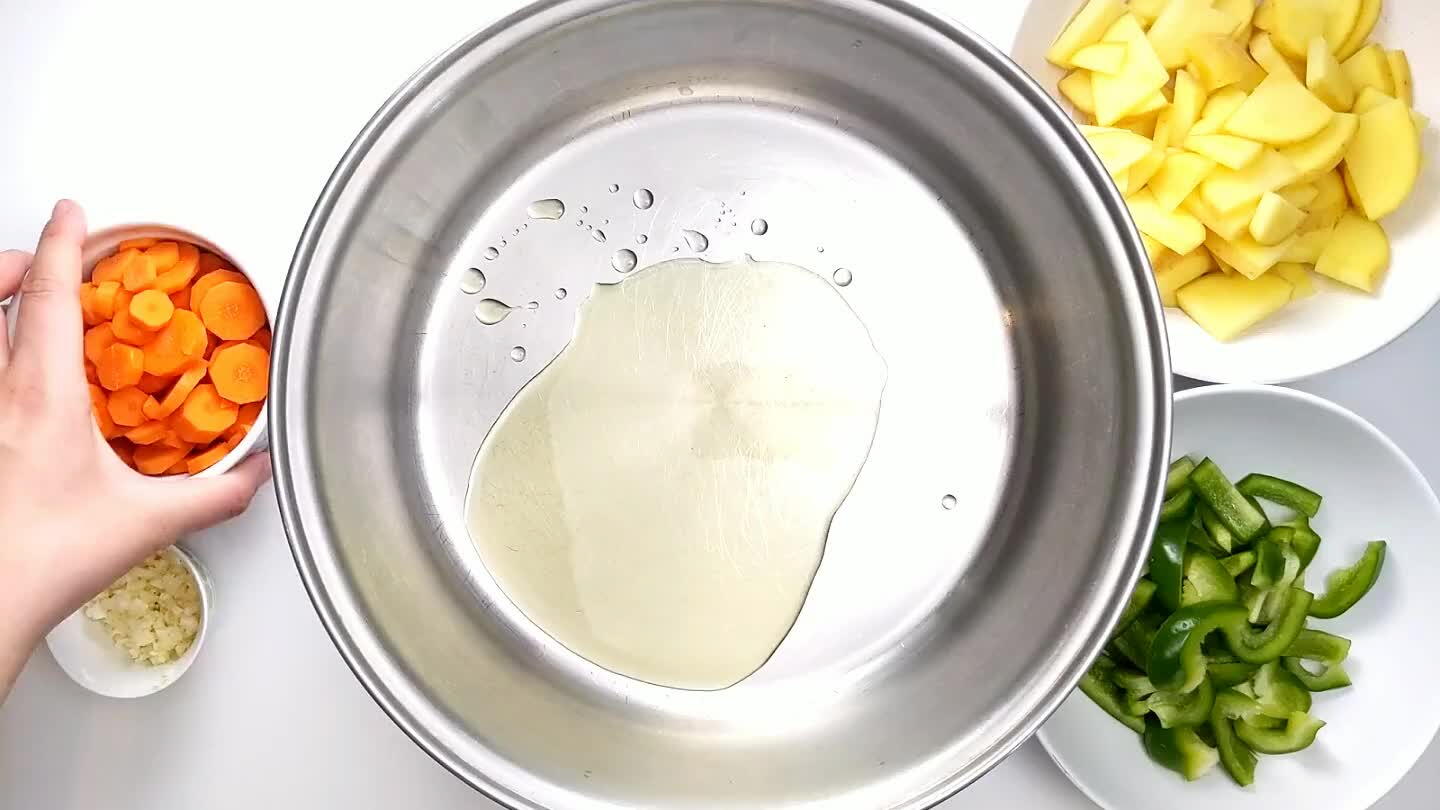 Saute carrots and garlic for a few minutes.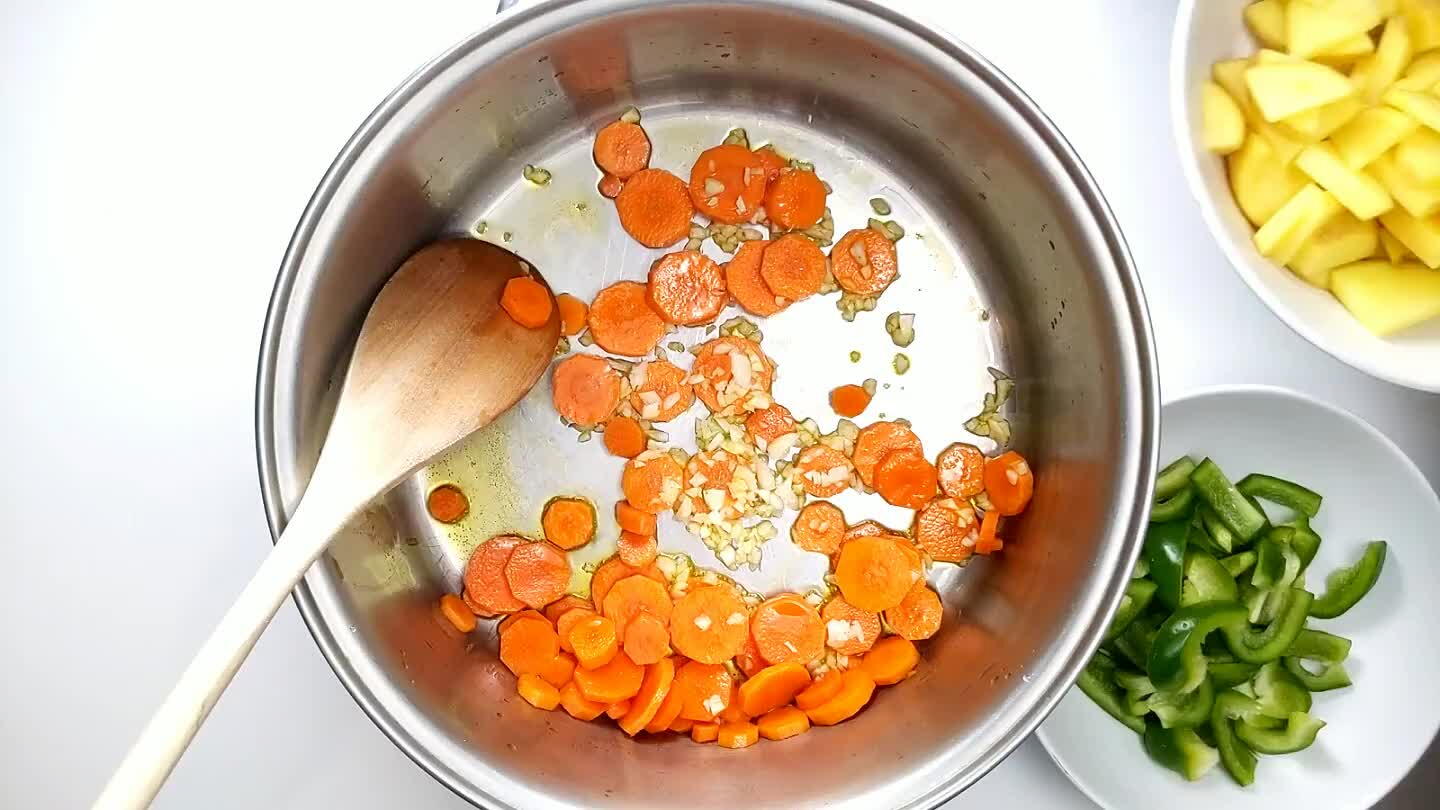 Throw in the potatoes and green peppers. Stir and saute for a few more minutes.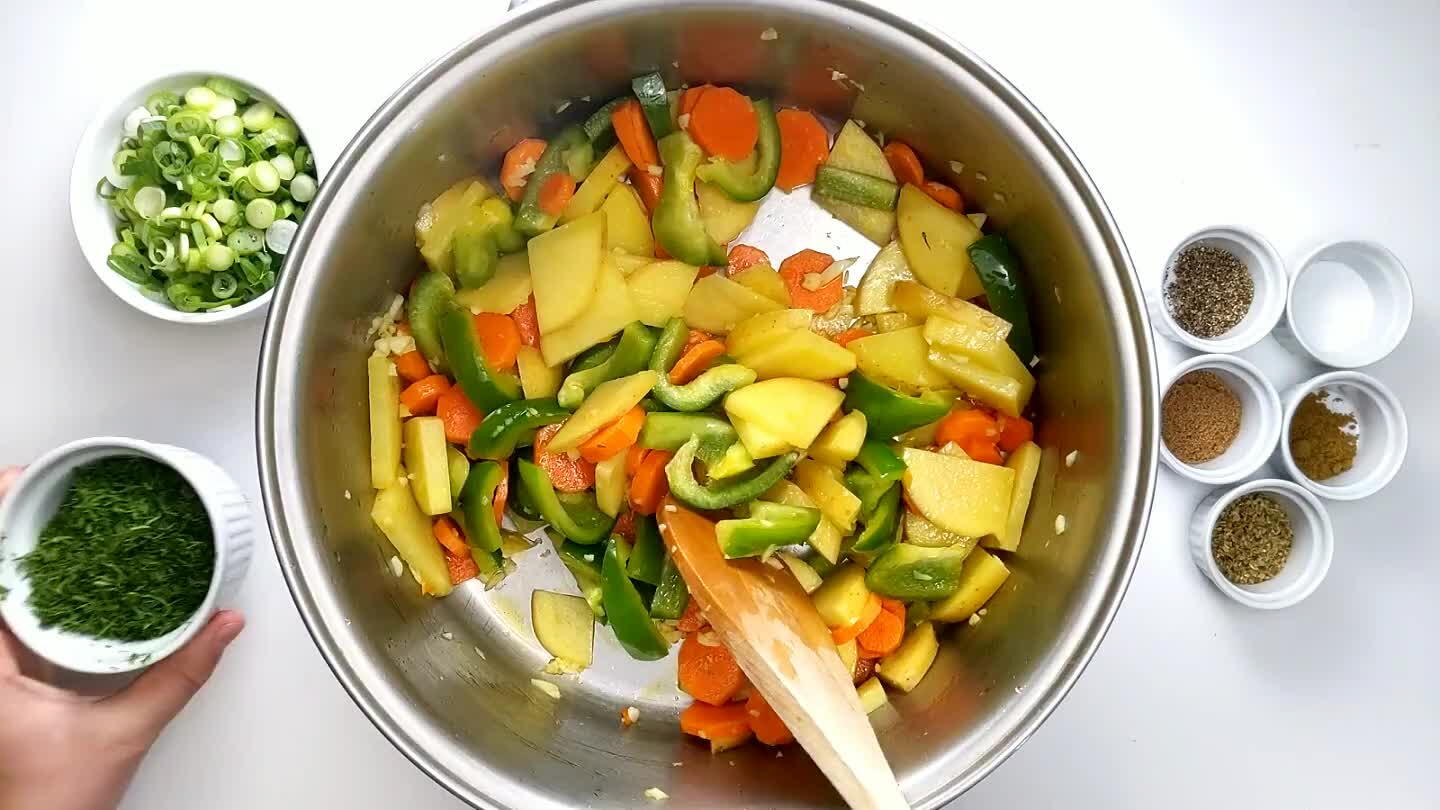 When veggies are starting to soften, add half of the dill and half of the green onions.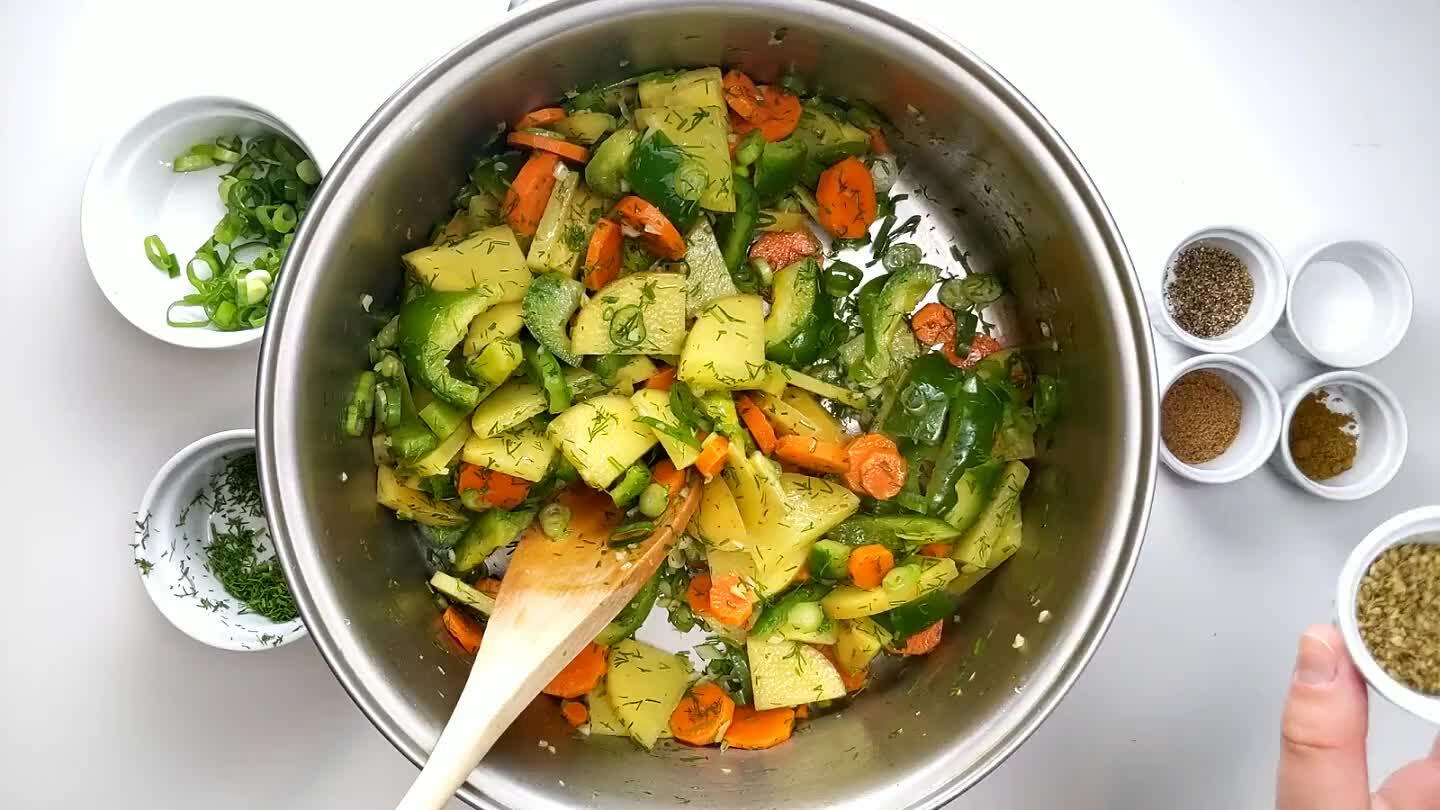 Add all of the seasonings to the vegetables. Stir to combine.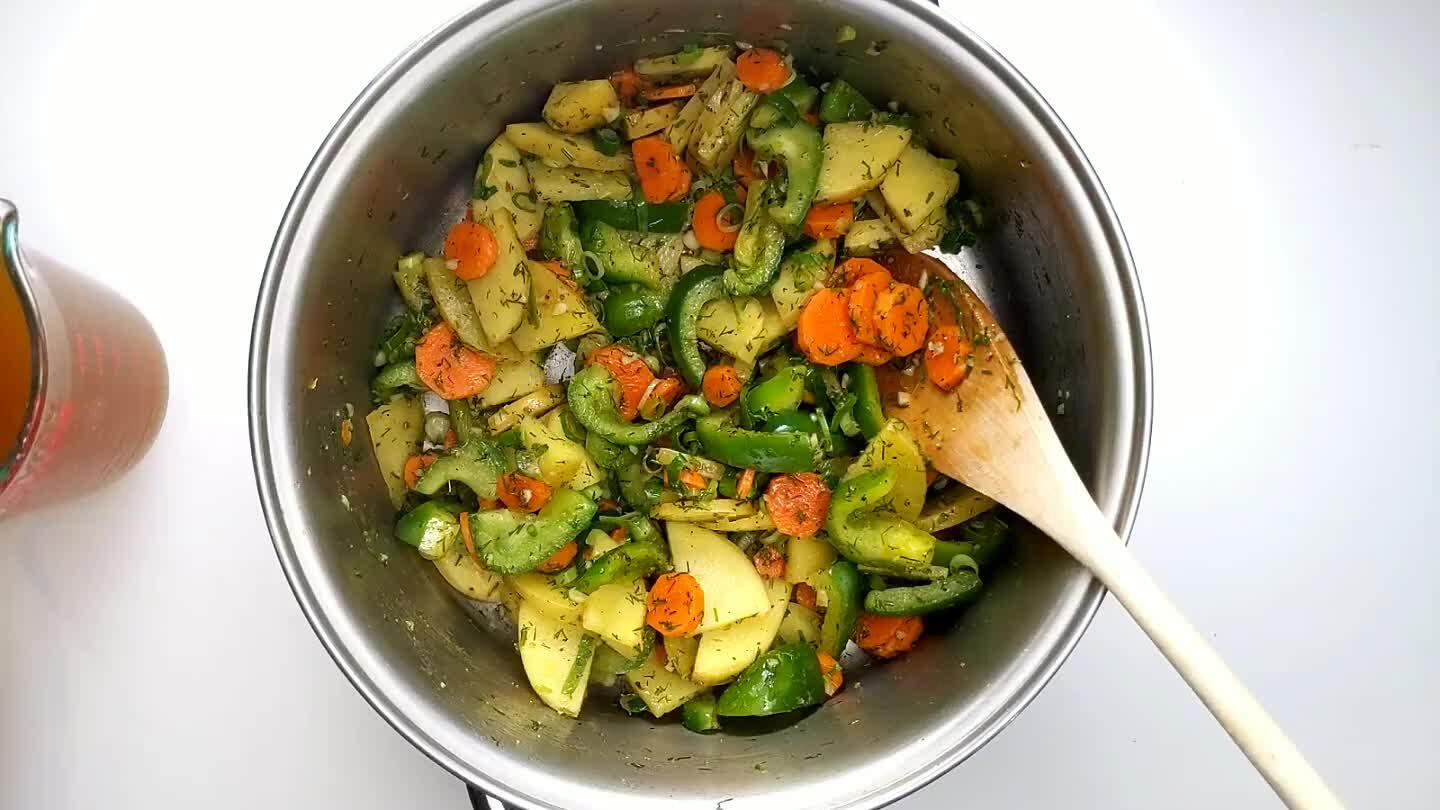 Pour in the vegetable broth.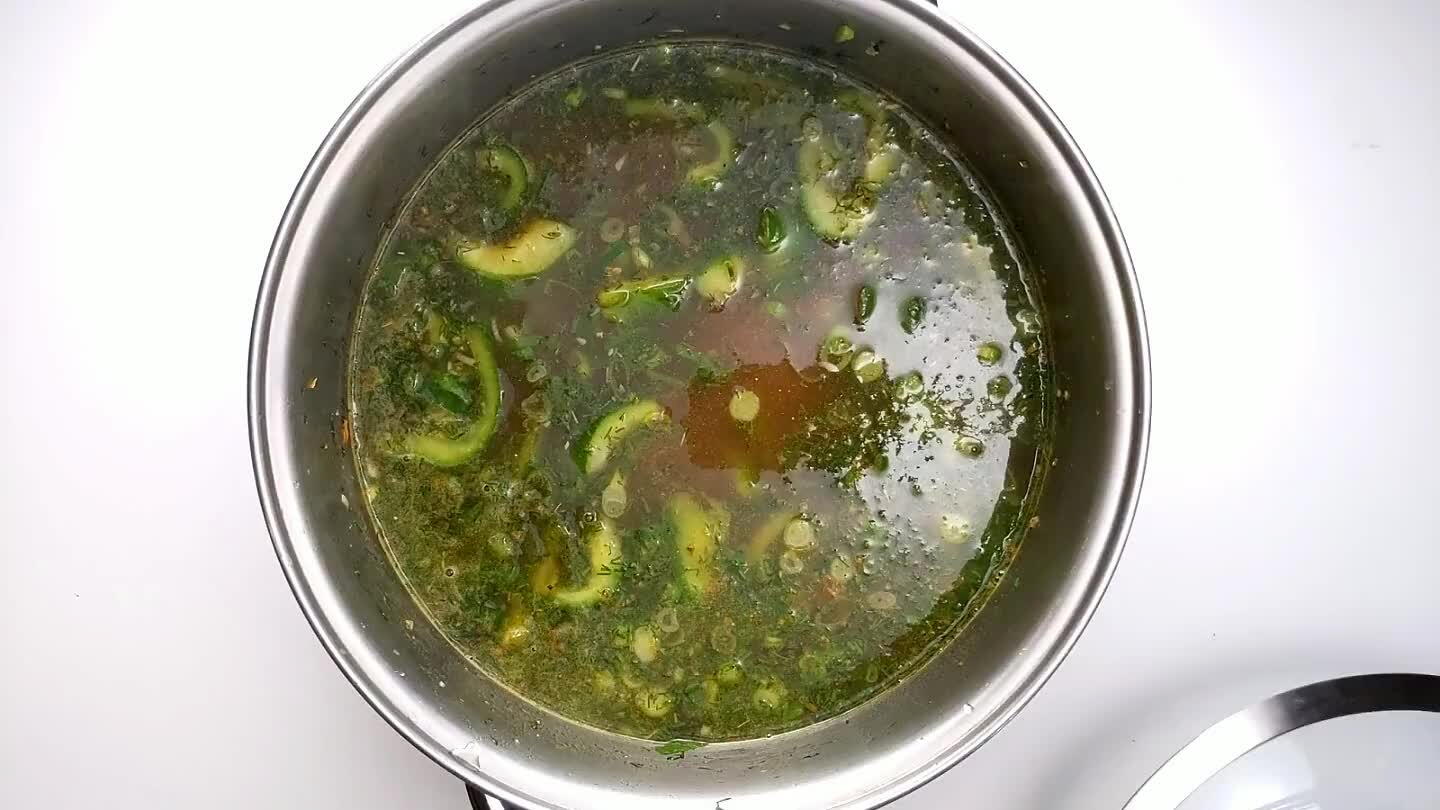 Add a lid to the soup pot and bring the broth up to a boil. Cook for about 5 minutes or until potatoes and carrots are softened.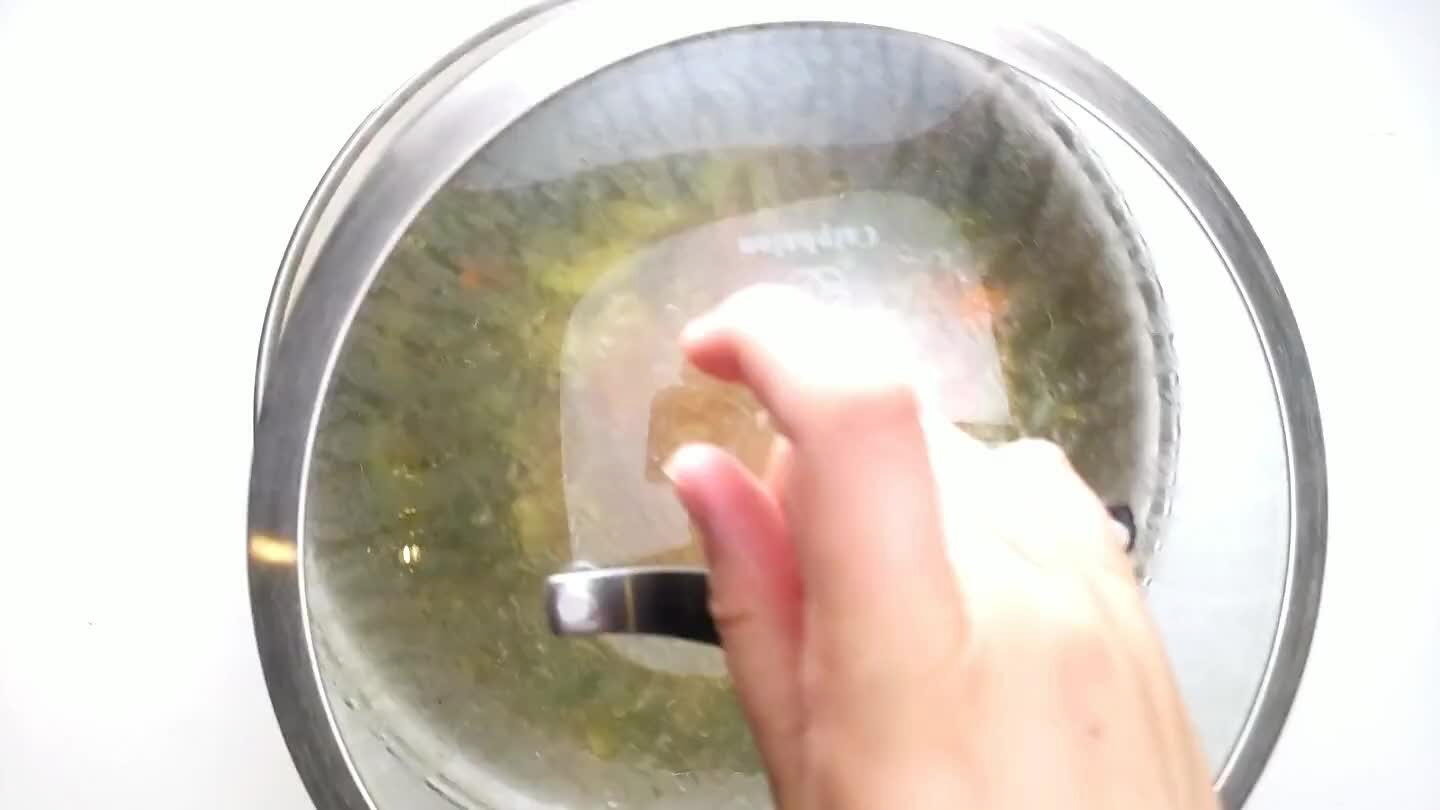 Add the salmon to the soup pot, add the lid again, and simmer to cook the salmon for about 3-4 minutes.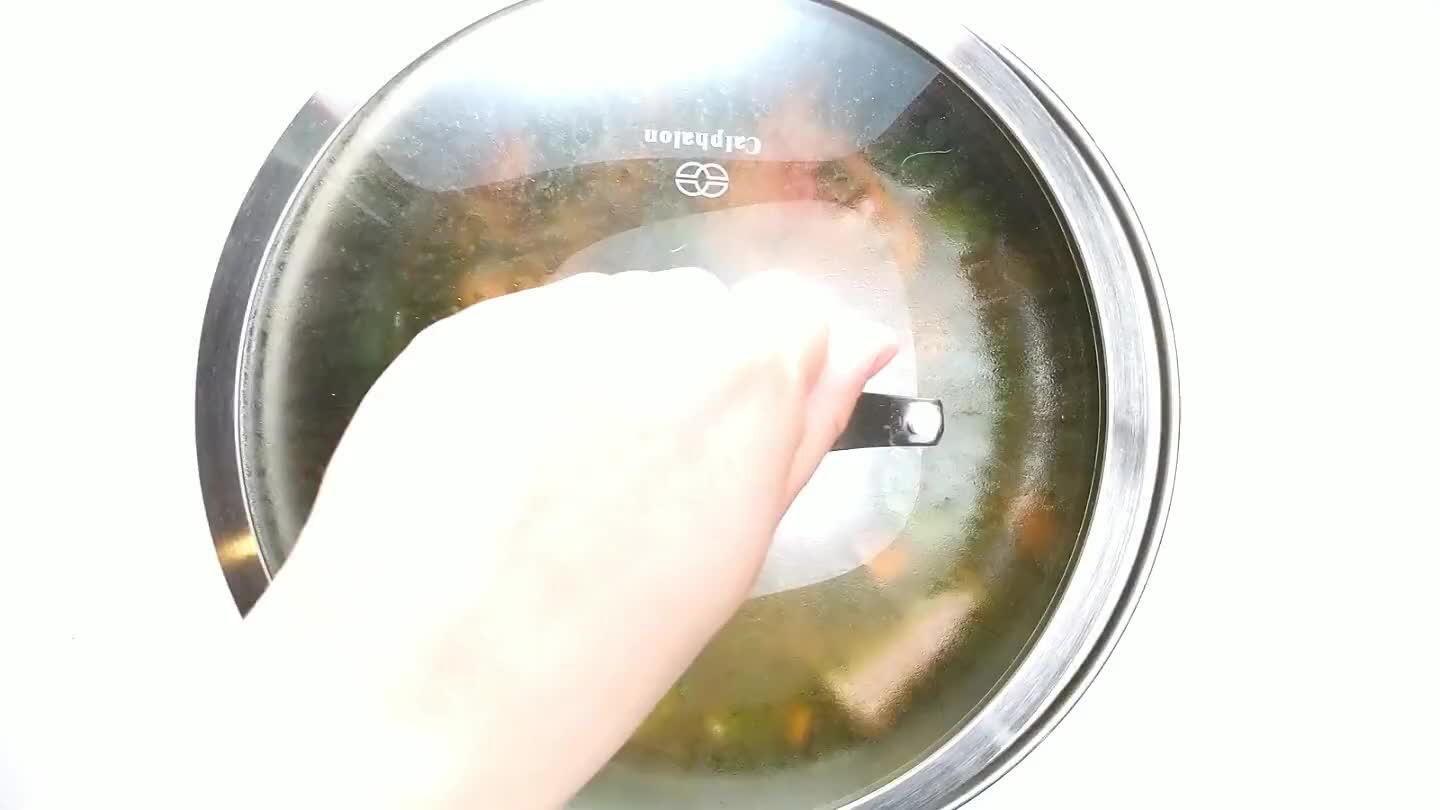 Add in the lemon zest and juice.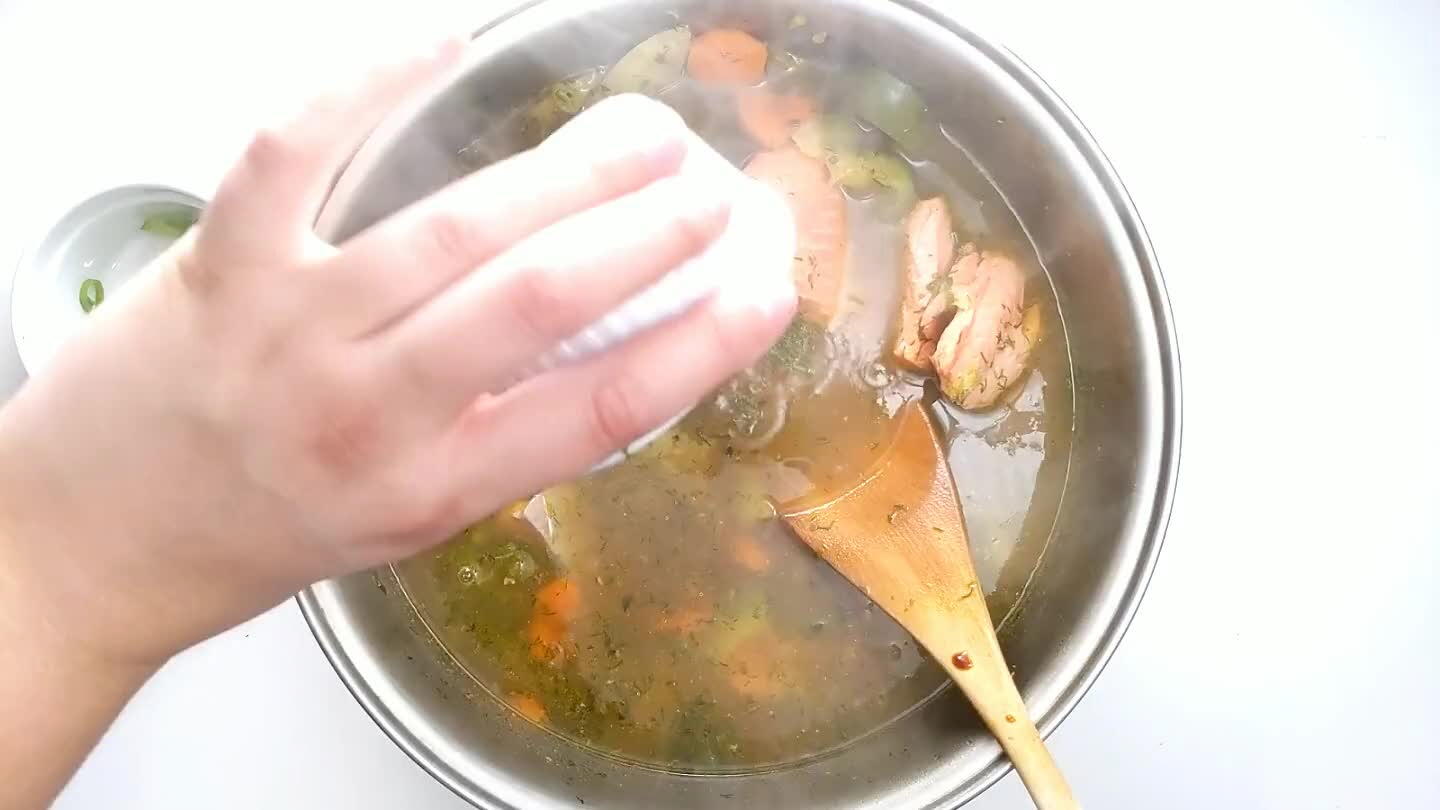 Lastly, toss in the remaining fresh dill and green onions.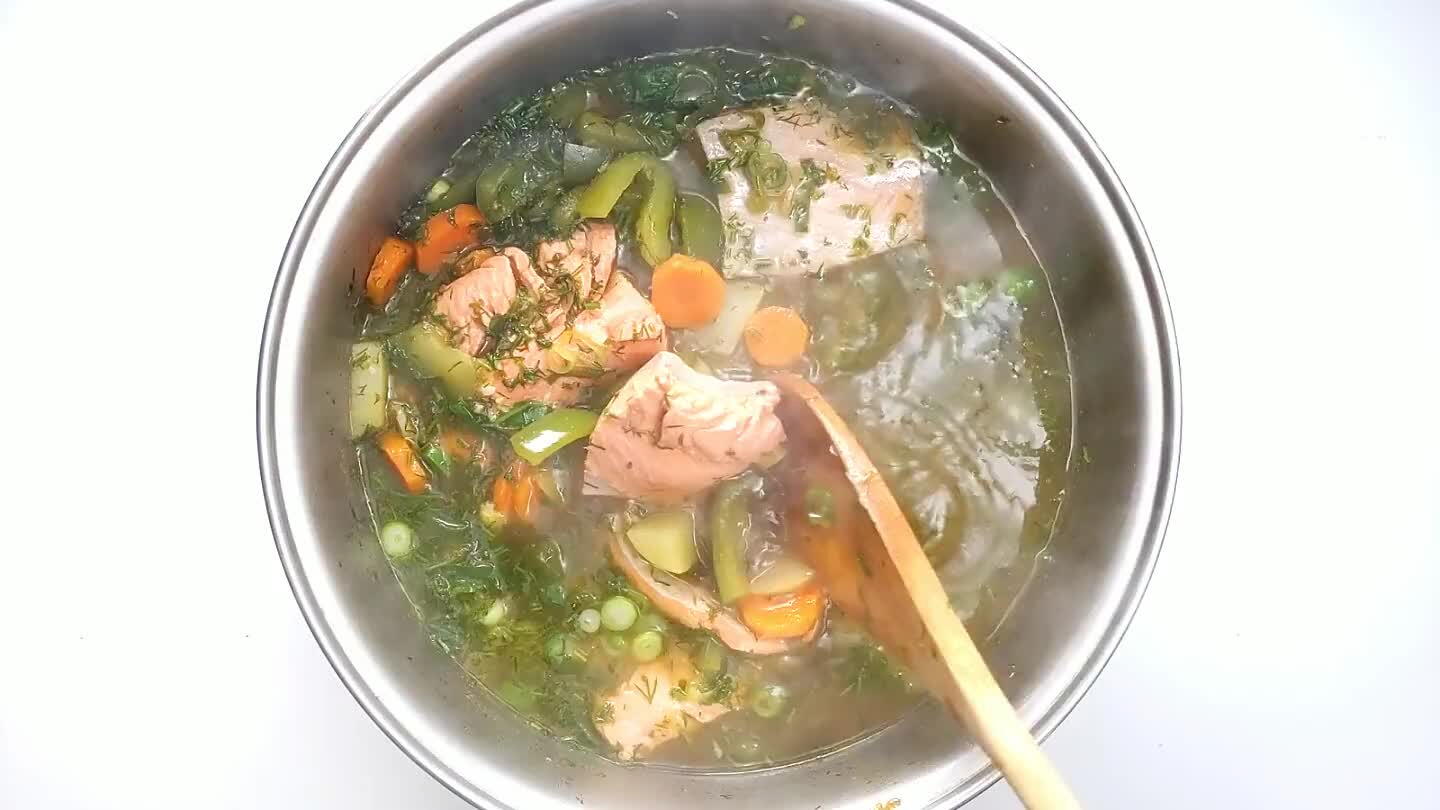 Comments