Smoked Salmon Asparagus Quiche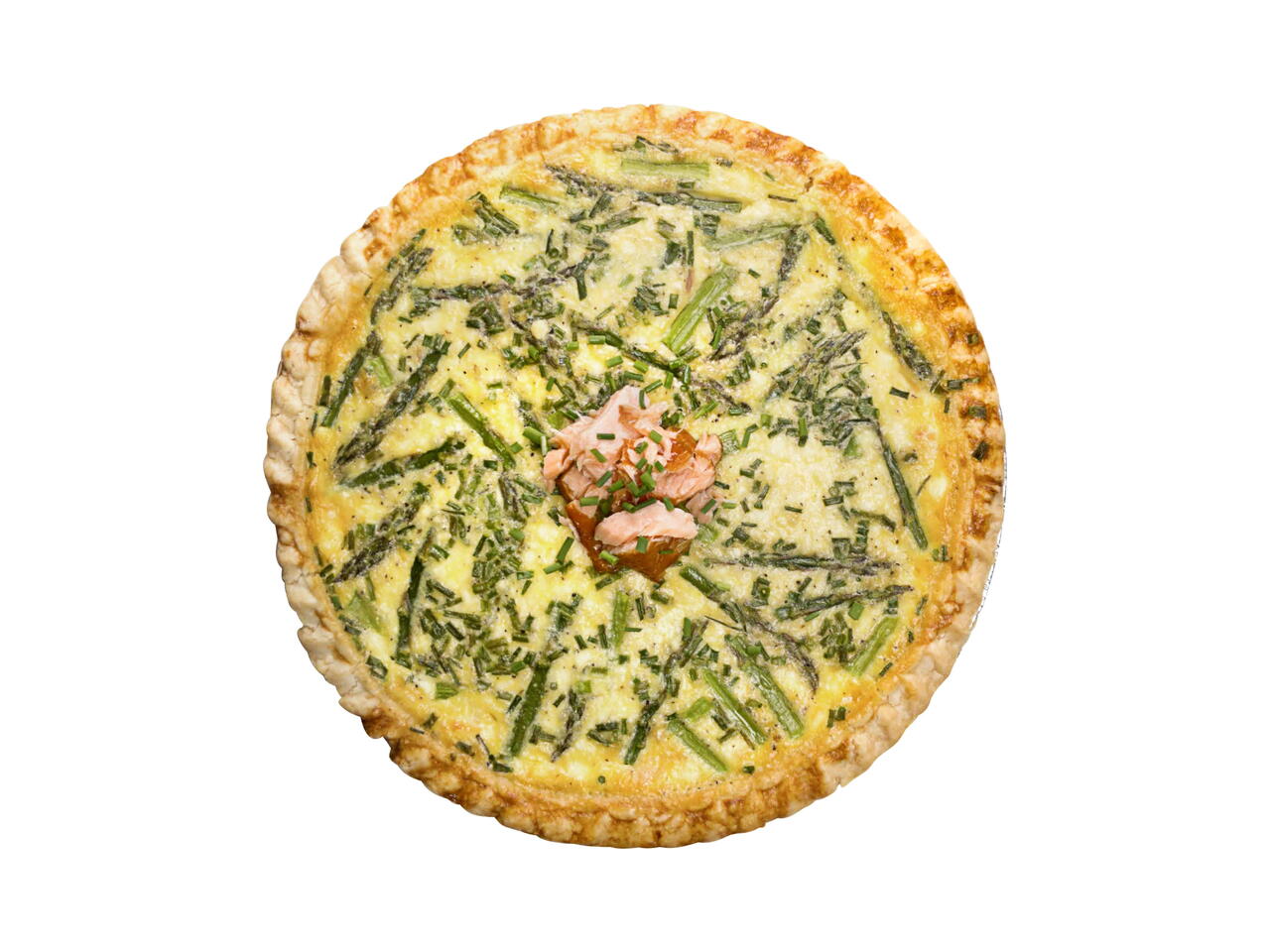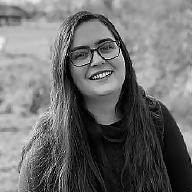 Recipe video made by Michelle
Published on 02/27/2020, viewed by 1465 , 0 Comments
12 portions
55m
This quiche holds one of my favorite combinations of salmon, chives, and goat cheese. I suggest making this beforehand and warming up in the microwave for a super quick breakfast! This recipe is for two quiches but I only made one in the video, so feel free to make both or just one!
What you will need
10 Eggs
1 1/2 cups Milk
1 cup Heavy Cream
4 oz. Hot Smoked Salmon
6 oz. Goat Cheese
4 Tbsp Chives
1 tsp Salt
1/2 tsp Black Pepper
1 bunch Asparagus
2 Pie Crusts
(Nutritional facts 344 calories, 24.77 g fat, 12.17 g carbohydrates, 18.11 g protein, 384 mg cholesterol, 436 mg sodium)
How to cook
Gather all ingredients.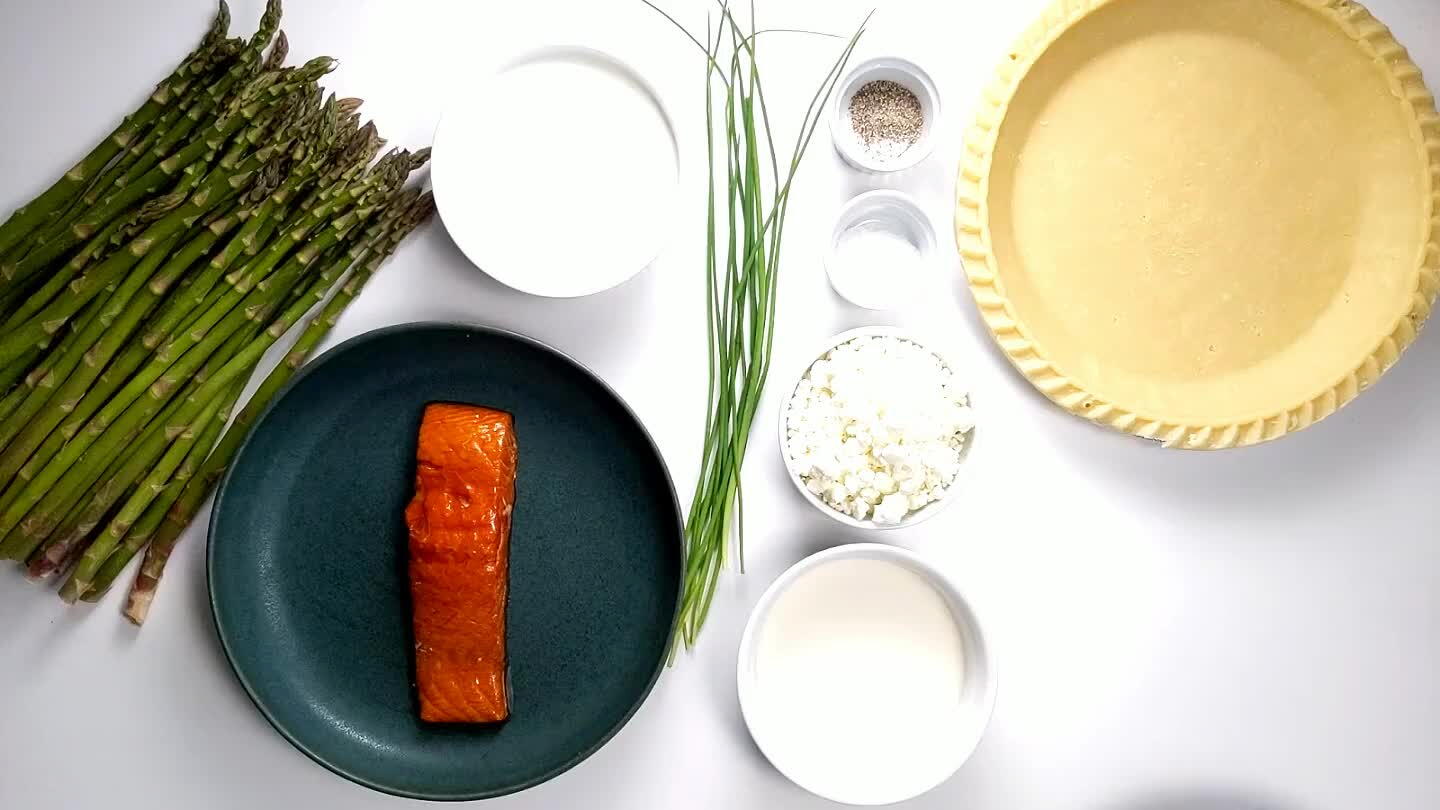 Portion all ingredients.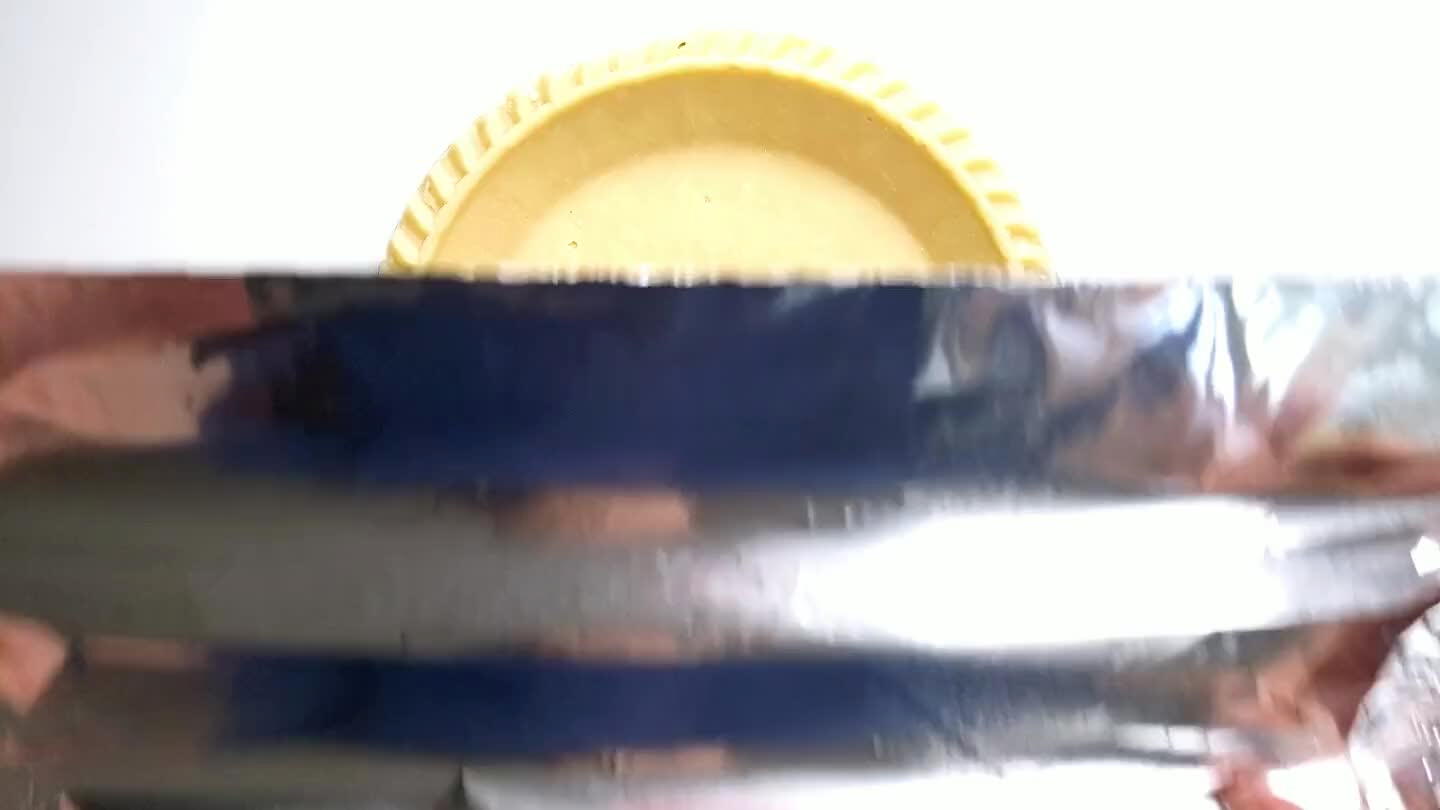 Blind baking means to partially bake the crust before adding the filling. I like to use foil to line the crust and use rice to hold the crust in place, but you can use dry beans and parchment paper or pie weights.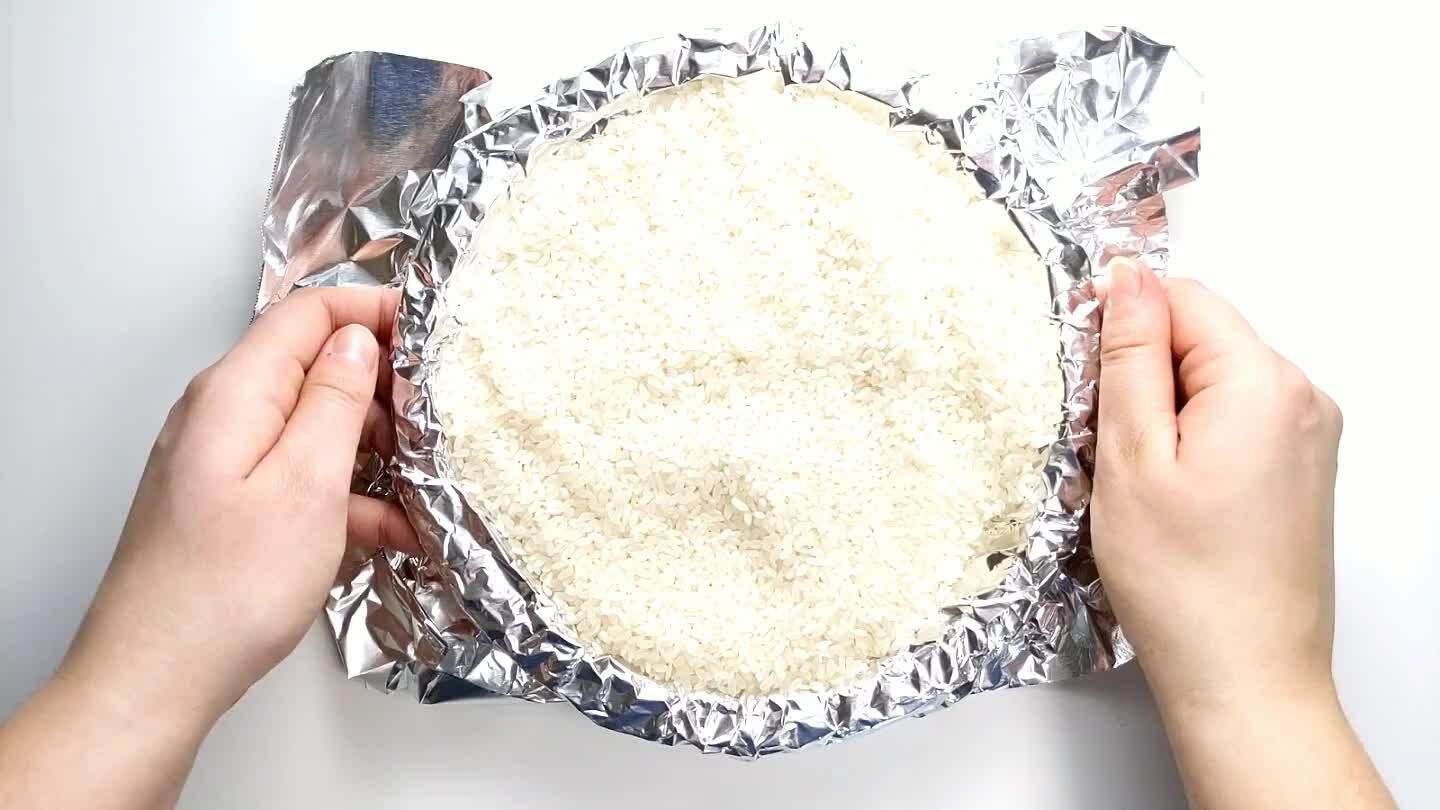 Place in the oven and bake the crust for 20 minutes. Meanwhile, prepare the filling.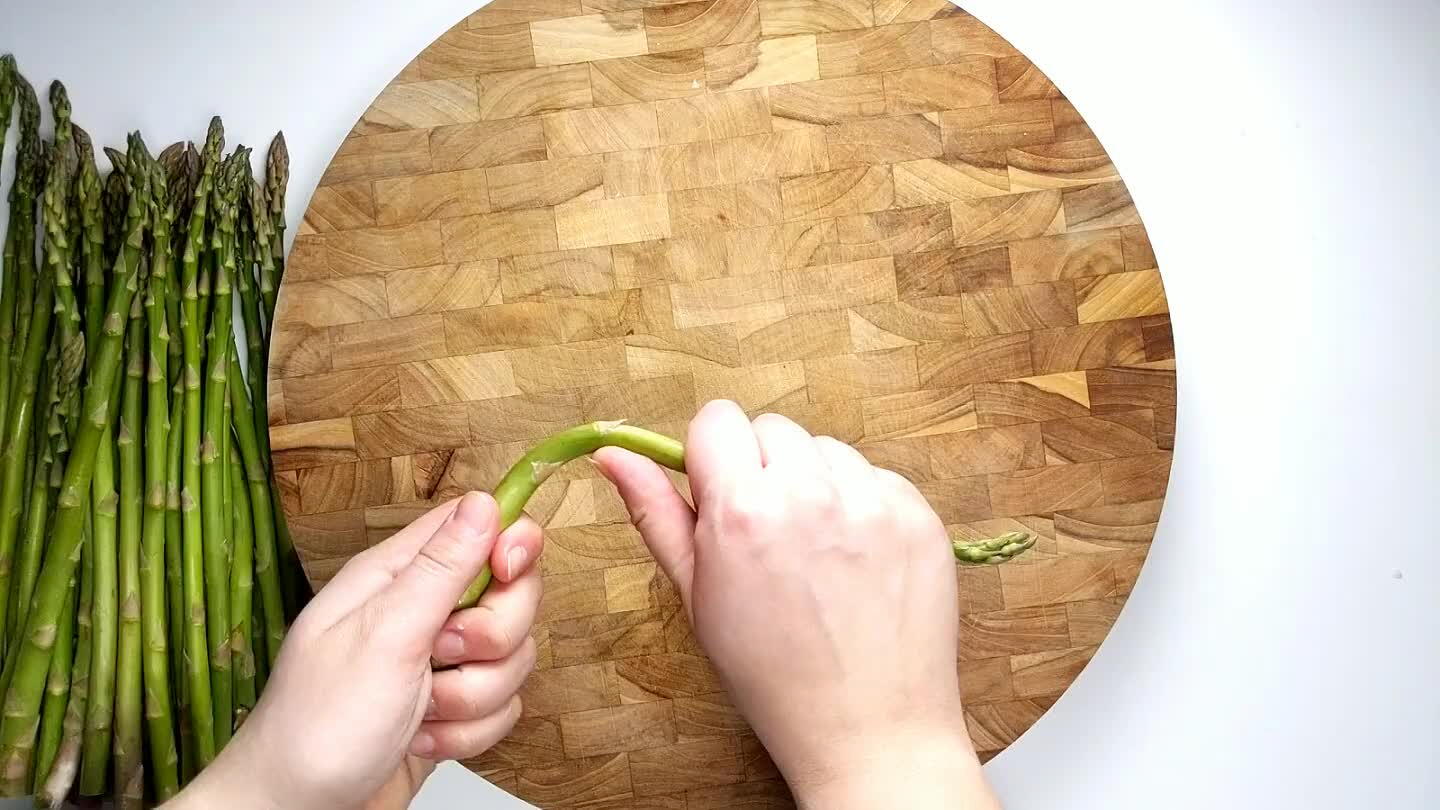 Break the tough ends off of the asparagus and chop into 1-2 inch lengths.
Chop chives until you get about 4 tablespoons chopped.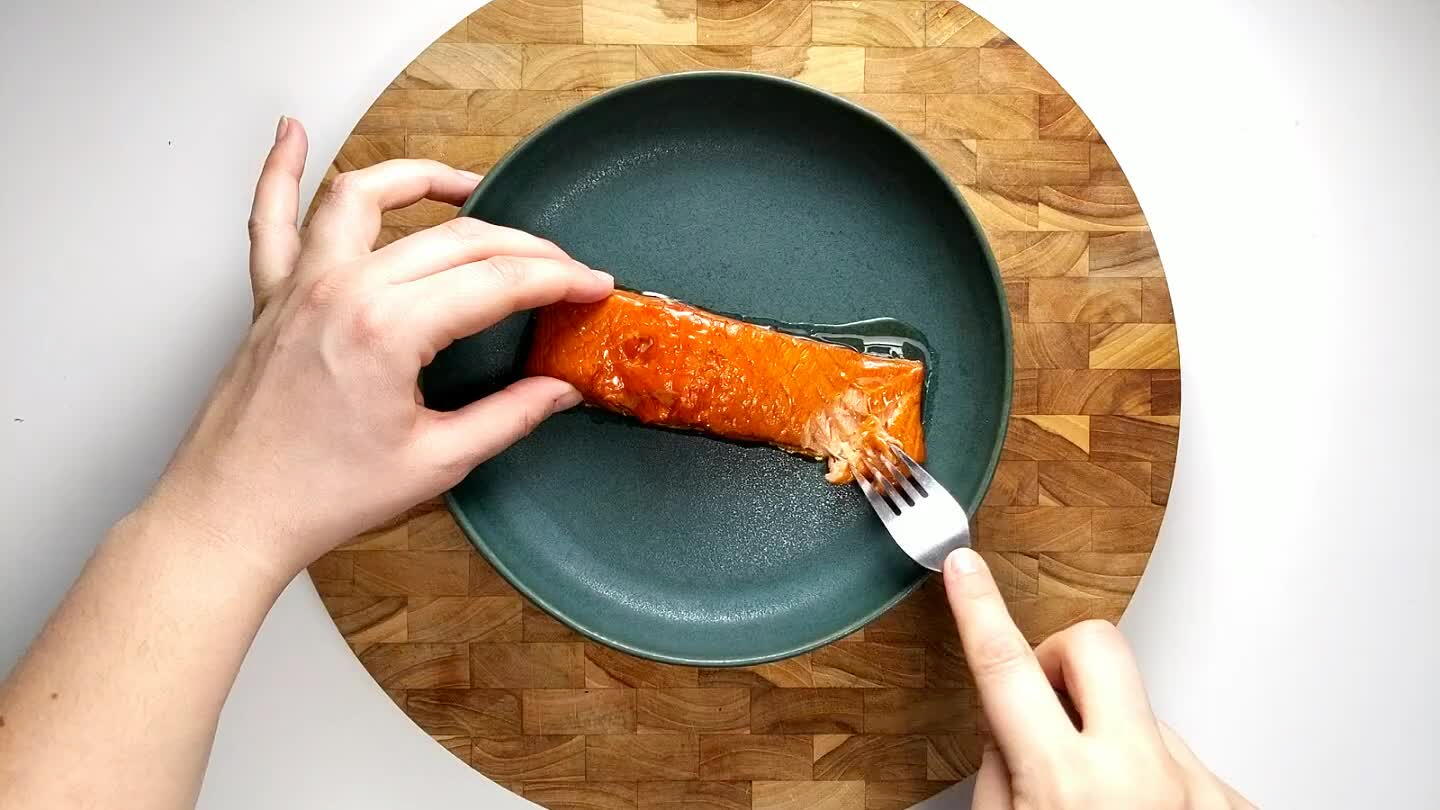 Use a fork to gently pull apart the salmon into flakes.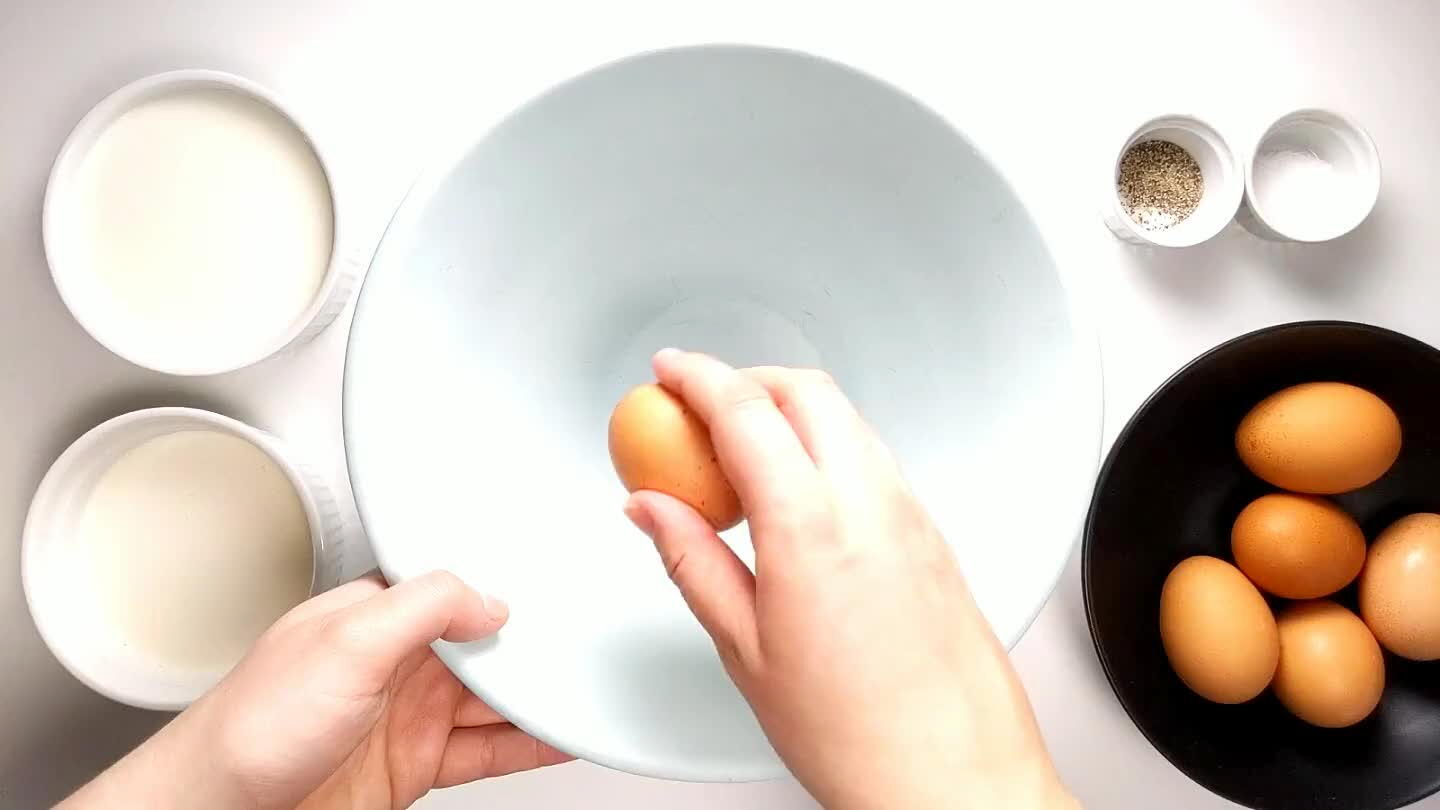 Crack the eggs into a large bowl and season with the salt and pepper. Add milk and cream.
Whisk to combine.
Remove the crust from the oven and lift the foil and rice out of the crust. Use the foil as a funnel to pour the rice back into the container.
Build the quiche in two layers with half the toppings at the bottom of the crust.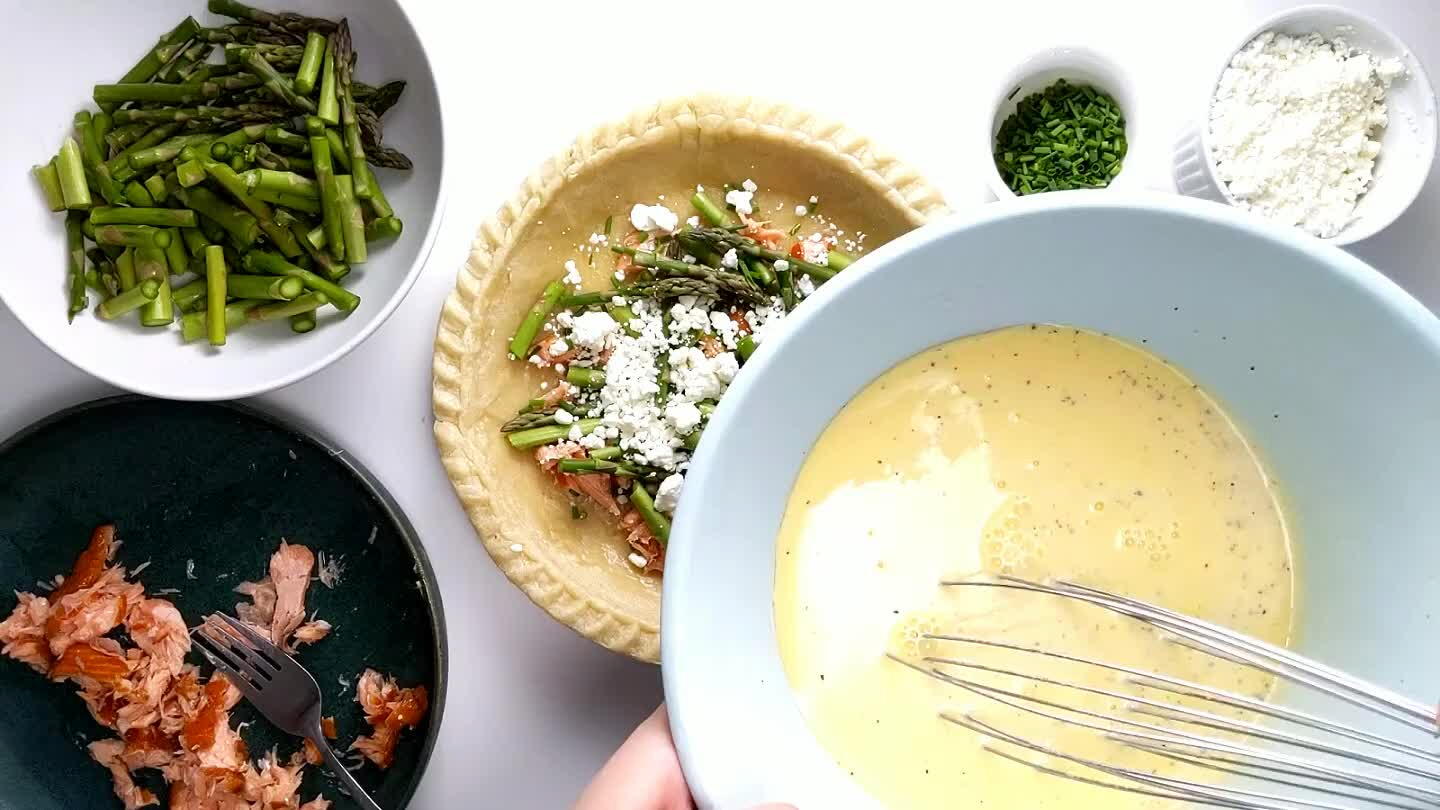 Pour in half the custard and then put the second layer of toppings on.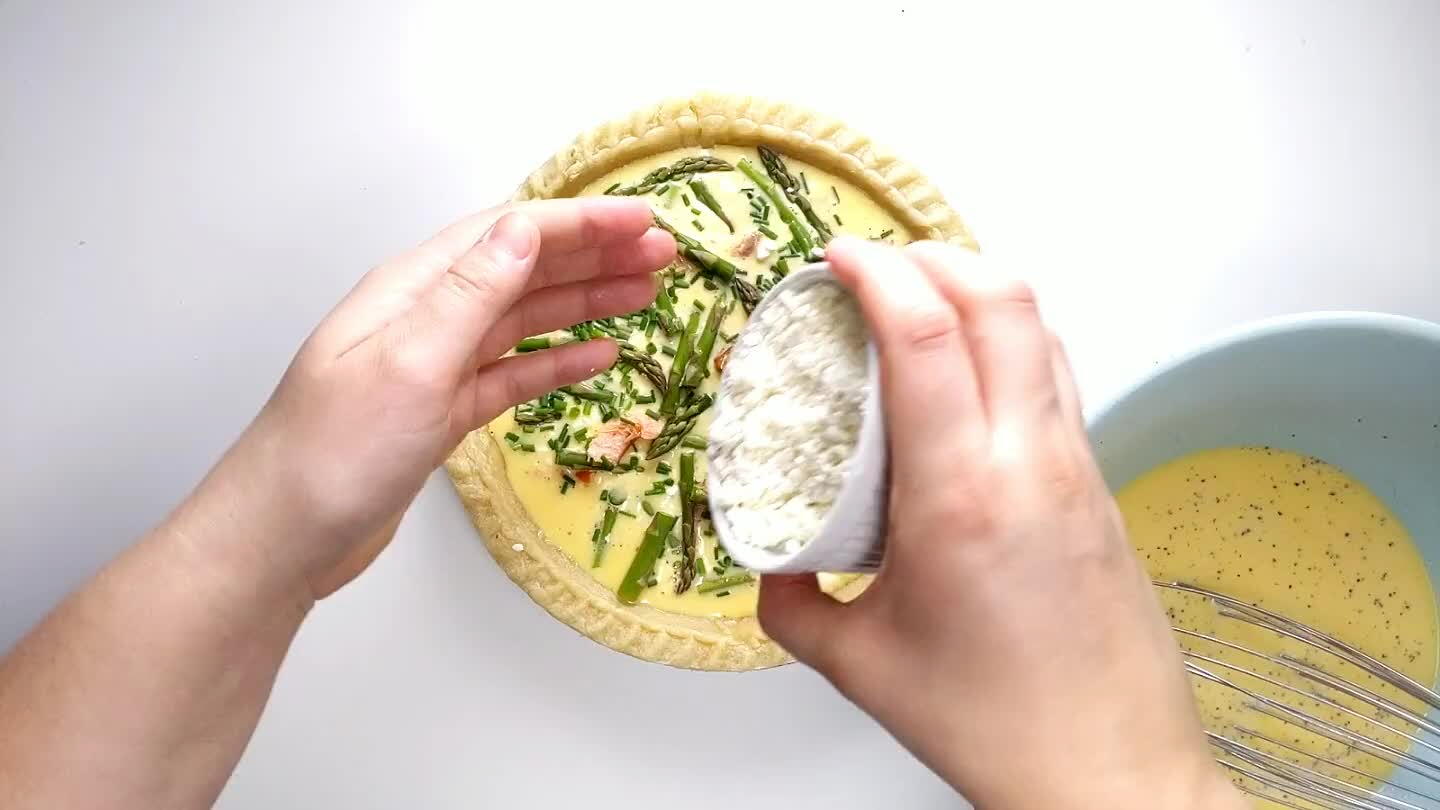 Top off the quiche with custard until the crust is full. You may have some leftover depending on the size of your crust. Careful not to fill too full. I recommend placing the quiche on a baking pan and into the oven before topping off the quiche with the custard to prevent spilling.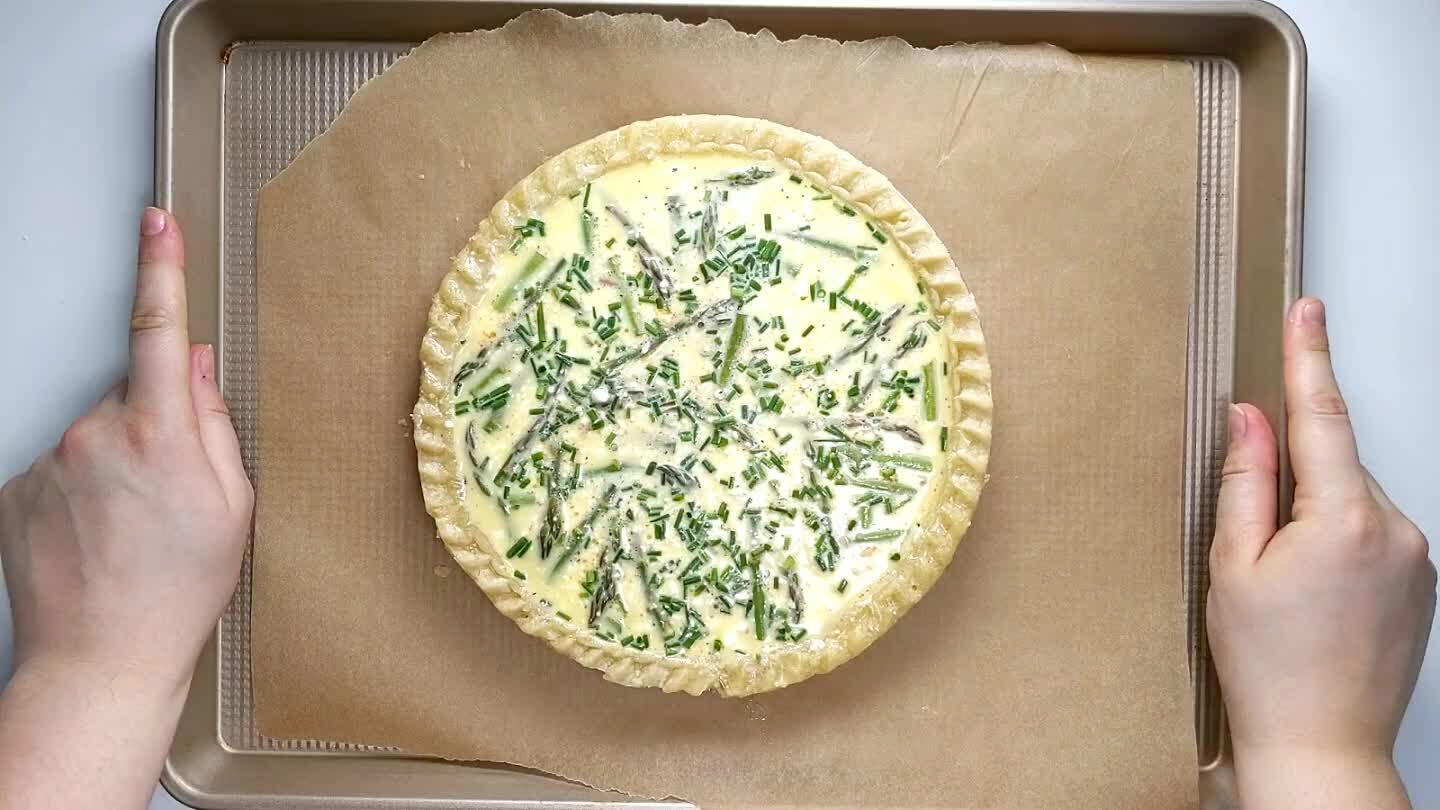 Bake for 30-40 minutes at 350 degrees. All ovens are different, but you are looking for the custard to be fully set but with a little wiggle to know that the quiche is done.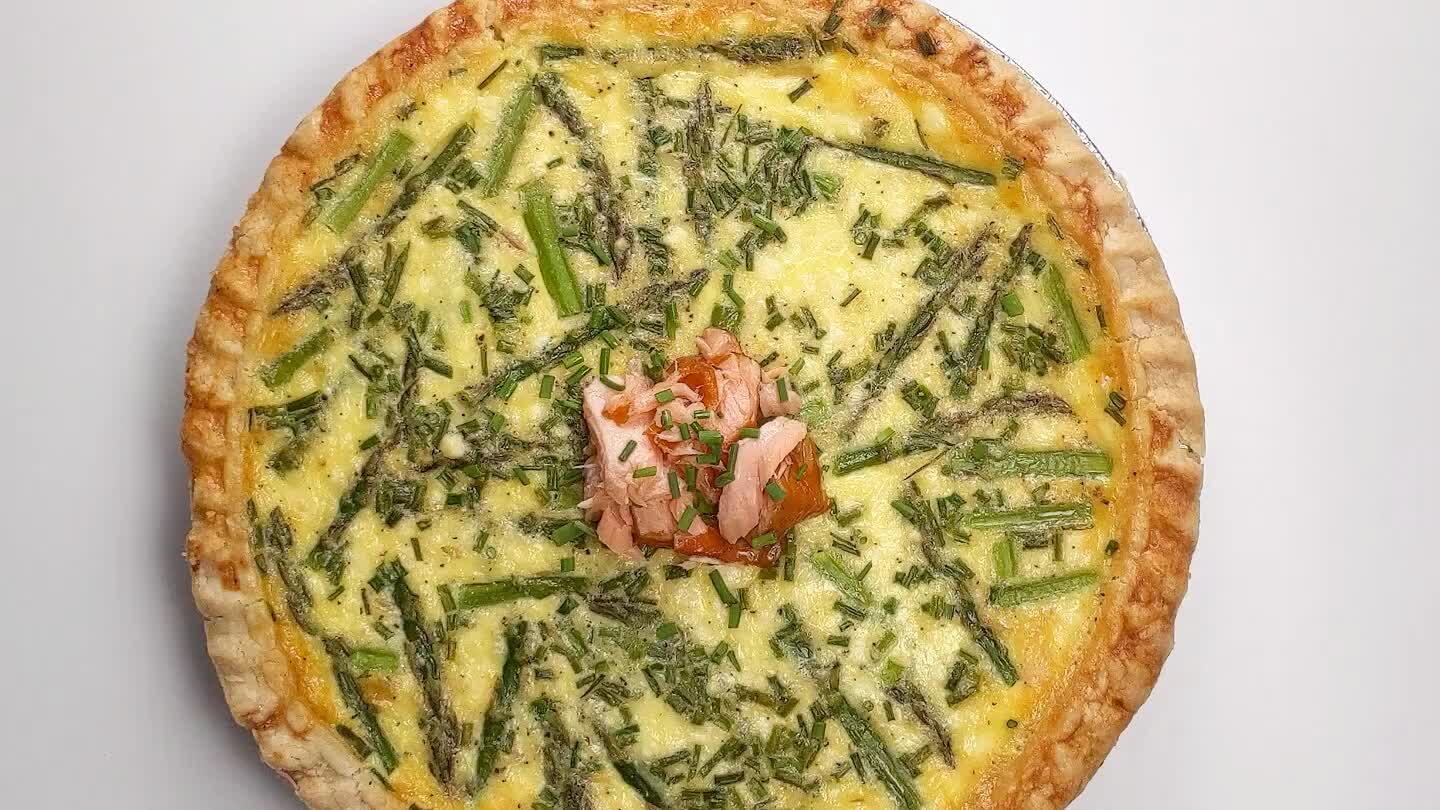 Comments