Spicy Creamy Pasta
my recipe inspired by Youtube pasta videos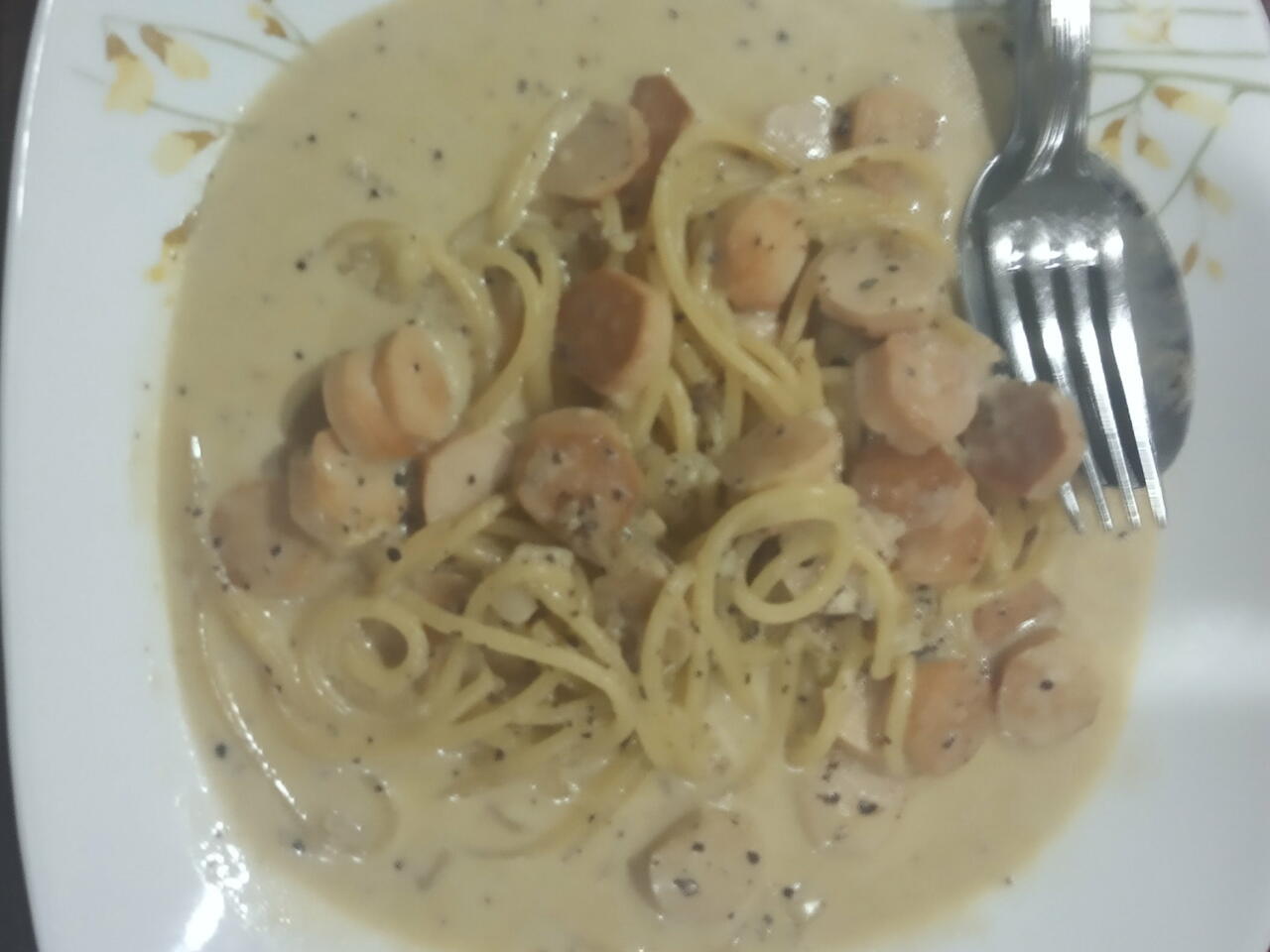 What you will need
MANDATORY
3-4 handful (56g - 113g) of pasta OR 1-2 quarter (56g - 113g) spaghetti
3/4 cup pasta water
5 cloves of garlic, sliced thinly
1-2 Bird's Eye chilli (Cili Padi), sliced
1 Red Hot Chili Pepper (Cili Merah Besar), sliced
1-2 handful of Protein (sausages or chicken or any kind of meat of your choice)
1 tbsp of corn flour (mixed with some water), add this if you are using skimmed milk
1 cup of milk
1 slice of cheese of your choice (I use cheddar), cut in small pieces
2-3 tbsp of butter
2-3 tbsp of cooking oil
Salt
Black Pepper
OPTIONAL
Vegetables (1-2 handful of carrot, broccoli or any vegetables of your choice)
Half of Onion or Red Onion (a handful)
A few parsley (chopped)
(Nutritional facts 303 calories, 5.9 g fat, 52.34 g carbohydrates, 9.39 g protein, 3 mg cholesterol, 208 mg sodium)
How to cook
PREPARE FIRST
Make the Pasta
Put water into a pot with medium-high heat and wait until it is boiling, then put the pasta in along with 1/2 tsp of salt. Cook for 9-10 minutes.
Prepare the other Ingredients
Slice the garlic, bird's eye chili, red hot chili pepper, onions (if used), protein and vegetables.
Drain the Pasta but save some water
Once the pasta is cooked, drain the water but save some of the pasta water. Optional to cover the pasta in some oil so it does not stick to each other.
COOK THE PASTA
Stir Fry
Put the pan on medium heat, put the butter and toss in the garlic and chilies, protein and a pinch of salt and stir fry them until it becomes aromatic and the garlic seems a little brown.
The Sauce
Now add in the pasta, vegetables, pasta water, milk, and corn flour solution (if you're using this). Wait until it starts to boil, while stir it from time to time. Add cheese and season it with salt and black pepper to your taste.
SERVE
Put it on a place
Put it on a plat and sprinkle some parsly. Enjoy!