The Doubletree Chocolate Chip Cookie by Kiano Moju
https://youtu.be/-oXTxt17Dvc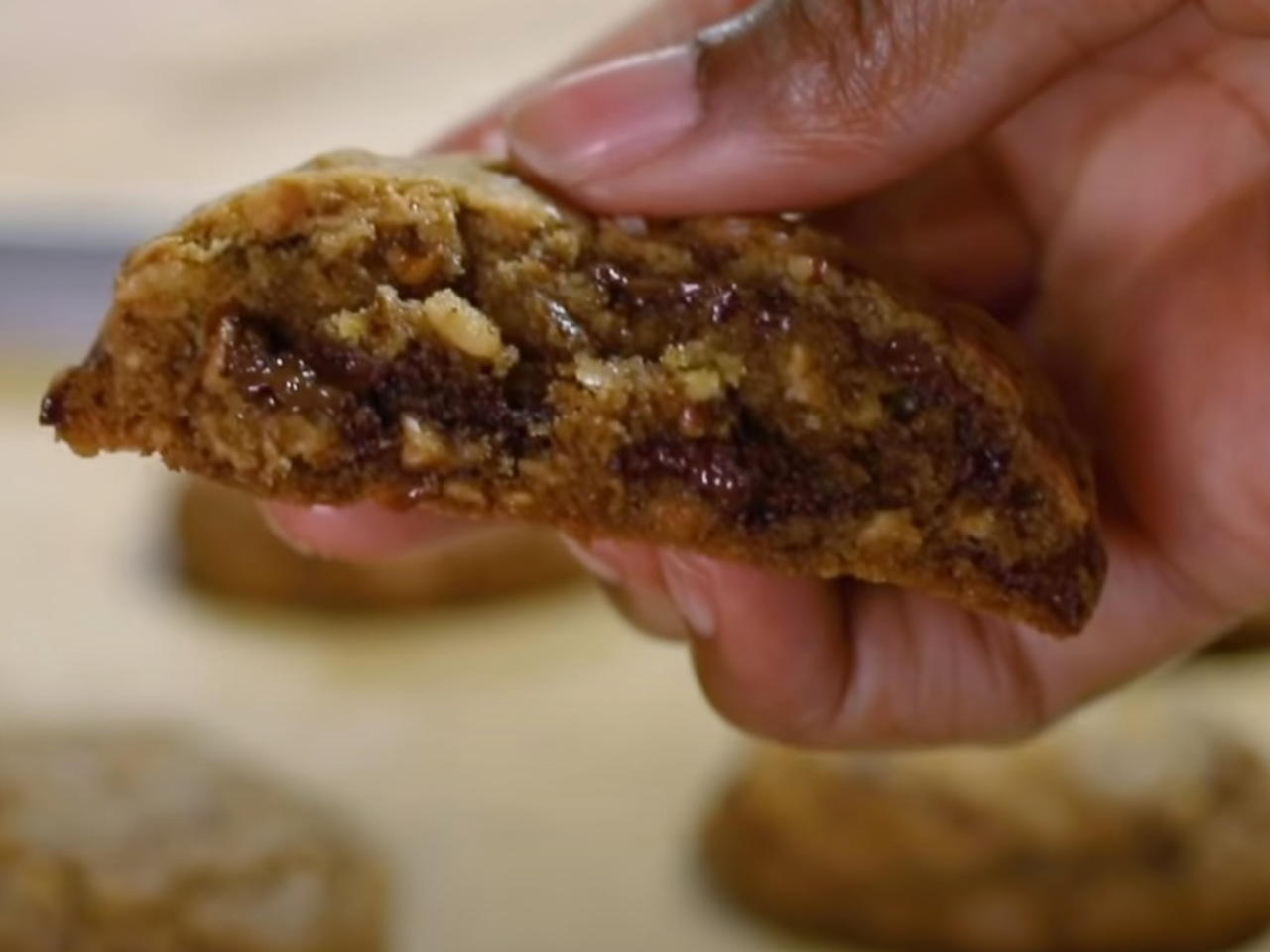 What you will need
WET INGREDIENTS
1/2 pound (226 g) Browned Butter
3/4 cup (150 g) Brown Sugar
75 g White Sugar
2 Large Eggs, room temperature
1 tsp Almond/Vanilla Extract
DRY INGREDIENTS
1/2 cup (45 g) Rolled Oats
1 tsp Baking Soda
2 1/4 cup (270 g) All Purpose Flour
1/2 tsp Sea Salt
1 cup (125 g) Toasted Chopped Walnut
170 g Bittersweet Chocolate chunks/chips
(Nutritional facts 496 calories, 34.5 g fat, 42.52 g carbohydrates, 4.98 g protein, 114 mg cholesterol, 498 mg sodium)
How to cook
WET INGREDIENTS
Brown the Butter
Pop this on some heat, medium, medium low. The goal is not to burn the butter, nice light caramel. Keep a very close eye on it.
Toast the Walnuts
Prep a baking sheet lined with parchment. Toast the walnuts. 350 degrees, five to seven minutes.
Butter + Sugars
Be careful not to get all those burnt milk solids in there. Add the Sugars and whisk. If you see any brown sugar lumps, just break them up with the head of your whisk.
+ Eggs
Add the eggs, and mix. And you know this stuff is done once your batter slowly flows into each other.
+ Almond Extract
This will really help bring out a true nutty flavor.
DRY INGREDIENTS
+ Dry Ingredients + Rolled Oats
Give it a good gentle fold using a spatula.
+ Chocolate chips and Walnuts
Fold
Chill
For 2 hours/overnight
Shape the dough
So each cookie dough ball is around two ounces each. Just shape it into a quick little ball.
Sprinkle salt
So just a tiny sprinkle of sea salt on top of these cookies.
Bake
Bake them 350F (180C), for 12 to 15 minutes.
Let it cool
Leave it for 15 minutes.