Chicken and Couscous with Spinach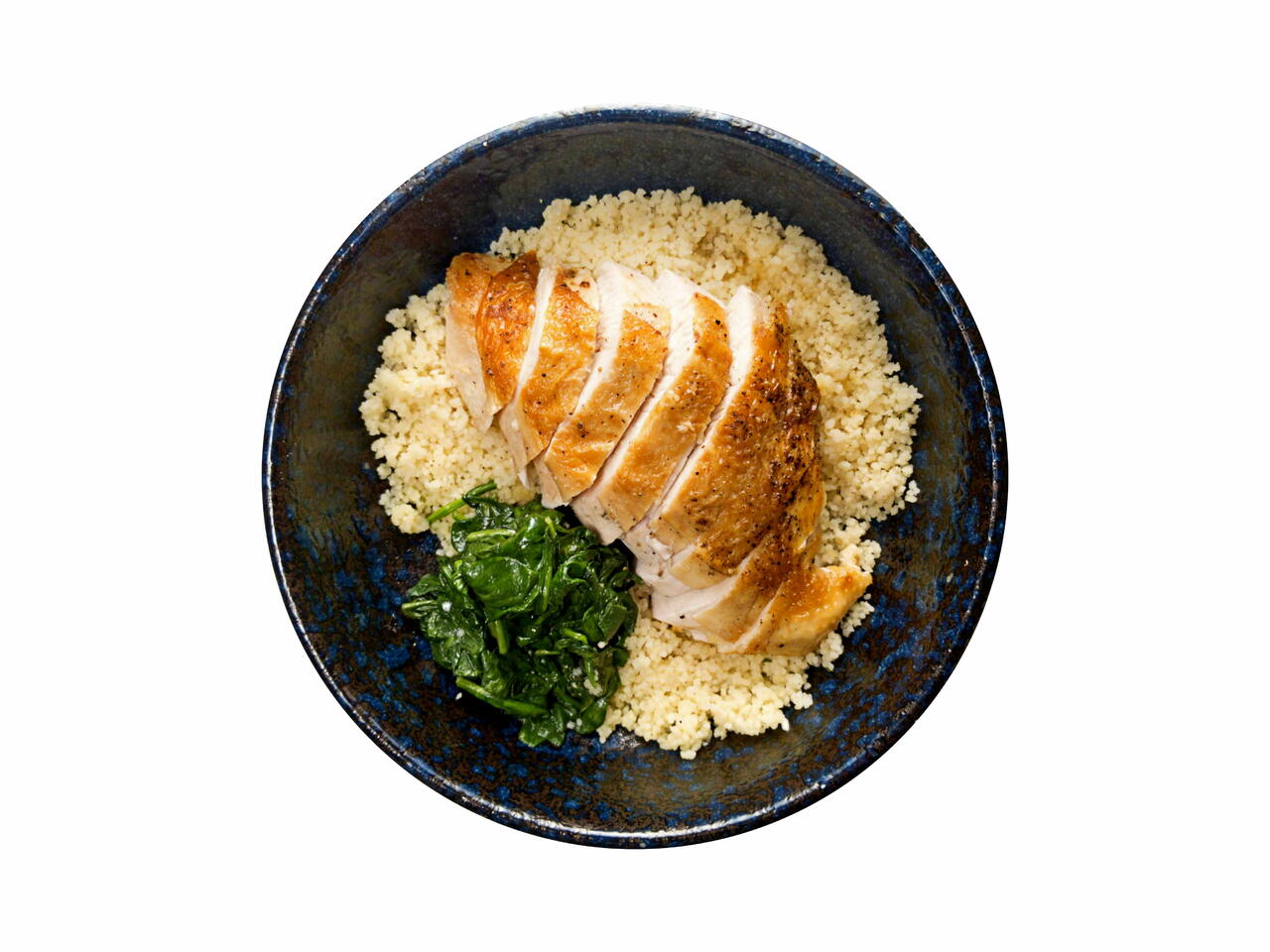 What you will need
6 Tbsp Unsalted Butter
Water
10 oz. Garlic and Olive Oil Couscous
2 lb Washed Spinach
Salt
Black Pepper
2 lb Skin-On Chicken Breast
Olive Oil
(Nutritional facts 158 calories, 7.41 g fat, 11.44 g carbohydrates, 11.4 g protein, 34 mg cholesterol, 258 mg sodium)
How to cook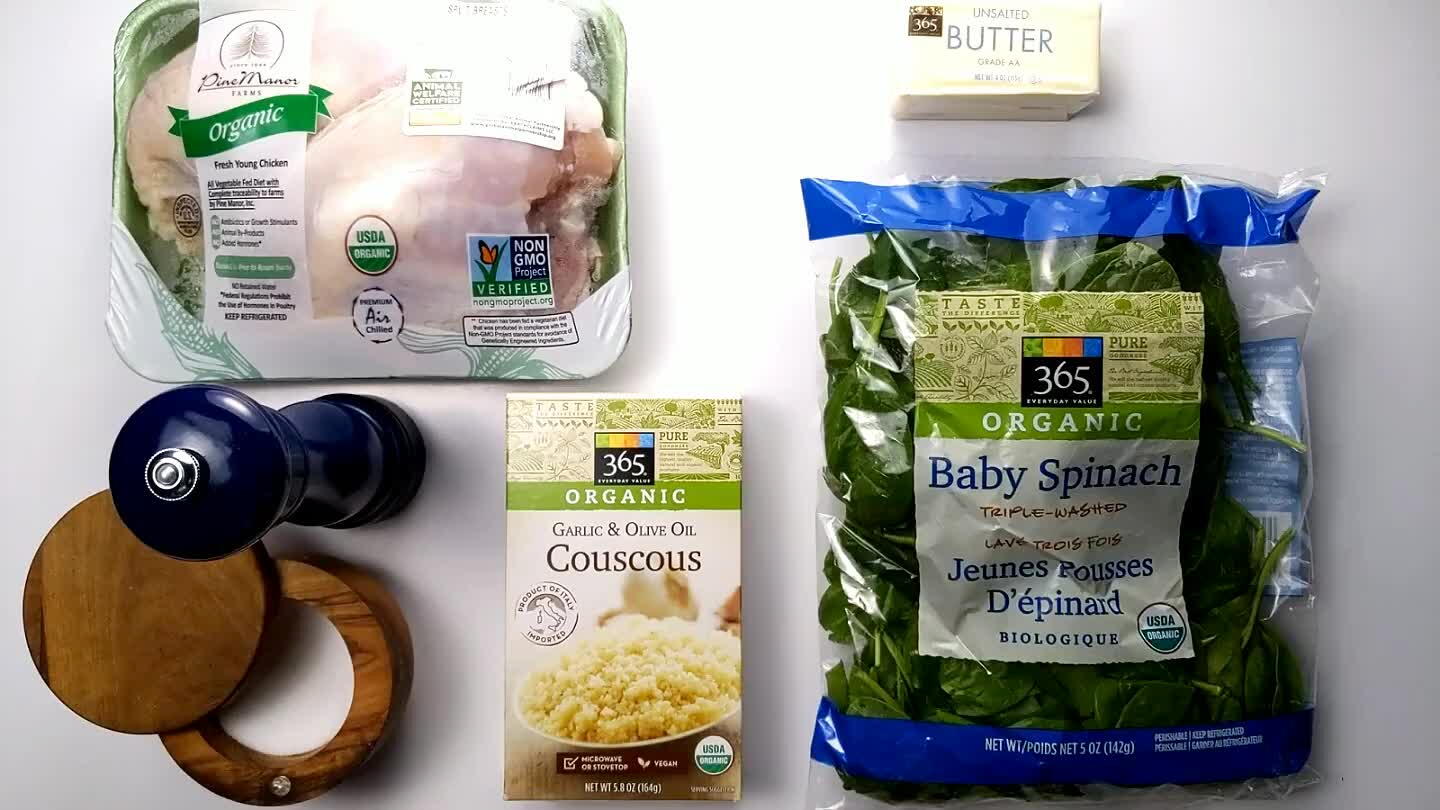 Gather the ingredients.
MAKE THE COUSCOUS
Prepare couscous. Melt 2 Tablespoons of butter in a soup pot that has a matching lid. 1 box of couscous should be more than enough for 4 servings.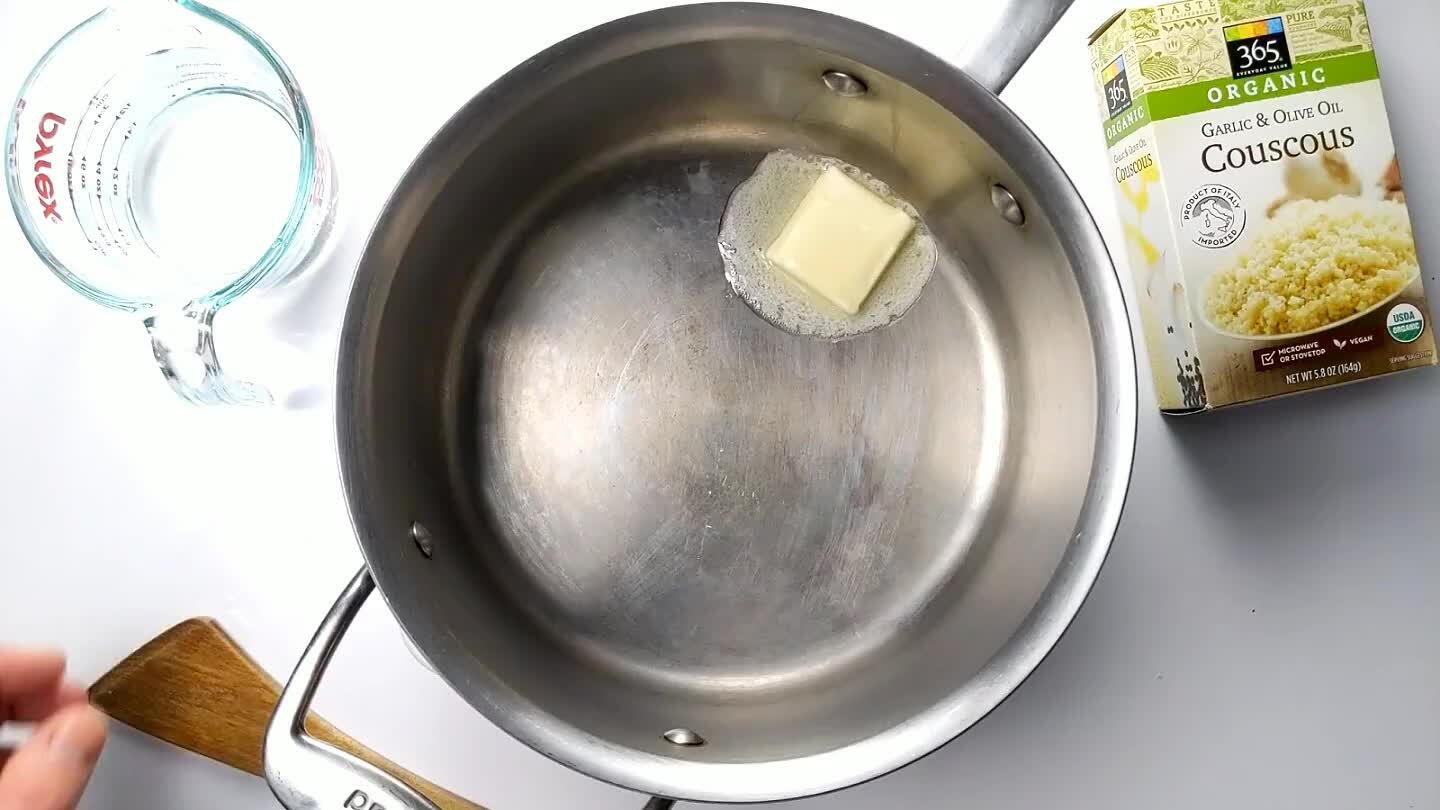 Add 1 1/4 cups of Water. Bring to a boil over high heat.
Open the couscous box. Pull out the seasoning packet and empty it into the water.
Stir in the couscous. Cover the pot and remove from heat. Set a timer for 5 minutes.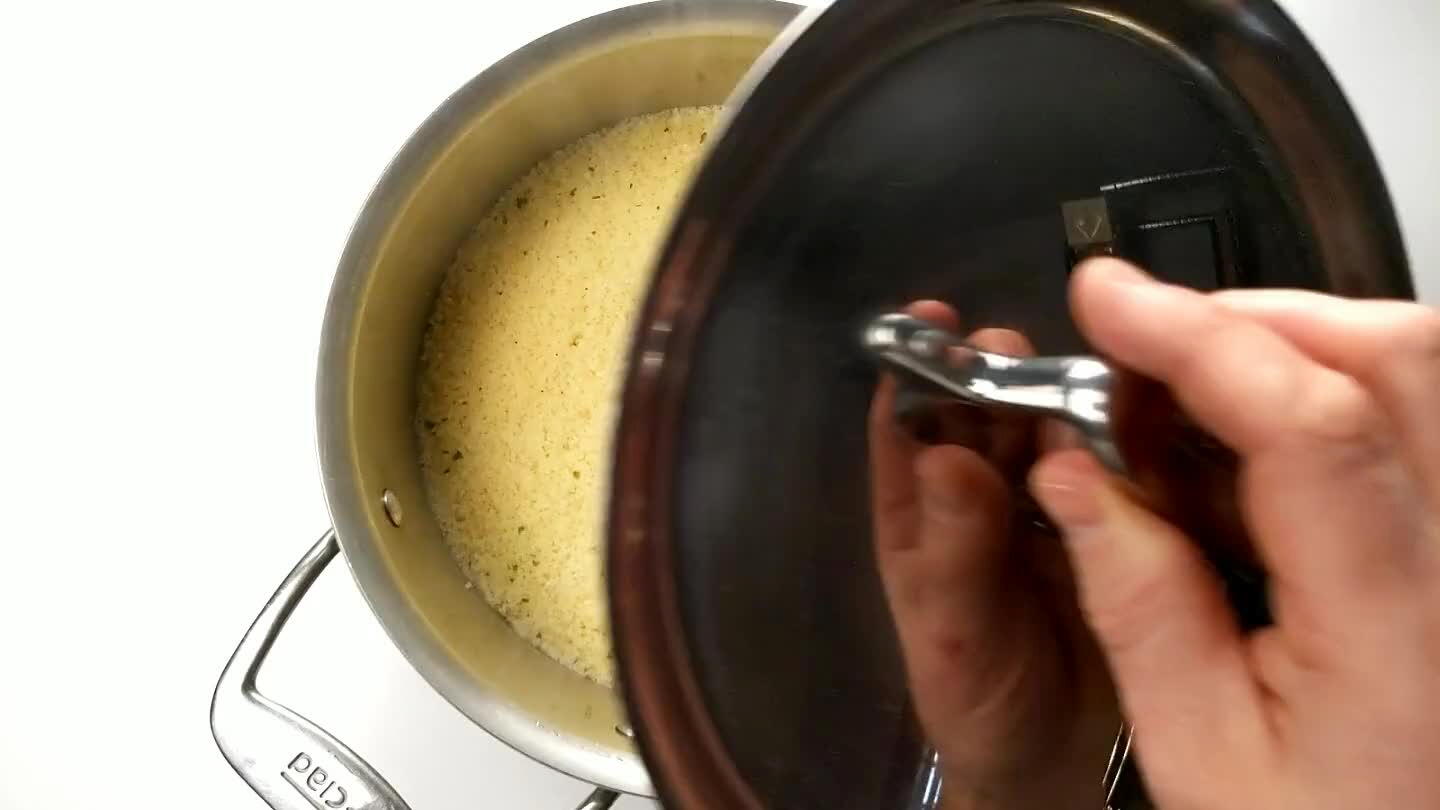 When your timer goes off, take a fork and scrape the surface fo the couscous to fluff it up so it doesn't stick together too much as it sits. Now you can cover it up again until you're ready to serve.
BUTTER POACHED SPINACH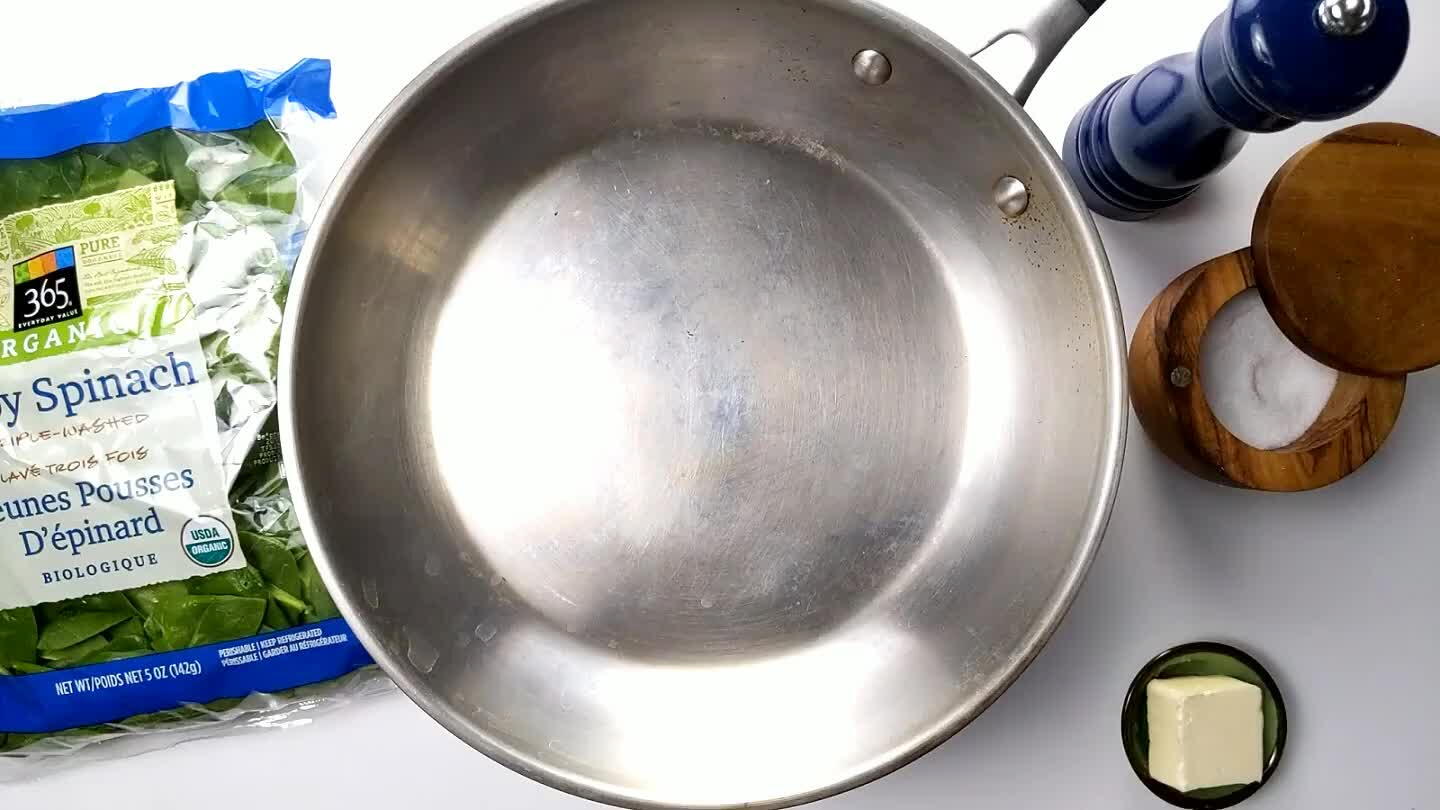 Melt the butter in a large pan over medium heat.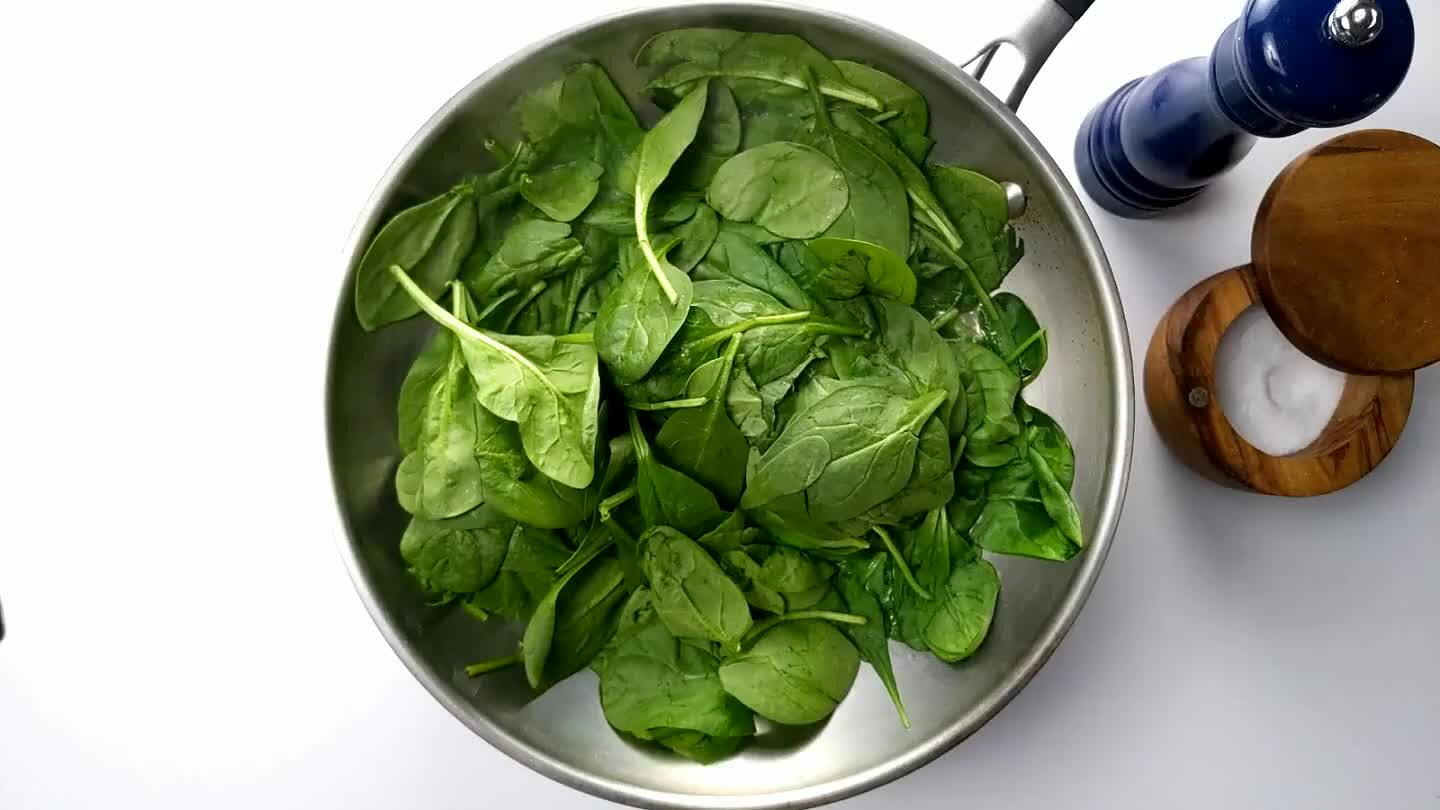 Once the butter is melted, add the washed spinach. Continue cooking over medium heat, turning the spinach frequently until all of the leaves are shiny.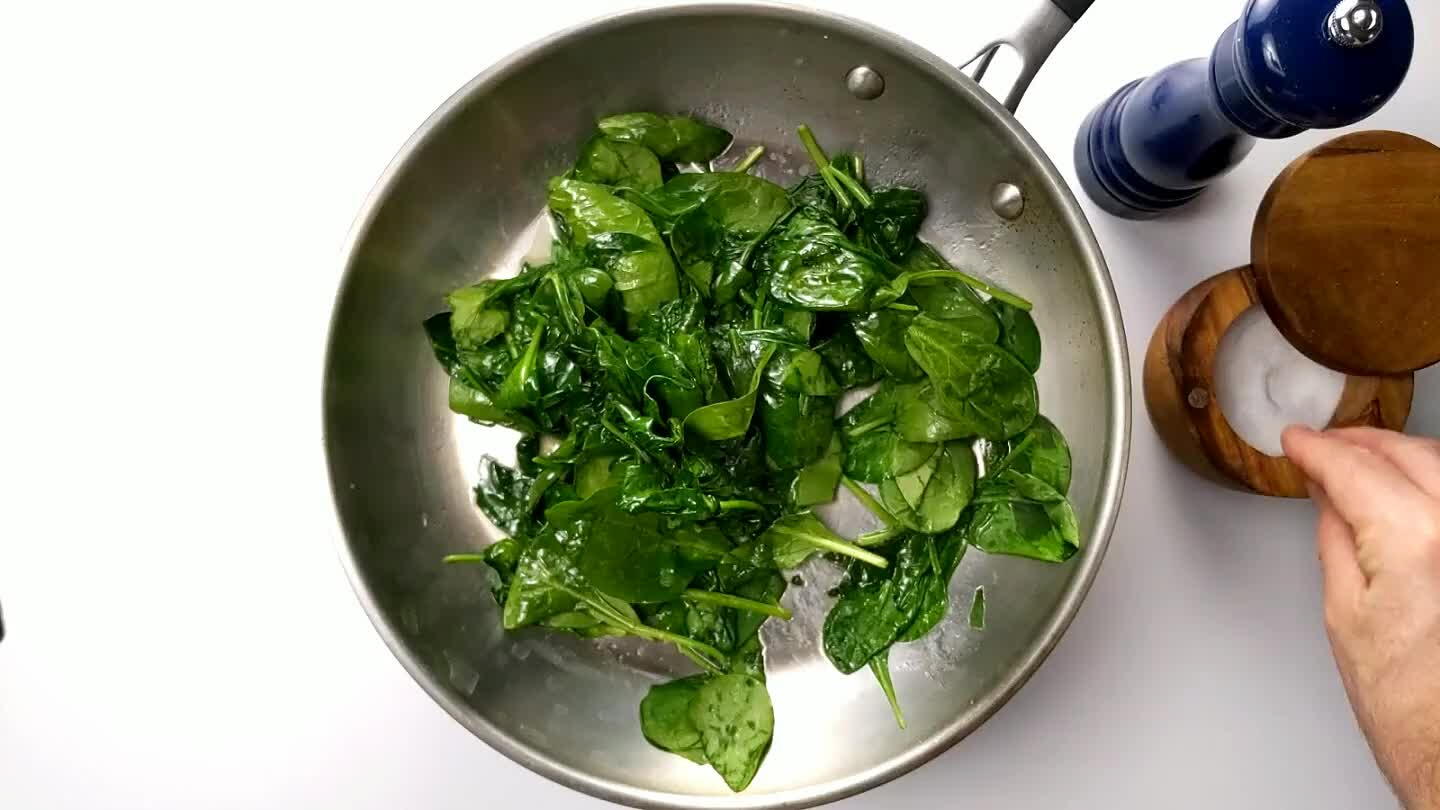 Season as needed with salt and freshly ground black pepper.
PAN FRIED CHICKEN BREAST
Season the chicken breast generously on both sides with salt and black pepper. Trim away any extra skin or fat if necessary.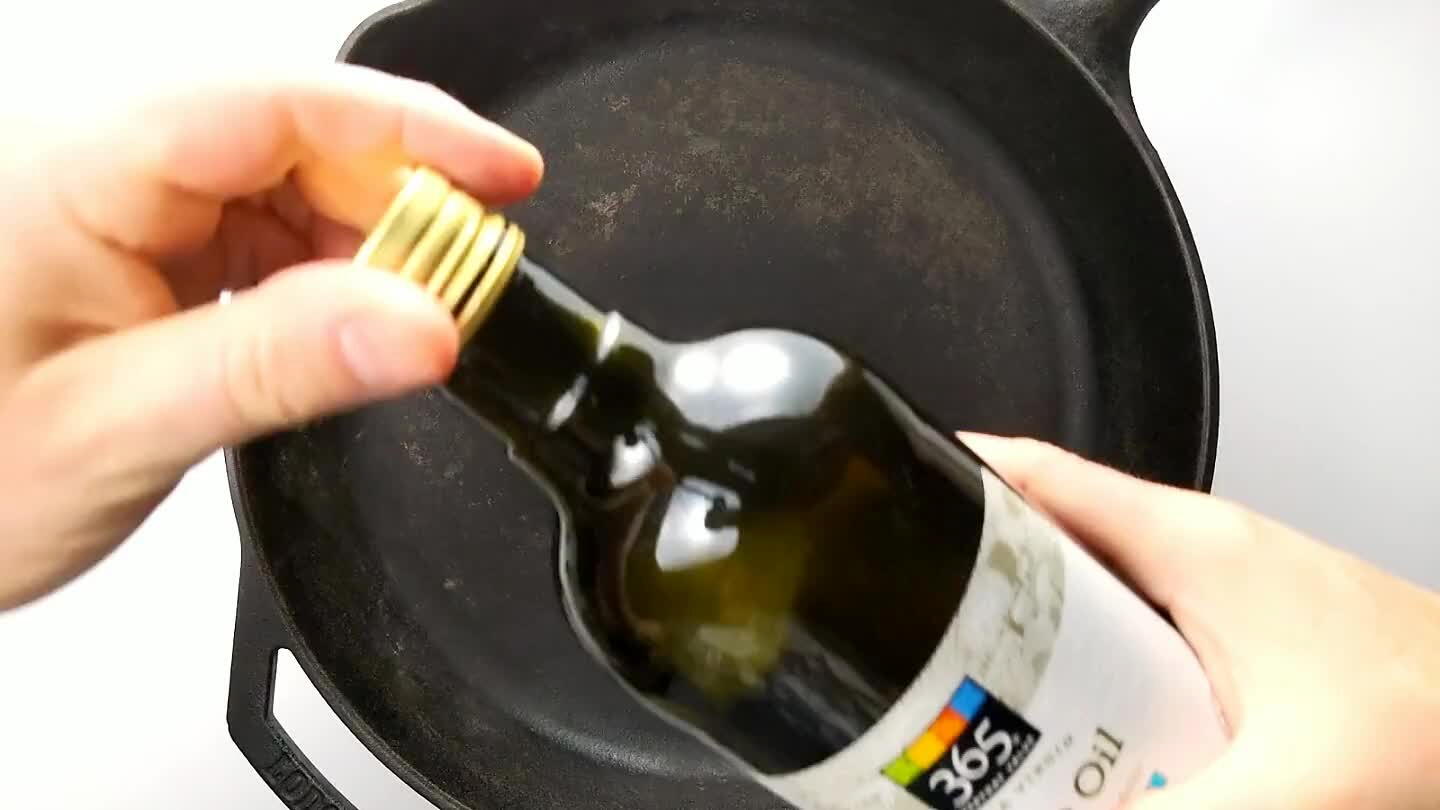 Warm up some oil in a heavy skillet over high heat. Wait until the oil is shimmering, nearly smoking. Hot oil is crucial to crisping up the chicken skin.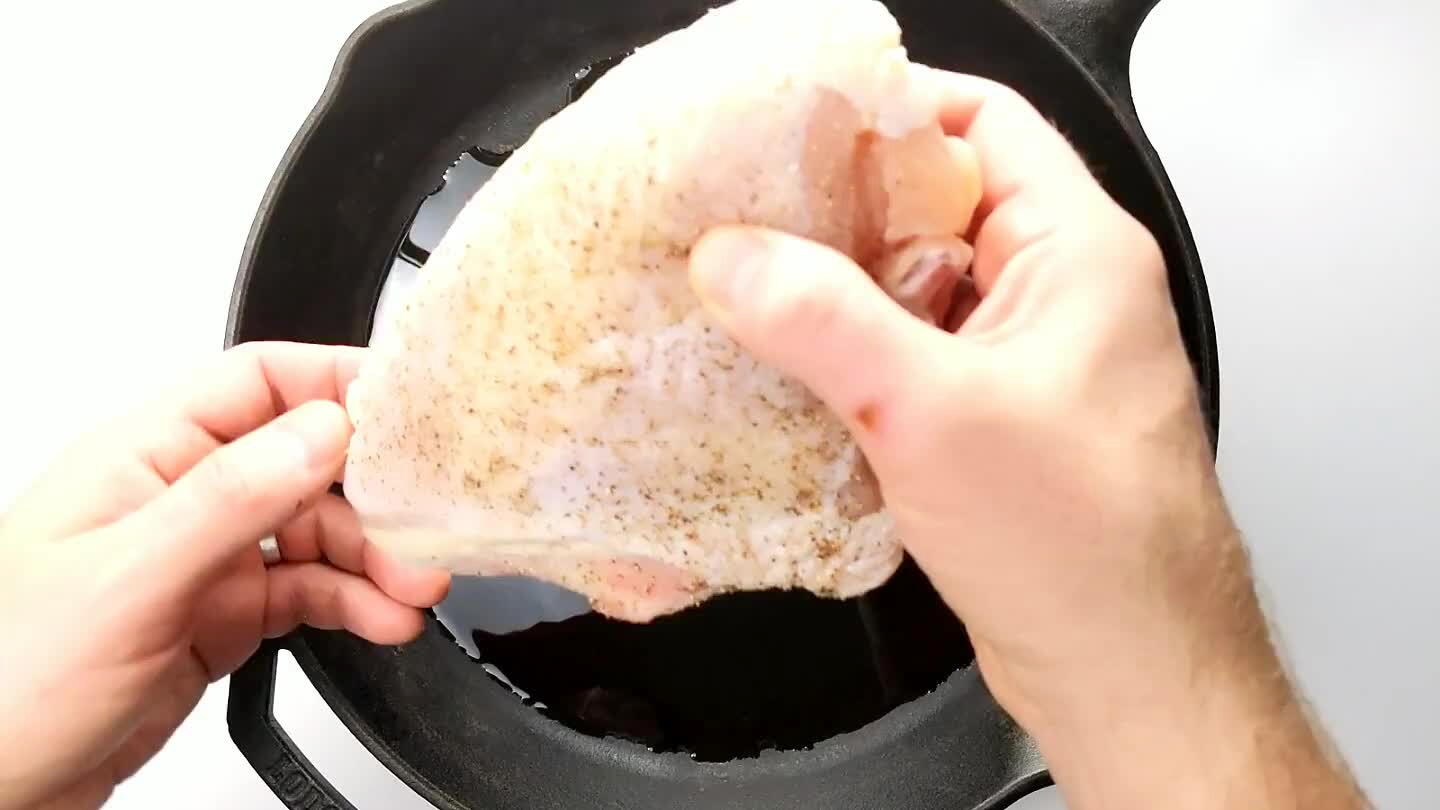 When the oil is hot, place the chicken breast in the pan, skin-side down. Give it a little press to seal the skin to the pan. Reduce the heat slightly to medium-high. Don't touch the chicken for at least 5 minutes. It's important to let the skin crisp undisturbed.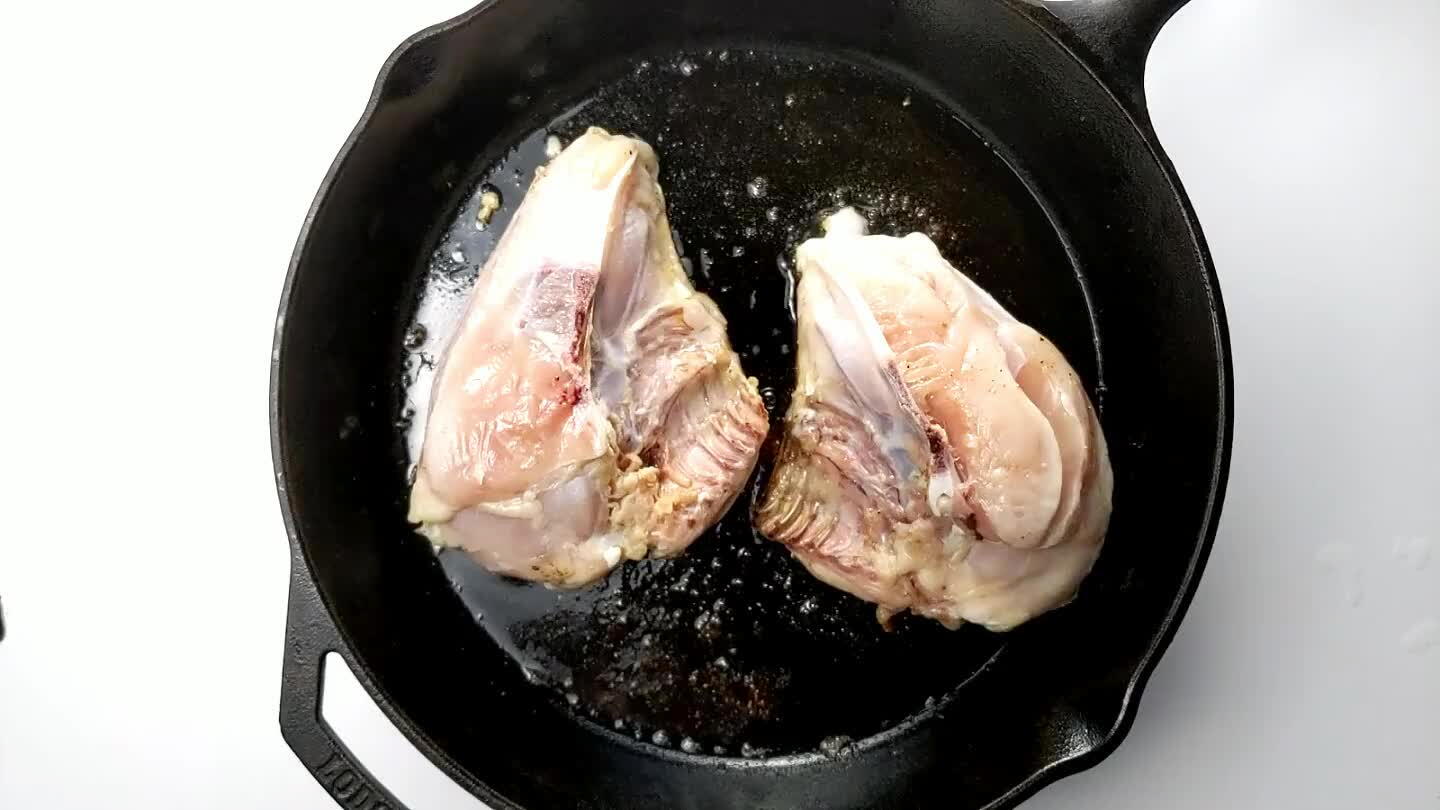 When you can see that the edges of the skin are golden brown and crispy, gently release the skin from the pan with a thin steel spatula. Flip it over to cook the opposite side until done. Internal temperature should be about 165°F. Check the internal temperature at the thickest part of the breast.
To make the chicken a little manageable, slice it up. Remove any bones that are present. Slice with a sharp knife, through the skin first.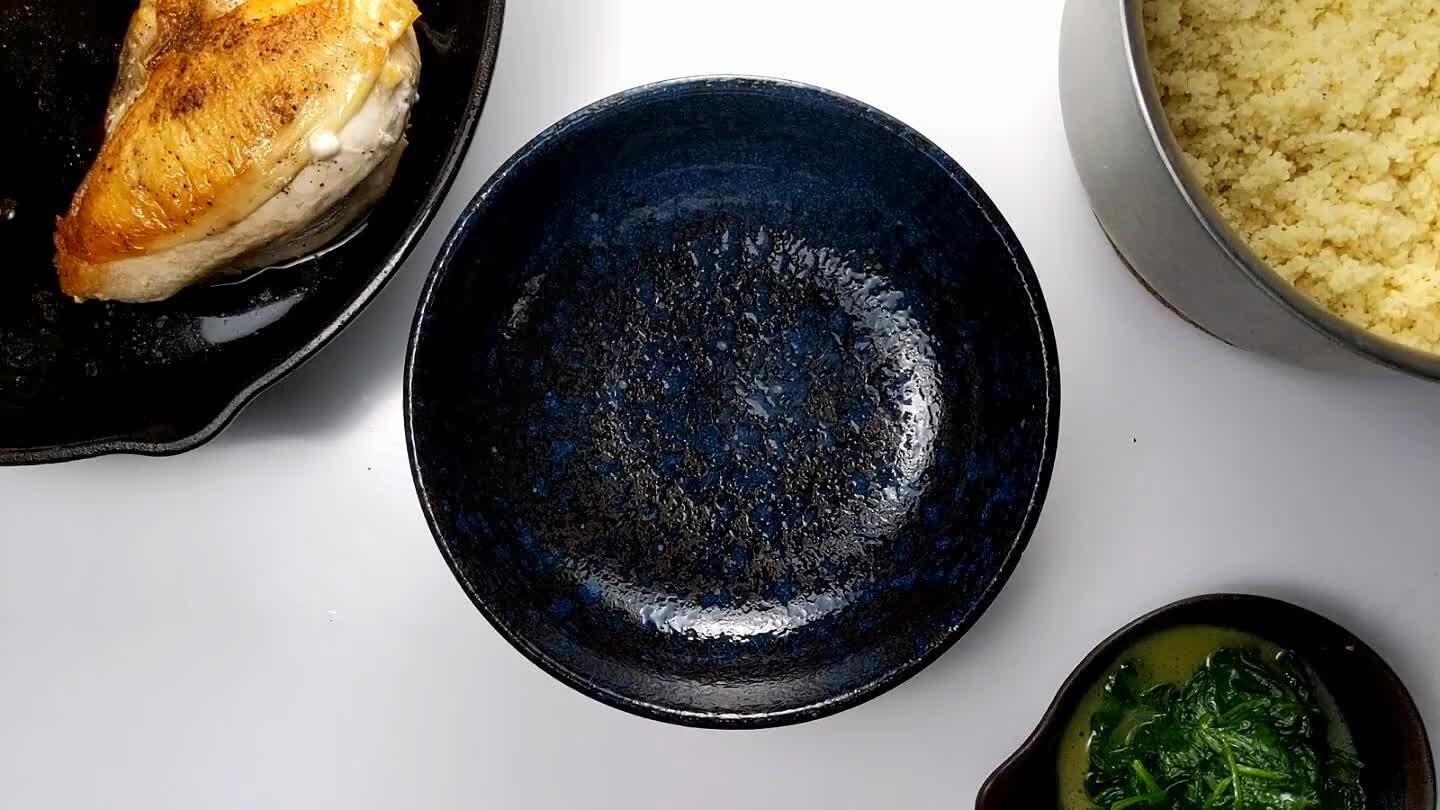 Serve chicken breast over couscous and spinach.