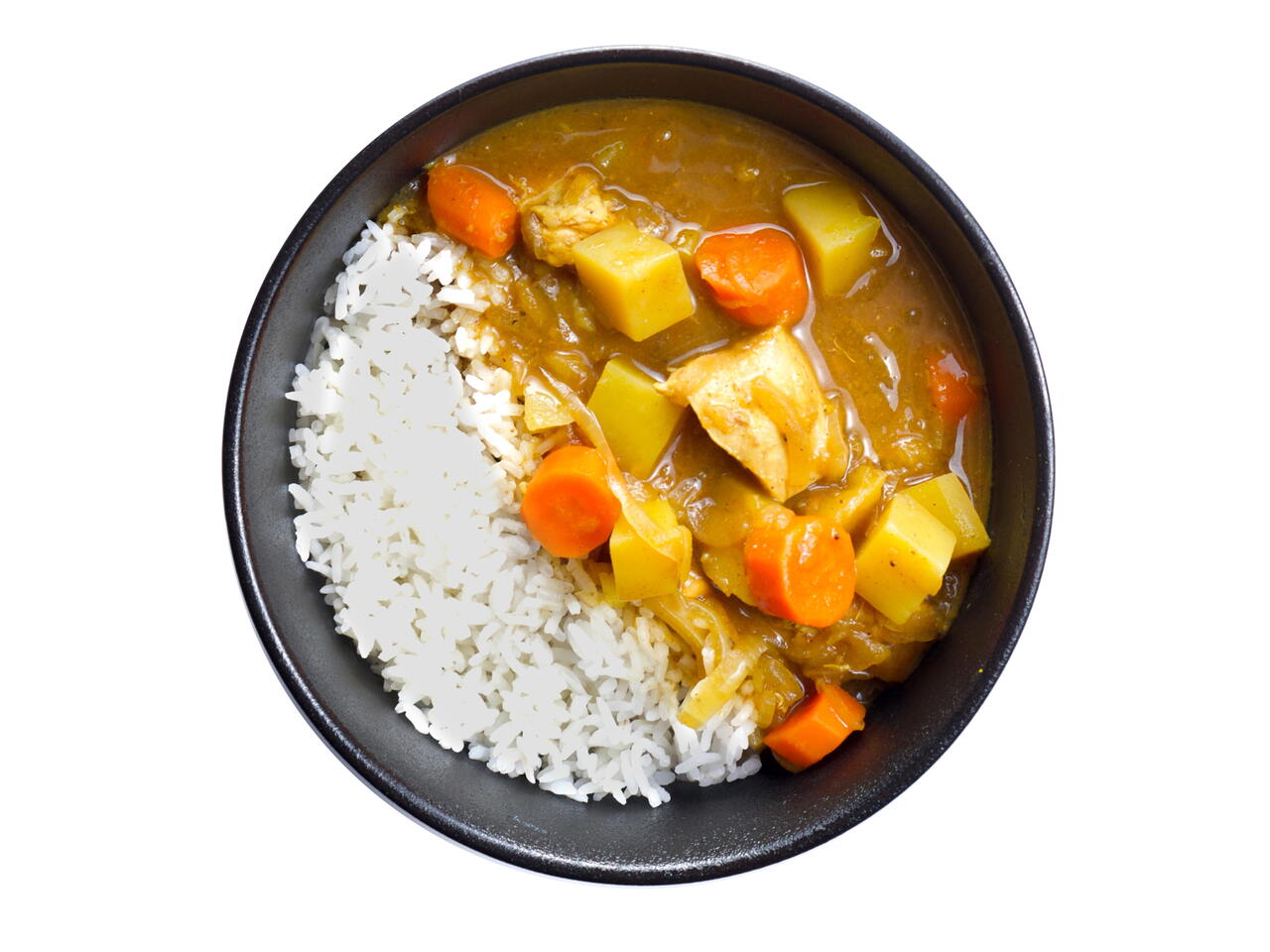 What you will need
1 White Onion
1 Apple
3 Carrots
2 Yukon Gold Potatoes or Regular Potatoes
1 Tbsp Ginger
1 lb Chicken Breast
1 Tbsp Sesame Oil
1 Tbsp Curry Powder
1 tsp Garam Masala
4 cups Chicken Broth
2 Tbsp Corn Starch
(Nutritional facts 60 calories, 1.56 g fat, 6.82 g carbohydrates, 5.06 g protein, 12 mg cholesterol, 585 mg sodium)
How to cook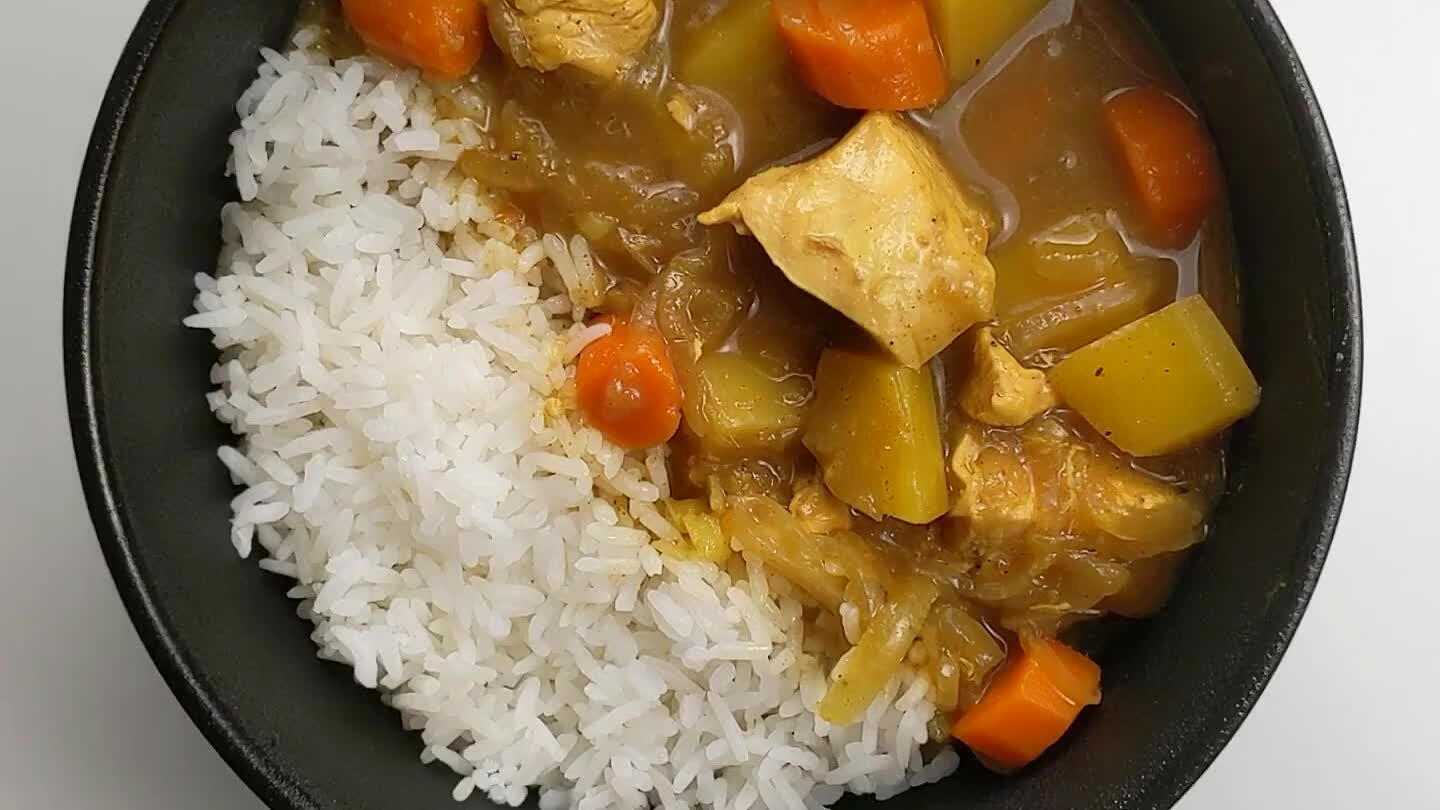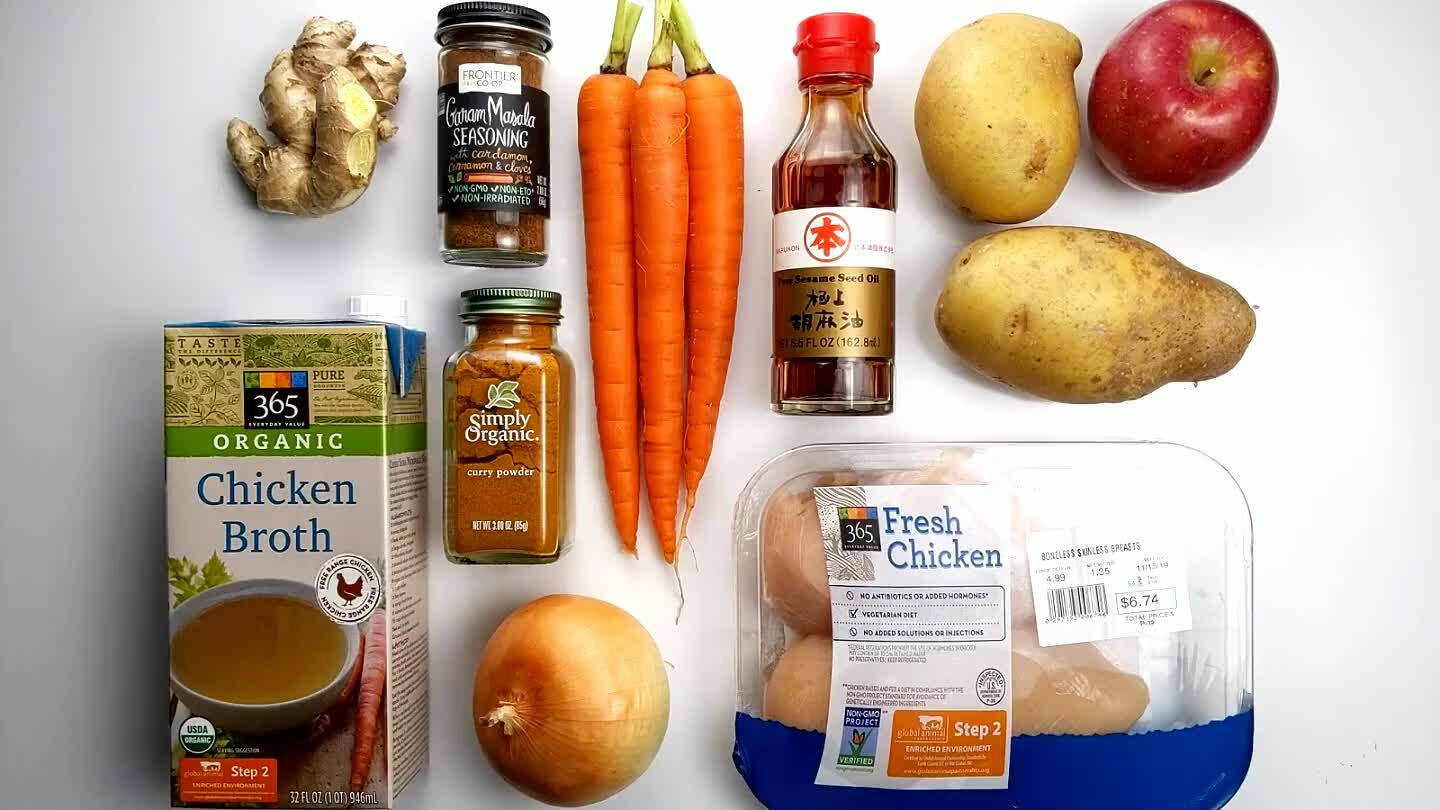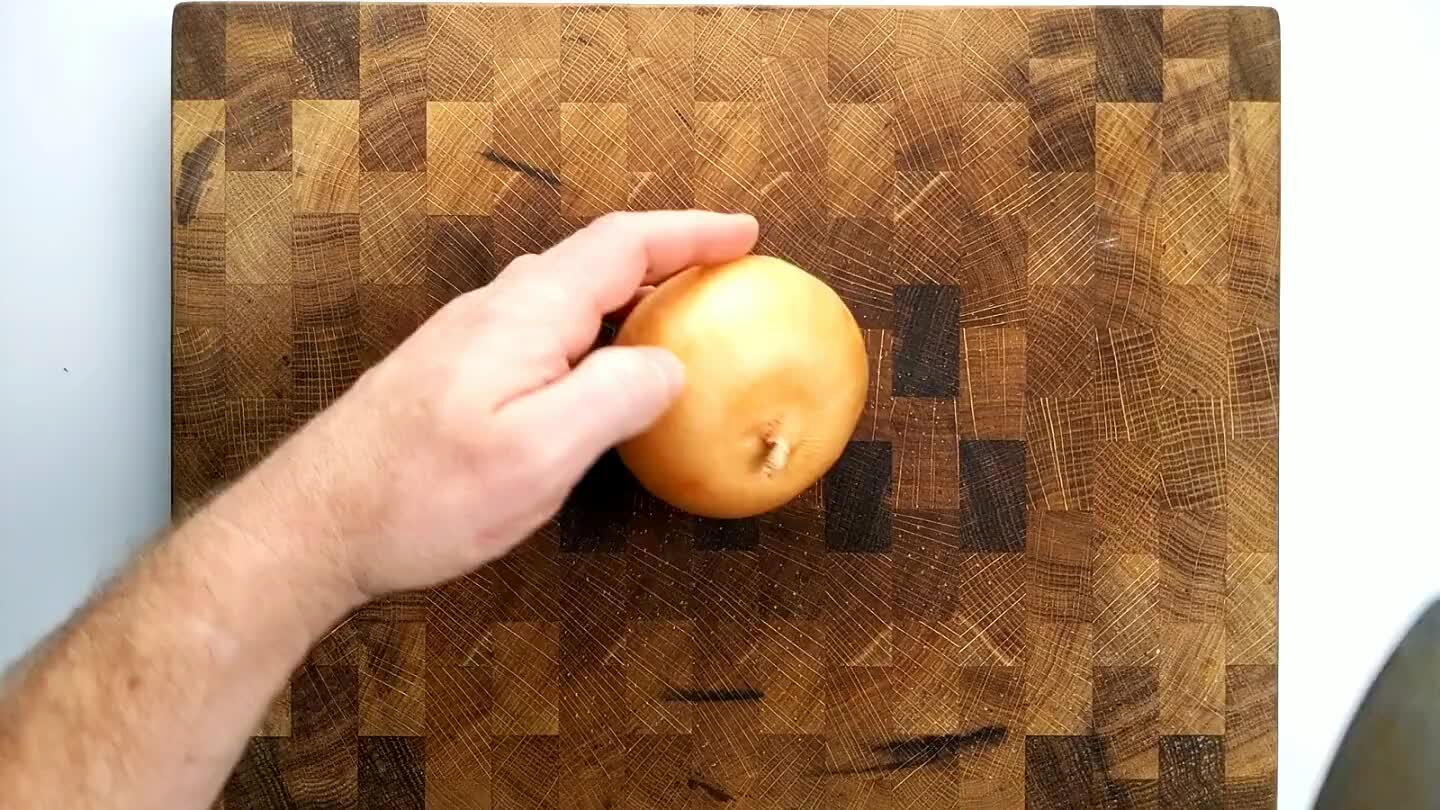 Slice onion in half through root and stem tips and remove peel. Slice thinly.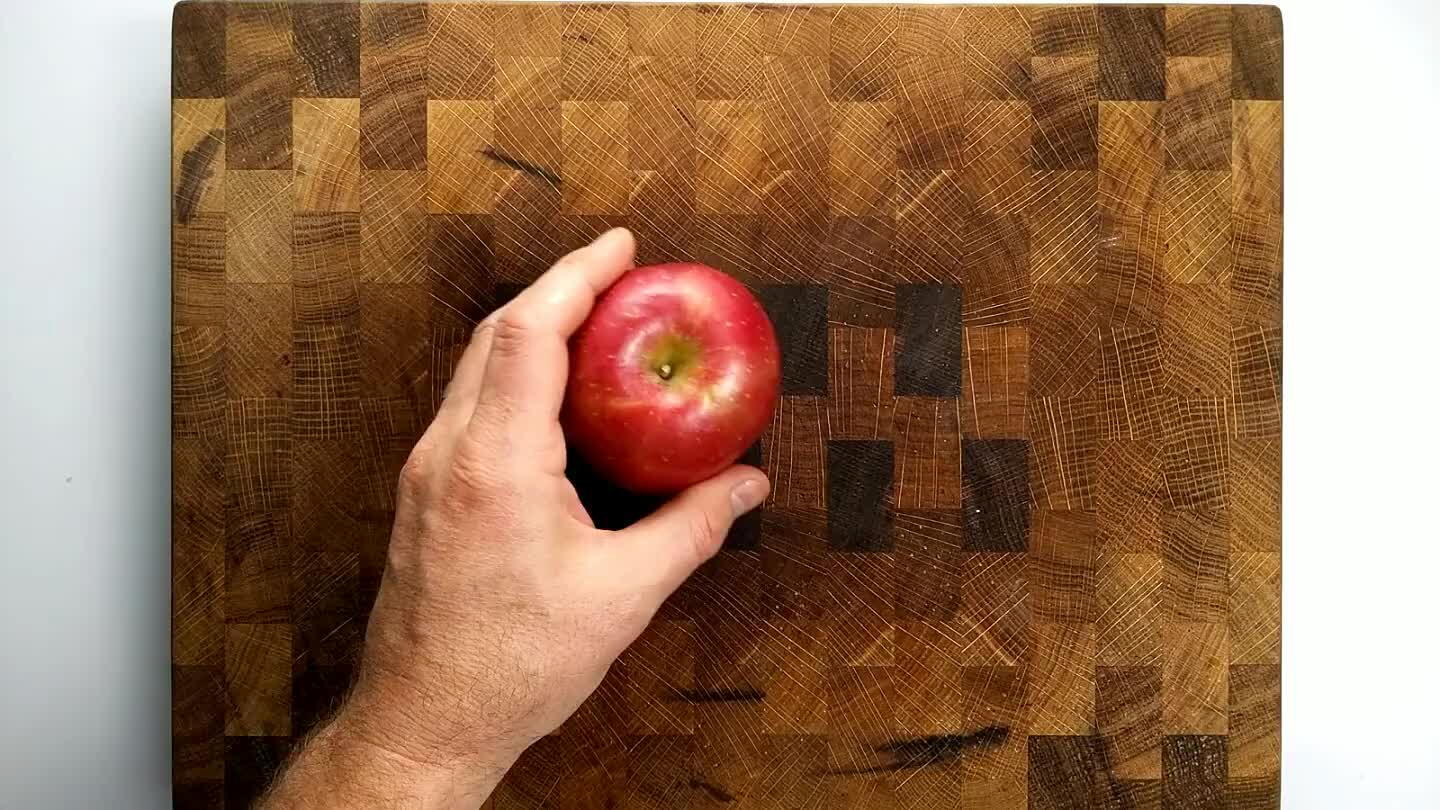 Peel the apple. Remove the core. Grate or chop finely.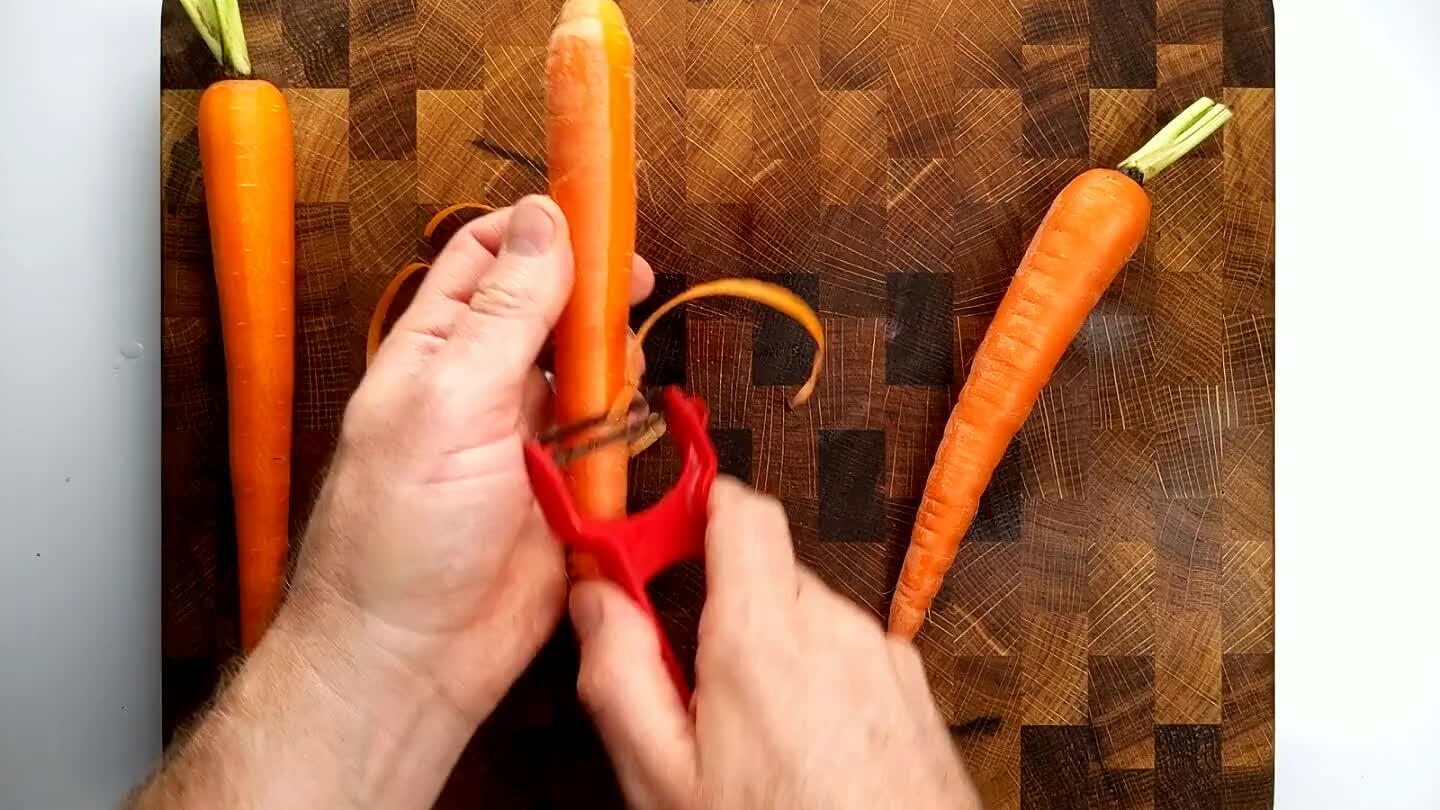 Peel the carrots. Remove the root tips and chop, rolling as you chop. This is called a roll cut and it just randomizes the shape of the carrot a little to make things more interesting. It also tends to help you keep the carrot chunks at similar sizes if you do it right.
Peel the potatoes and cut to a medium dice (around 3/4").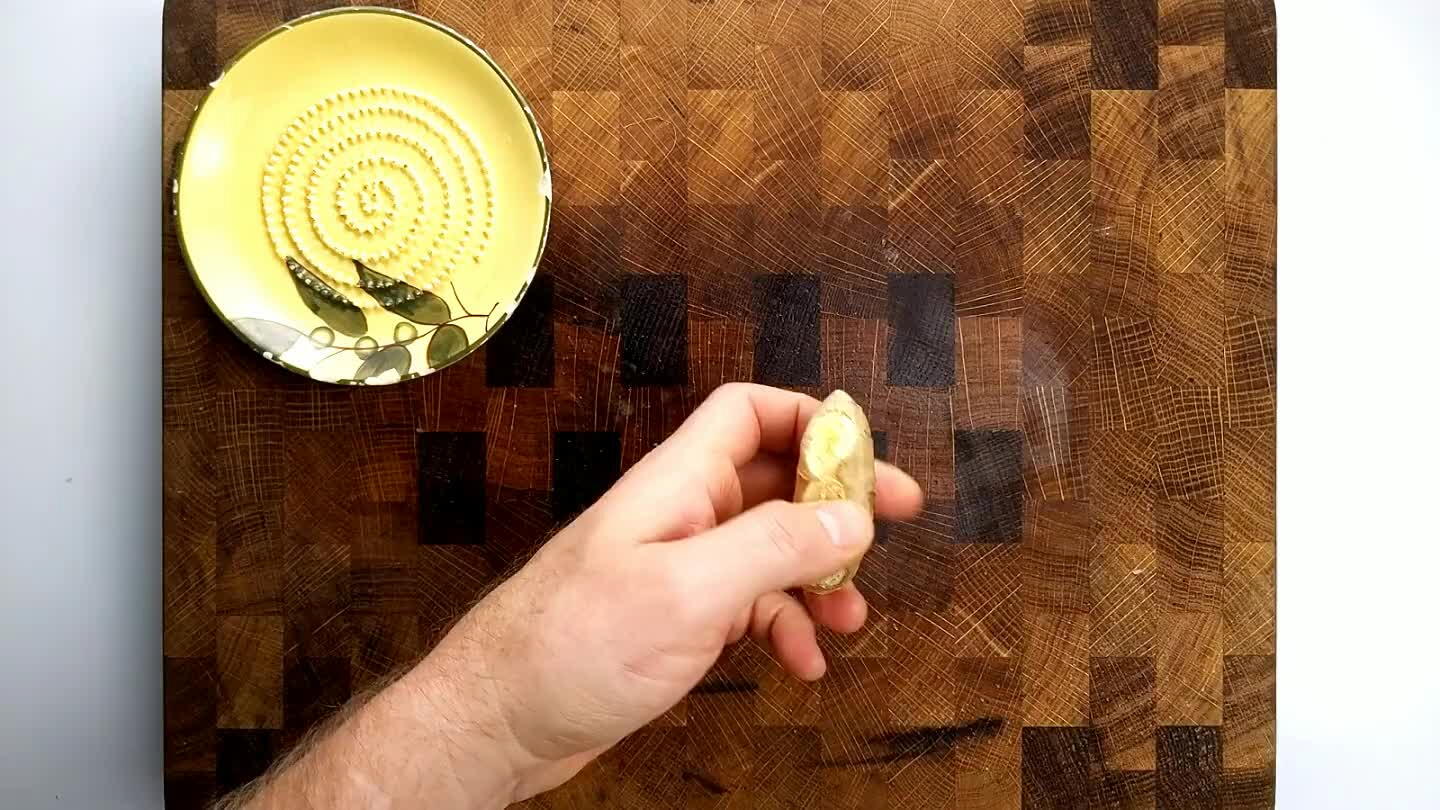 Peel a chunk of ginger with a spoon. A spoon will help you get into the weird corners of a chunk of ginger. Grate or mince the ginger until you have about 1 Tbsp of finely chopped or grated ginger.
Chicken breast will often come with the tender attached as a weird loose flap hanging underneath. The tender has a tendon running through it that's chewy. You want to get rid of that. Find the bright white strip and scrape at it with the tip of your knife to pull it out of the tender.
Slice the breast into strips, then line up the strips and dice.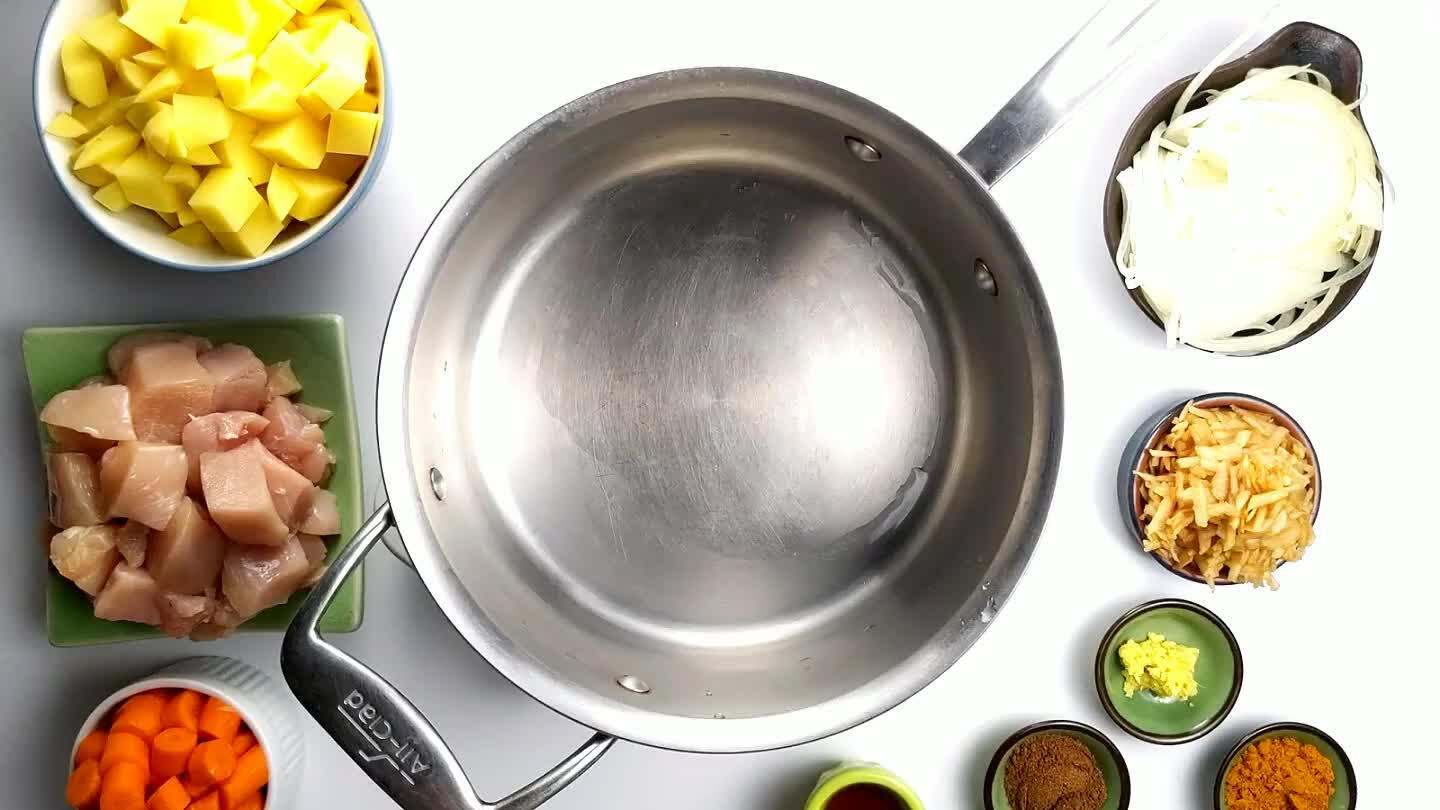 Warm sesame oil in a medium sauce pot over medium low heat.
Add the sliced onion.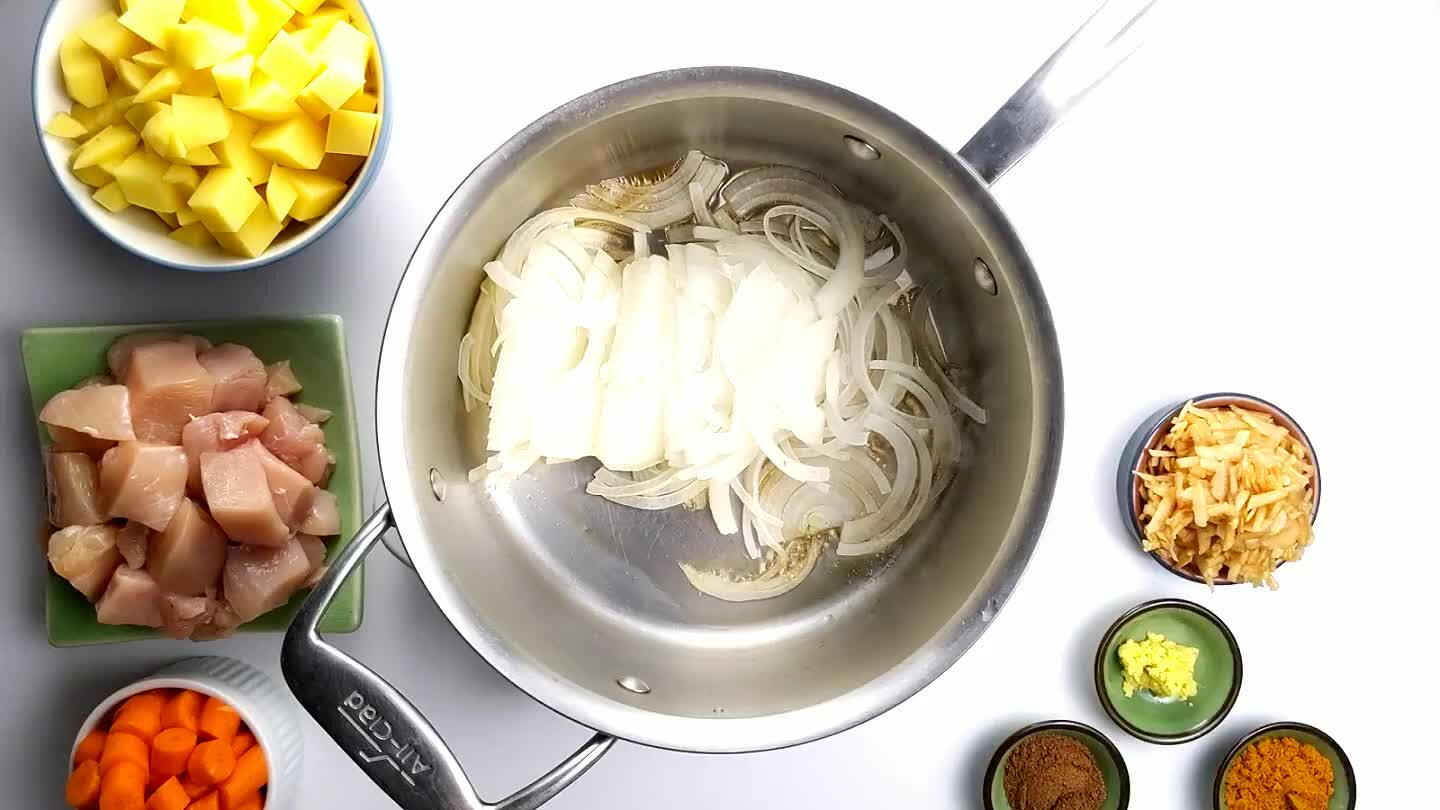 Toss in the grated apple.
Add the grated ginger. Cook over medium low heat, stirring occasionally, for about 10-15 minutes or until apple and onion are tender, almost falling apart.
Add the curry powder.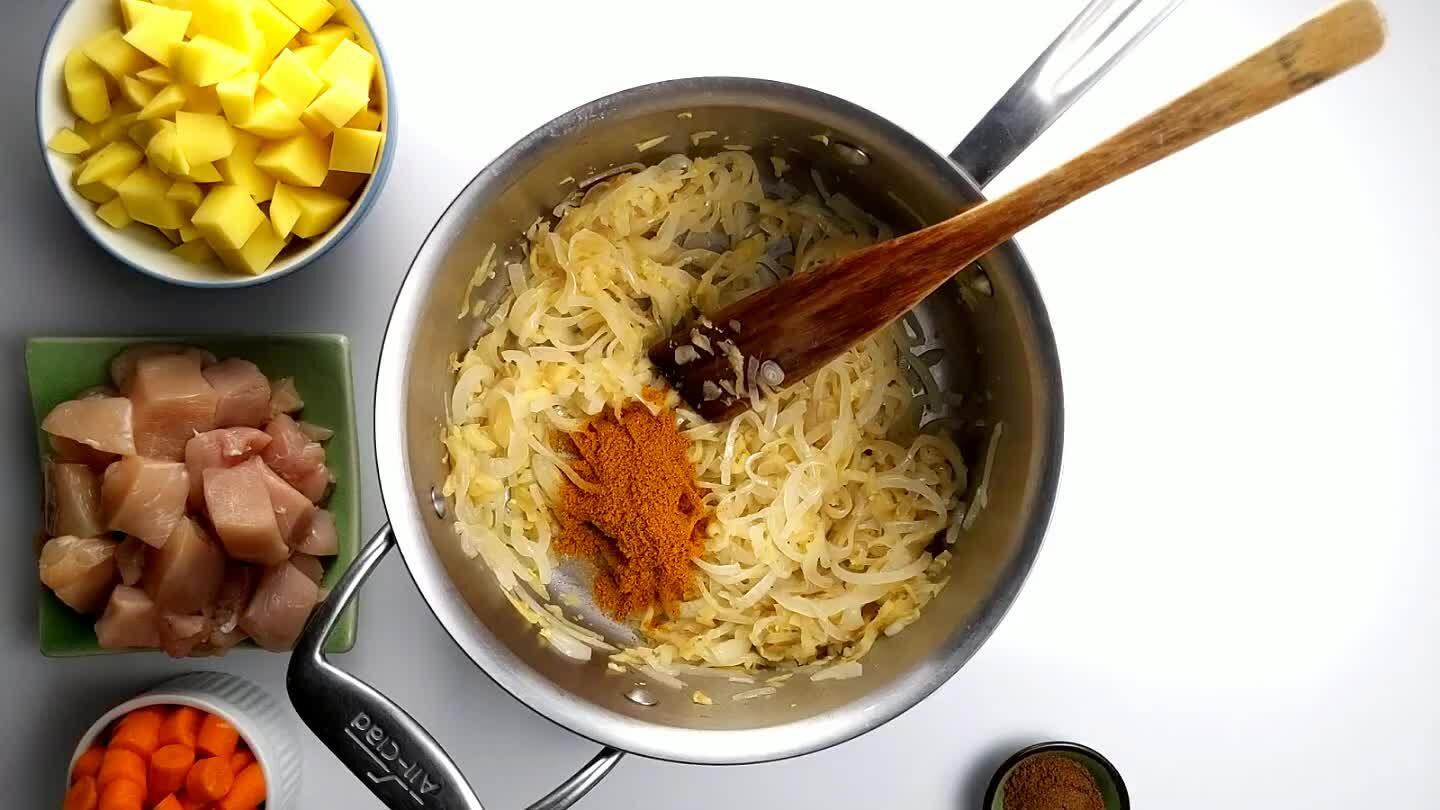 Add the garam masala. Stir in the spices. Continue cooking, stirring occasionally and scraping the bottom of the pot, for about 5 minutes to toast the spices.
Pour in the chicken broth. Scrape the bottom of the pot to release anything that's still stuck down there.
Add the diced potatoes.
Add the chopped Carrots. Simmer for about 15 minutes.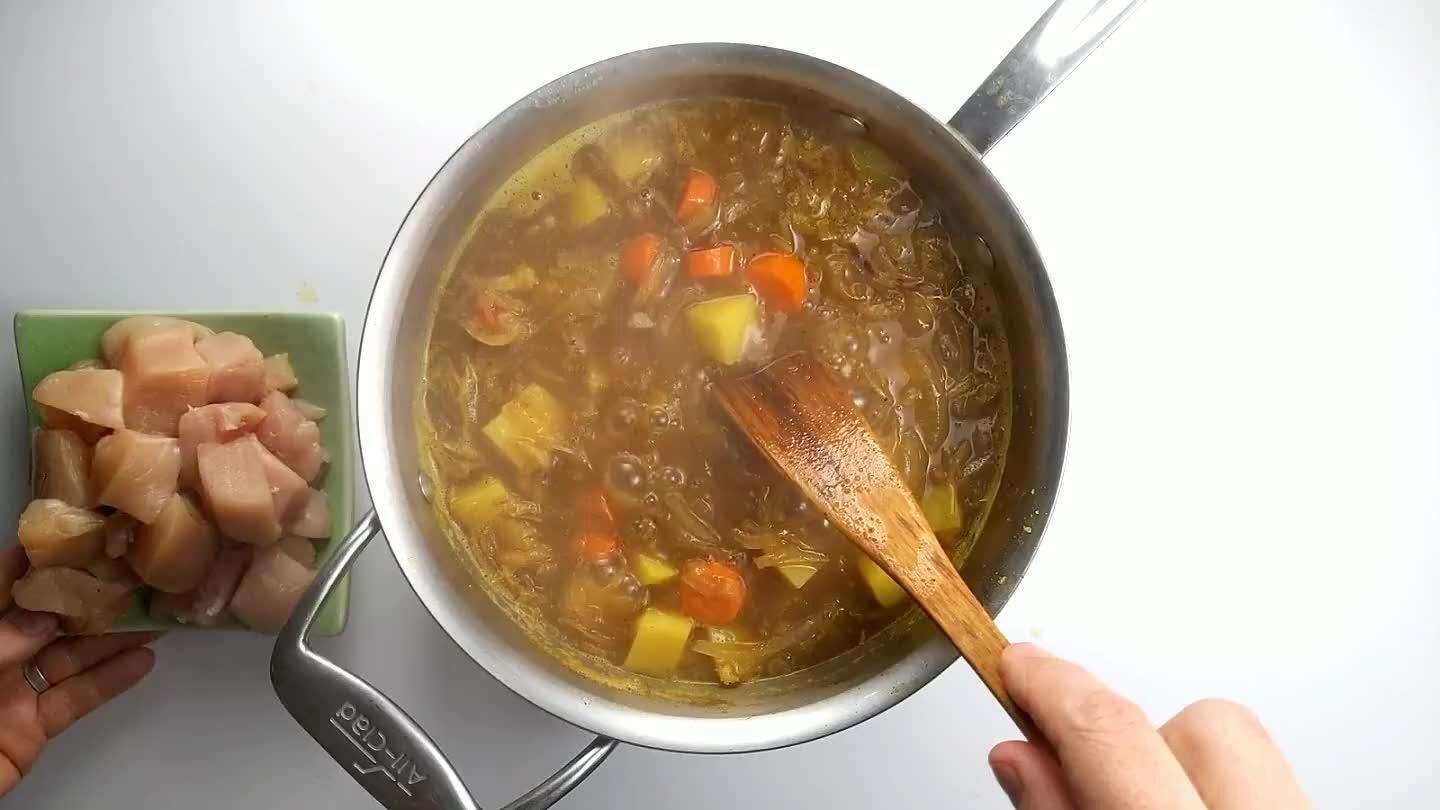 Add the chicken. Simmer for about 10 minutes or until chicken is cooked through and the potatoes and carrots are tender.
This is somewhat optional, but most curries are thickened at least a little bit. Take the corn starch and mix it with just enough water to suspend the corn starch in a slurry. Stir that slurry into the pot in a stream. Simmer, stirring occasionally for about 5 minutes.
Season it up with a little salt and pepper.