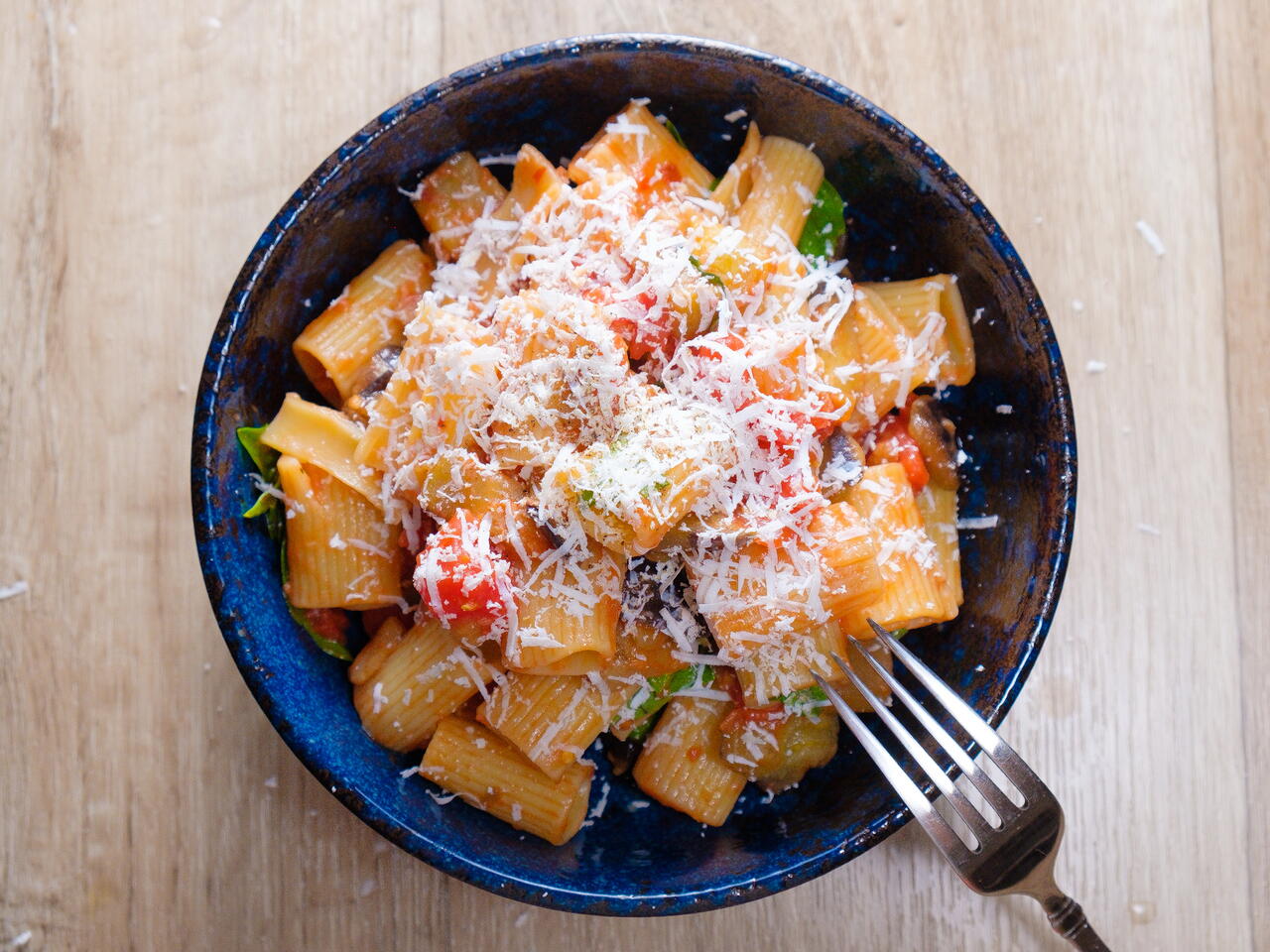 Recipe video made by Ryan
Published on 08/23/2019, viewed by 1361
4 portions
20m
A simple, classic Sicilian pasta dish. Eggplant and tomato make up the main bulk of the sauce. Seasoned with fresh basil and garlic and a pinch of chili flake for a little kick.
What you will need
1 lb Rigatoni
1 lb Eggplant
1 can (14.5 oz.) diced tomatoes
2 cloves Garlic
1 tsp Chili Flakes
¼ cup torn Basil
1 oz. Ricotta Salata
(Nutritional facts 199 calories, 1.34 g fat, 39.38 g carbohydrates, 7.24 g protein, 1 mg cholesterol, 12 mg sodium)
How to cook
Peel the eggplant. I like to leave a little peel for texture, so I peel evenly spaced strips around the eggplant leaving about half of the skin attached.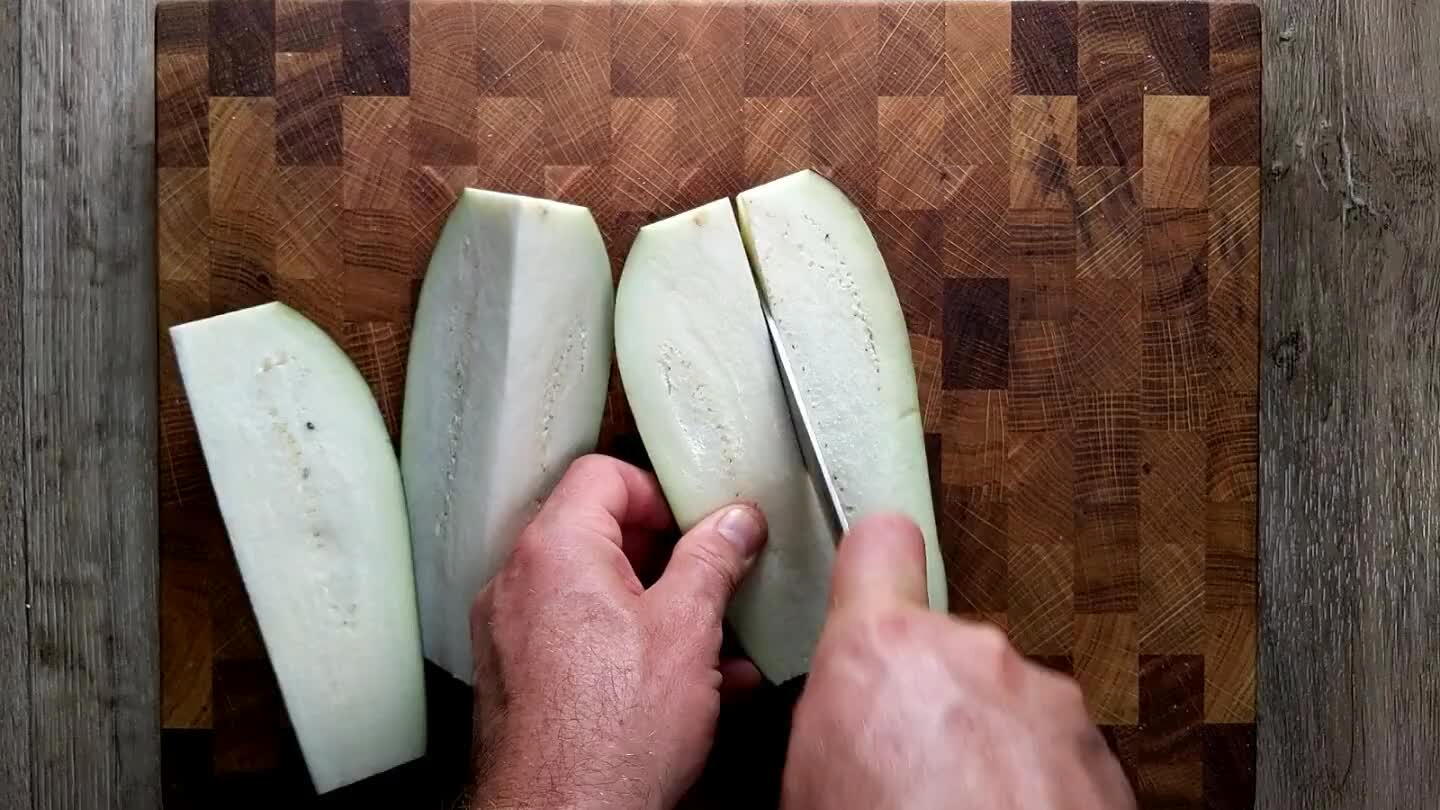 Slice off the tips, then slice lengthwise into wedges of about 3/4" width.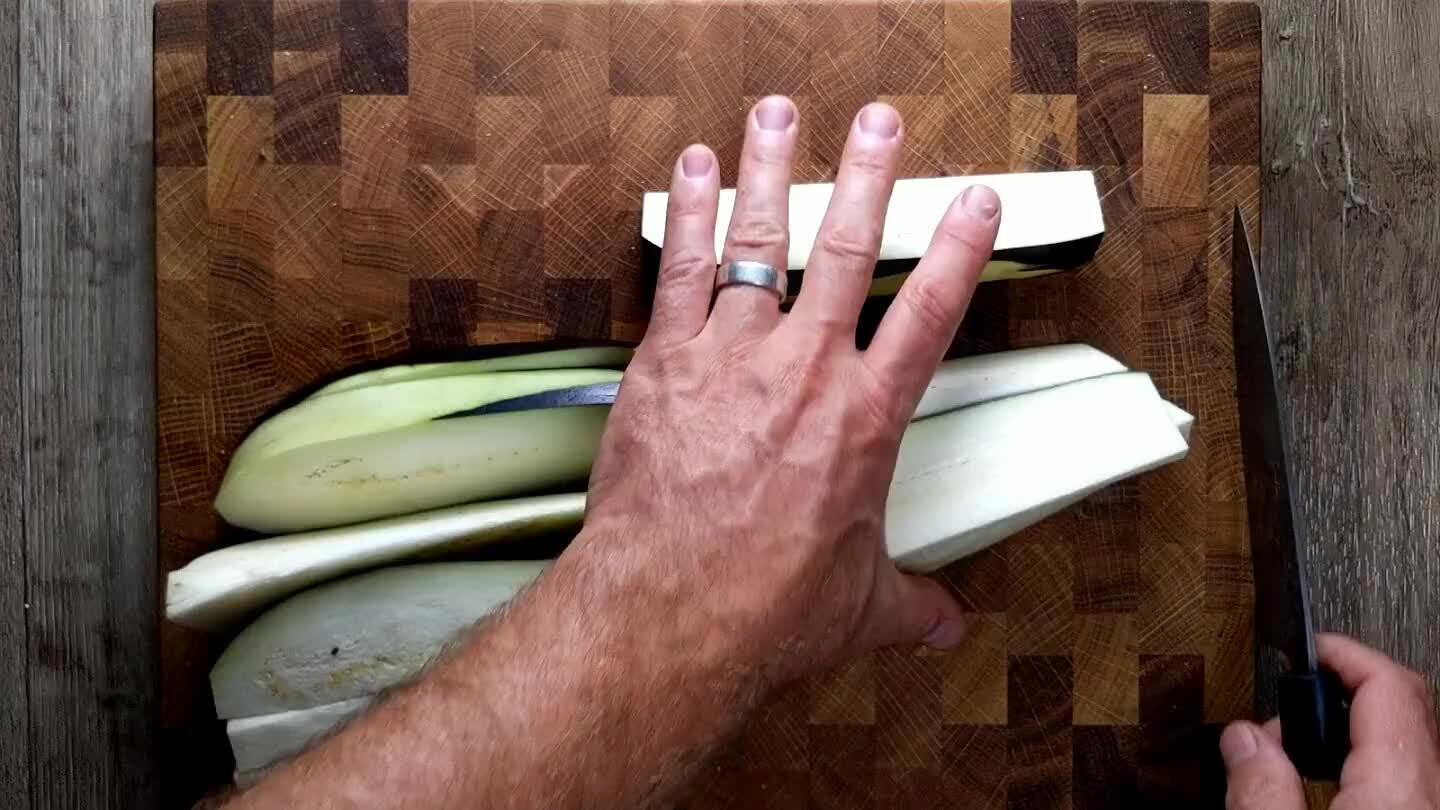 Dice to around 3/4". These chunks will shrink a little as they cook, so you want them to be a little large to start.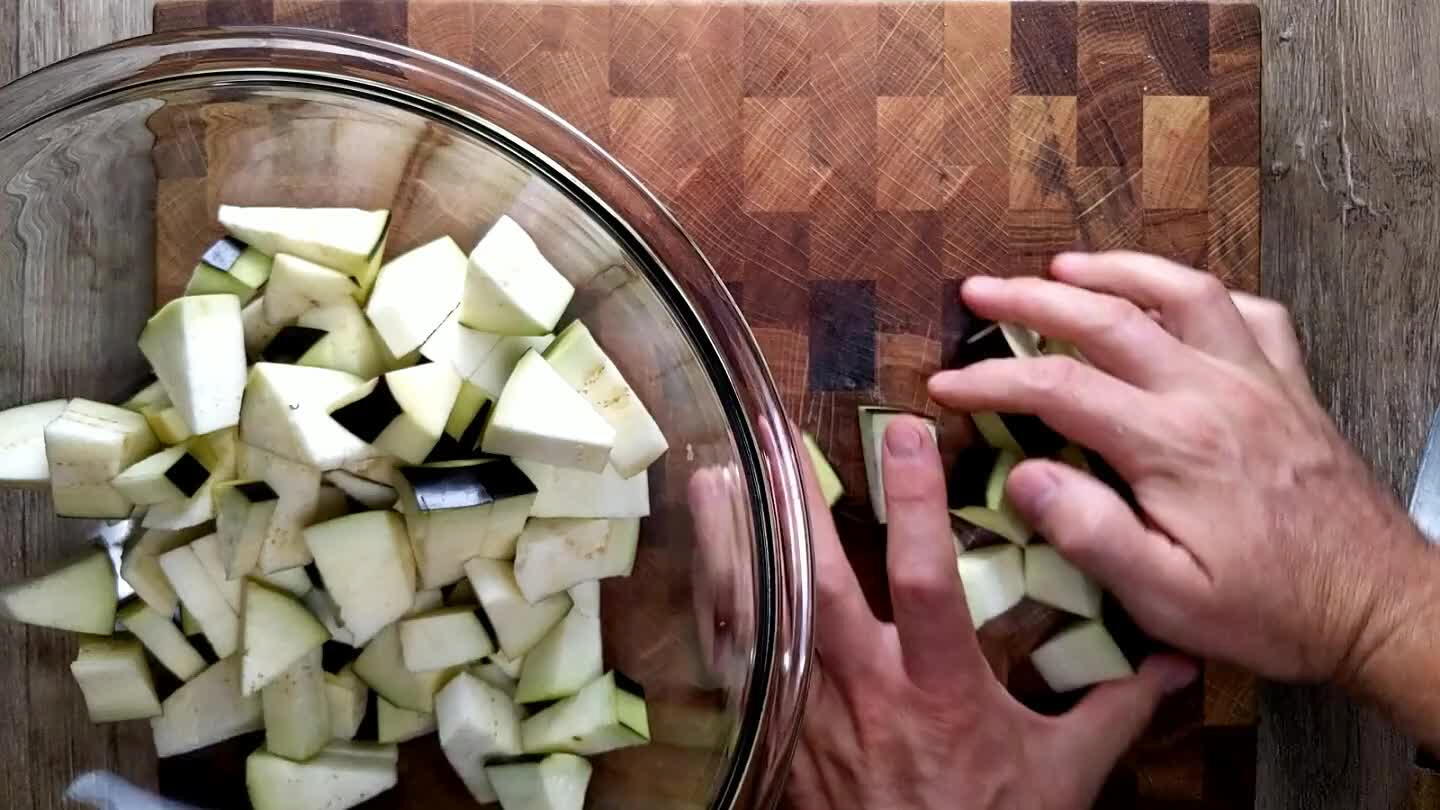 Toss the eggplant with salt. Let this sit for about 10 minutes. This step is not intended to season the eggplant. The salt actually helps to dry it out internally and improve the texture.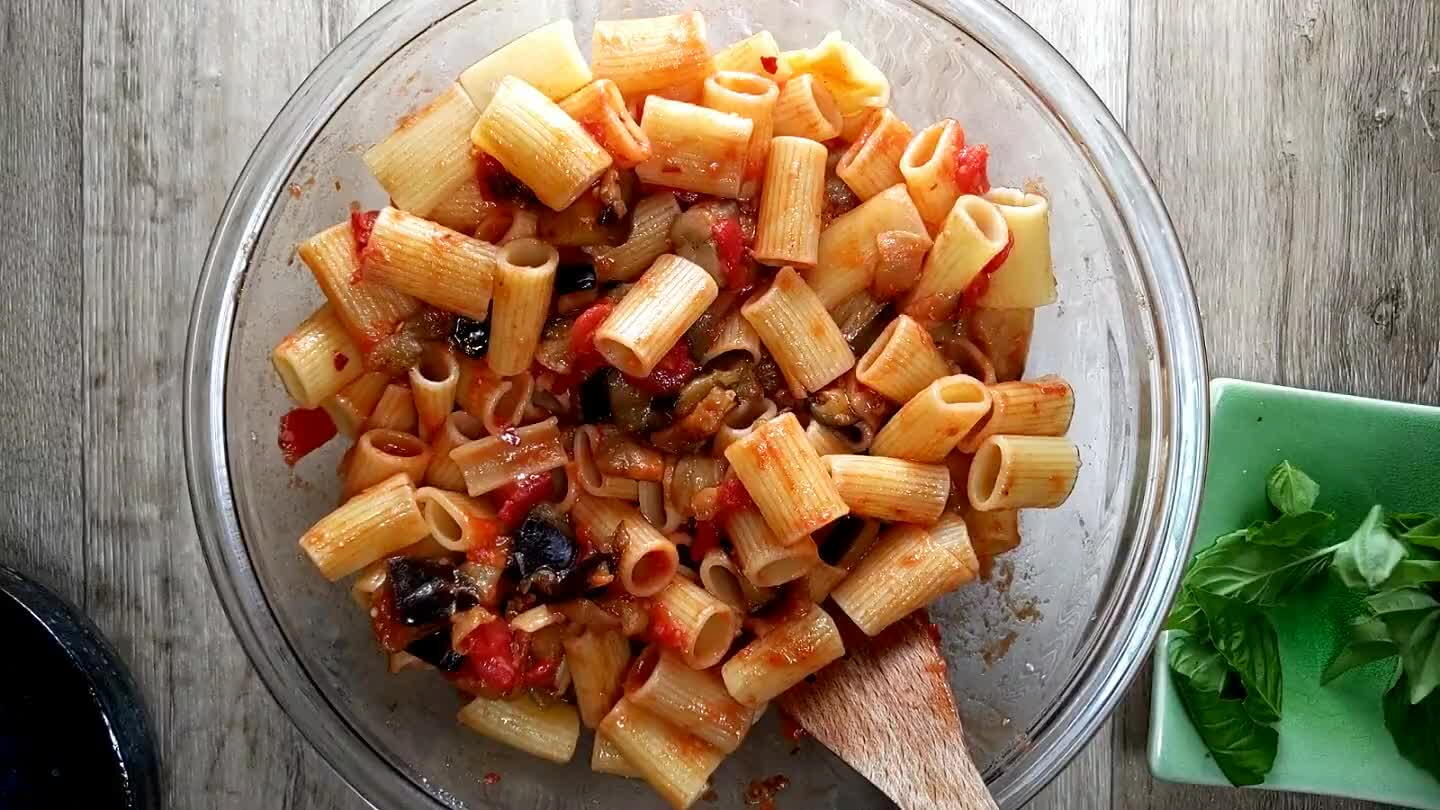 Rinse eggplant to remove the salt.
Remove the eggplant from the water and dry with paper towels or a clean kitchen towel.
Peel the garlic cloves. Crush or chop the garlic. I use my microplane because it's quick, but a knife or a garlic press works just as well.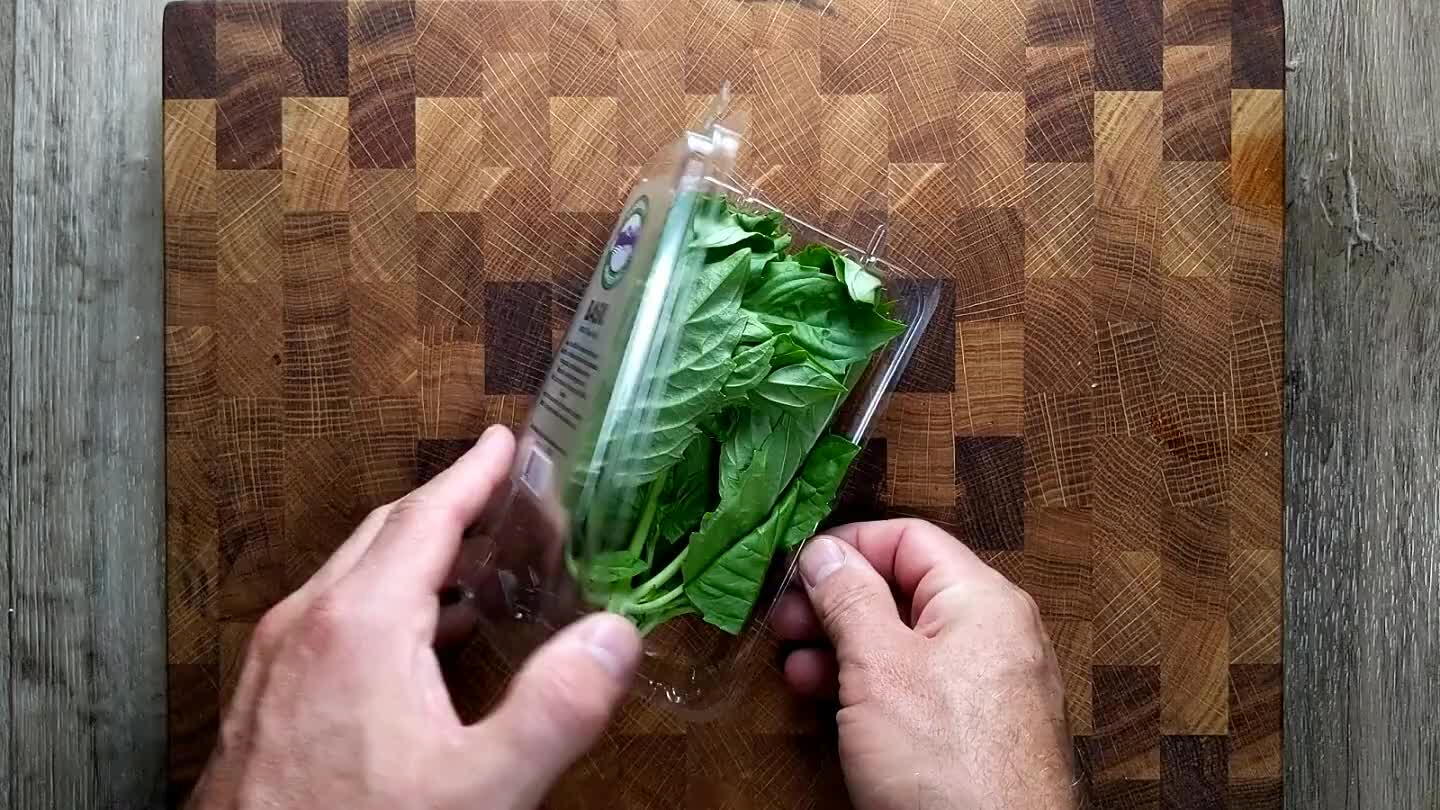 Pick the basil and set aside. Give the leaves a quick rinse and pat dry.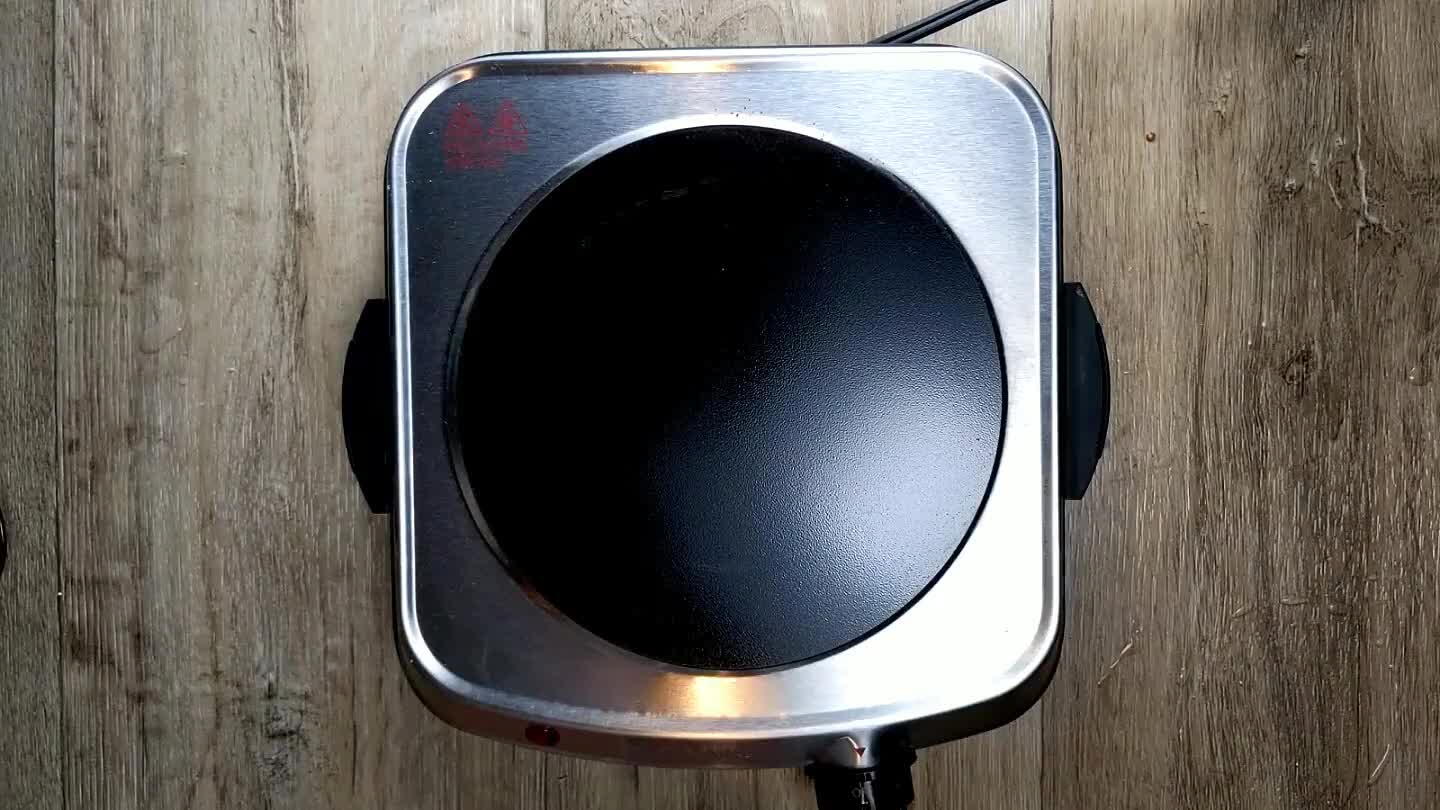 Pour some olive oil into a large frying pan over medium heat. Add enough oil to coat the pan. Heat until the oil begins to shimmer. You should see little wiggles of oil running beneath the surface like rivers.
Add the eggplant to the pan.
Let it brown slightly, stirring frequently. The eggplant will shrink quite a bit as it cooks. Get your basil, garlic and chili flake ready.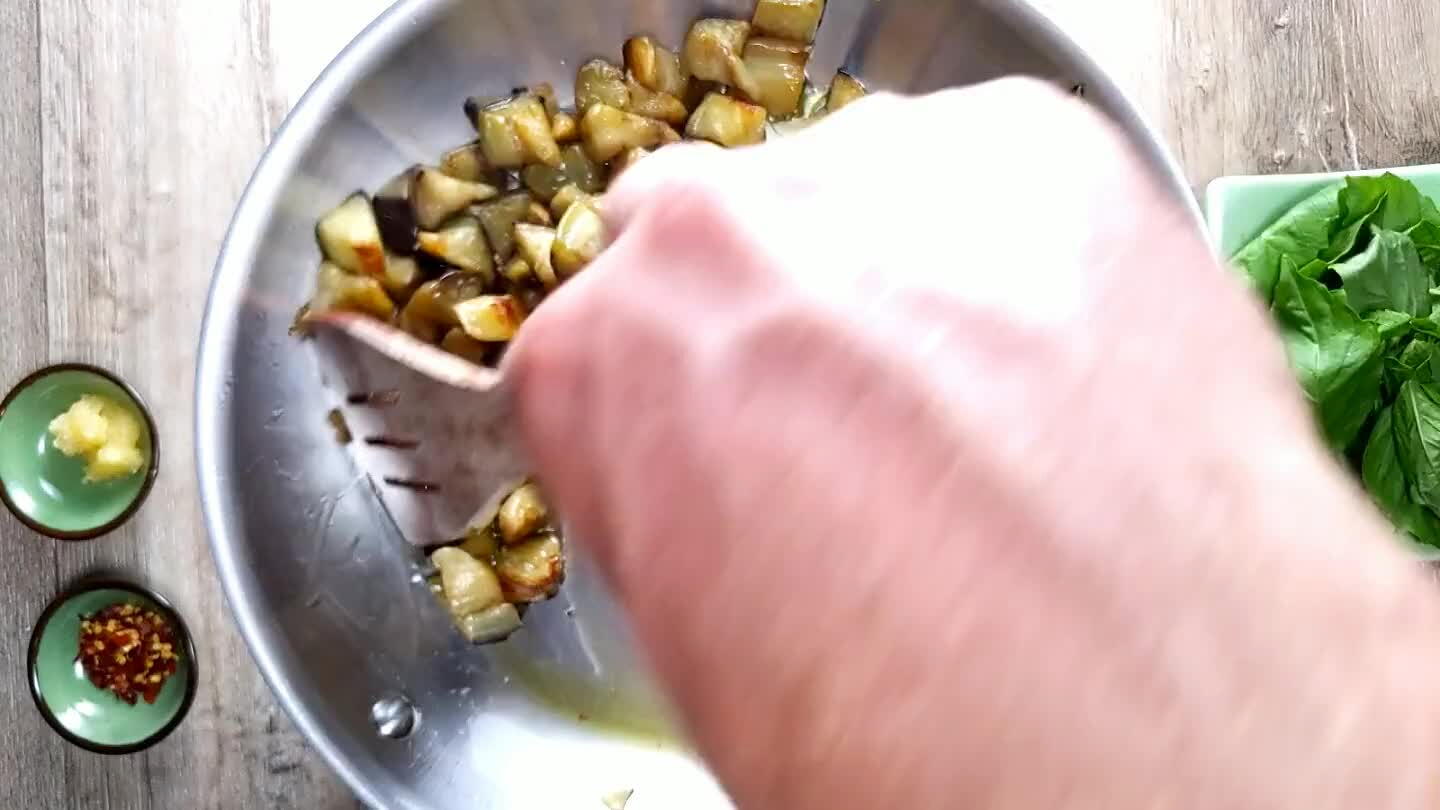 Stir in the crushed garlic. It will toast quick in the hot oil, so as soon as you get it broken up into the oil, move on to the next step.
Stir in the chili flakes. Toast briefly.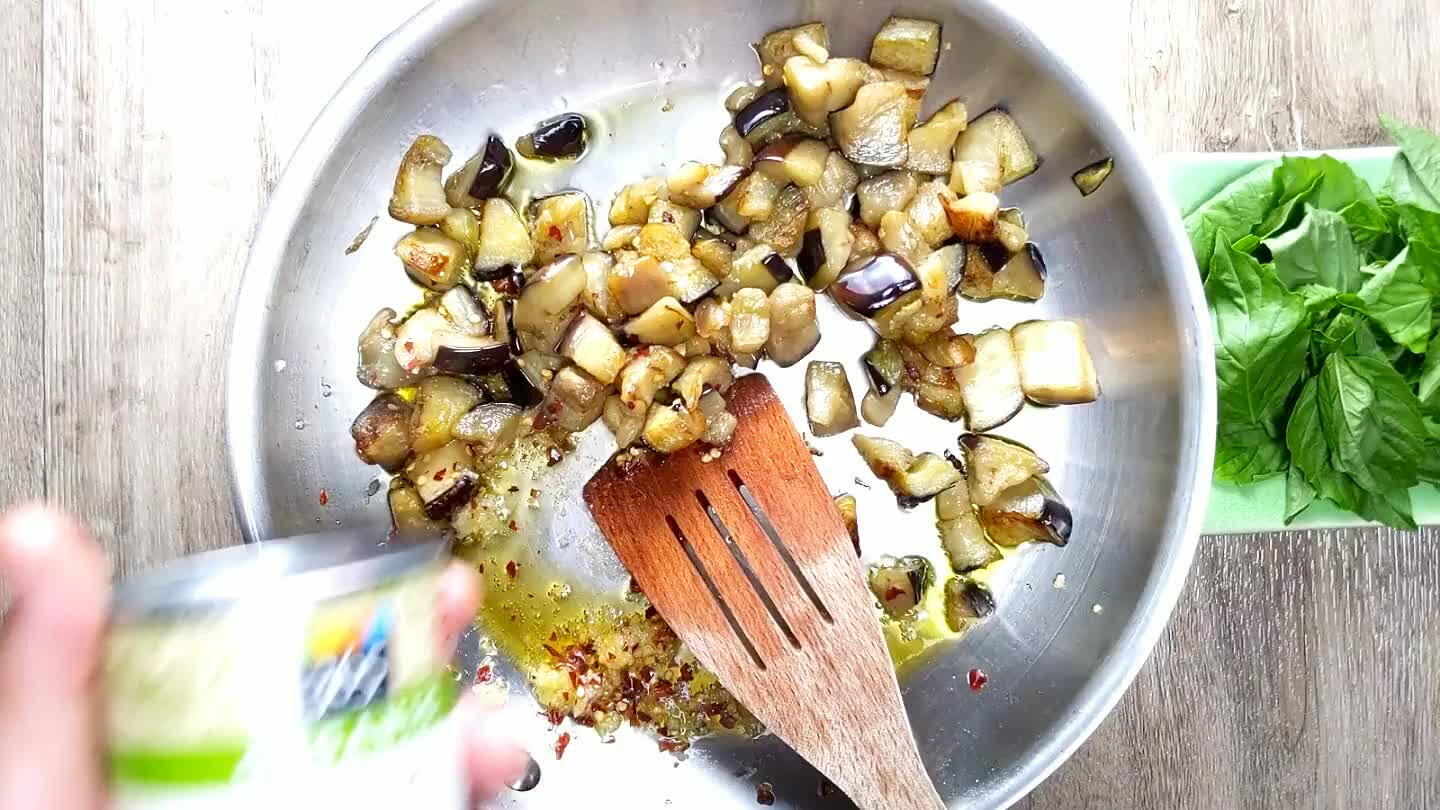 Add the can of diced tomatoes. Rinse the can and add a splash of that water as well, just to keep the sauce from getting too thick as it simmers.
Bring to a gentle simmer. Simmer for about 5 minutes.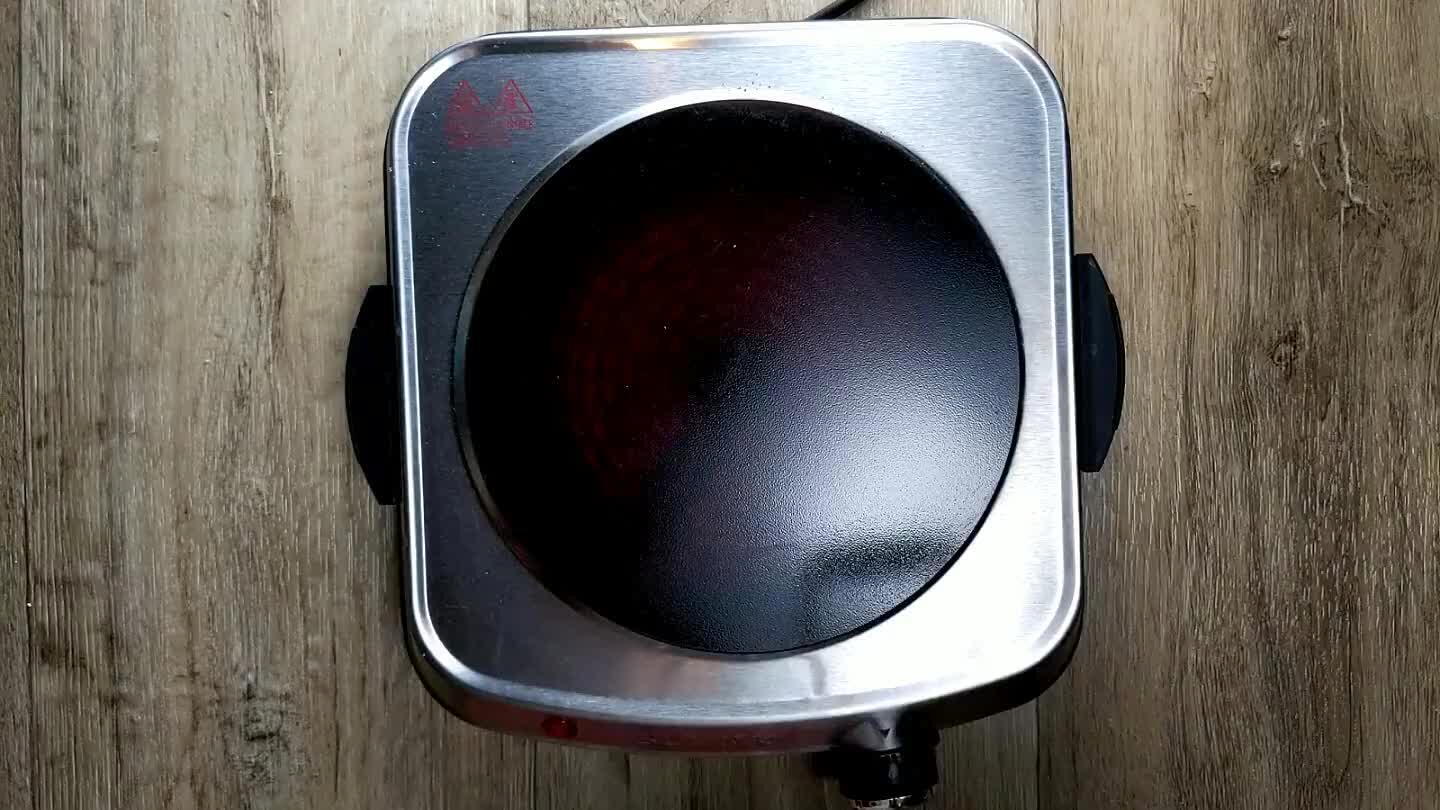 Meanwhile, cook the rigatoni. Bring a pot of salted water to a rolling boil. Add rigatoni. Cook until nearly finished, but still firm. We can finish the cooking in the pasta sauce.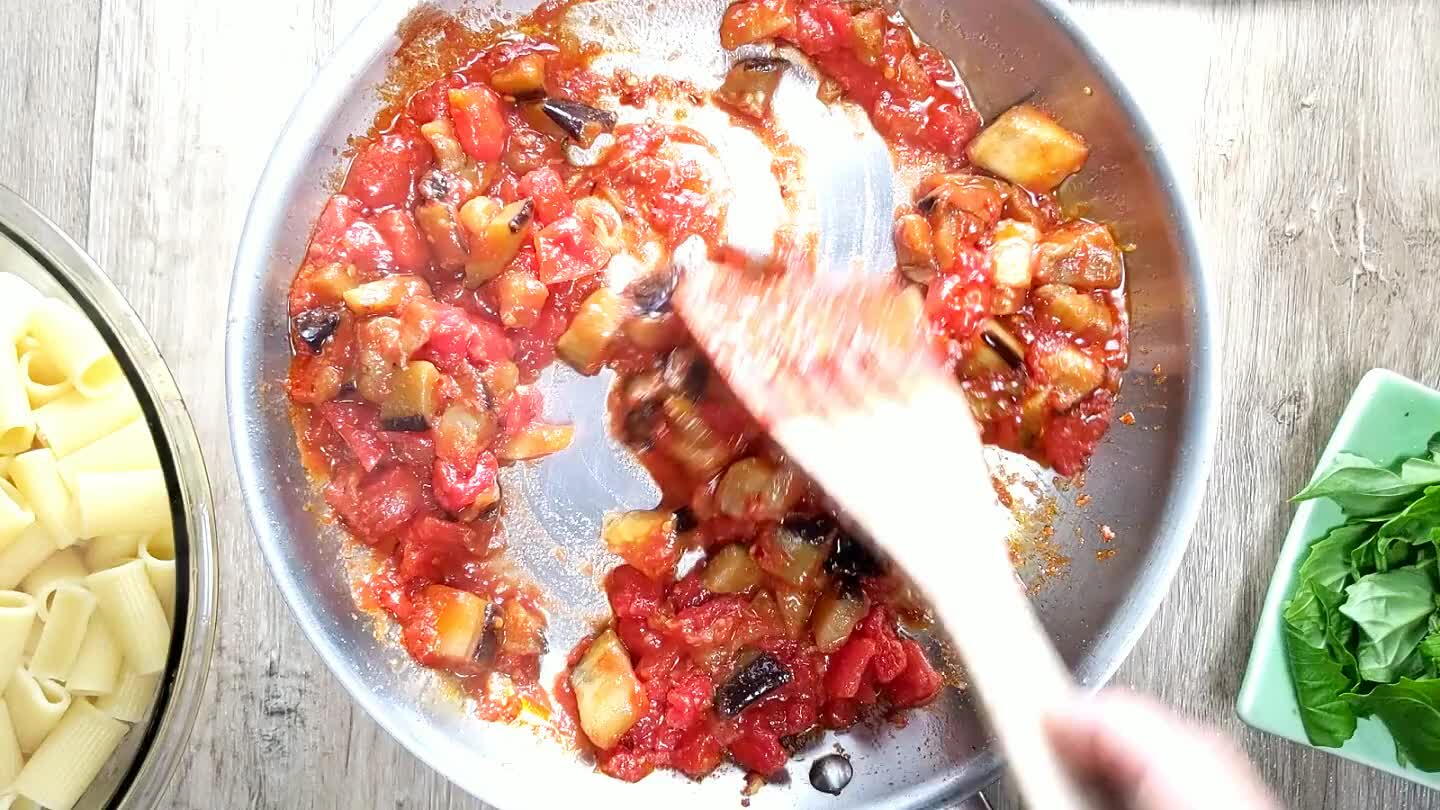 Strain the rigatoni and transfer to the sauce. Stir and continue cooking, just until the pasta is cooked to your liking.
Transfer the pasta to a mixing bowl. Stir in the torn basil. Mix well.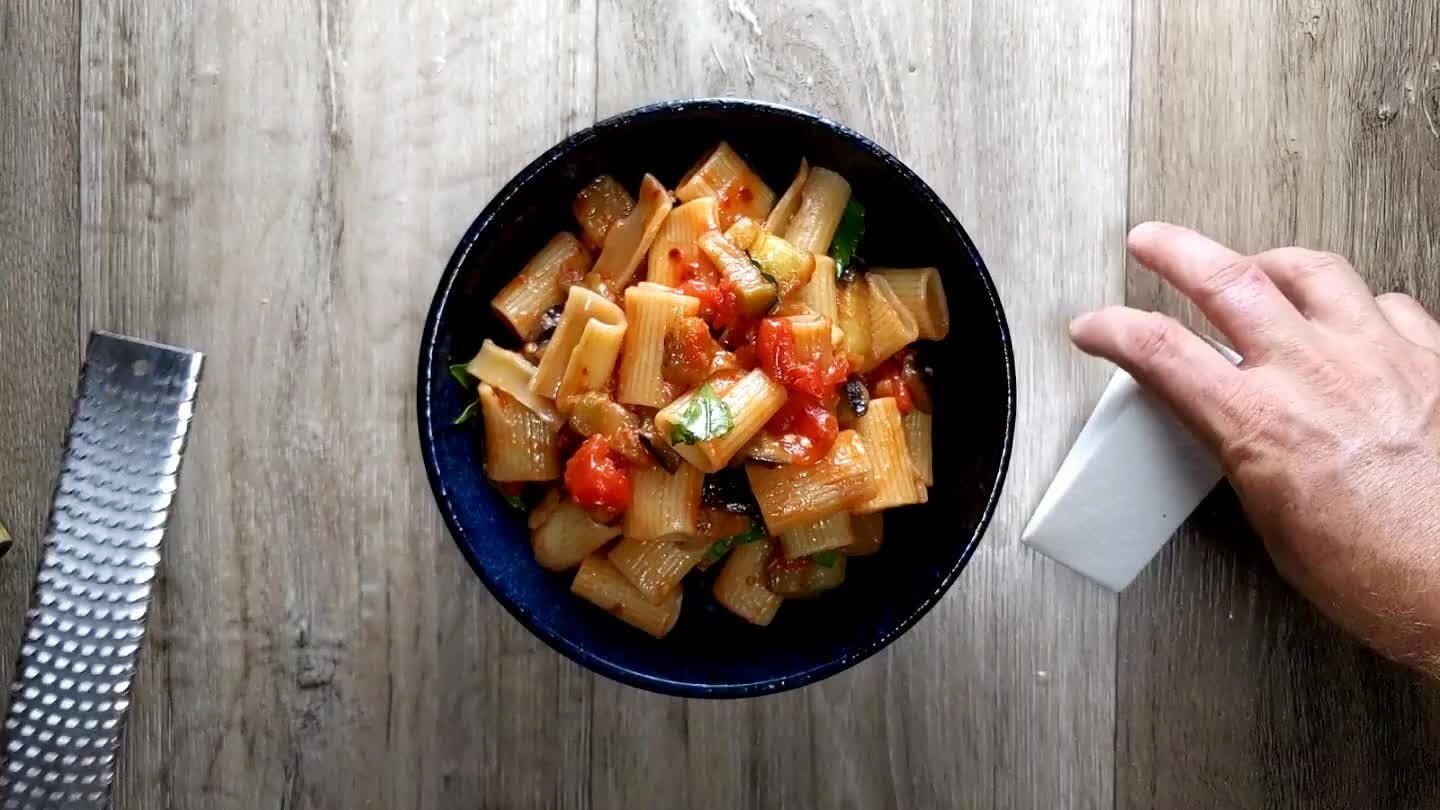 Serve with grated ricotta salata.
Comments