Cheeseburger Deep Dish Pizza
Ground Beef, Jack, Swiss, And Tomatoes
What you will need
1 batch deep dish dough
8 oz Monterrey jack cheese
2 medium tomatoes, diced
1 lb ground beef
1/2 tsp thyme
1/2 tsp oregano
Salt as needed
1 can (12 oz.) evaporated milk
How to cook
Make the sauce
Melt the grated cheese gently into the evaporated milk.
Dice tomato
Core and dice 2 medium tomatoes
Brown ground beef
Brown the ground beef in a sauté pan over medium-high heat. When it starts to get a little crispy add the thyme, oregano, and a little salt. Remove from heat.
Arrange the dough in a baking pan
Spread the dough out in a pan.
First layer
This pizza runs deep, so you gotta work it in 2 layers. Start by adding about 1/2 of the beef, tomatoes and sauce.
Second layer
Launch into your second layer of the same. Dump in the remaining beef and tomatoes. Finished with a blanket of cheese sauce.
Bake
If you're using my deep dish dough, you need to heat the oven to 500F, but refuse to 450F right before you put the pizza in. Bake for 30-40 minutes.u crust should be golden brown.
Serve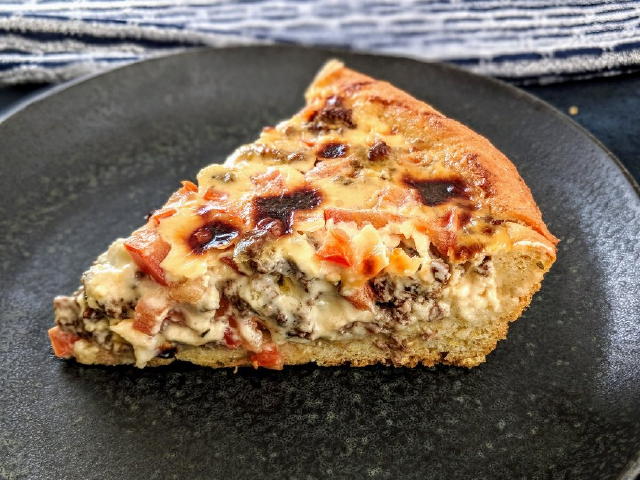 Get ready for a meal. That's a lot of beef and cheese for one face.