Japanese Chicken Curry
Instant Pot (Electric Pressure Cooker)
Japanese curry is definitely one of my favorite curries. This version uses an electric pressure cooker so you can have great homemade Japanese curry from scratch in under half an hour.
What you will need
1 yellow onion
4 cloves (15g) garlic, crushed
1 thumb-sized chunk (20g) ginger, grated
1 lb (.5 kg) small potatoes
1 apple
3 medium carrots
1.5 lb boneless chicken thighs
2 tbsp oil
2 anchovies
1tbsp (7g) curry powder
2 tbsp 30g mirin
1 tbsp (17g) soy sauce
2 1/2 cups (600ml) chicken broth
2 tbsp corn starch
Salt and pepper
How to cook
Chop up the onion
For stew onion, I like a longitudinal slice for a texture that can hold up to a long cook time.
Crush garlic
Crush your garlic however you like. I usually use the broad side of my knife or a microplane.
Grate ginger
Crush the ginger to a pulp with a ginger grater. Or you can use the finest side of a standard box grater.
Quarter the potatoes
If your potatoes are small, feel free to leave them whole. These potatoes were medium-sized, so I lined them up and quartered them.
Slice apple
Quarter the apple. Slice out the core. Slice the apple thin. Or, you can use a cheese grater and grate the apples as well to make sure that they are not detectable in the final dish. But the pressure cooking should take care of that anyway.
Roll cut carrots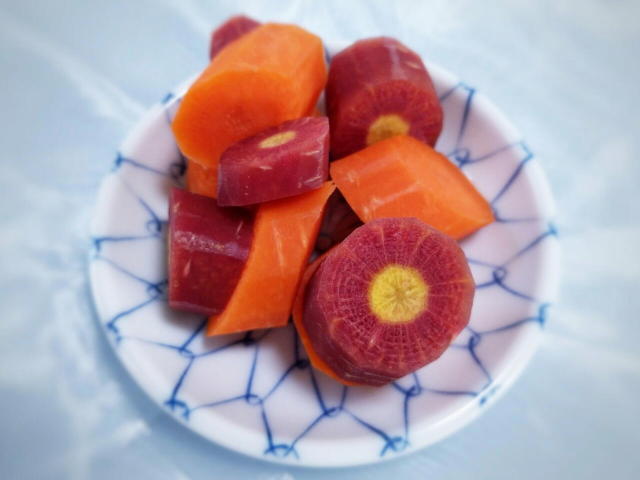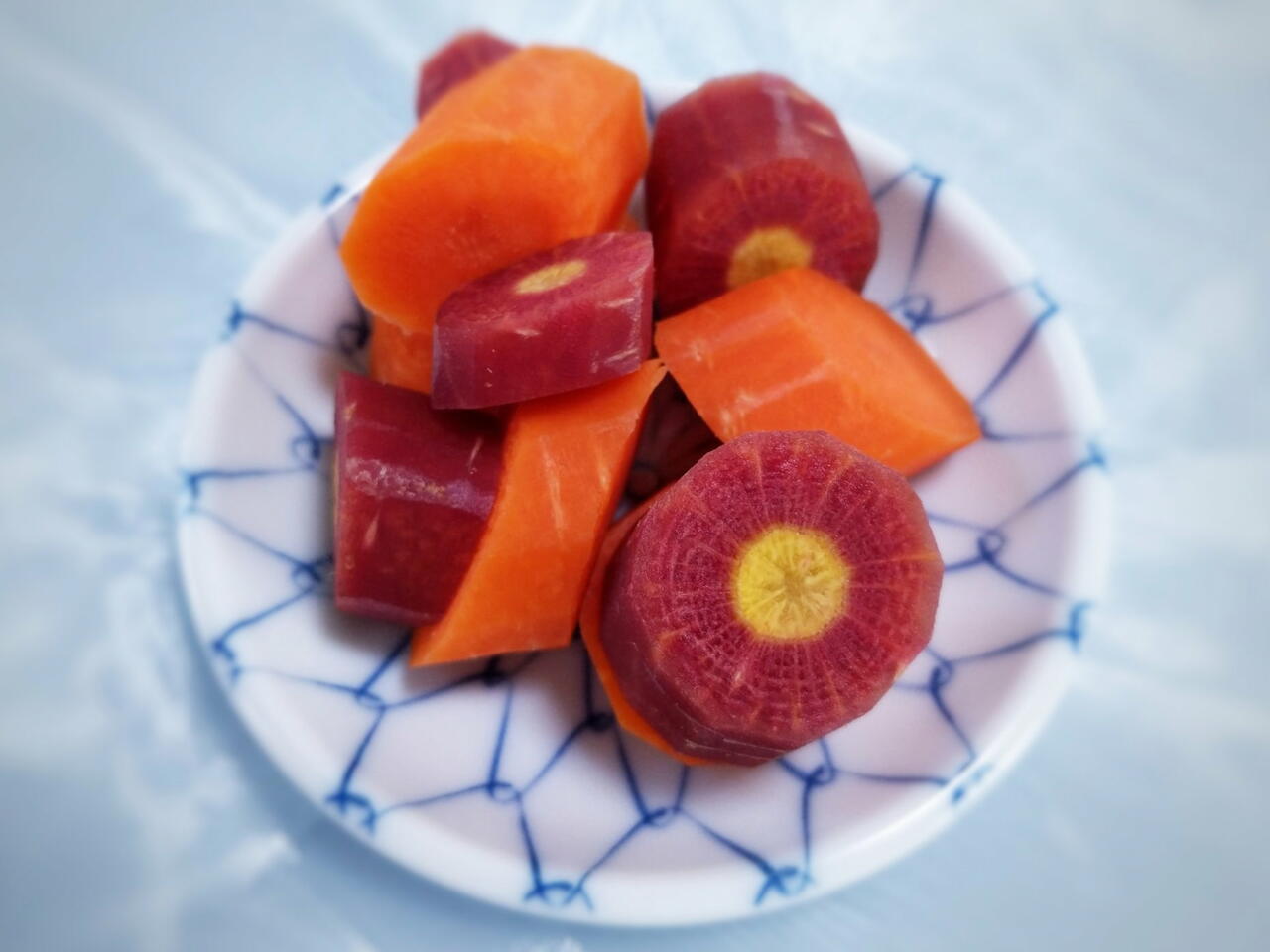 The roll cut is a great technique for stews because it helps your carrots cook evenly, and it also yields some interesting shapes.
Trim and chop chicken thighs
Sometimes boneless chicken thighs can have little pieces of gristle on the back where the bone has been removed. If you feel any rough spots, slice them off. Then chop up the chicken.
Set instant pot to sautée mode
Tap the button that says 'sautée'. This will heat your instant pot up, just like if you put a pan on a medium heat.
Add oil
Pour in the oil and heat until shimmering.
Add sliced onion and apples
Dump in the apples and onions. Stir over heat until onion is translucent.
Anchovies
Drop in the anchovies, and stir.
Garlic, ginger, curry
Add the garlic, ginger and curry. Stir over heat until fragant.
Soy sauce and chicken broth
Dump in the soy sauce, followed by the chicken broth.
Mirin to deglaze
Pour in the mirin and scrape the bottom of the pot to remove any fond that has developed.
Carrots, potatoes and chicken
Then, add your carrots, potatoes, and finally, the chicken.
Cook
Press 'cancel', then select 'poultry', followed by 'pressure'. This sets your Instant Pot to cook on low pressure for about 15 minutes.
Release pressure
When the cycle is complete, your Instant Pot will start beeping at you. Carefully turn the release valve on the lid of your pressure cooker to release the pressure. That's hot steam, so watch out!
Remove lid
When the pressure has been fully released, you will be able to twist the lid to remove.
Add a corn starch slurry
Dissolve the corn starch in a small amount of water. Stir this slurry into your curry. Mix well. The broth will begin to thicken.
Season and serve
Stir in salt to taste. Serve over rice. I love scallions or pickled radish as a garnish.