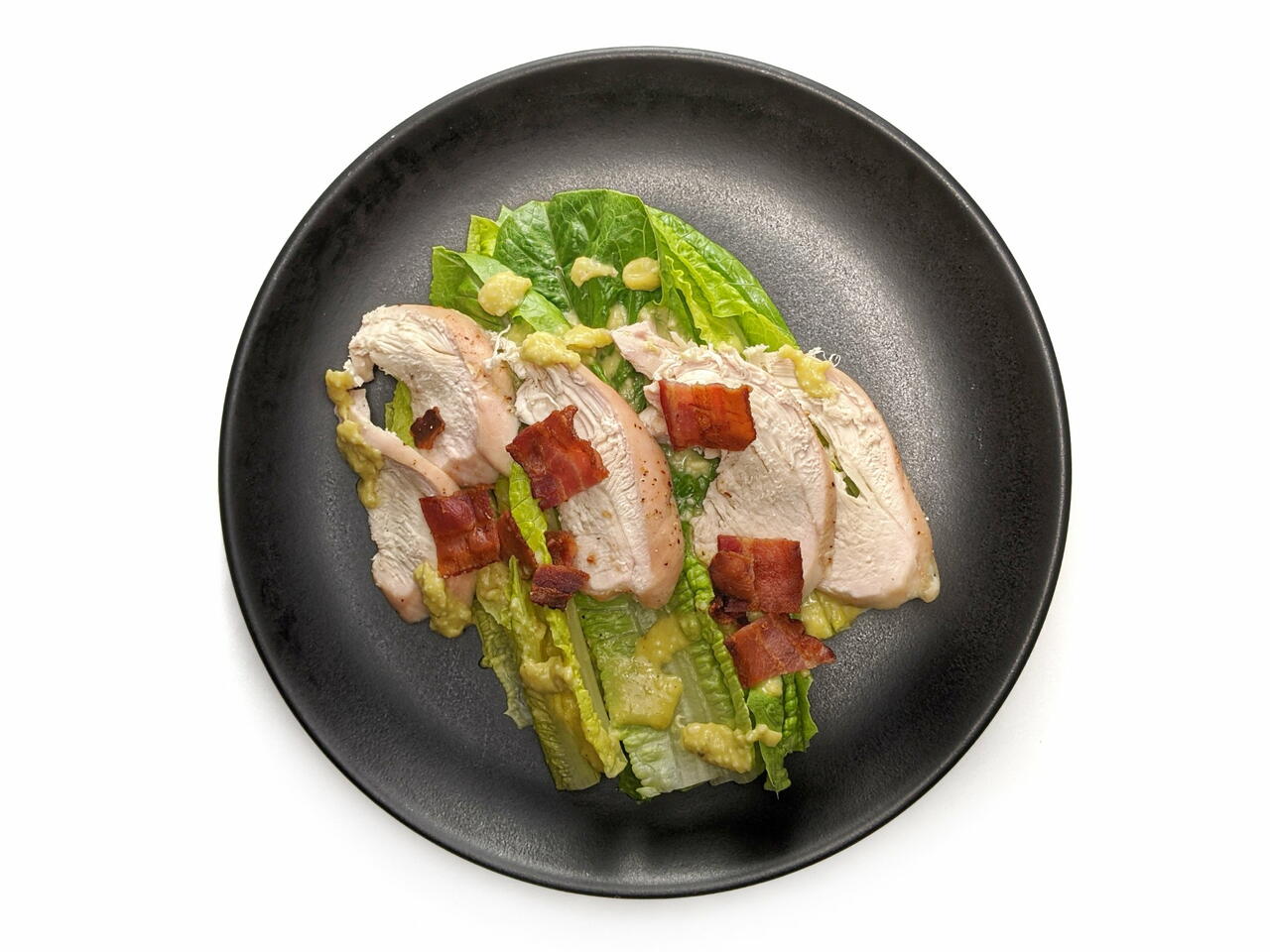 What you will need
1 lb Chicken Breast
4 oz. Bacon
Salt
1/4 cup Olive Oil
7 oz. Romaine Lettuce
Black Pepper
4 oz. Grated Parmesan
1 Egg
1 Tbsp Dijon
½ Lemon
4 Anchovies
1 clove Garlic
(Nutritional facts 249 calories, 18.05 g fat, 9.84 g carbohydrates, 12.71 g protein, 138 mg cholesterol, 1060 mg sodium)
How to cook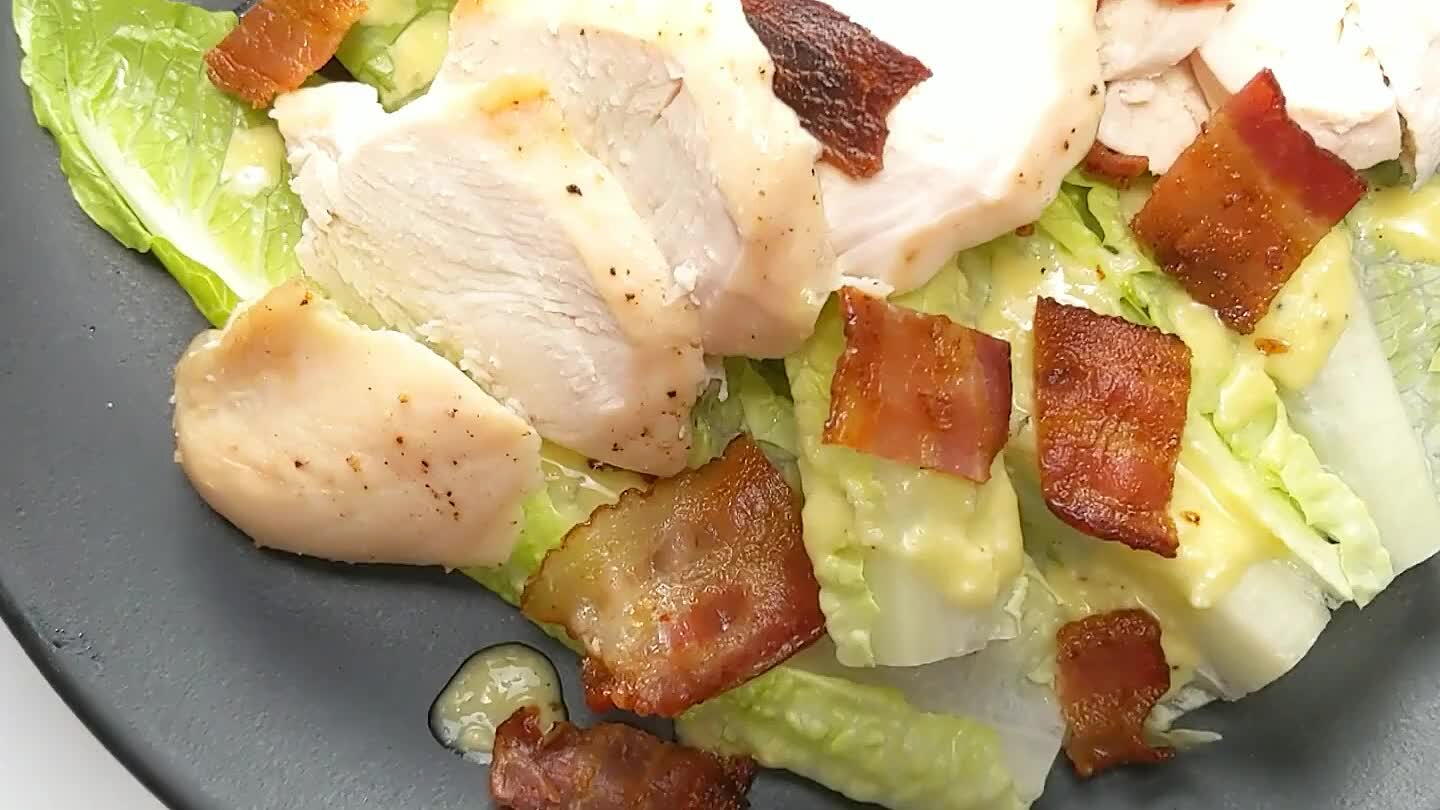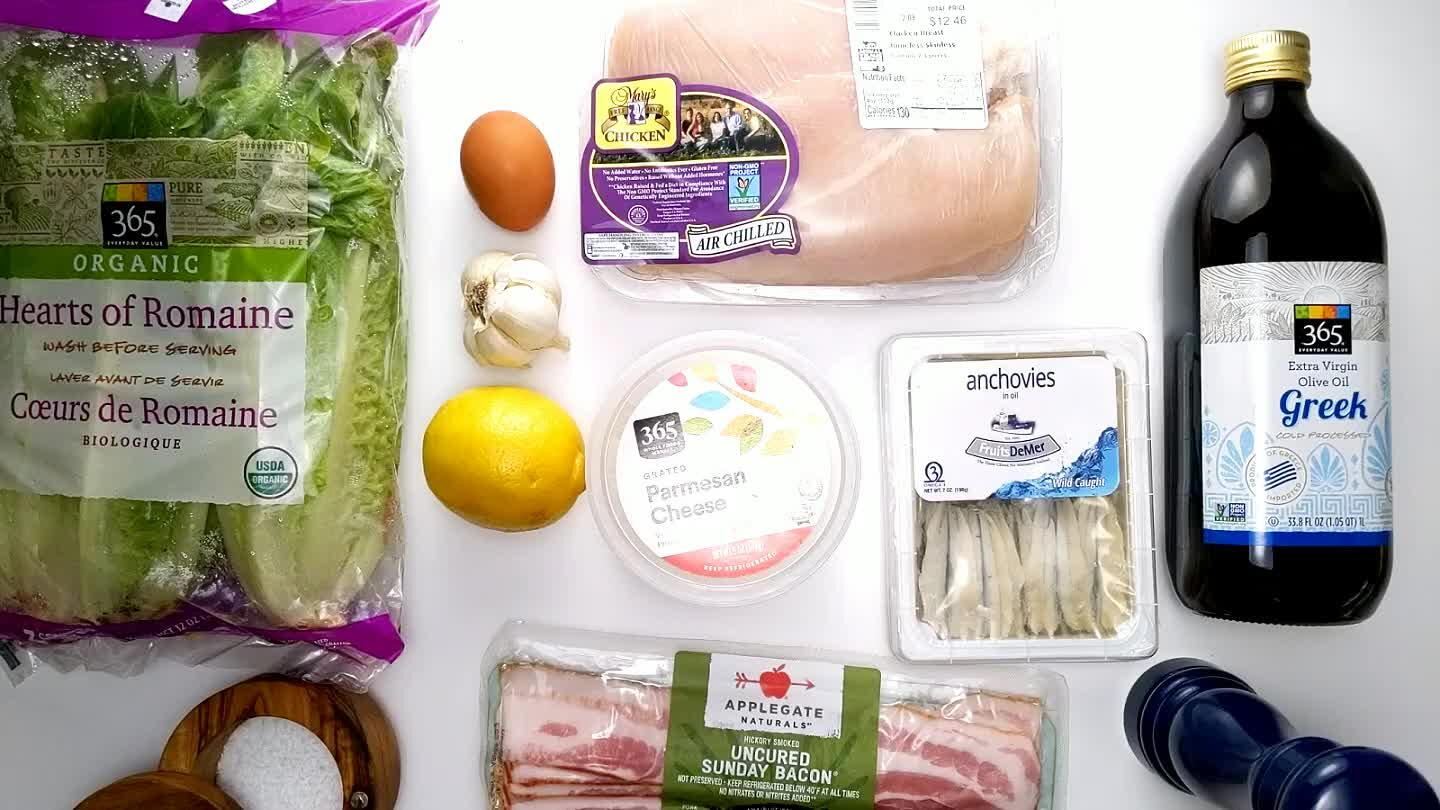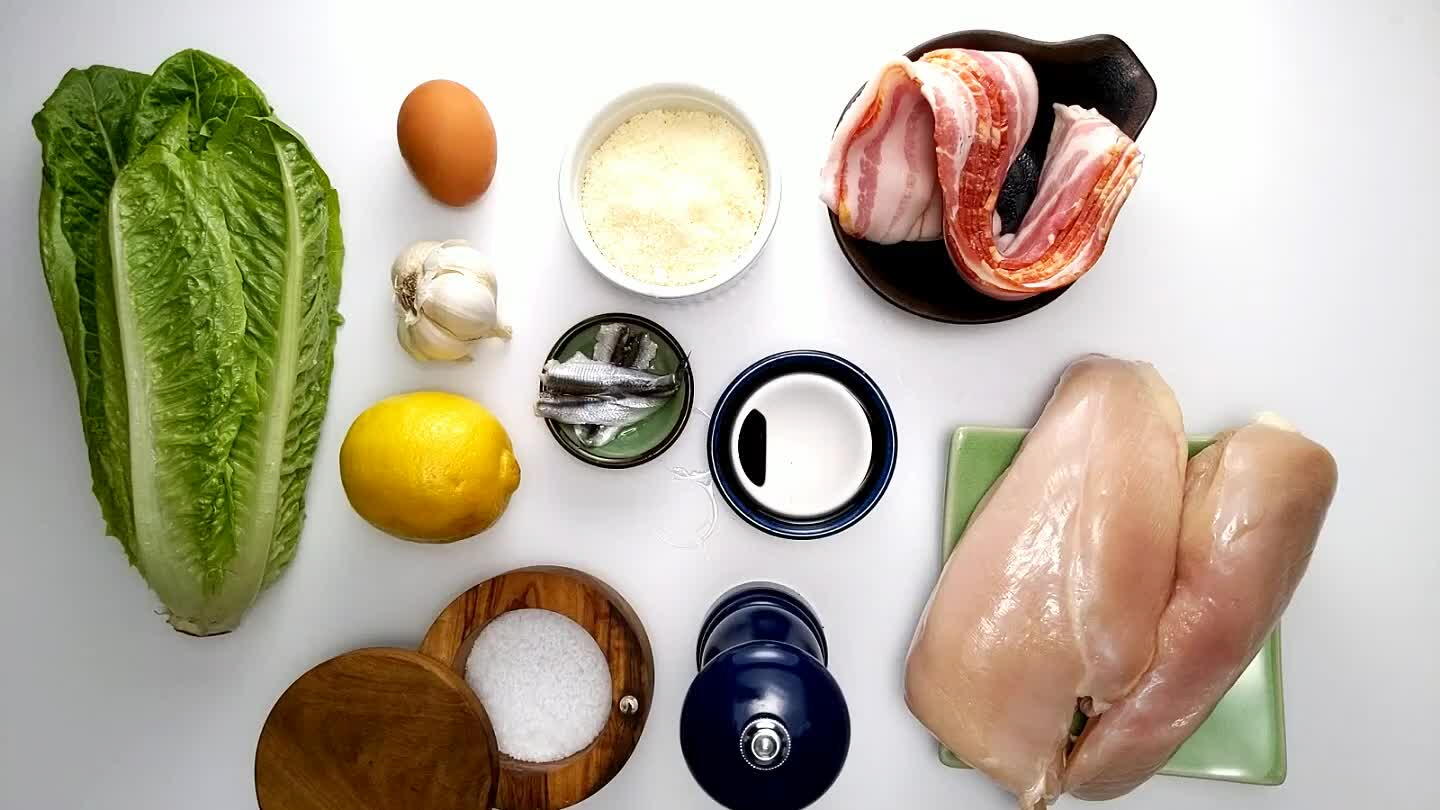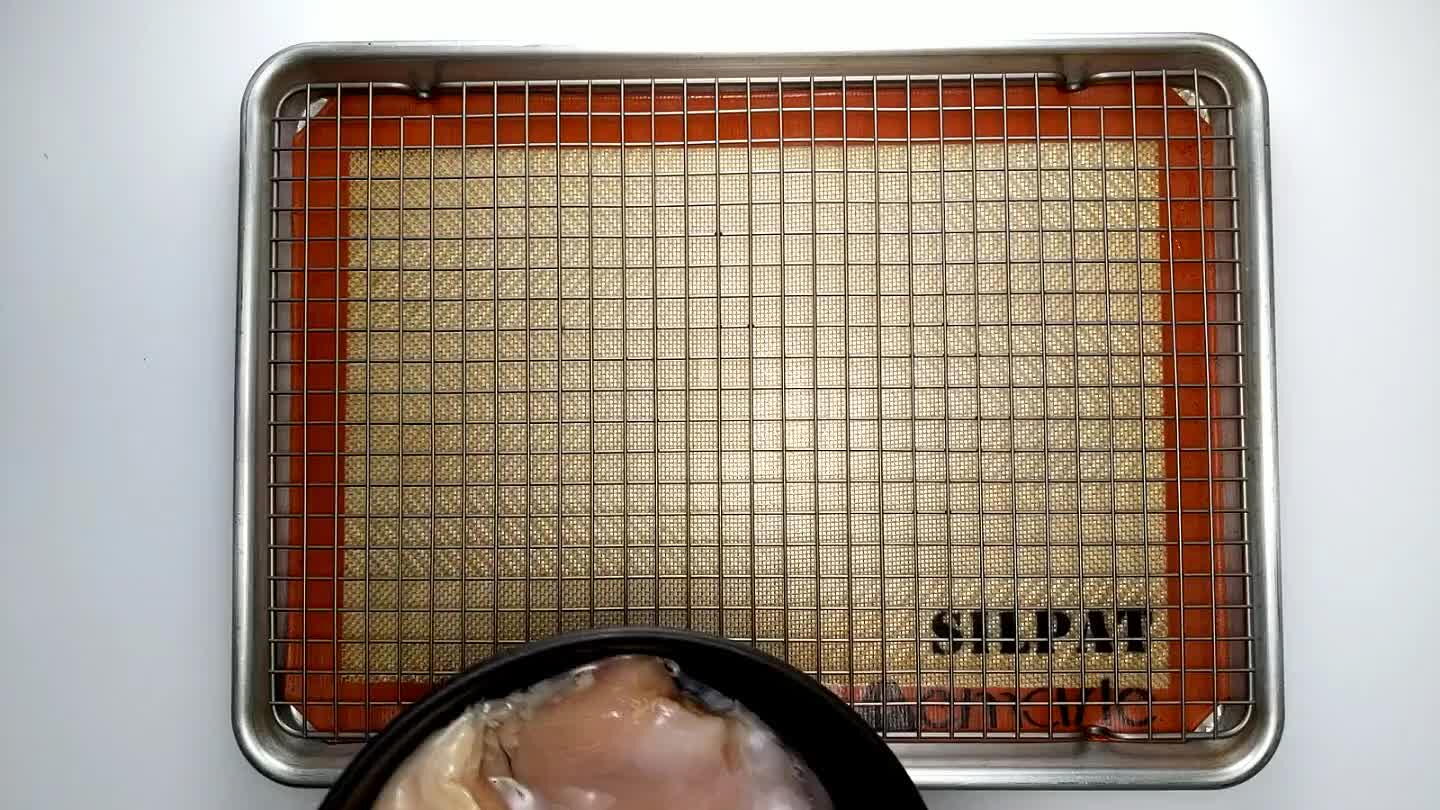 Place chicken breasts on a parchment or silicone mat lined baking sheet. I also used a rack here to help get a faster and more even cook on the chicken. But if you don't have a rack, don't worry about it.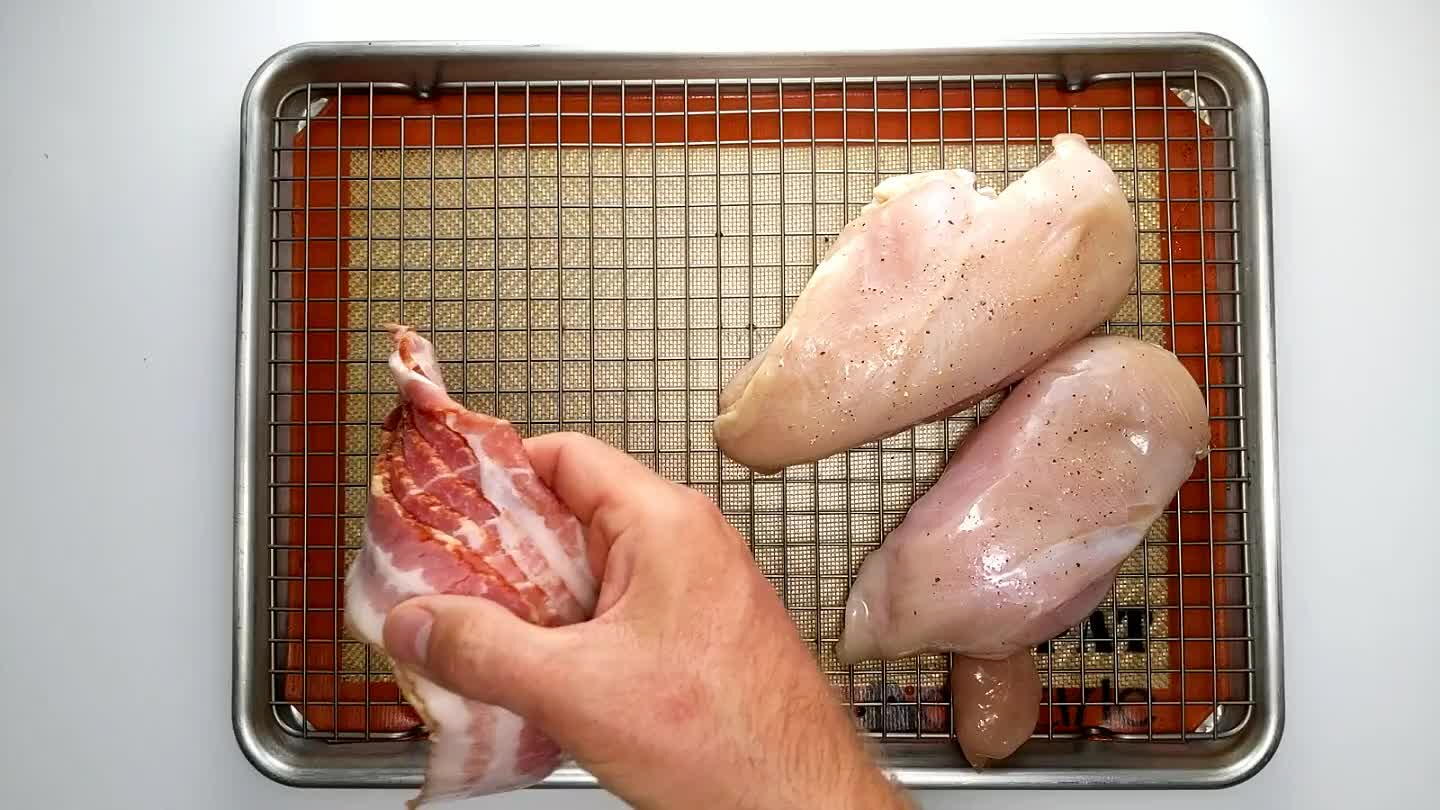 Lay out the bacon slices on the baking sheet.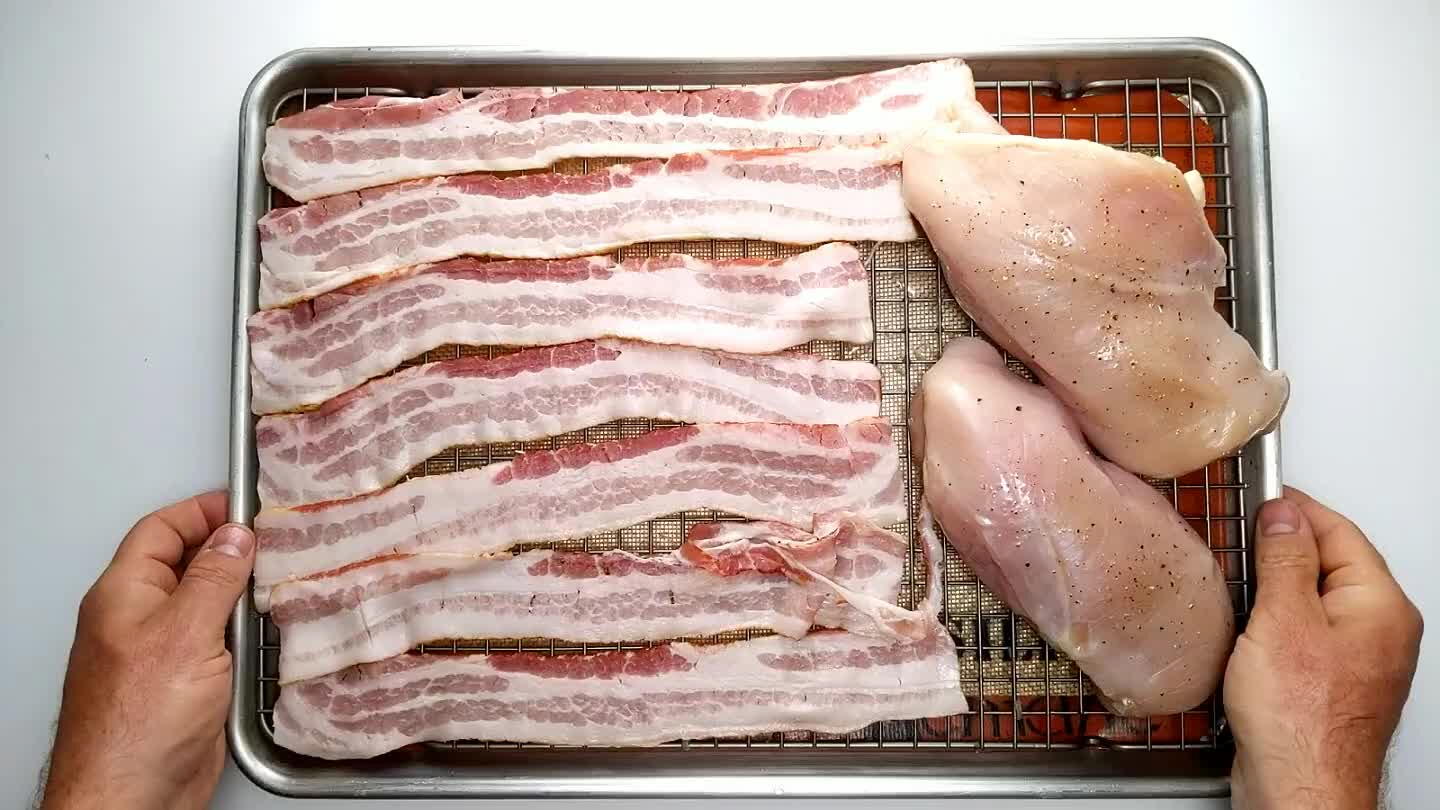 Set a timer for 15 minutes.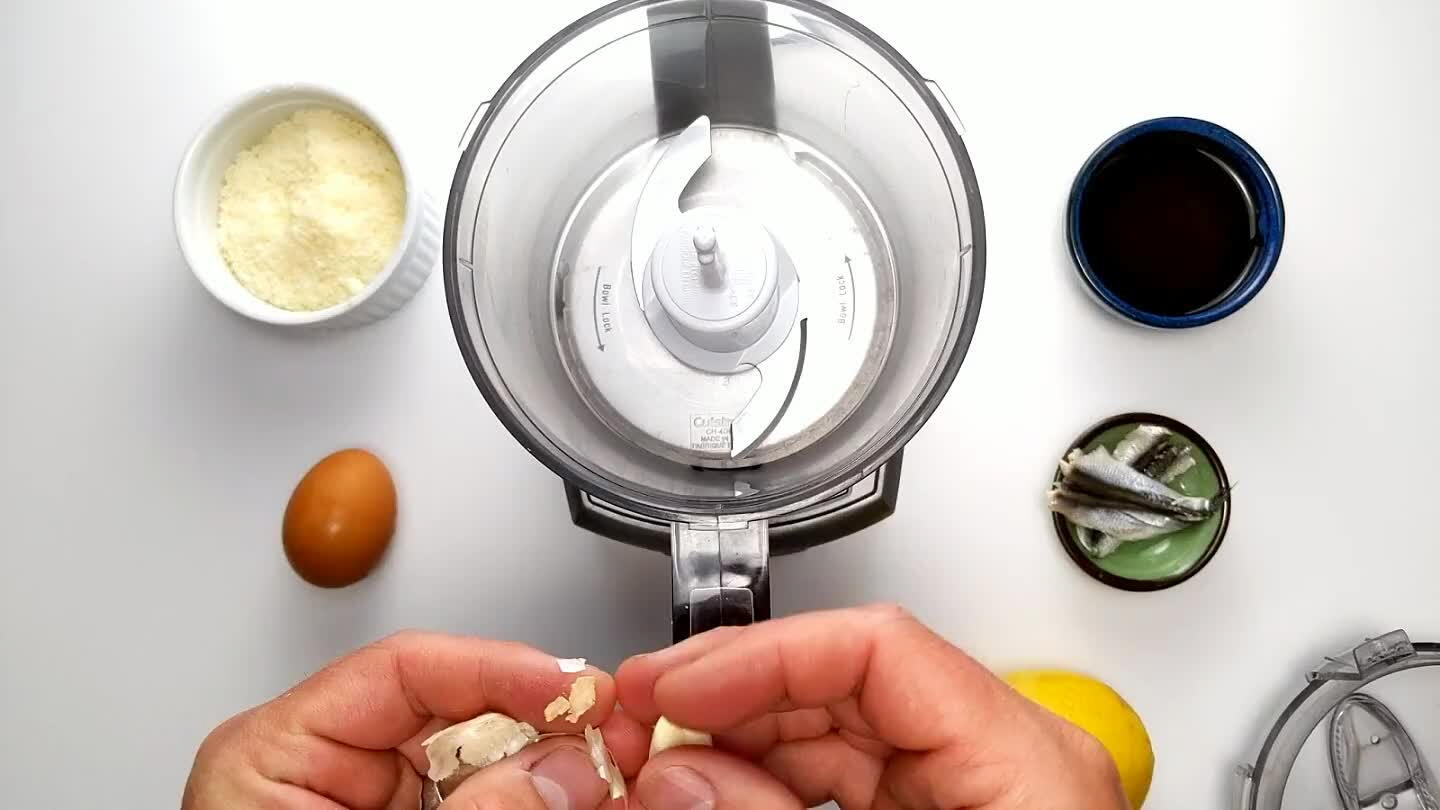 Peel the garlic cloves and place them in a blender or a food processor. This is a small batch, so a smaller food processor is ideal. Garlic cloves can sometimes hide from the blade in those larger food processors. Give them a few pulses to chop.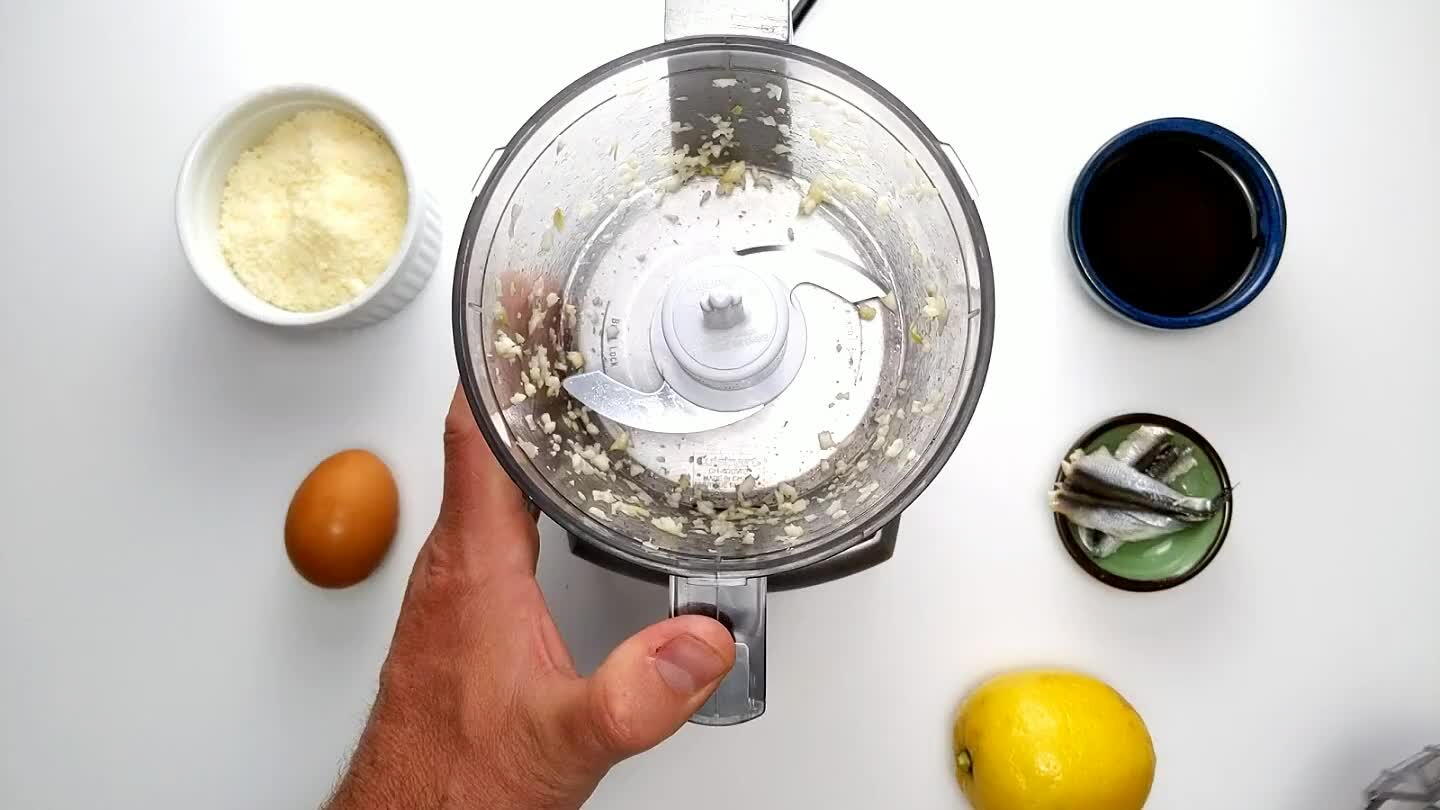 Add the anchovies. I'm not a fan of anchovies. But they work in caesar dressing, and without them, it's really not caesar.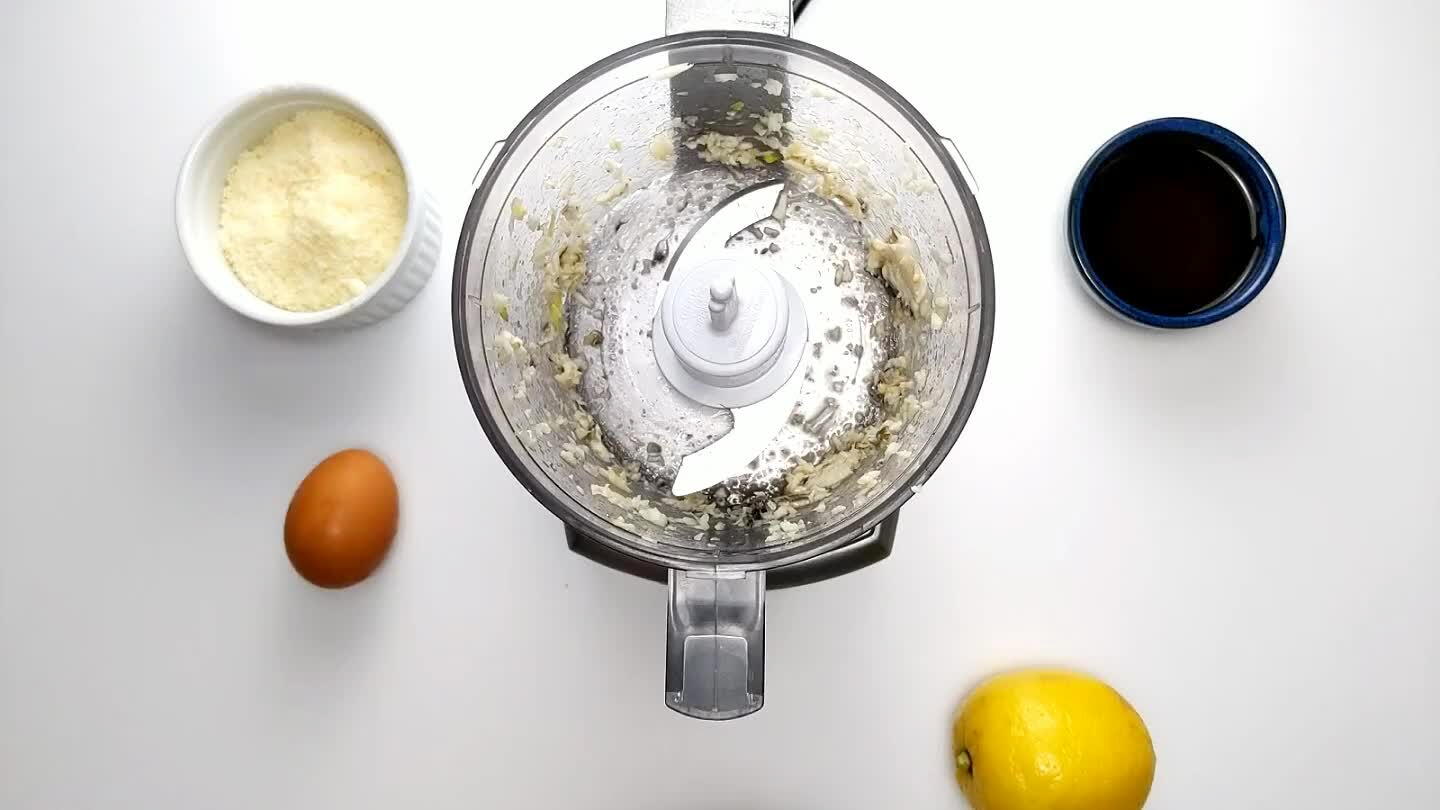 Squeeze in the juice from the lemon. You may need some more lemon juice if your lemon isn't all that juicy.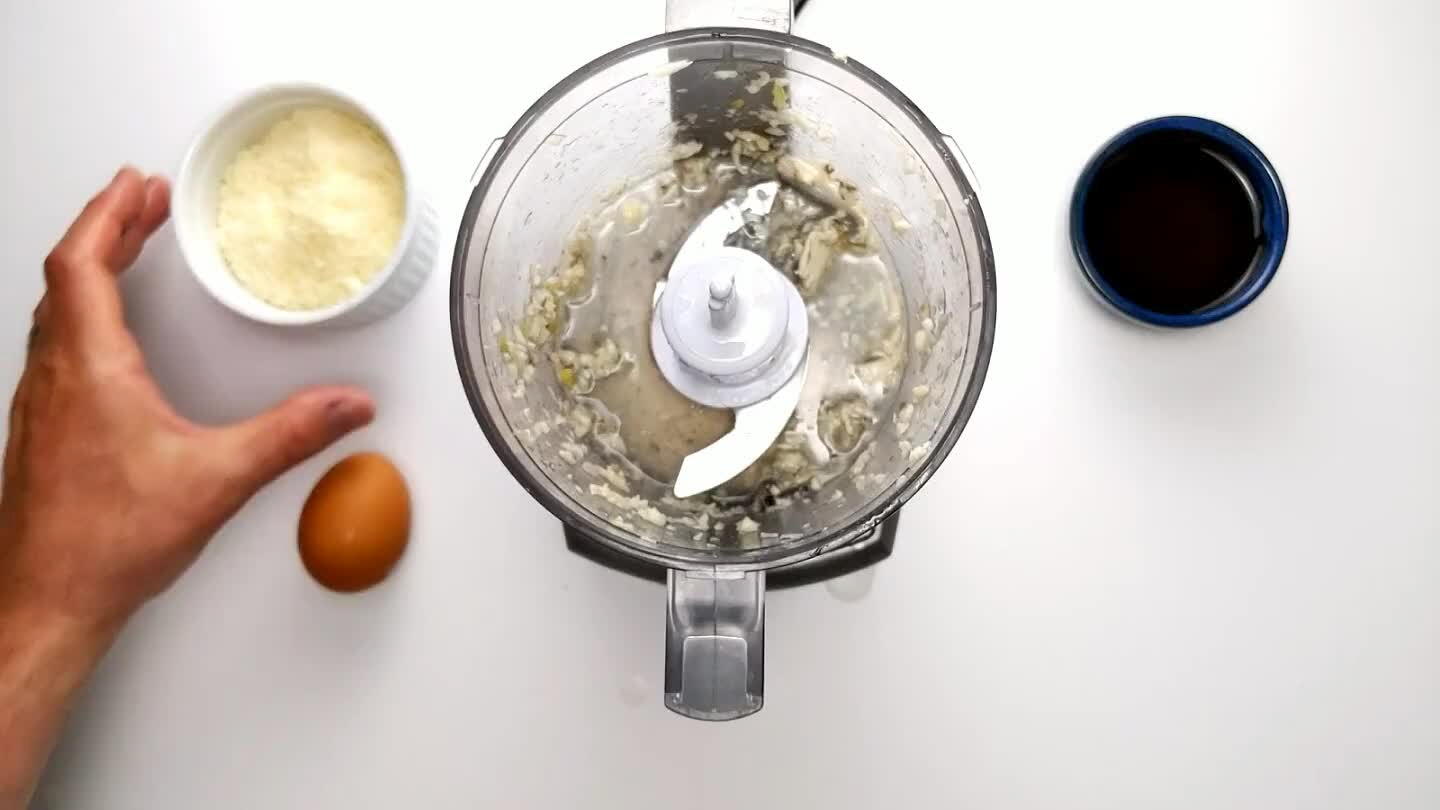 Add the parmesan. Throw in a few more pulses.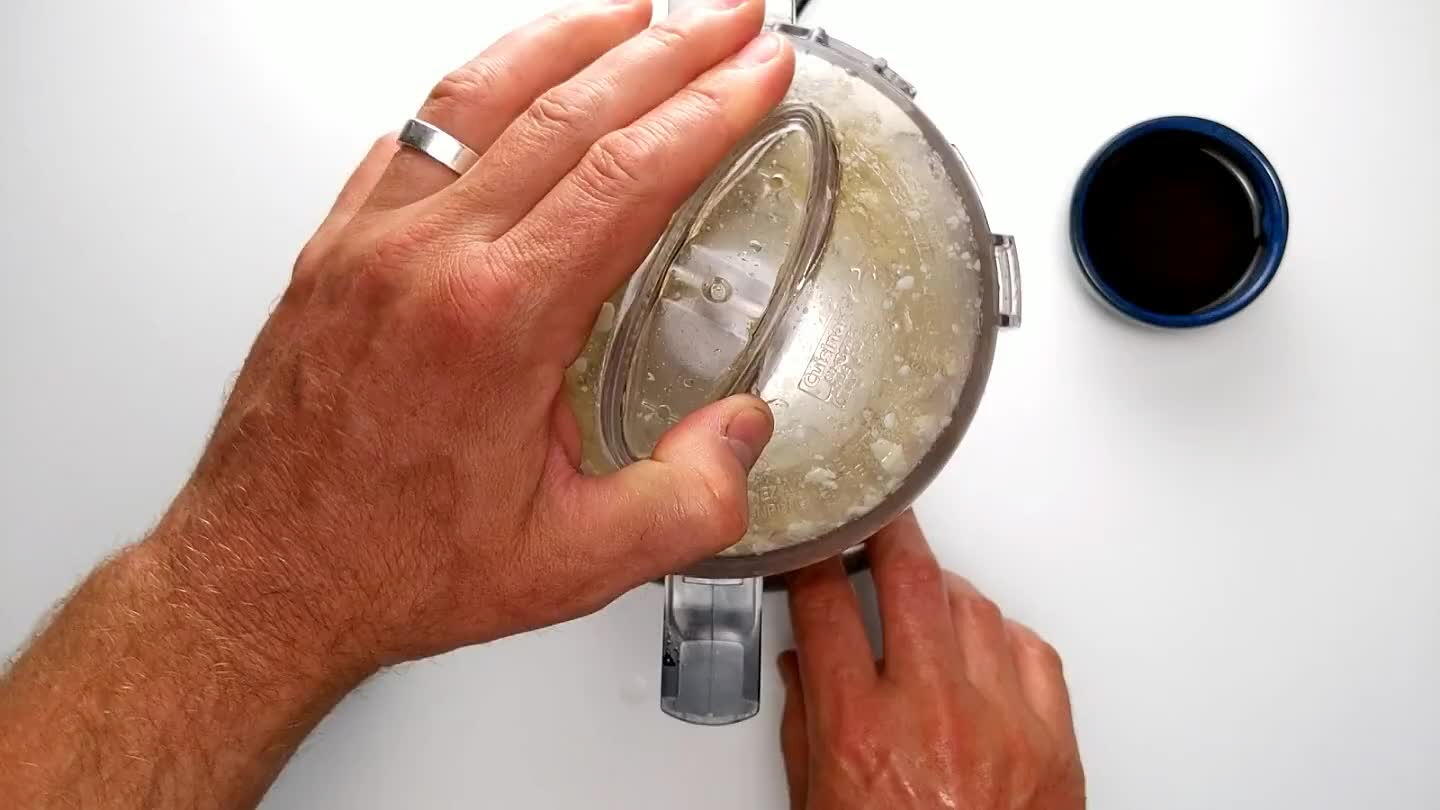 Add the olive oil and blend for about 30 seconds to break up the garlic and anchovies.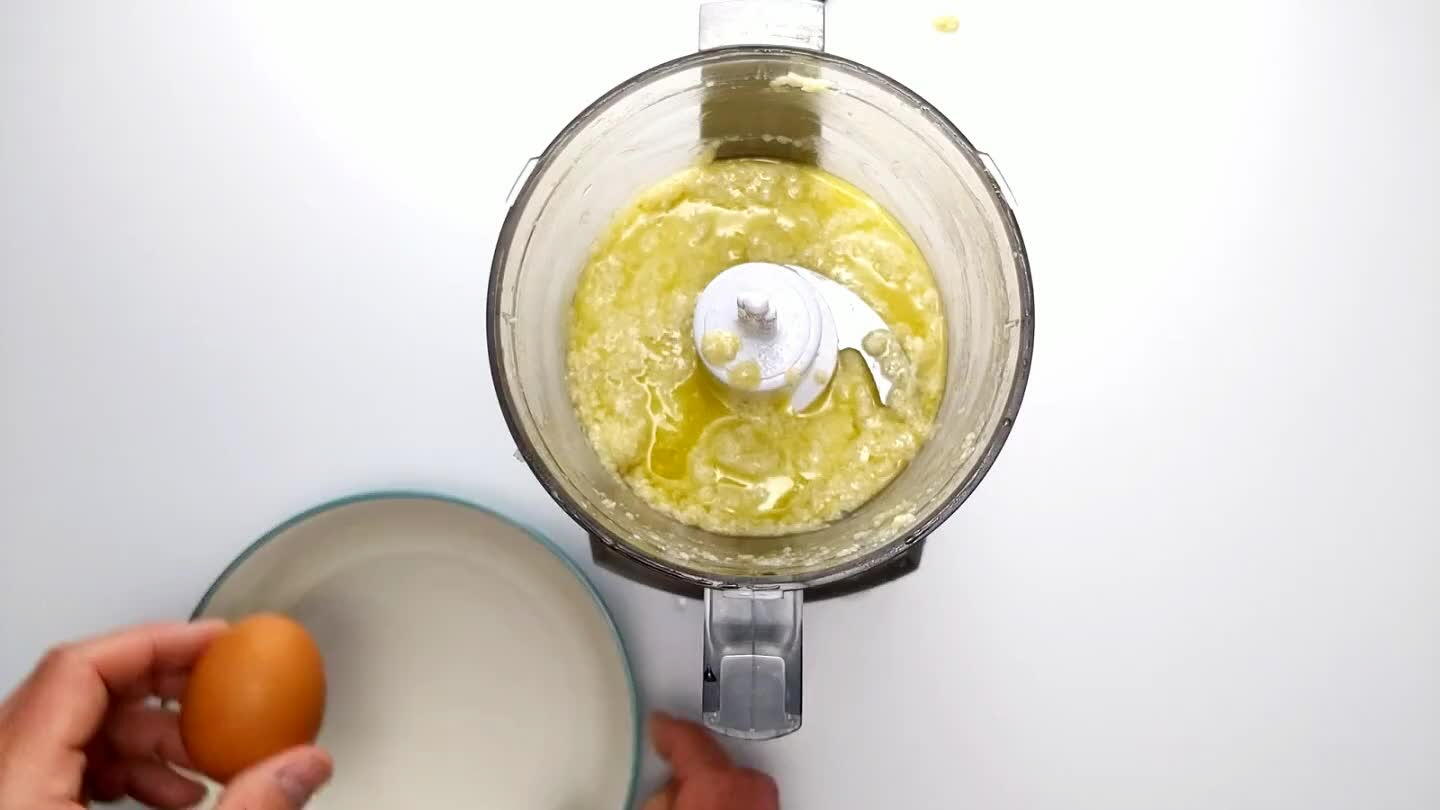 Crack the egg into a dish so that you can then pull out the yolk by hand. Discard the white and add the yolk to the blender. A raw egg yolk means that this dish is not recommended for the pregnant or immune-compromised. But you can leave the yolk out, just expect a thinner texture.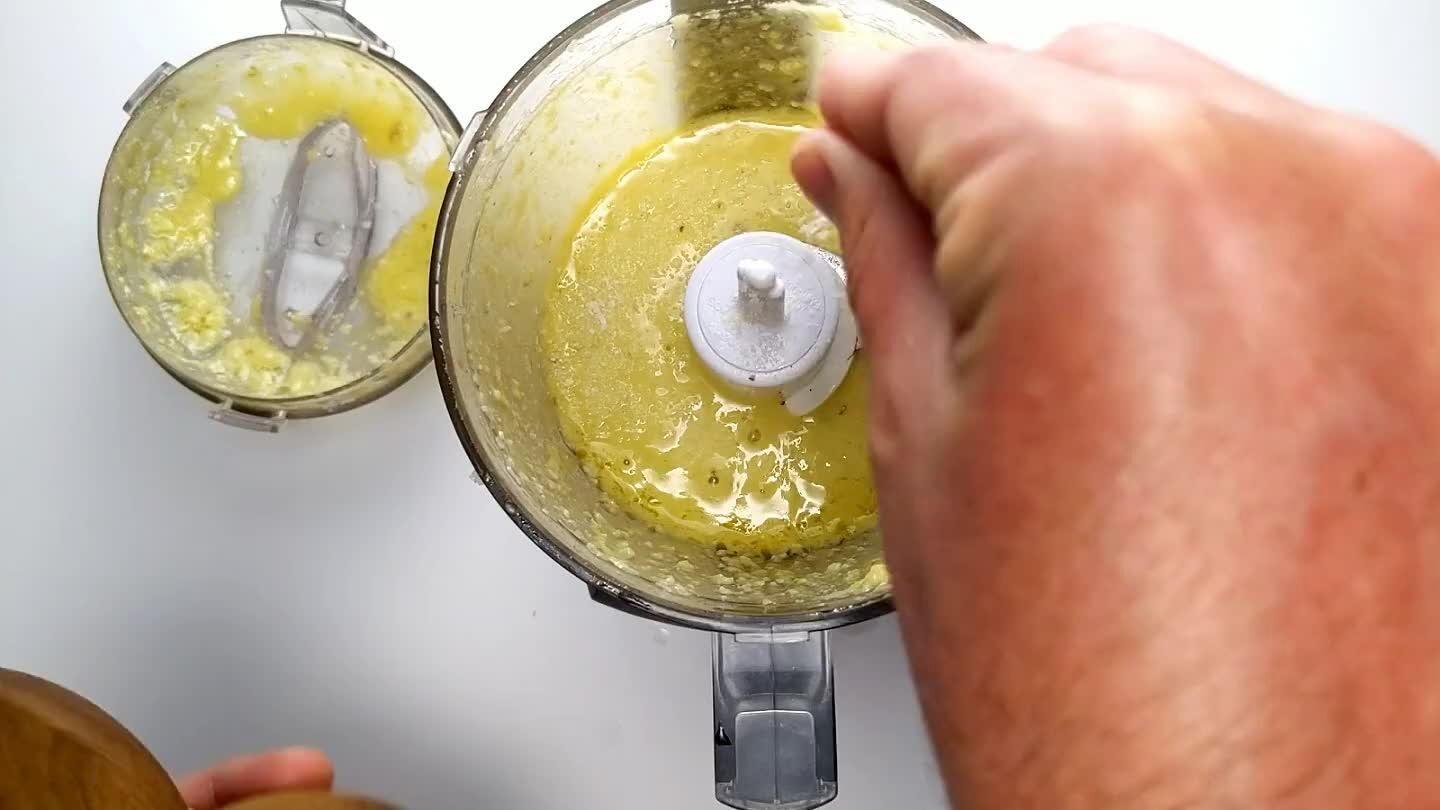 Add a little salt and pepper and use a tasting spoon to check the balance. This is where you can adjust the lemon juice as well. If it needs a little more acid and you're out of lemon, add a short splach of vinegar.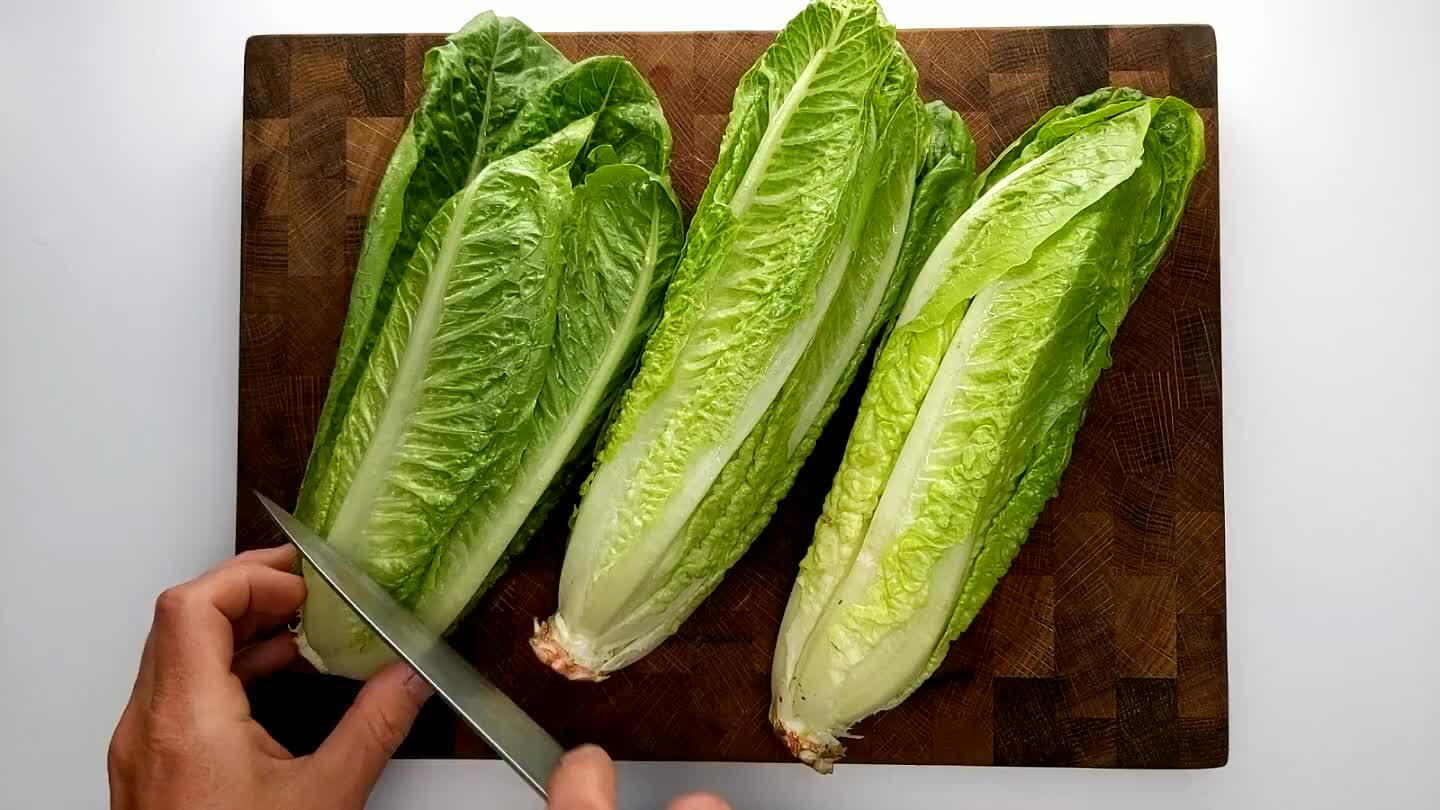 Chop off the stem end from the romaine hearts. Discard any ugly leaves. Rinse and dry. A salad spinner is really a great tool to have. But paper towels will do.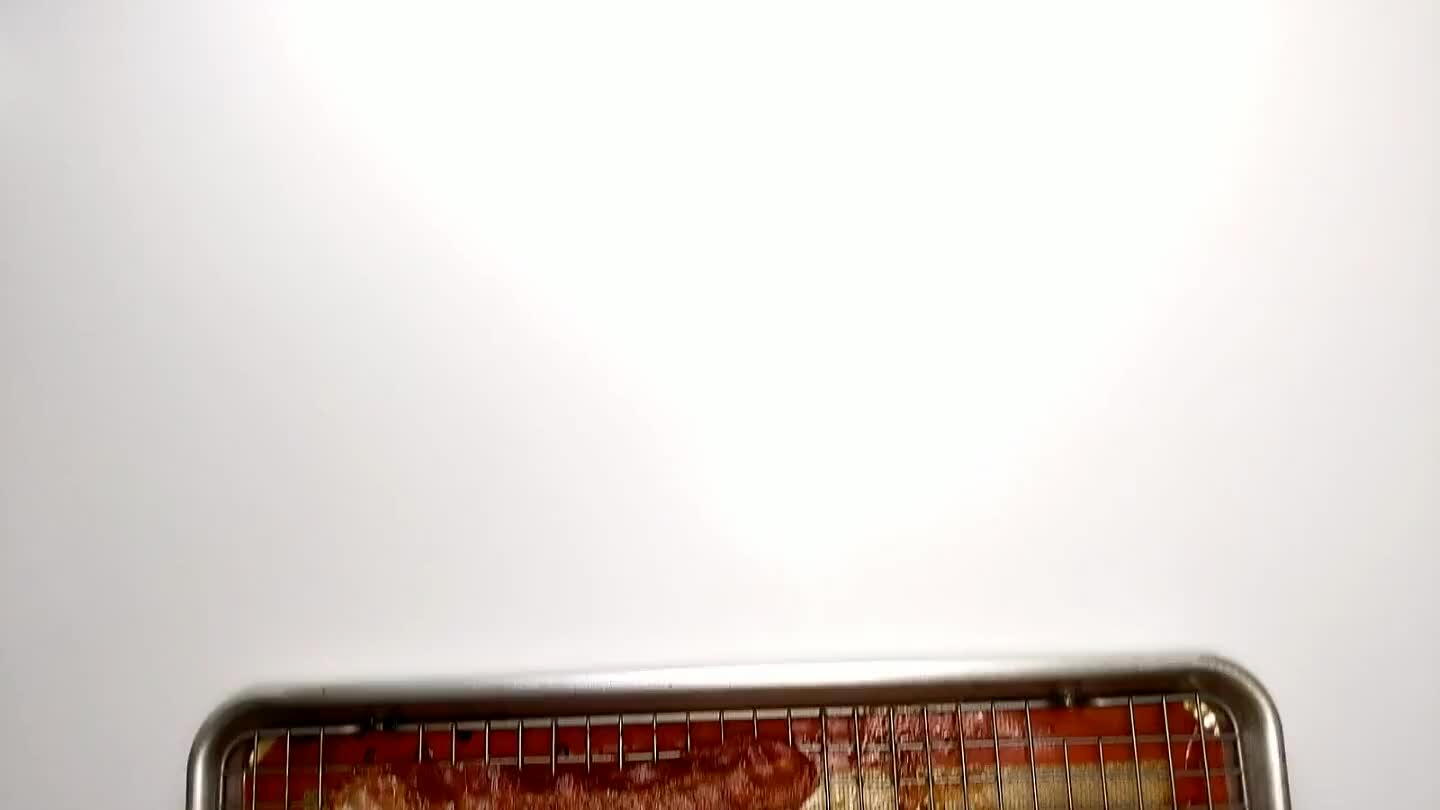 Now, the bacon should be done, crispy and ready to go, but depending on the size of the chicken breast, you may need to remove the bacon and put the chicken back in the oven alone for 5-15 minutes. The final internal temperature of the chicken breast needs to be above 165°F. If you're within 5 degrees, you can probably still take it out of the oven, but wait 5 minutes to cut it so that it has a chance to coast to the final temp.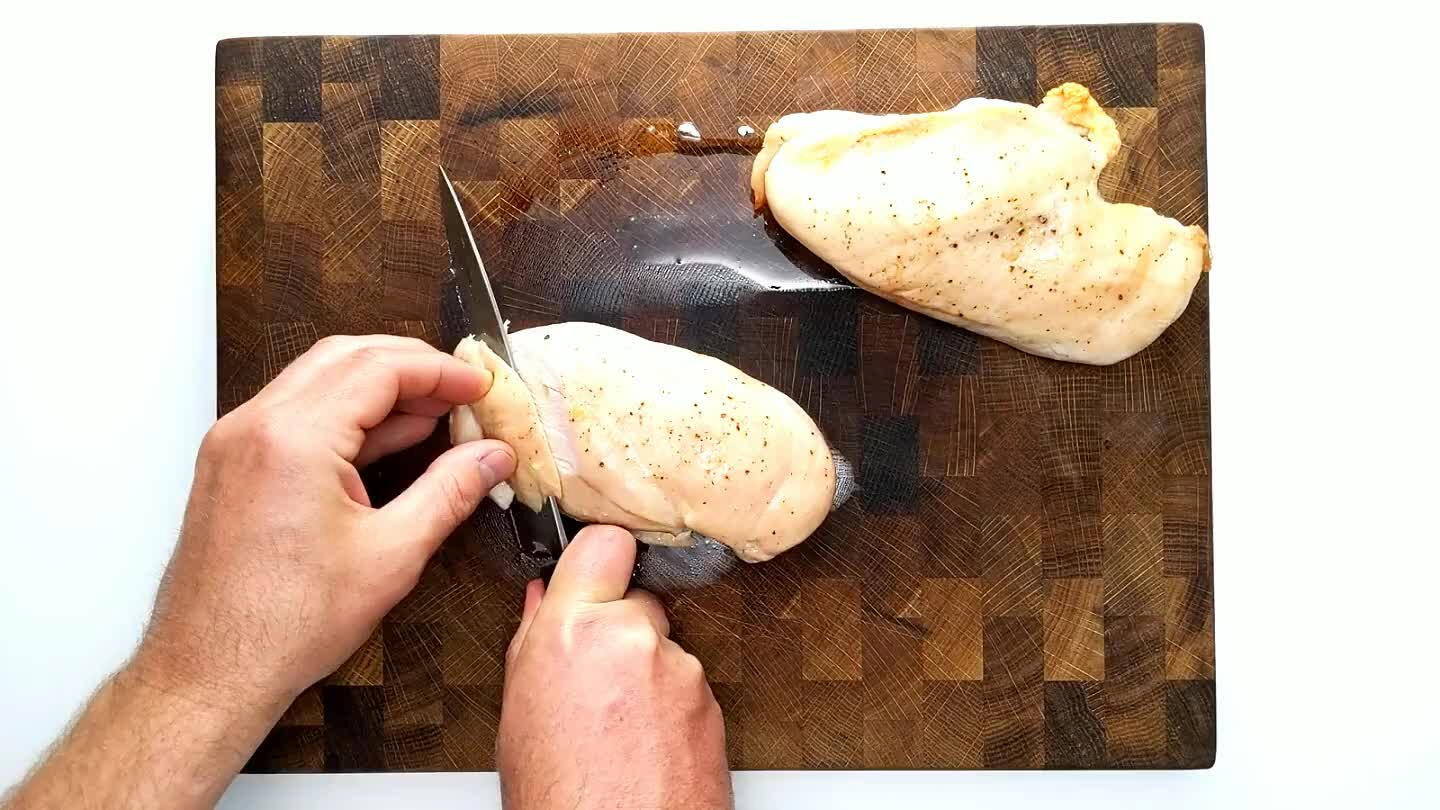 Slice the chicken breast on a bias.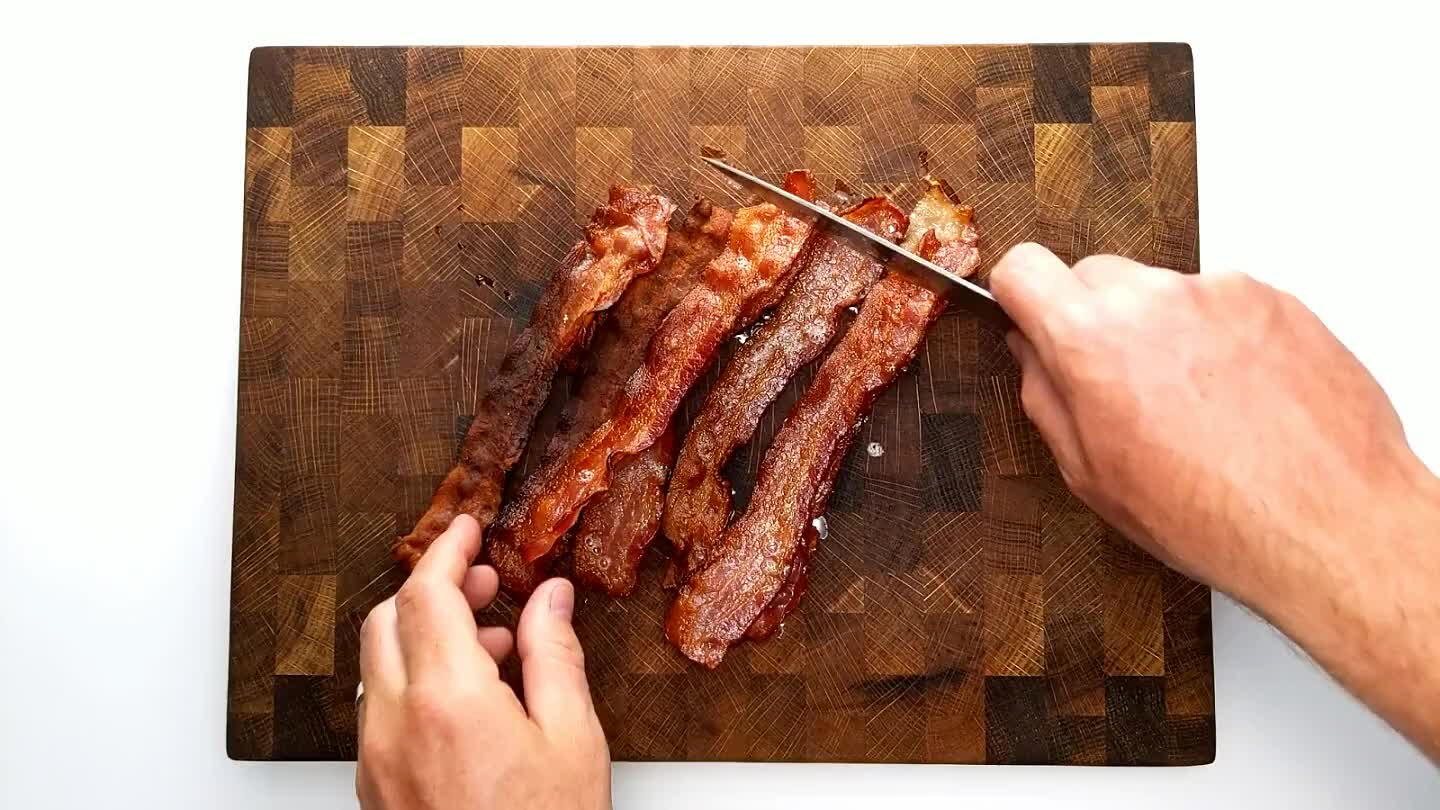 Chop up the bacon.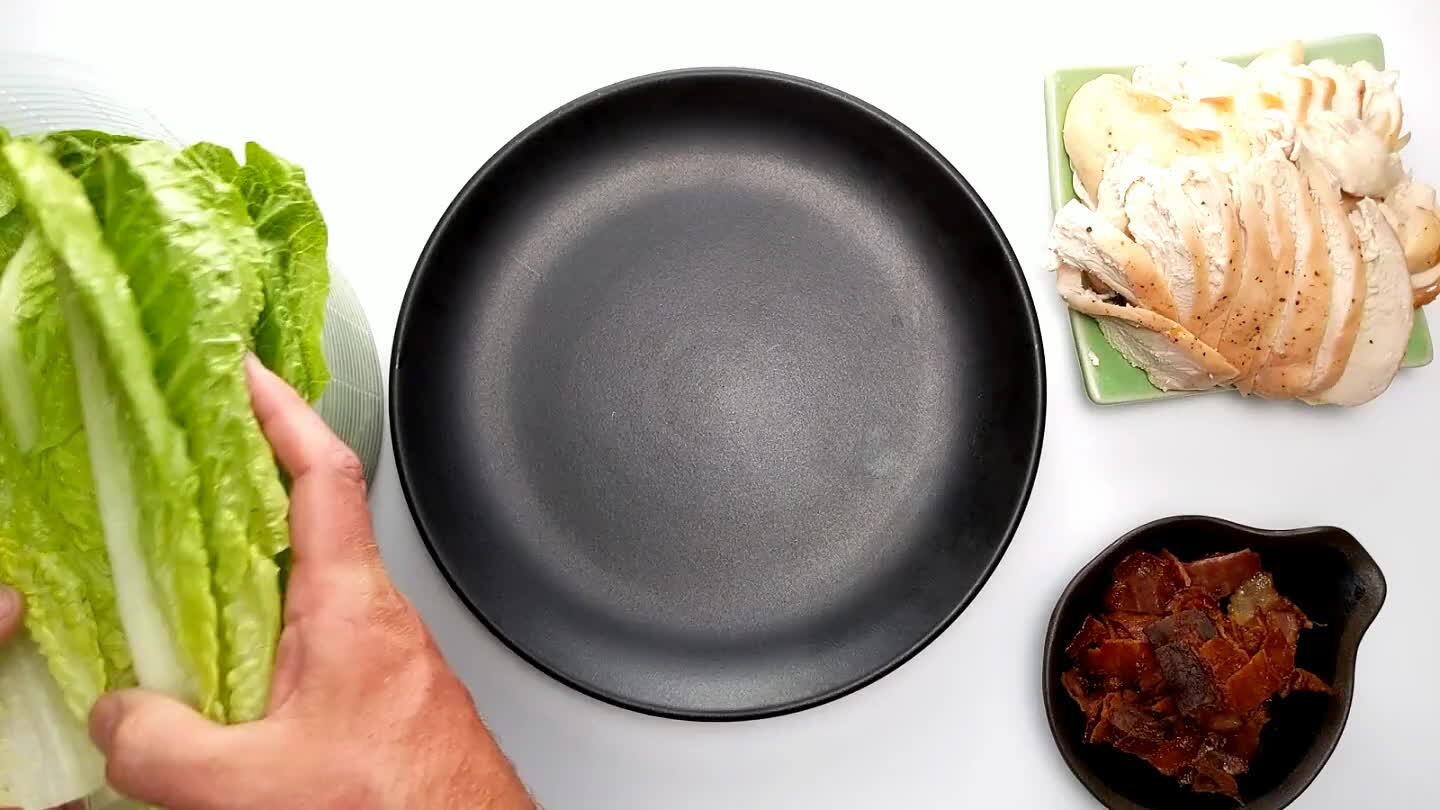 Place some leaves of romaine on a plate.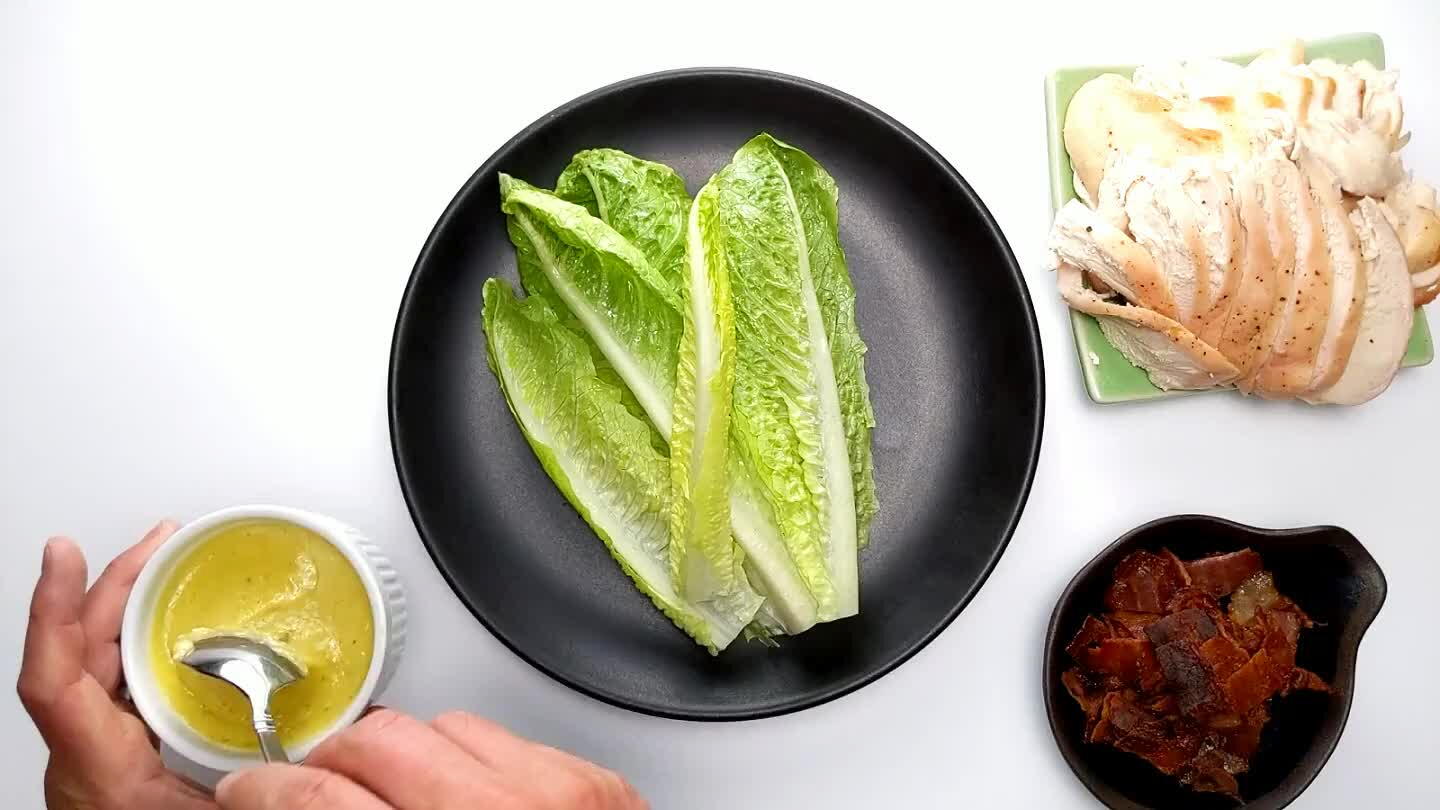 Spoon some dressing over the romaine. A good caesar should be quite aggressive in flavor, so a little goes a long way.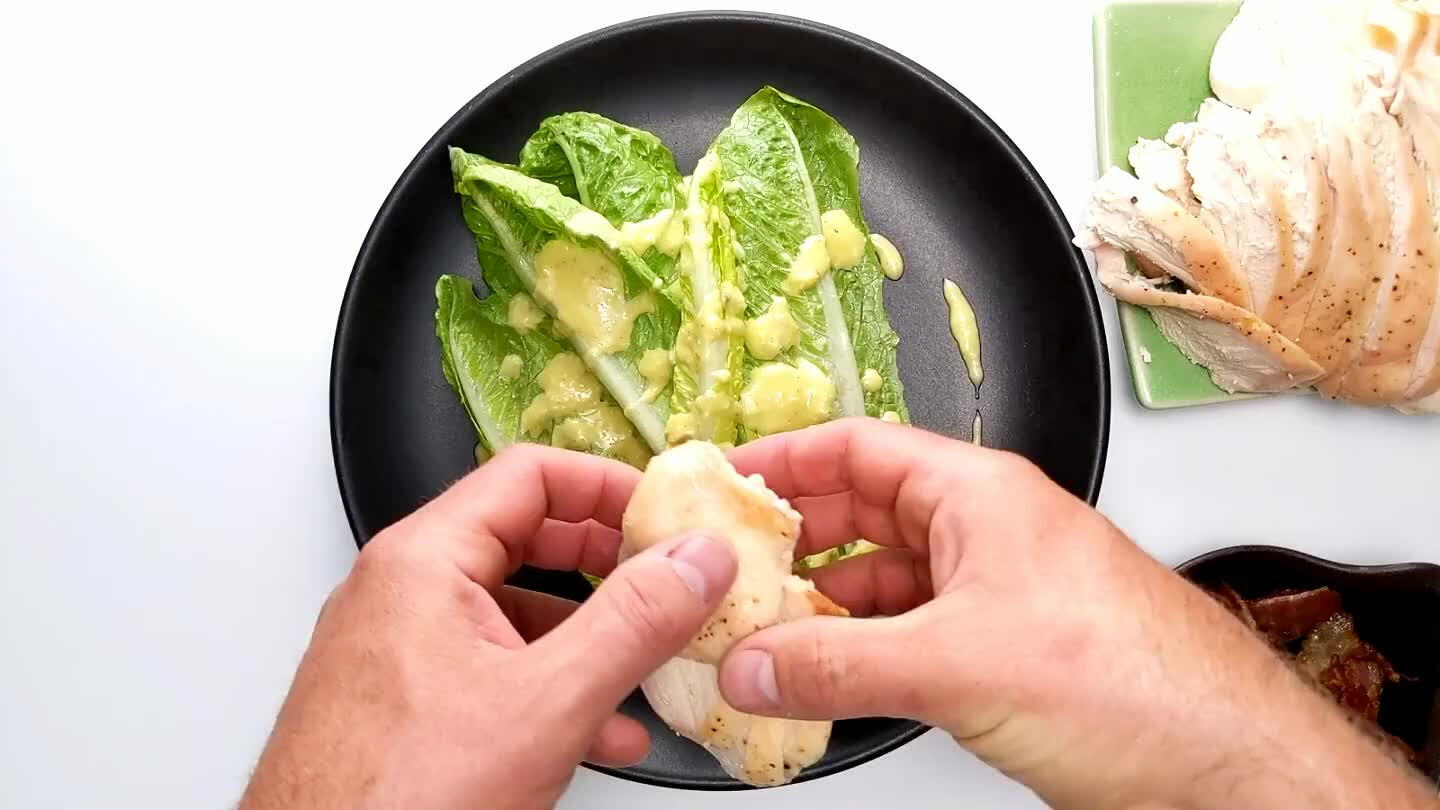 Place some chicken slices over the romaine.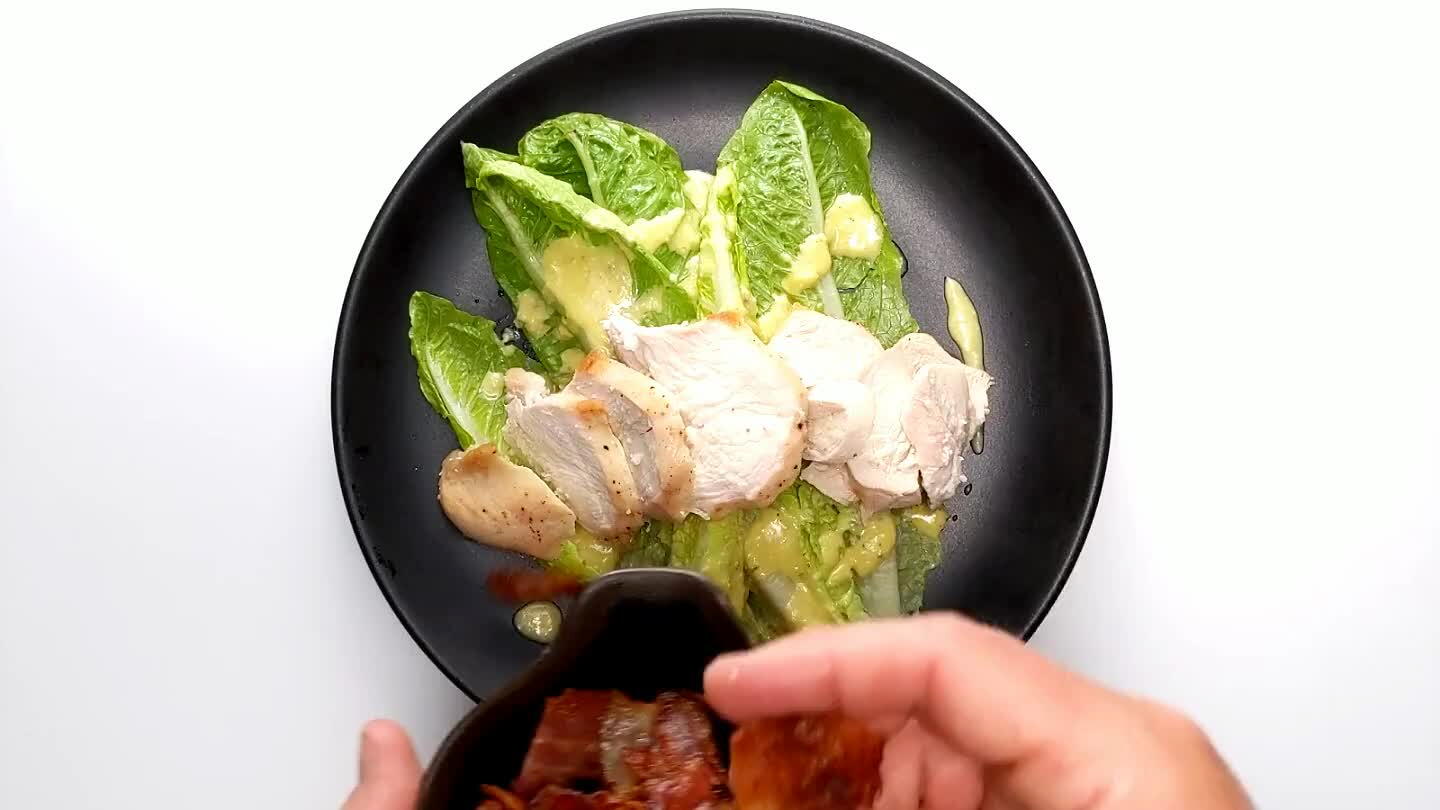 Sprinkle with crispy bacon.