Slow Cooker Dr Pepper Pulled Pork
Cooked in an instant pot
So good. This one of those borderline ridiculous, everything but the kitchen sink, crockpot recipes. But the result is totally worth it. Sticky sweet, salty, with a little heat. If you're looking for a good, sloppy, bbq pulled pork, look no further.
What you will need
2-3 lb (1 - 1.5 kg) boneless pork shoulder
2 red onions
4 cloves garlic
1 tsp ground black pepper
12 oz. (350 ml) dr. Pepper
1 tbsp mustard seeds
2 tbsp honey
1/4 cup (75 ml) bbq sauce
1 1/2 tsp Worcestershire sauce
1/3 cup (75 g) brown sugar
3 tbsp (45 ml) soy sauce
1 tsp chili flakes
How to cook
Assemble ingredients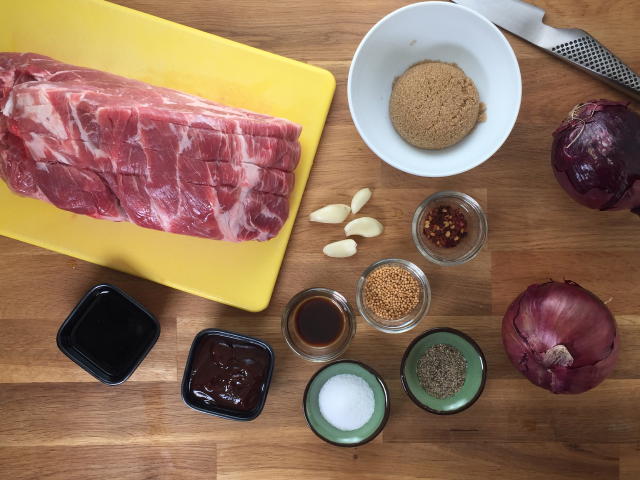 This recipe is simple, but it calls for a long list of ingredients. I recommend starting by gathering everything you will need in one place.
Slice onions
Slice the red onion from pole to pole. I favor this longitudinal cutting technique for stews and braises
Crush garlic
Pulverize those cloves however you like. We plan to cook this to oblivion, so the garlic should disappear into the mass however you handle it.
Brown the pork
In a big skillet over medium heat, brown the pork shoulder on all sides. I used a big nonstick, so the pork itself gave up enough fat that oil wasn't necessary, but you may need a little.
Transfer pork to instant pot.
Move the pork shoulder over into the instant pot. But you still need that pan.
Sautée onions
Sautée the onions in the same pan over medium low. Might as well put that pork fat to good use.
Add onion to pot
Transfer the onion into the pot once it's tender.
1/4 cup (75 ml) BBQ sauce
1/3 cup (75 g) Brown sugar
Cook
Close up the instant pot and cook. You can use the pressure cooker meat setting and it should be ready in less than an hour. Alternatively, slow cook for about 4 hours or until everything is super tender, falling apart easily.