Crockpot Mongolian Beef
Similar To PF Chang's Mongolian Beef
Simple recipe I found online. But the common online recipes for this are not very good. So I've included some ideas on how to improve this next time around. Feel free to comment with any thoughts of your own.
What you will need
1 1/2 lb flank steak
2 tbsp olive oil
1/2 tsp grated ginger
2 cloves crushed garlic
1/4 cup cornstarch
1/2 cup soy sauce
3/4 cup water
3/4 cup brown sugar
2 large carrots, shredded
2 medium scallions, sliced
How to cook
1 1/2 lb flank steak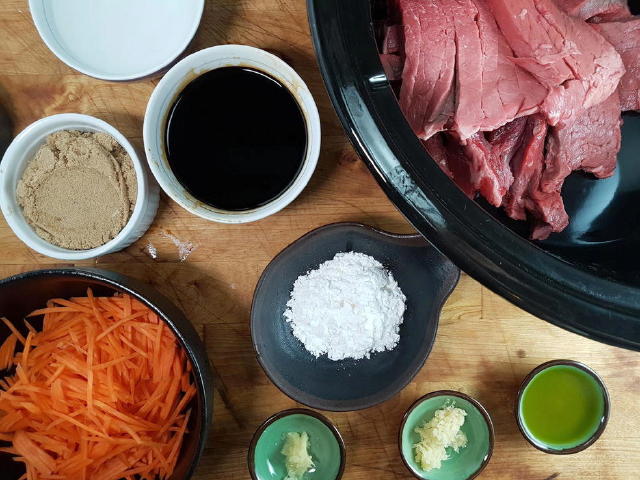 Get all of your ingredients together.
2 tbsp olive oil
The first 8 ingrledients just get combined in the crockpot.
1/2 tsp ginger, grated
I would use more ginger next time. But I like ginger, so up to you.
1/4 cup corn starch
I'm not a huge fan of cornstarch, and honestly you can probably do without.
1/2 cup soy
I used dark soy, and it was a little too intense. The original recipe called for 3/4 cup. I think that's too much.
1 cup brown sugar
Started with 3/4 cup but added another 1/4 cup after cooking to balance out the soy a bit more.
3/4 cup water
Would be smart to use beef stock.
Mix it up
Ok, I'm used to using my hands. I wash my hands constantly when cooking. But you can use tongs if you like.
Slow and low
Cook on low for 4 hours or so. On high, it should be ready in 2 hours.
Shredded carrots
I like to add the carrots in the last 10 minutes. You can just add them straight at the beginning if you like, but they tend to get mushy and disappear into the sauce.
Serve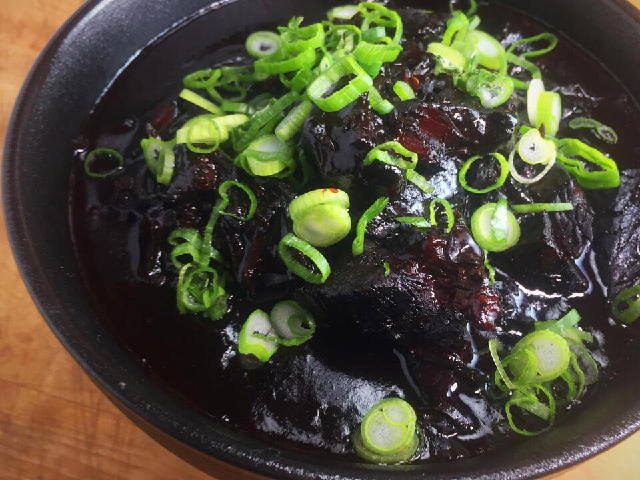 Top with some nice sliced scallions to finish.