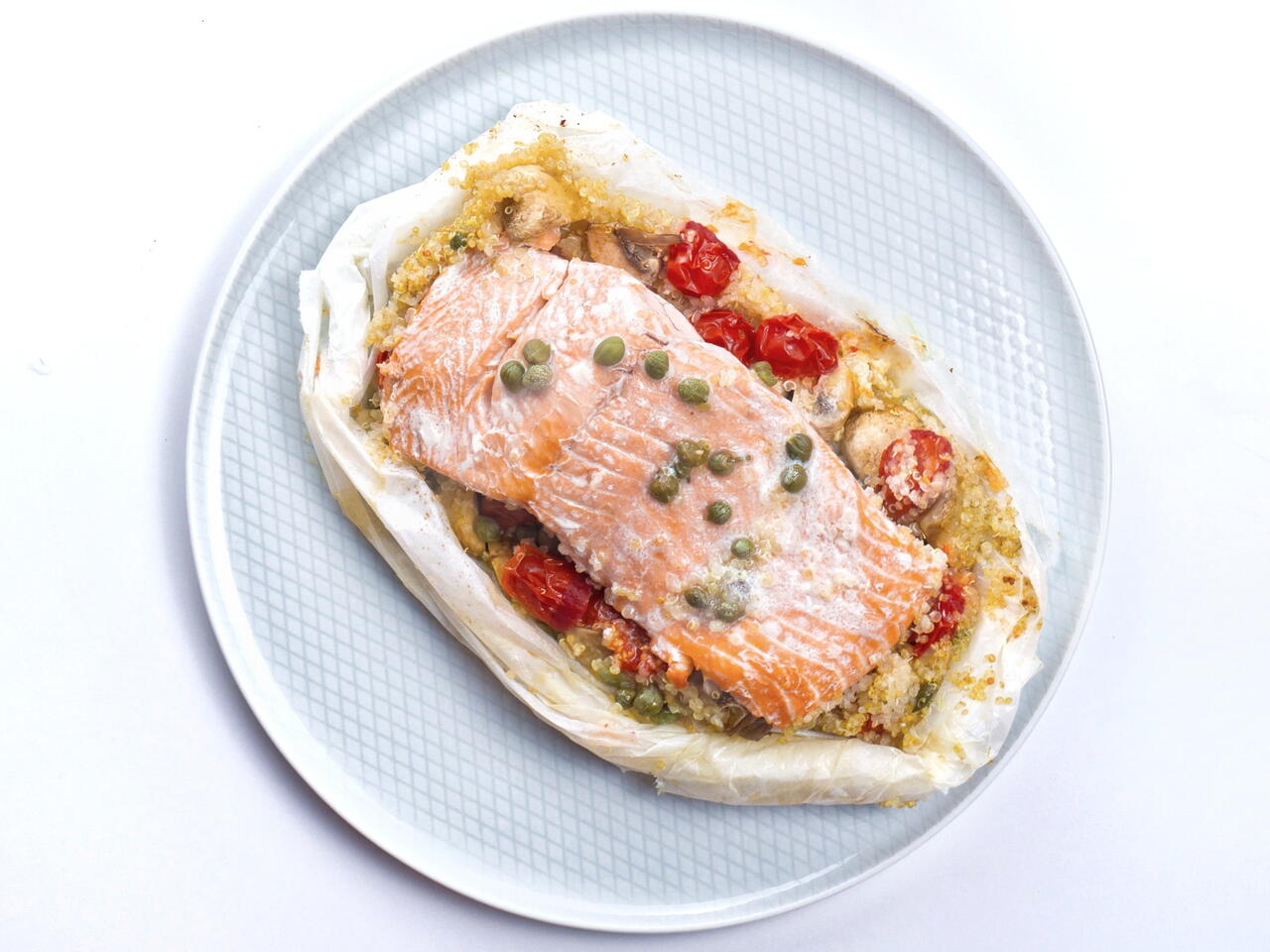 Recipe video made by Ryan
Published on 09/25/2019, viewed by 182
4 portions
30m
Each parchment is about 2 portions. This recipe is enough for 2 pouches.
What you will need
8 oz. Crimini Mushrooms
4 oz. Cherry Tomatoes
4 cups Frozen Quinoa
1 lb Salmon
2 Tbsp Butter
2 Tbsp Capers
(Nutritional facts 170 calories, 8.74 g fat, 14.7 g carbohydrates, 13.5 g protein, 18 mg cholesterol, 427 mg sodium)
How to cook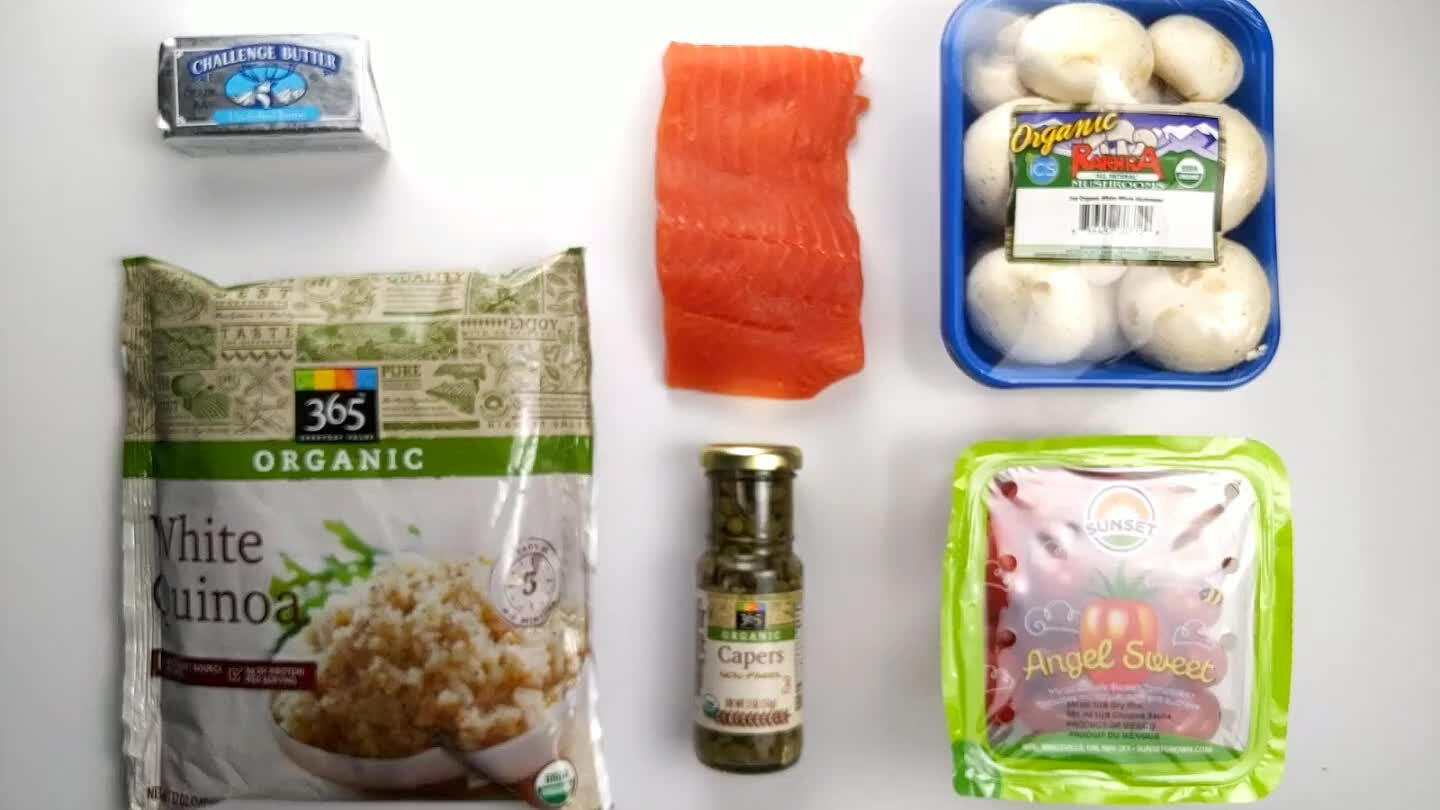 Assemble your ingredients
Slice off the tip of the stem of each mushroom to remove any brown or dry parts. Arrange in a grid and cut mushrooms in quarters.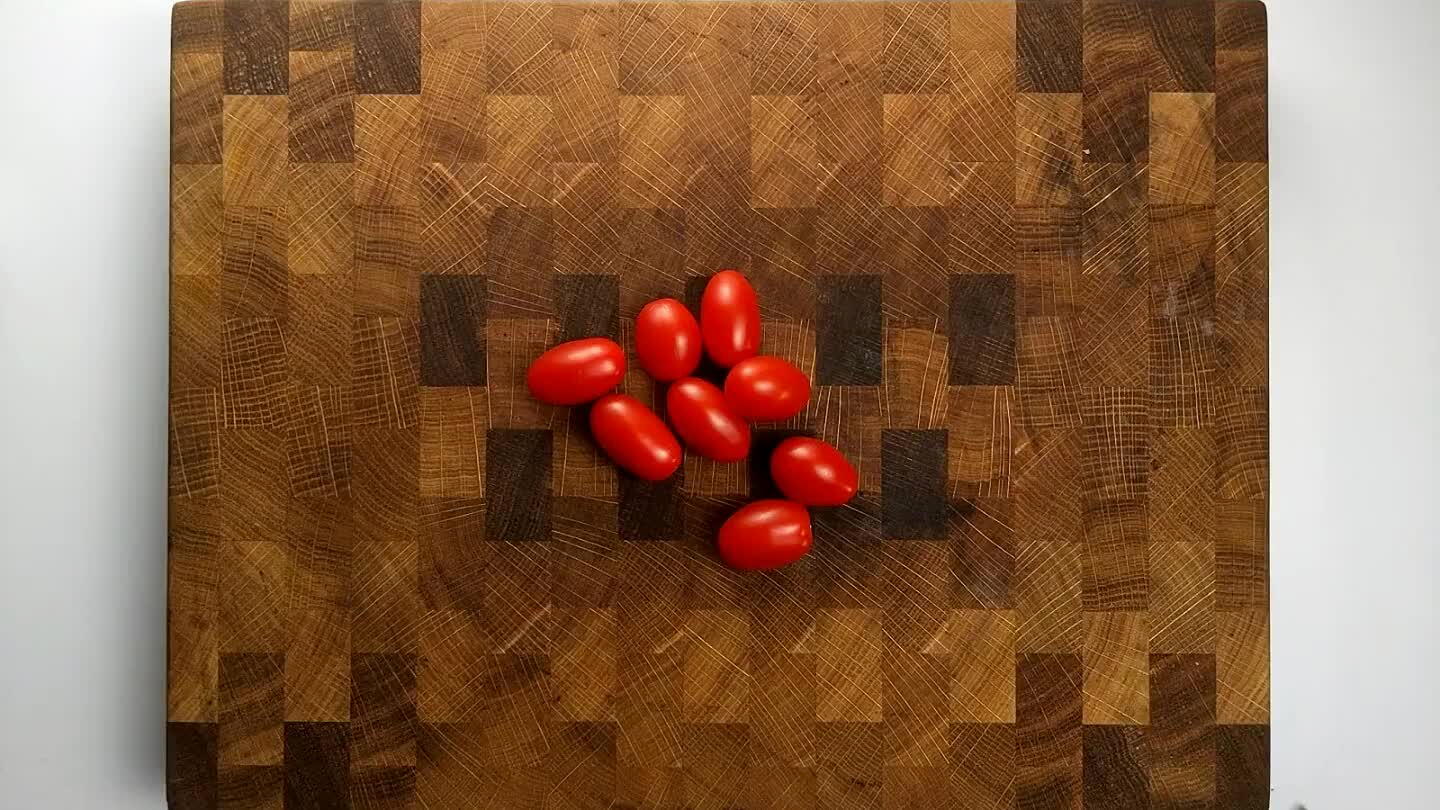 Cut each of the cherry tomatoes in half.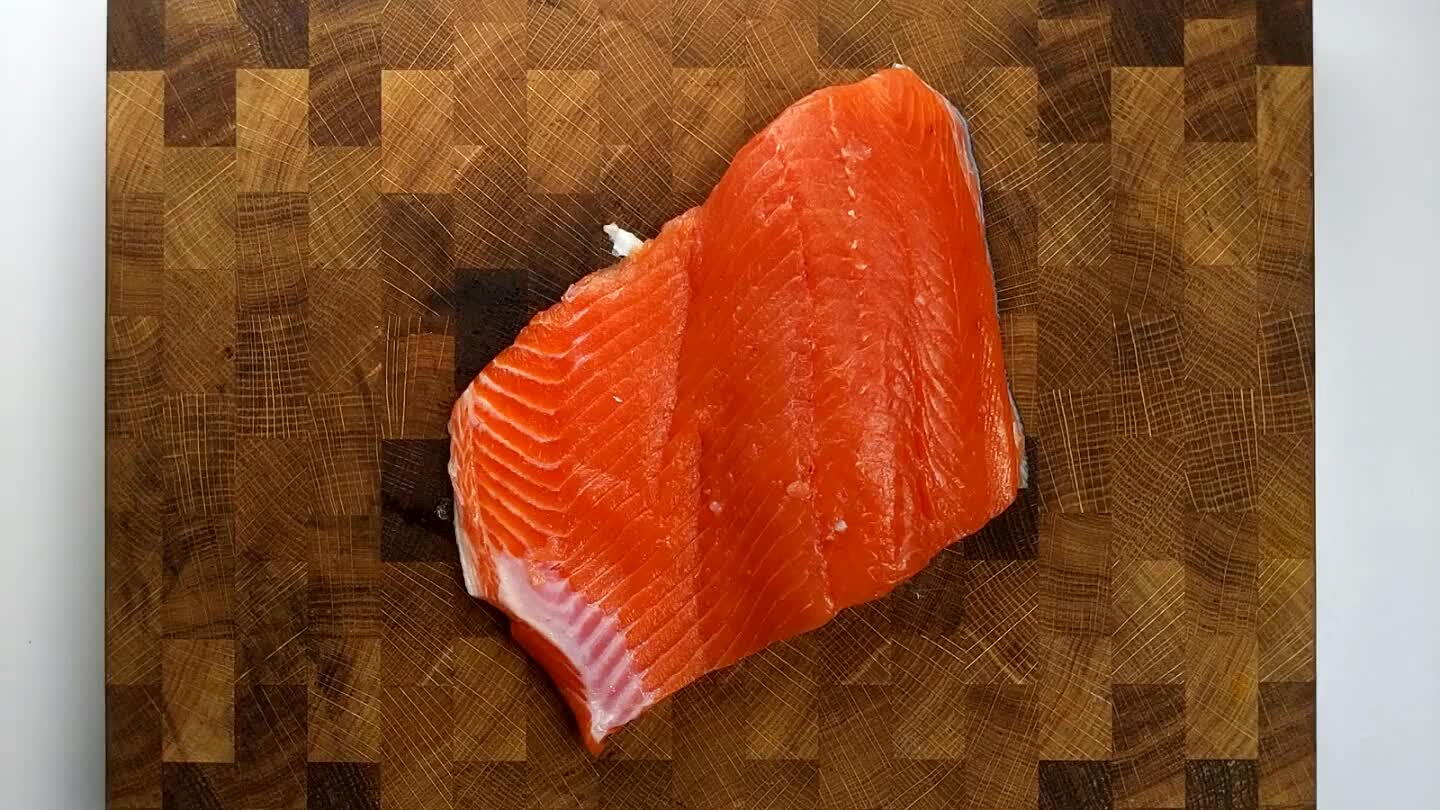 Run your fingers along the thicker part of the salmon fillet. you should feel the pin bones (if present) scratching your fingertips. With some needle nose pliers or tweezers, tug gently at each of these bones until they release and draw out of the flesh. Run your fingers over the area where the bones were removed to double check that they're all gone.
arallel to the cutting board, slice down into the narrower side of the fillet, stopping at the skin. With your free hand pinch the edge of the skin under the blade. Gently wiggle the skin, holding gentle pressure with the blade, angled against the skin and slicing along the skin without breaking it, almost as though you're scraping the flesh from the skin. This can take a little practice and a sharp knife. With your blade nearly parallel to the cutting board, slice down into the narrower side of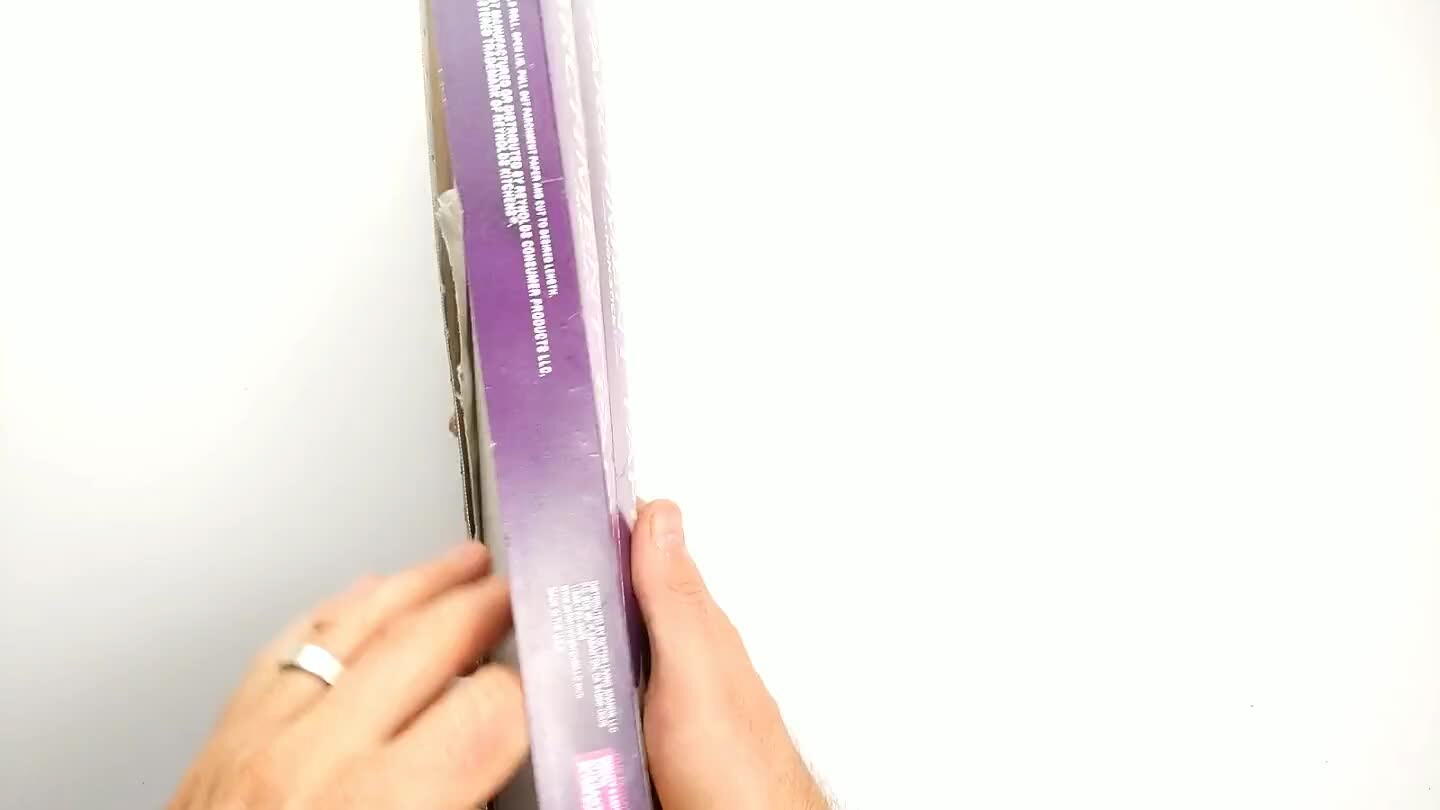 Lay out a square of parchment with the shiny side facing up. This recipe is enough for 2 pouches. Simply repeat steps 8-15 for the second pouch.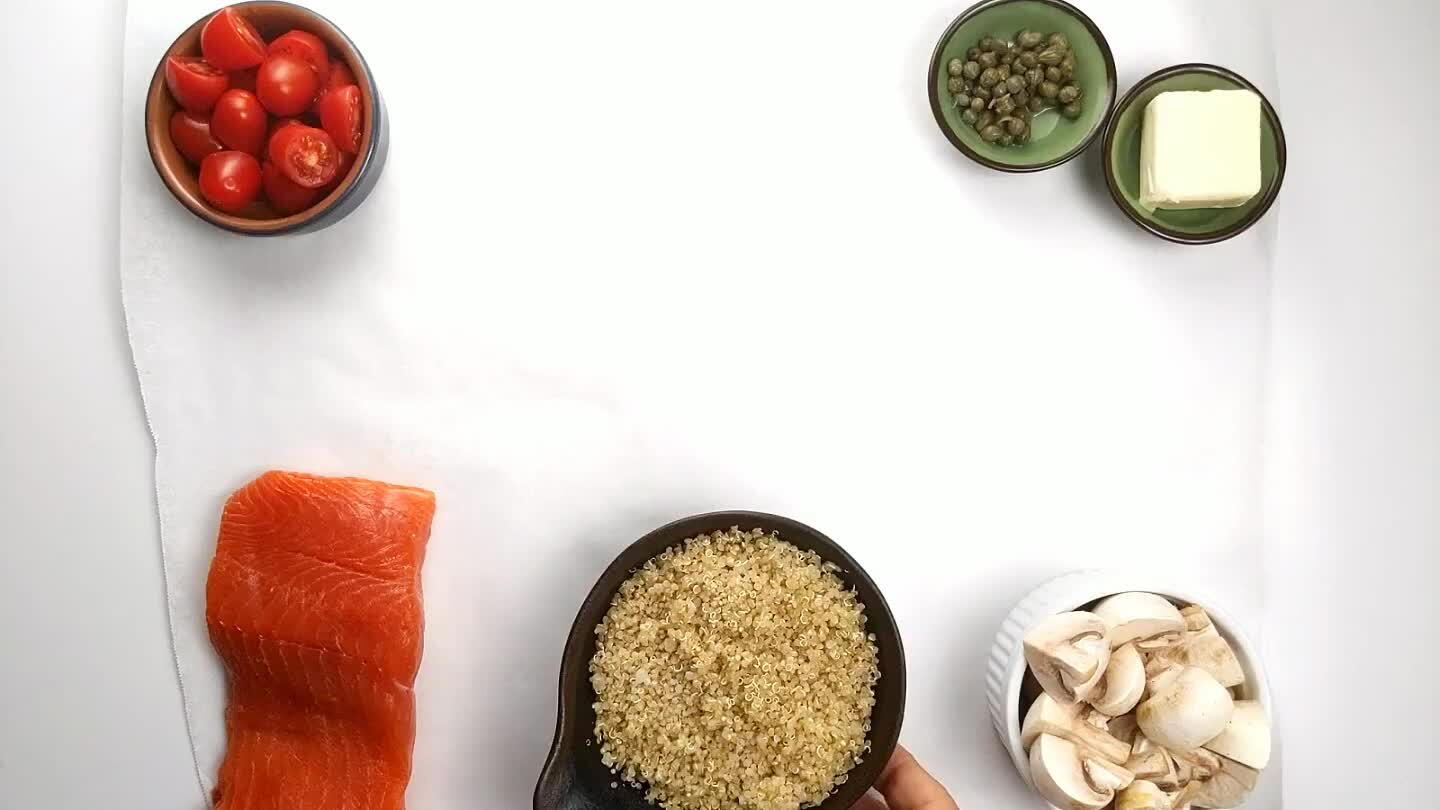 Pour about half of the frozen quinoa (2 cups) in the center of the parchment paper.
Scatter half of the mushrooms (about 4 oz.) over the quinoa.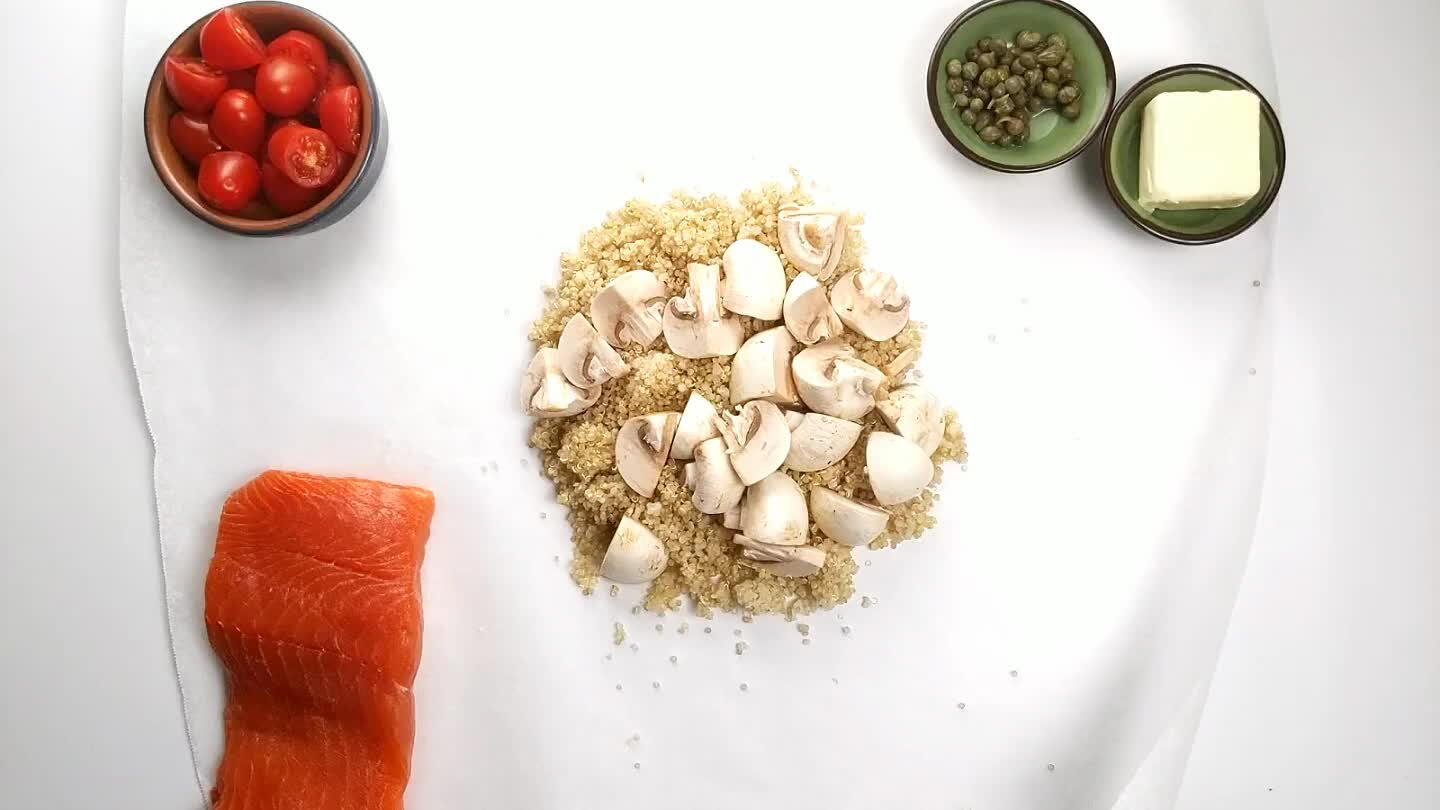 Scatter half of the tomatoes (2 oz.) over the mushrooms.
Place about 8oz. of salmon fillet over the top.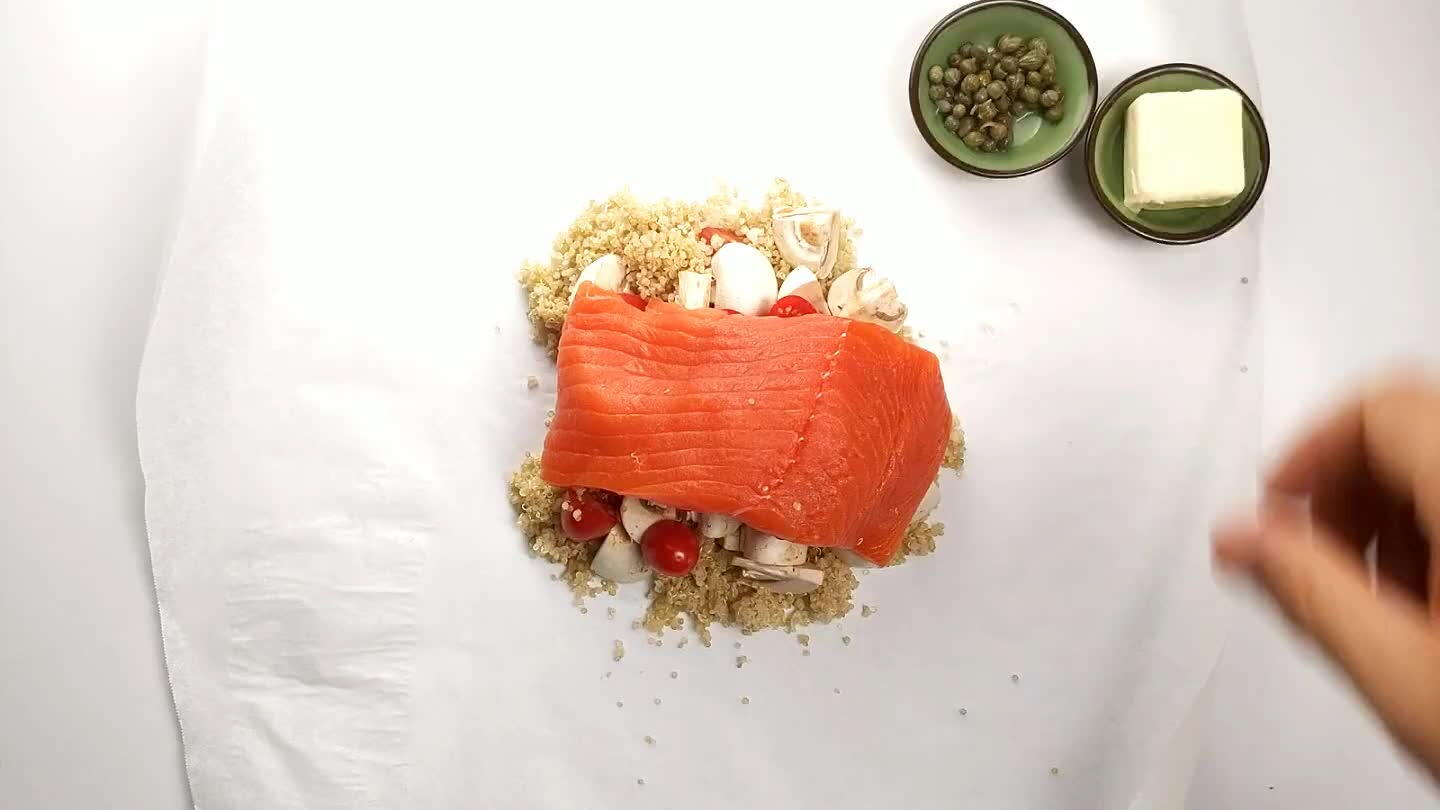 Add half of the capers on top of the salmon.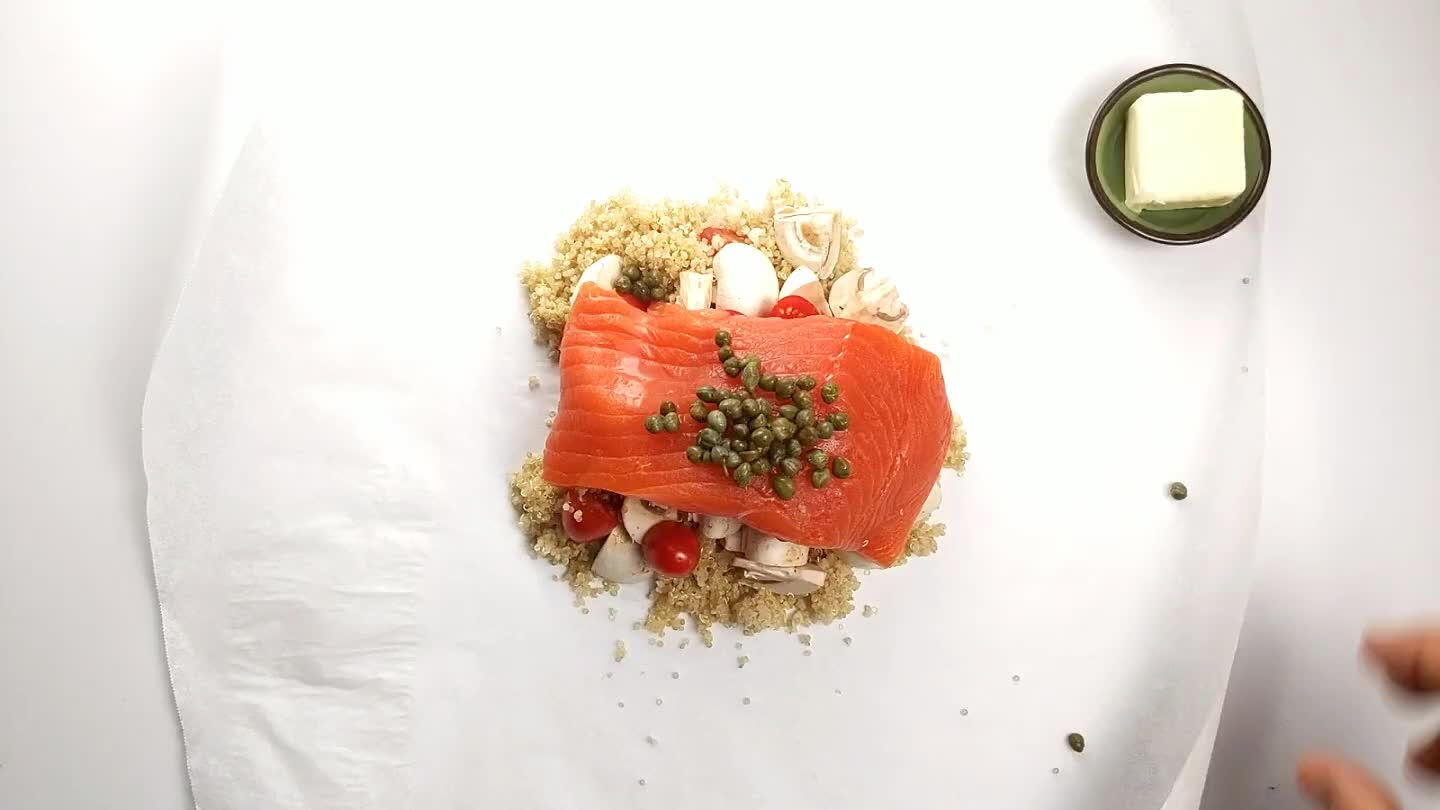 Place one tablespoon of butter over the capers.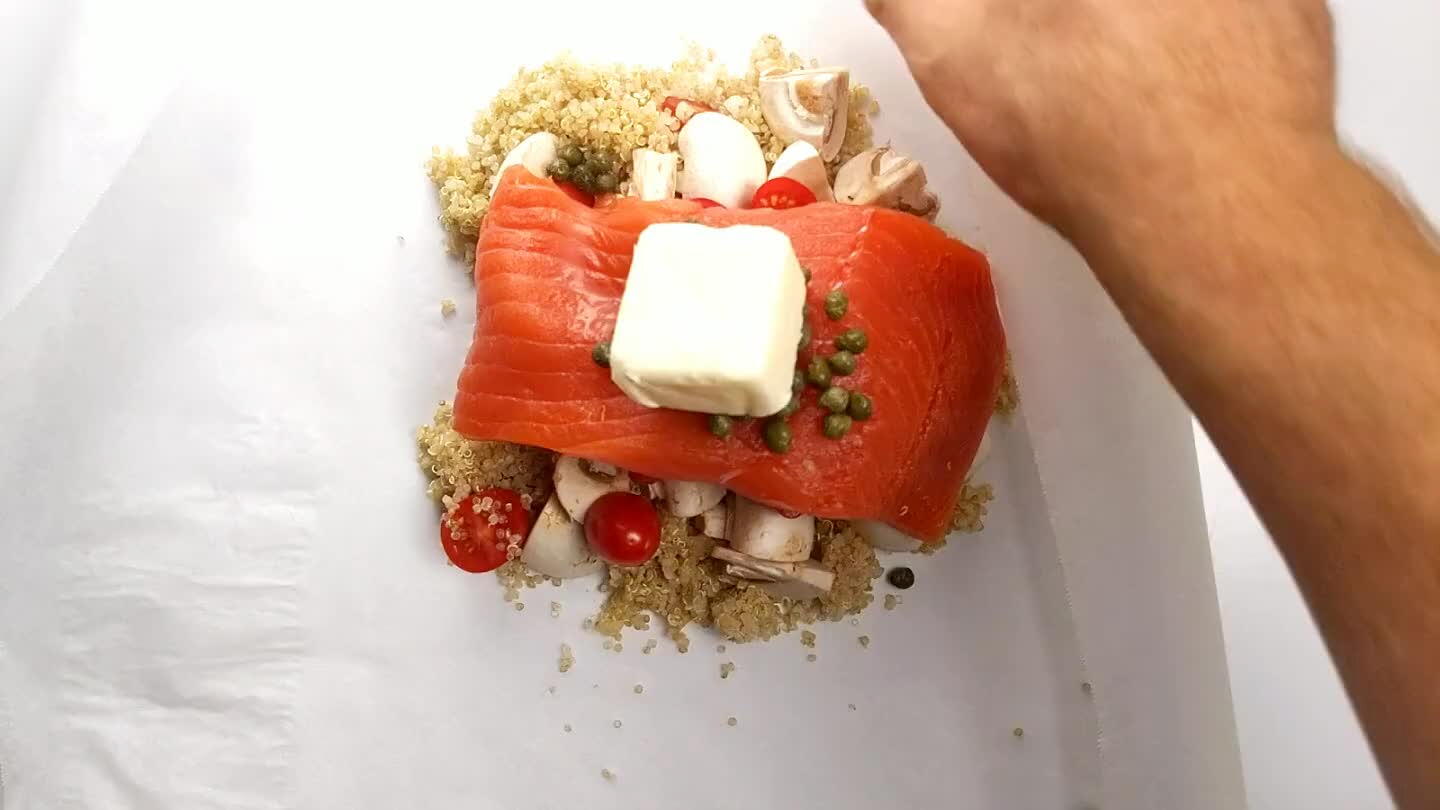 Fold one of the opposite corners in towards the contents of the wrap, then continue along the open side of the parchment, folding/rolling the edge in towards the contents until you get to the opposite corner. Tuck the opposite corner under the roll. Now you can repeat with remaining salmon.
Place in an oven-safe dish with a rim and bake for about 20 minutes. Parchment can sometimes tear, so a baking dish with a rim can save you a lot of cleanup.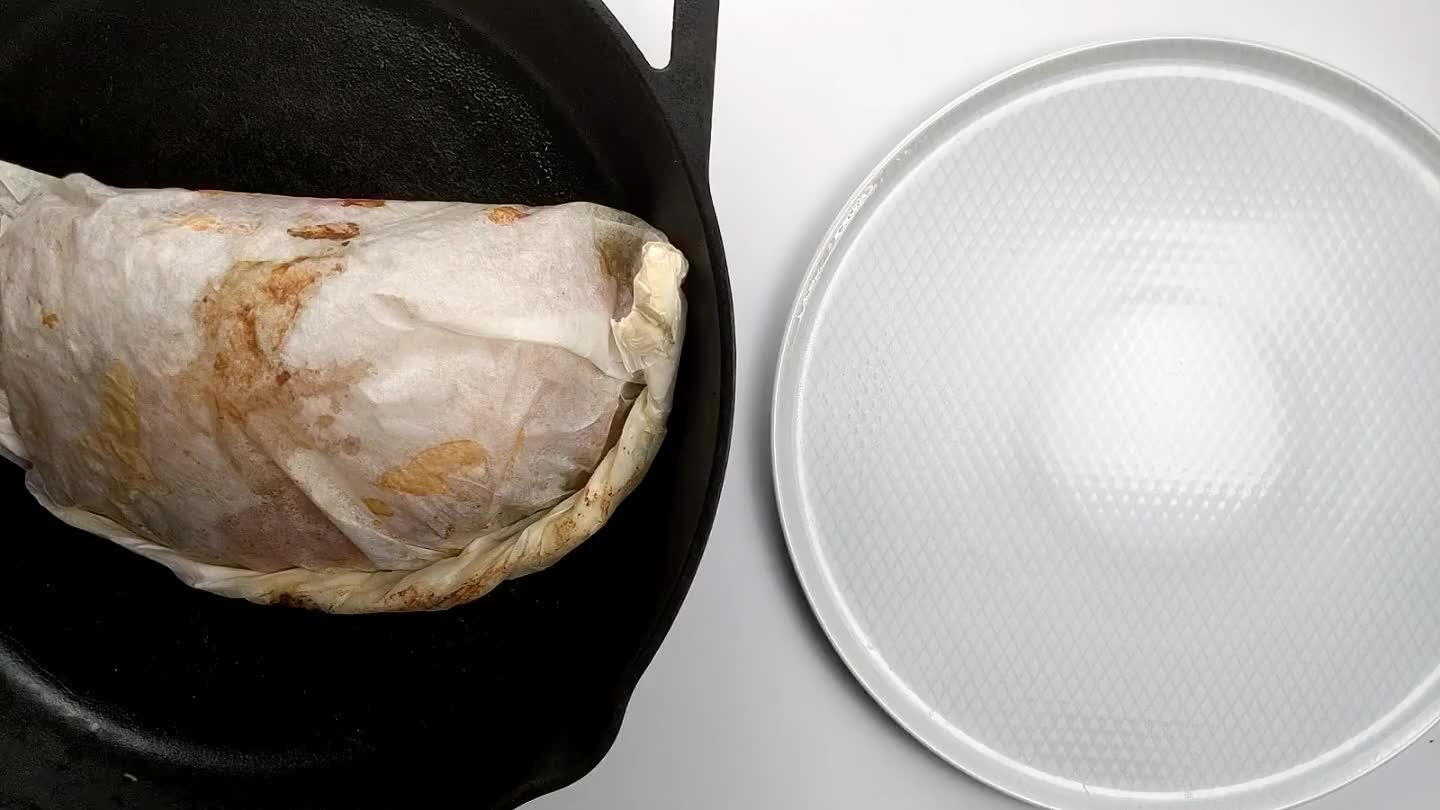 Comments