Chocolate Souffle Cheesecake
Flourless chocolate decadence
If you like cheesecake, and you like chocolate, boy howdee, here ya go. I made a mistake here, so the bottom of the cake got a little water logged. But it was still delicious, and I'll help you avoid the pitfalls I fell for. Cover photo credits to Paulinho and Renato 👏
What you will need
200 gr dark chocolate
8 oz (230gr) cream cheese or chevre
1/2 cup (100gr) sugar
6 eggs
How to cook
Melt cheese and chocolate
In a double boiler, melt the chocolate and cream cheese together.
Separate eggs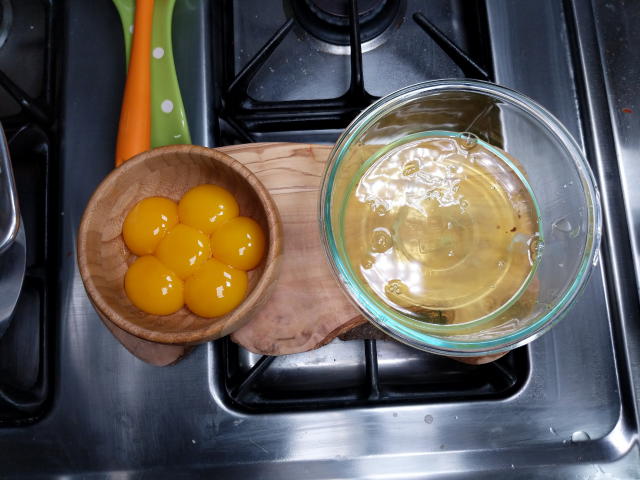 Separate the whites from the yolks in the 6 eggs. I like to crack them into a dish and remove the yolks individually. This is risky though, because if a yolks breaks, just a tiny bit of yolk can keep the whites from foaming properly.
Add yolk to chocolate
Allow the chocolate cream cheese mix to cool slightly, then fold in the egg yolks.
Beat whites to firm peaks
Get to whiskin'. This may take awhile. Use a KitchenAid if available. Beat the whites until firmly foamy. When you remove the whisk, you should see peaks remain in the foam.
Fold in egg white
Fold the egg whites into the chocolate, 1/3 at a time.
1/2 cup sugar
Fold in the sugar. That concludes the batter portion of this recipe.
Prepare baking pan
Get an 8" Springfield pan, and wrap the bottom in 2 layers of foil. Place the pan in a larger pan and pour some hot water in the larger pan.The water helps cook the cake more gently. Be careful here because you don't want a leak. .
Transfer batter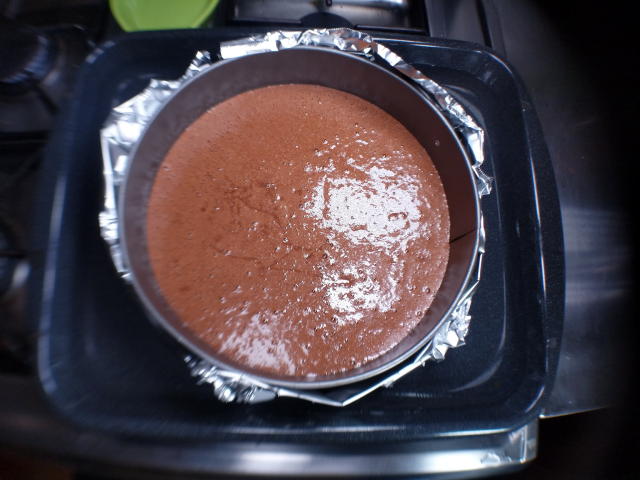 Pour the batter into the springform pan.
Bake 30 minutes
Careful. Slide that contraption gently into the oven. Bake for about 30 minutes.
Cool and slice
Let the cake cool for 10 or 15 minutes, then use a knife to clear the edge of the cake so you can remove the rim of the springform pan.